XQD vs SD: which wins? You will get the answer after learning the difference between XQD card and SD card listed in this post. If you want to manage your XQD or SD card, try using MiniTool Partition Wizard. You can partition or format the card by following the given steps.
As there are multiple types of memory cards on the market, you may feel hard to make a purchase. However, if you are hesitating between XQD and SD card, things become easier. SD vs XQD: which to buy? Before answering the question, you should check the difference between XQD card and SD card.
This post offers you a quick introduction to the two cards and then makes the comparison. Read the post now to explore the content and then make a decision on XQD card vs SD card.
About XQD Card
XQD, designed for devices that need high speeds, is larger and thicker. Released in 2012, XQD card has been largely used on high-end Nikon & Sony cameras. For instance, the Nikon D4, D4s, D5, D500, D850, as well as the new Z6 and Z7 mirrorless cameras all use XQD cards. In addition, the XQD card is also used on Panasonic's DC-S1M and DC-S1RM full-frame cameras.
Tips:
Sony has been the major manufacturer of XQD cards for dozens of years. Additionally, Nikon and Panasonic are also entering the field as a producer of XQD cards.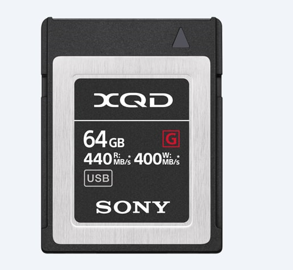 However, XQD cards get outdated gradually and are being replaced by CFexpress. The CFexpress Type B has the same form factor as XQD, while CFexpress Type A is smaller, about SD card size.
CFexpress Type A: 20 x 28 x 2.8mm
SD card: 32 x 24 x 2.1mm
CFexpress Type B/XQD: 38.5 x 29.8 x 3.8mm
About SD Card
SD (Secure Digital) card was released in 1999. It is a proprietary non-volatile flash memory card format developed by the SD Association (SDA). It is used to increase storage space, transfer items like documents, and pictures, back up data, etc. It is commonly used in daily life. For instance, it can be used on drones, cameras, printers, video game consoles, and so forth.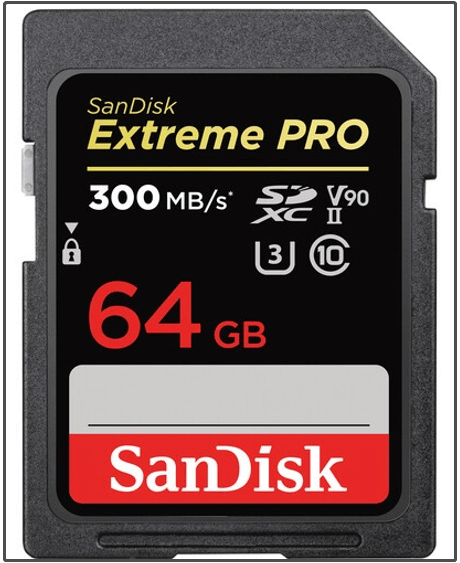 With the development of technology, some variants of SD cards come into being. For example, the miniSD card was introduced in March 2003, microSD was released in 2005, SDHC and SDIO came out in 2006, and SDXC was announced in 2009.
SDUC (SD Ultra Capacity) is the latest standard with a maximum capacity of 128TB. Like SDXC, SDUC has a UHS-II interface delivering data up to 985MB/s. It is suitable for recording compressed 8K video. To learn more about SD card types, you can read this post.
XQD vs SD
After getting an overall understanding of the two cards, you can focus on XQD vs SD now! Well, this section shows you the difference between XQD card and SD card from 5 aspects (speed, capacity, durability, use, and price).
Read the content below to check these differences one by one!
#1. SD vs XQD: Speed
Speed is the main difference between XQD card and SD card. Based on a PCI express 2.0 standard, XQD can rate as fast as SDUC. Though the latest XQD cards are claiming speeds of 1.4GB/s, it is hard to reach that in real life.
At present, the fastest XQD card has a max read/write speed of 440/400MB/s. Both Sony 120GB G Series and Delkin Premium can reach that speed. As for the fastest SD card, its maximum read/write speed is 300/299MB/s. Both XQD and SD cards have the potential to be faster, but XQD cards are set to win in the future too.
Compared with SD cards, XQD cards will clear the buffer faster when you shoot sports or bracket a set of images. It means that you can work faster and won't miss shots while waiting for your camera. The Nikon D4s can shoot at 11 frames per second and can record up to 67 uncompressed NEF images or over 200 JPEG images in a single continuous burst.
When using Lexar Professional 2933x (2.0) card, the D5 can shoot up to 200 shots lossless 12-bit or JPEG/Fine/Large or 14-bit lossless compressed JPEG/Fine/Large 1/250 sec or faster. XQD card vs SD card: XQD wins on the aspect of speed.
#2. SD vs XQD: Storage Capacity
The currently available storage size of XQD cards includes 32GB, 64GB, 128GB, and 256GB. Besides, 1TB XQD cards have been announced. There's no doubt that 2TB or even 4TB XQD cards will come to market soon. However, the maximum storage capacity of SD cards is 512GB.
#3. SD vs XQD: Durability
XQD cards are reliable and physically robust. The toughened outer shell makes XQD cards shock-proof, magnet-proof, and dust-proof. Therefore, they can be used in almost all environments and climatic conditions. However, SD cards are not as rugged as other media cards.
Tips:
How long do SD cards last? This post tells you the SD card lifespan and offers you the method to extend it. If you do encounter SD card errors, you can fix them with an SD card repair tool. When you can't delete files from SD card, use the given methods in this guide to get it repaired.
#4. SD vs XQD: Use
As mentioned earlier, XQD cards are mainly used on cameras from Sony, Nikon, and Panasonic. Differently, SD cards are the most ubiquitous memory format, which can be used on devices like cameras, printers, video game consoles, phones, home theater devices, and so on.
#5. SD vs XQD: Price
XQD cards are more expensive than SD and CFast cards. If you have a limited budget, you can buy an SD card. If you don't care about the price, simply purchase an XQD card.
XQD vs SD: which one is better? You may have the answer in your mind after learning the difference between XQD card and SD card listed above. Compared with the SD card, XQD is better because it has higher read & write speed, larger capacity, and more durable quality. High prices and limited use are the drawbacks of the XQD cards.
How to Manage XQD and SD Card
No matter what memory card you choose, you need to manage it to fit your demands. Here comes the need of a partition manager. You can use either Windows built-in tools like Command Prompt (CMD) and Disk Management (DM) or third-party software like MiniTool Partition Wizard.
CMD and DM allow you to create/format/extend/shrink/delete partitions. However, they can't do some operations such as data recovery, disk benchmark, surface test, etc. What's worse, they sometimes may be stuck in errors like format option greyed out, FAT32 not an option, extend volume grayed out, CMD not working/opening, and other issues while executing operations.
In cases like that, try using MiniTool Partition Wizard – a multifunctional and reliable partition management utility. In addition to the basic features that CMD and DM offer you, it also includes functions like Space Analyzer, Disk Benchmark, Data/Partition Recovery, Surface Test, Disk Cleanup, etc.
Thanks to its powerful features, MiniTool Partition Wizard is regarded as a PC cleaner, PC optimizer, USB speed tester, duplicate file finder, SSD health checker, SD card formatter, file deleter, NTFS undelete tool, and so forth.
Many features are available in the free edition, so you don't need to charge a cost to use them. However, you need to buy the paid version to unlock advanced features such as converting NTFS to FAT, migrating OS to SSD/HDD, converting OS Disk to GPT, copying system disk, etc. To learn more details, please refer to this comparison page.
Generally speaking, you need to partition or format the memory card after you buy it. You can do that by following these steps.
Step 1: Click on the button below to download and install MiniTool Partition Wizard on your computer.
MiniTool Partition Wizard FreeClick to Download100%Clean & Safe
Step 2: Plug the XQD or SD card into your computer and launch the software to enter its main interface.
Step 3: Right-click on the unallocated space of the memory card and click the Create option.
Step 4: In the prompted window, configure the partition parameters like partition label, partition type (primary or logical), file system, drive letter, cluster size, as well as size and location. After that, click OK > Apply to save and execute changes.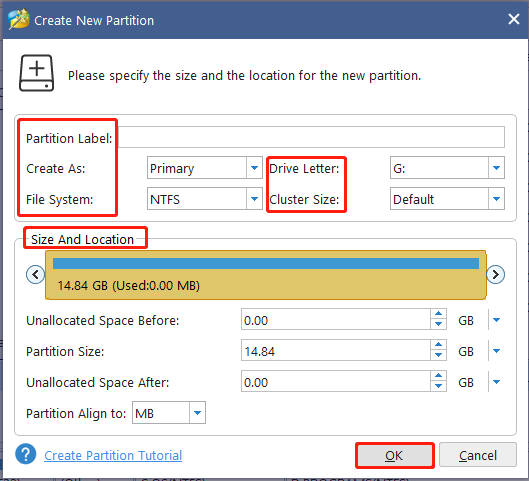 Step 5: To format the XQD or SD card, you can use the steps below.
Highlight the partition on the XQD or SD card and then click Format Partition in the left panel.
Set format settings like partition label, file system, and cluster size.
Click OK to save changes.
Tap Apply to carry out the operation.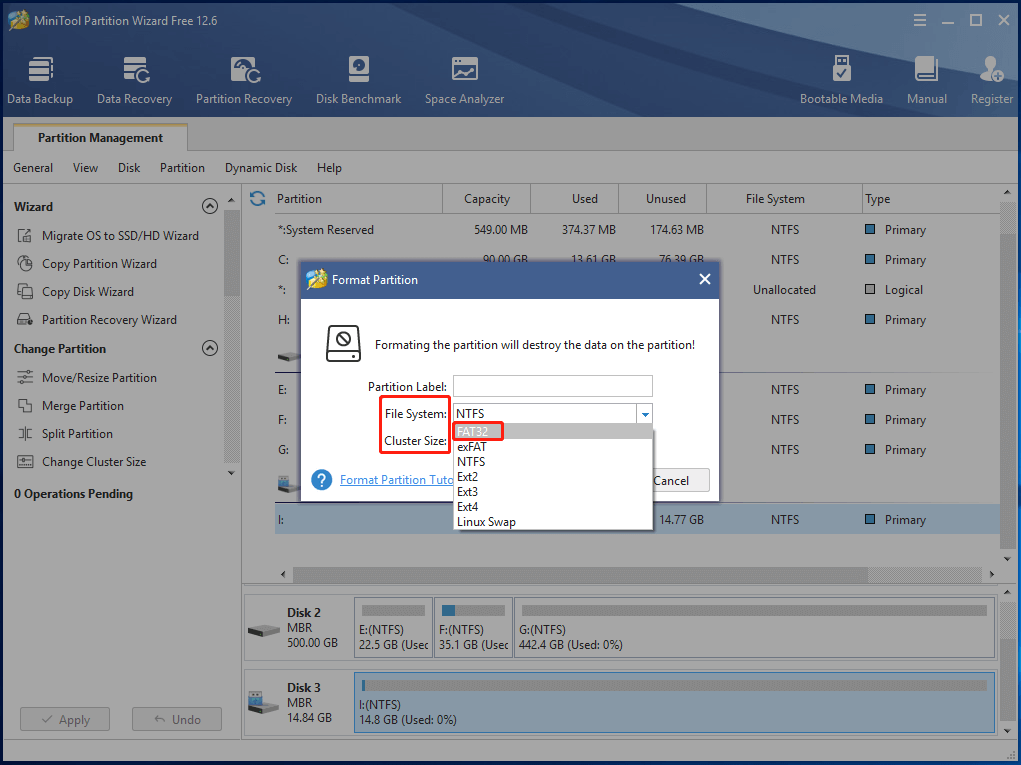 SD vs XQD: what's the difference? If you are looking for the answer, this post is worth reading as it lists the main differences between XQD card and SD card. Explore the content from this tutorial now!Click to Tweet
Conclusion
XQD card vs SD card: which one to pick? You'd better learn the difference between XQD card and SD card before making the decision. For that, you just need to focus on the comparison part of the post. After you choose a card, manage it by using MiniTool Partition Wizard.
In addition to XQD vs SD, there are many other memory card comparisons like microSD vs SD, thumb drive vs flash drive, SDHC vs SDXC, etc. If you want to learn the differences between other storage devices, tell us in the following comment area. When you encounter any issues while using MiniTool Partition Wizard, contact us by sending an email via [email protected]. We will make a reply as soon as possible.