SD card is widely used in daily life, but do you really understand it? An overview of SD card, the methods to conduct SD card speed test on Windows PC/Android/Mac all the contents in this post. You are able to know which one is the fastest SD card by testing the SD cards by yourself with the given methods in MiniTool.
An Overview of SD Card
Basics of SD card like its definition, features, application, category and others will be introduced in this part. So, if you're not very clear about those or eager to know the related details, you shouldn't miss this part.
About SD Card
SD card (Secure Digital) is a new generation of memory device based on semiconductor flash memory. It is a portable device, a proprietary non-volatile memory card format developed by SD Card Association. The SD card is widely used in portable devices such as digital camera, personal digital assistant (PDA), media player, etc.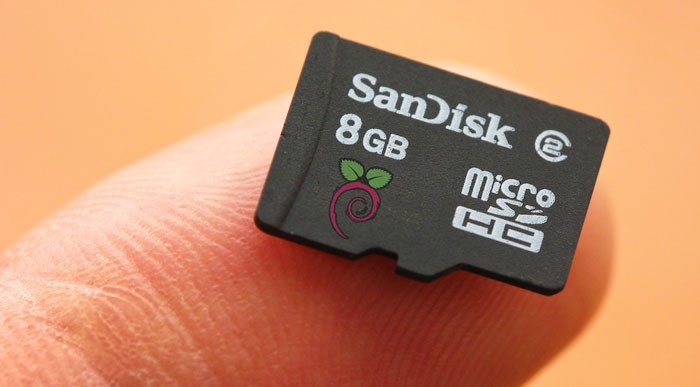 -image from westerndigital.com
In 2000, these companies (Matsushita &Toshiba of Japan and SanDisDisk of the United States) launched the SD Association (Secure Digital Association), which has a strong lineup and attracted a large number of vendors. These vendors include IBM, Microsoft, Motorola, NEC, Samsung, and others.
Driven by these leading manufacturers, SD cards have become the most widely used memory card in consumer digital devices. The SD card is a multi-functional memory card with large capacity, high performance, security and other characteristics.
It even has a password authentication function (SDMI specification) for data copyright protection than the MMC card, and the read/write speed is 4 times faster than the MMC card, up to 2M / second.
To know how to format and clone the SD card, read the next two articles:
SD Card Category
SD, SDHC, SDXC, SDUC are four primary card categories in the market. They have different features but with the same function – data storage. Next, I will explain them briefly one by one.
SD: The second generation of Secure Digital (SDSC or Secure Digital Standard Capacity) cards was developed to improve the MultiMediaCard (MMC) standard, which keeps improving but in different directions. The Secure Digital changes the design of MMC in multiple ways from shape, thickness, capacity, transfer speed to content protection.
SDHC: The Secure Digital High Capacity (SDHC) format was released in January 2006. It is defined in SD specification 2.0 version to support cards with 32 GiB (34,359,738,368 bytes) capacity at most. The SDHC trademark license is to ensure compatibility. The 2.0 version introduces the high-speed bus mode for both SDHC and SDSC. SDHC host devices only accept the older SD cards. However, the old host devices cannot recognize SDHC and SDXC cards though certain devices can do this by upgrading firmware.
SDXC: The Secure Digital Extended Capacity (SDXC) format was released in January 2009. It is defined in the SD Specification version 3.01 and supports cards up to 2 TiB (2199023255552 bytes), while the SDHC card in the SD 2.0 specification is limited to 32 GiB. You may be interested in this post: SDHC VS SDXC – Which One Is Better for You?
SDUC: The Secure Digital Extra-large Capacity (SDUC) format, described in the SD 7.0 specification, was announced in June 2018. It supports cards up to 128 TiB (140,737,488,355 328 bytes) at speeds up to 985 MB / s, regardless of form factor.
Micro or full size or interface type, including UHS-I, UHS-II, UHS-III or SD Express. SD Express interface can also be used with SDHC and SDXC cards.
Having known their respective features, you can choose a suitable card based on your demand. In this way, you will have a great experience on your devices.
If you would like to find a free partition tool for SD card, this post may be a wonderful reference for you: Best Free Partition Tool for SD Card – MiniTool Partition Wizard
Why and How to Test SD Card Speed
SD cards are applied in various applications ranging from cameras to phone, dashcams, and the Nintendo Switch. Whether the speed of SD card important? Obviously, the answer is absolute "Yes".
You may see some SD card speed rankings on the Internet, but the fact that the fastest SD card must be the most suitable one you need is not always true. Price and availability are also important. Besides, whether your camera can make full use of SD card speed matters too.
In most cases, you can put a high-speed SD card into a slower camera, but it is not always available. What's worse, you may sometimes buy a fake SD card or it doesn't have the capacity and the speed as it claims.
But the good news is that you can test SD card speed with some free tools like MiniTool Partition Wizard, HD Tach, Crystal DiskMark, etc.
The following part will introduce SD card speed test on Windows PC/Android/Mac. So, if you would like to know the details of SD card benchmark, please read carefully.
SD Card Speed Test on Windows PC
SD card speed test on Windows PC is very easy through the Disk Benchmark feature of MiniTool Partition Wizard. You are able to test the transfer speeds under various disk access no matter in sequential or random.
MiniTool Partition Wizard FreeClick to Download100%Clean & Safe
Insert the SD card in your computer, then begin to test its speed with MiniTool Partition Wizard.
Step 1: Launch MiniTool Partition Wizard to get its main interface, and then click on the Disk Benchmark feature in the toolbar.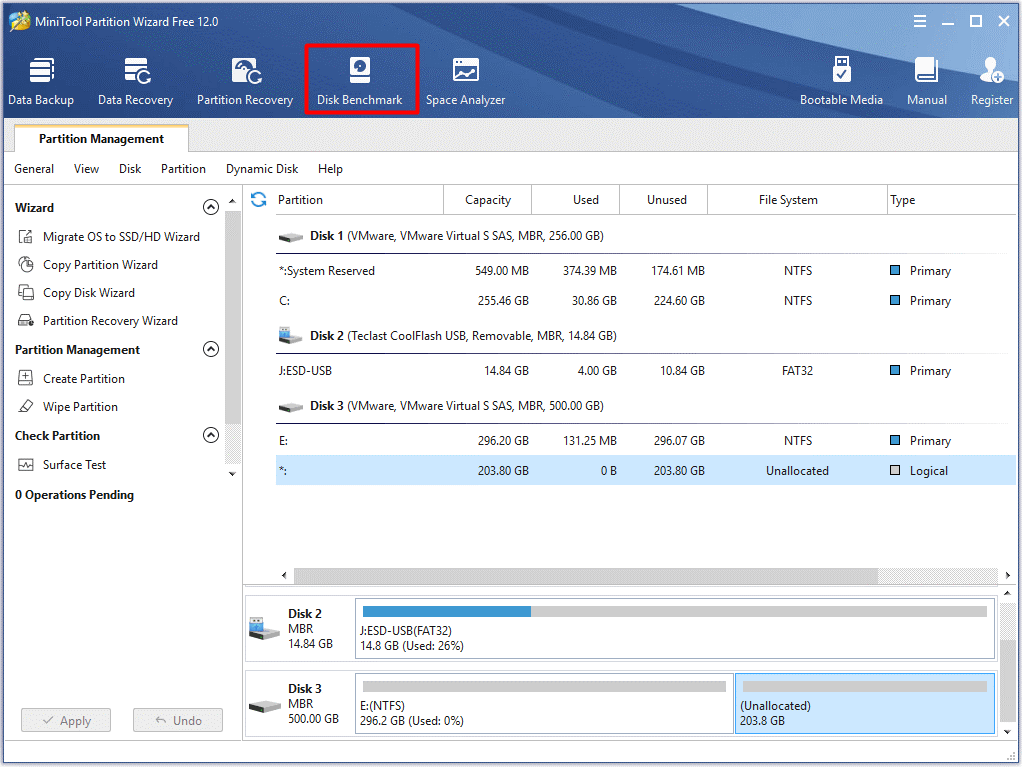 Step 2: Select the drive letter of your SD card. Before clicking the Start button, you can set parameters on the Disk Benchmark window according to your demand. After that, click Start to continue the process.
Tip: If you don't change the parameters manually, the program will execute the operation according to the default conditions.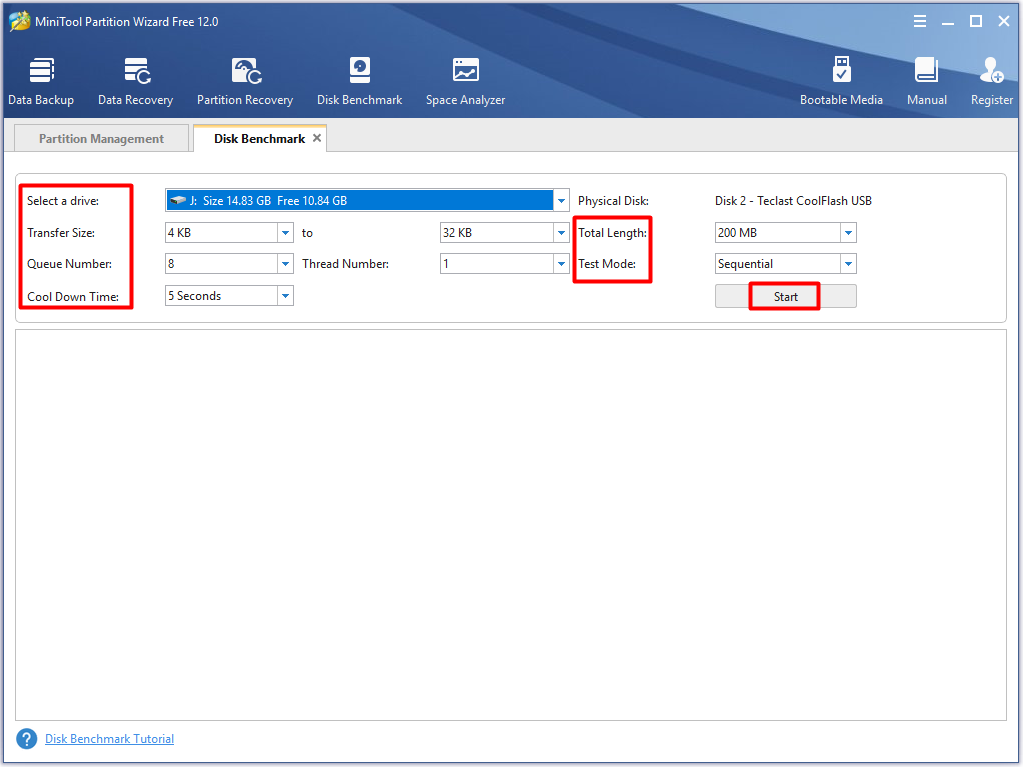 Step 3: Wait for a while, all the results will show you in a chart form. Then you can check and analyze all the speed test results displayed in the chart.
Compare the test results with the speed printed on the SD card to see whether they have obvious difference. This is a great way to check whether it is a counterfeit SD card.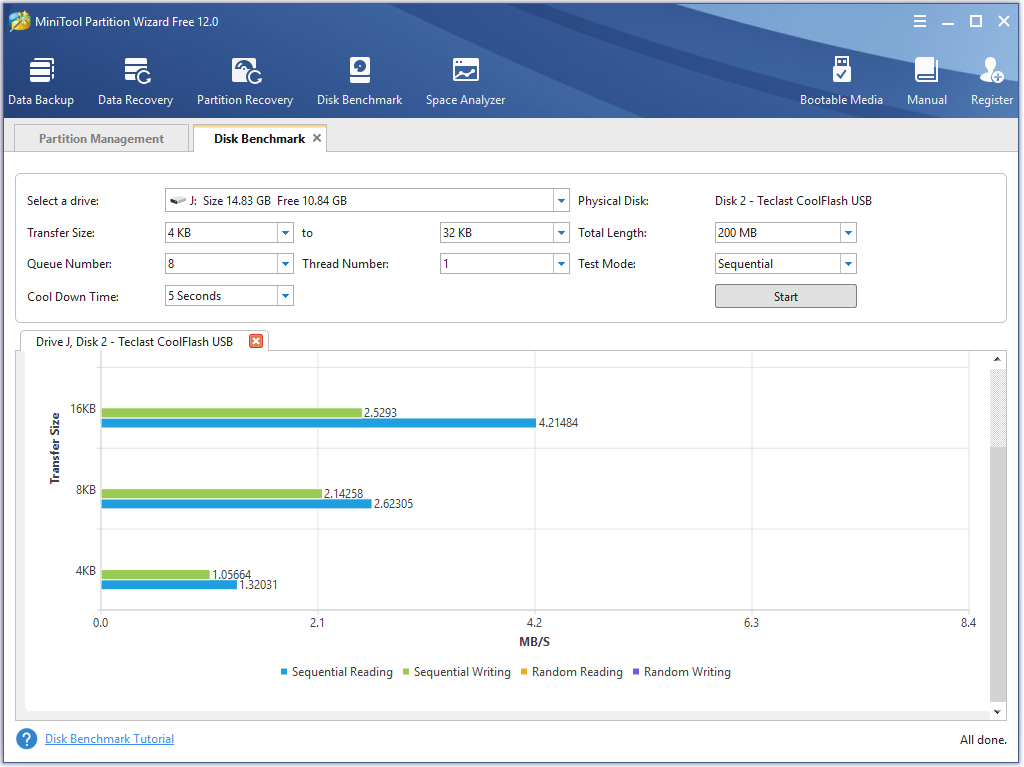 You may have an interest in this post: Hard Drive/SSD Speed Test with Best Free Disk Benchmark Software – MiniTool
SD Card Speed Test on Android
You wonder SD card speed test Android after knowing how to test its speed on PC. Don't hurry! This section will tell you how to test SD card speed on Android.
Certainly, you need to download an SD card speed test tool like A 1 SD Bench or SD Card Test to check your SD card speed. All of them are free SD card test software.
After starting up the program, choose some parameters as you like on the applications to start the operation. Then, you will get all the results you want to obtain.
SD Card Speed Test on Mac
SD card speed test on Mac is also available through some software, such as NovaBench, Blackmagic Disk Speed Test. If you follow the instruction, you can acquire the SD card speed results.
NovaBench is a free SD card speed test tool for Mac operating system. It enables you to measure the read& write speed of disk and check the memory transfer speed, CPU, GPU speed and others.
Blackmagic Disk Speed Test is also a free disk test software applied for Mac operating system. It's easy to use and has a high speed.
SD Card Speed Rating
After testing multiple SD cards, you may find their speeds are various. So, here comes the need of SD card rating. The speed rating enables you to classify SD cards' speed clearly.
The SD Association has two UHS speed gratings, UHS speed grade 1 and UHS speed grade 3. UHS speed grade 1 supports a minimum write speed of 10MB / s, while UHS speed grade 3 supports a minimum write speed of 30MB / s. The UHS speed grade is usually represented by 1 or 3 inside the U symbol.
According to previous experience, cameras with 4K capabilities usually at least need a UHS Speed ​​Class 3 (U3) class SD.
What you need to know is that the UHS Speed Level is different from the UHS BUS Speed. The UHS bus speed is expressed in Roman numerals I, II or III and represents the theoretical maximum read and write speed. However, unlike UHS speed grades, these are not sustained speeds.
Though the minimum speed is very important for the normal operation of the device (GoPro cameras often require UHS Speed ​​Class 3), the maximum speed should not impact the operation of the device, but may shorten the time required to download material from the SD card.
In general, a UHS Speed Rating SD card is enough. The higher UHS Speed card could be expensive and not necessary.
Memory card manufacturers usually measure the speed of their cards in megabytes per second or MB/s (or MBps, both in uppercase letter "B"). However, the video recording bit rate is usually measured in megabits per second or Mb / s (or Mbps, lowercase letter "b"). They are not the same.
A byte has 8 bits, so from megabits per second to megabytes per second, you multiply by 8. So 80MB / s is the same as 640Mb / s. This is a convenient conversion calculator.
To sum up, there are three points you need to pay attention to:
Make sure your card shows a "UHS Speed Class of 3" indicating the card with a minimum read & write speed of 30 MB/ second.
The SD card is formatted as FAT32 (32GB or smaller) or exFAT (larger than 32 GB)
You can use the given methods to confirm your SD card speed, because the counterfeit SD card is also available even it doesn't achieve the speed printed on the card.
I get some SD card speed test methods on Windows PC/Android/Mac? This post is worth sharing with you. Click to Tweet
Conclusion
Read here, you may have a clear understanding of SD card speed test on Windows PC/Android/MAC and some additional information about SD card. If you want to do the SD card speed test, just choose a suitable one from the given methods according to your situation.
With some free tools like MiniTool Partition Wizard, you can do the SD card benchmark easily. In this way, finding a suitable SD card for your device would be rather simple.
If you have any good idea about SD card speed test, you can share with us. We would appreciate it if you leave any suggestion or comment by sending an email to [email protected].
SD Card Speed Test FAQ
What is the speed class rating on SD cards?
The speed class rating (Class 2, 4, 6 and 10) of SD cards is set based on the standardization of data transfer speeds by the SD Card Association (SDA). The specific speed class rating has its own data transfer speed.
Class 2: the minimum write speed is 2MB/s or higher.
Class 4: the minimum write speed is 4MB/s or higher.
Class 6: the minimum write speed is 6MB/s or higher.
Class 10: the minimum write speed is 10MB/s or higher.
Will a Class 10 SD card work in a Class 4 device?
Yes, it can work in the Class 4 device. All the speed class rating SDHC cards can be compatible with SDHC devices. If you see the notice – Class 4 is the minimum on a device, you should install a Class 4, Class 6 or Class 10 SDHC on it.
How can I test the speed of my SD card?
You can test your SD card speed via a free tool – MiniTool Partition Wizard. The
Disk Benchmark
feature of this program enables you to obtain the speed quickly. Not only it can test your SD card speed, but also it allows you to
test your USB devices' speed
.
Which SD card is fastest?
At present, the fastest SD (write speed) card is the Sony SF-G 300MB/s UHS-II 32GB (the sequential write speed is 273.672MB/s). While the fastest SD card (read speed) is the Transcend Ultimate UHS-II U3 32GB (the sequential write speed is 307.050MB/s).