Deleting files is one of methods to free up disk space. A file deleter can help you do that quickly. Besides, a professional file shredder is capable of deleting undeletable files. Today, MiniTool introduces you several file shredders.
About File Deleting
If your computer is consumed by piles of files, it runs slowly and throws you various errors like low disk space. Hence, deleting files is a useful way to improve computer performance and free up disk space. Here are two main questions about file deleting.
The first one is what files should be deleted. The point is that your computer can run properly after deleting those files. After looking into many examples, we found the files that can be securely deleted from computer.
Those files include temporary files, download files, browser's cache files, old Windows log files, Windows upgrade files, recycle bin, and desktop files. You don't have to worry about negative impacts after deleting the above files.
The second is that you cannot delete some files. For instance, you are unable to delete a file being opened or used by another application or program. A locked file cannot be deleted either. With file deleter for undeletable files, you can erase the files with ease.
You may also like this: How to Force Delete a File That Cannot Be Deleted Windows 10
In next section, top 11 file deleters are talked about. After learning them carefully, you can pick one to delete your files.
Top 11 File Deleters
In this section, we are going to introduce 11 file deleters. You can get a quick preview here. To obtain the detailed information, please move on!
Eraser
BitRaser File Eraser
Alternate File Shredder
Secure Eraser
Freeraser
Moo0 File Shredder
WipeFile
CCleaner
MiniTool Partition Wizard
BitKiller
IObit Unlocker
#Eraser
Eraser, a small application, is capable of deleting files, folders, unused disk space or even entire drives safely. You can create scheduled erasing tasks in its interface. This is convenient for wiping data regularly.
Eraser supports 13 different erasing methods, but its default method is Gutmann standard. This approach overwrites the deleted files 35 times. The time this process takes varying based on the number of files to delete.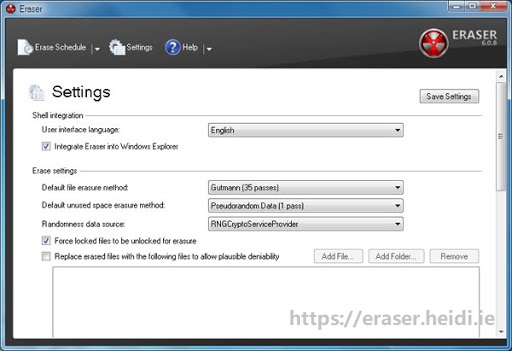 Before running it, you are required to download and install it. After that, it adds the secure delete options to the Windows right-click menu automatically. Then you can access the secure delete options by right clicking the empty space on your desktop.
#BitRaser File Eraser
BitRaser File Eraser is an application that can erase sensitive files, folders, application traces, system traces, Internet activities, volumes on Windows-based systems, and supported storage devices.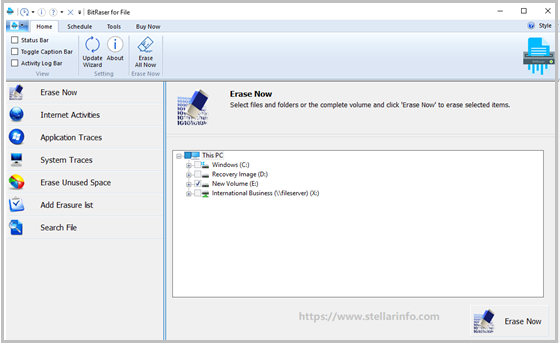 This program is safe and reliable. Up to now, it has never made mistakes of deleting operating system files. You are able to create scheduled file erasing tasks at a predefined date and time. As it uses Random Verification and Total Verification simultaneously in the erasing process, you cannot recover the deleted files.
Tip: The free trial edition allows you to delete files within 64KB.
#Alternate File Shredder
Alternate File Shredder is an app that enables you to permanently delete files. Its interface is simple and easy to understand. Like Eraser, Alternate File Shredder also adds a Send to File Shredder erasing option to the Windows right-click menu.
With this program, you can delete both individual files and entire folders. It provides you with one erasing method – random data writing. It allows you to choose the number of times to overwrite files to delete. You can erase both the content and names of your file after choosing the shred file names.
Tip: Though you can recover the erased files with data recovery tools like Recuva, you can't use them because they are corrupted.
#Secure Eraser
Secure Eraser is a comprehensive file shredder, which includes multiple features such as file/folder deletion, drive/partition deletion, free space deletion, registry cleaning as well as system cleaning. Compared with other file deleters, Secure Eraser grants you with more options.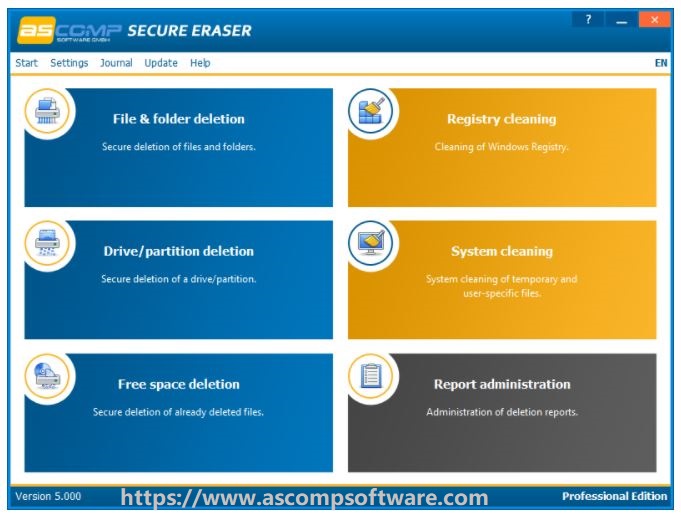 #Freeraser
Freeraser can help you safely delete files as well. Its interface is extremely simple, which shapes like a trash bin. However, you can't delete a file by dropping it to the icon like you delete files via recycle bin.
On the contrary, you need to use the app's menu to choose the set of files you would like to delete. After choosing the target files and confirming the operation, Freeraser will start the erasing process automatically. It provides you with 3 shredding algorithms including the 35 passes.
Tip: You can get more options in its contextual menu that can be opened via a right-click. Freeraser doesn't have erase options in Windows's contextual menu. Those files can't be recovered after deletion.
#Moo0 File Shredder
Moo0 File Shredder is a simple duplicate file deleter with a minimalist user interface. You just need to drag and drop files or folders you would like to delete to this program after launching it. One thing you need to note is that it tries to bundle some "Additional Free Tools" in the installation process.
If you don't want those additional tools, uncheck this option when installing the program. This application offers you 4 erasing algorithms. You are allowed to choose an erasing method based on your demand.
If you click on the Detailed Description button, the detailed information of each method will be displayed. After executing the operation, you cannot recover them.
#WipeFile
WipeFile is a lightweight and portable file deleter. You can delete files or folders by dragging and dropping them onto the WipeFile window. This application offers you 14 different data deleting methods. The files deleted by this program are unable to be recovered either. Hence, you don't have to worry about data leak.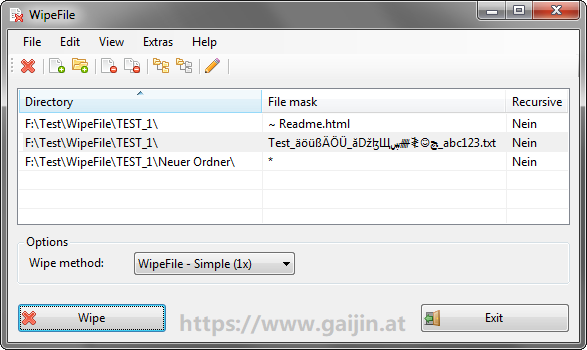 #CCleaner
CCleaner is a professional duplicate file deleter, which possesses a large number of users across the world. In addition to file deletion, it also enables you to clean operating system and third-party software junk files on your computer.
The available features of CCleaner free edition are limited. If you want to use features like complete cleaning and PC health check, you need to get its Professional edition. To get more details, click here right now!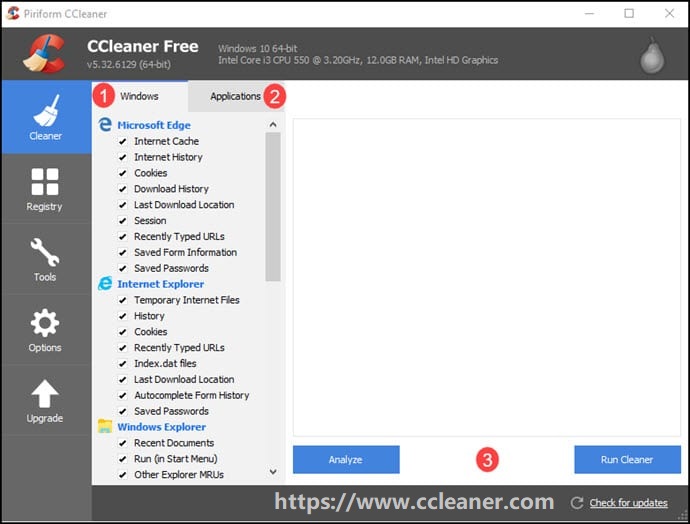 However, many people raise doubts about it after suffering a series of issues. Is CCleaner safe? This is one of the most common doubts about CCleaner. Well, you can find the answer and available alternatives in this post.
You can also see: How to Clean up Your Computer? Top 8 Methods for You
#MiniTool Partition Wizard
MiniTool Partition Wizard is an all-in-one program, which owns multiple features. With this program, you are able to check file system for errors, recover missing data, repair MBR, convert MBR to GPT, extend/move/resize partition, migrate OS to SSD/HD, etc. Importantly, it is safe and reliable.
As for file erasure, you can utilize its format partition, wipe partition/disk, and analyze space features. Formatting will remove all the data on the hard drive, but you can recover the data with a data recovery tool.
If you want to delete all the files and folder in a certain partition or hard drive, the wipe/partition/disk features should come into use. It provides you with 5 wiping methods. The longer the process takes you, the higher security level you enjoy. The whole operation can be done within a few clicks.
Note:
If you just delete unwanted files on the disk, install free edition. To use other features like data recovery, you are required to get advanced editions. Install a suitable edition by referring to
edition comparison
.
MiniTool Partition Wizard FreeClick to Download100%Clean & Safe
After launching MiniTool Partition Wizard, choose the target partition and then click on the Wipe Partition feature in the action panel. In the next window, choose a wiping method from the given options and click OK to execute the operation.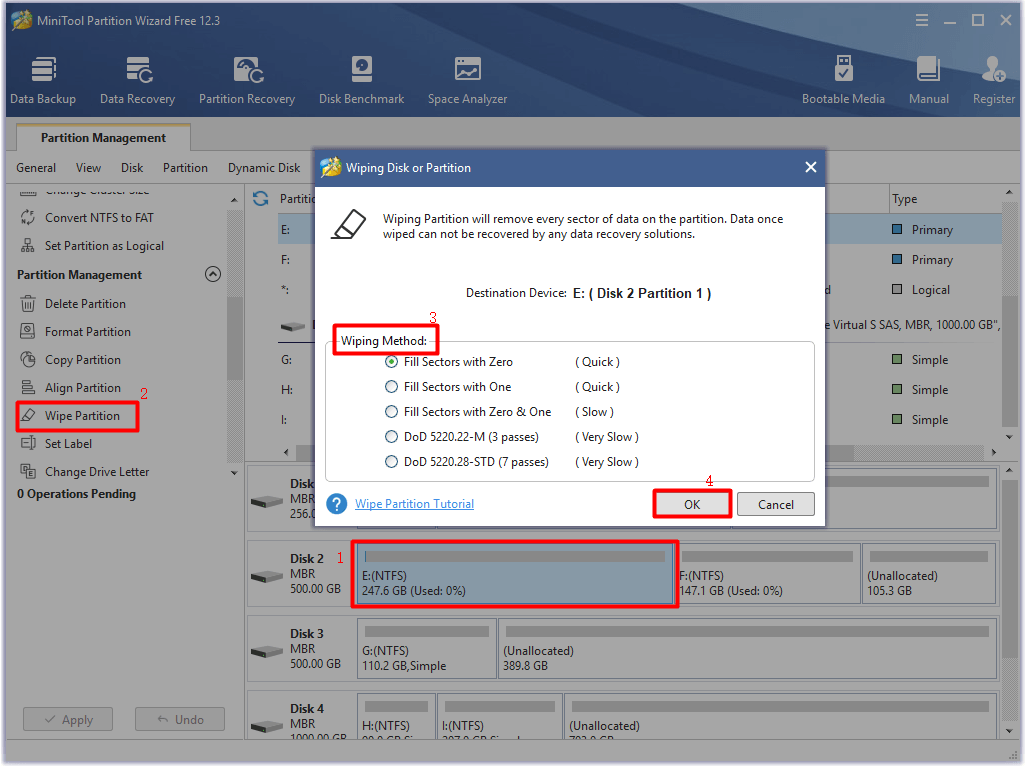 If you just want to delete a certain file or folder on your computer, utilize Space Analyzer instead. This feature can tell you what is taking up your space. After receiving the scan result, right click on those space-consuming and useless files and folders and click Delete (to Recycle Bin) or Delete (Permanently) option based on your needs.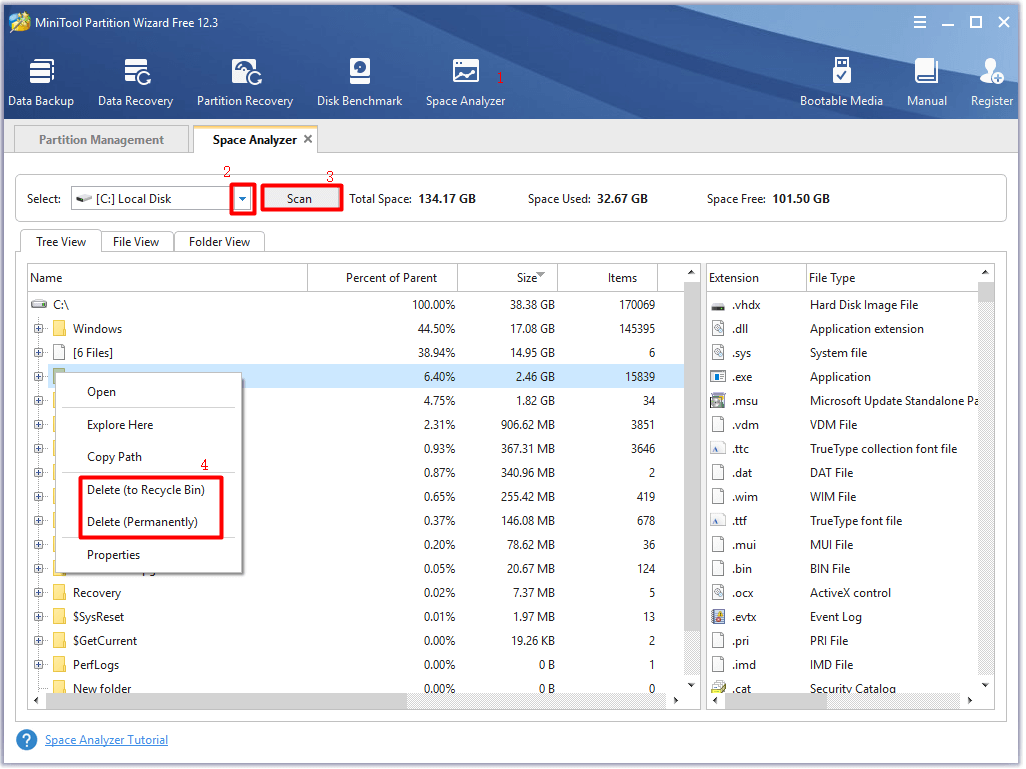 #BitKiller
BitKiller is a portable tool, which enables you to permanently delete files from your computer. It has a simple and straightforward interface. It provides you with 5 different data overwrite methods.
After downloading and installing BitKiller, launch it to enter its main interface. Click on Add File or Add Folder in the left pane, and then choose files or folders to delete. Then click on the Shred Files button at the bottom left of the window to carry out the operation.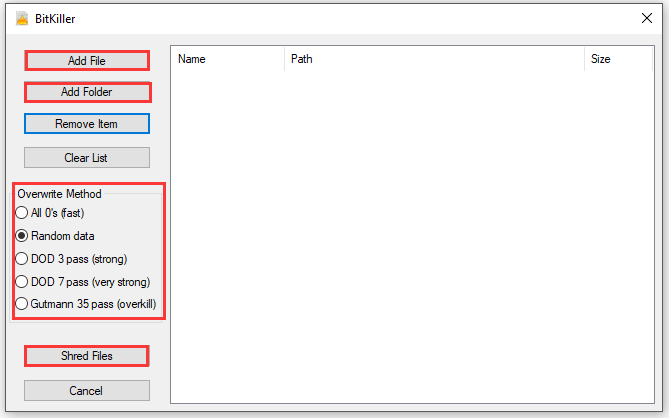 As we tested before, the files deleted by BitKiller can not be recovered.
#IObit Unlocker
IObit Unlocker is capable of managing all the files and folders on your computer. It has a simple interface. Besides, it is easy to operate. You can delete, unlock, rename, move, copy your files and folders by simply dragging and dropping them into IObit Unlocker interface and then selecting the corresponding option.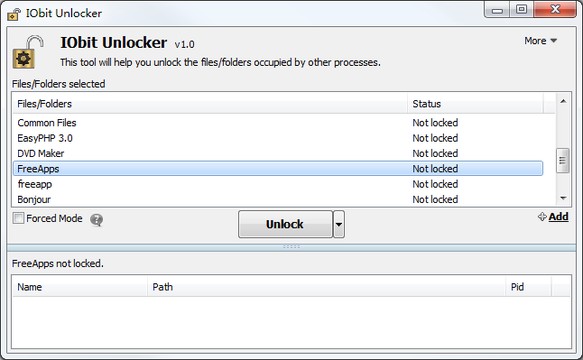 How to delete files quickly and effectively? How to delete undeletable files on my computer? If you are confused by those questions, this post is worth reading. It introduces several file deleters. Click to Tweet
Conclusion
What files can be deleted without affecting the running of computer? Which duplicate file deleter can be utilized for securely deleting files? This post illustrates those questions clearly. Now, it's your turn to pick a file deleter software from the given options to erase unwanted files on the computer.
If you have any ideas or thoughts on file deleter, please leave your words in the comment area below. You can contact us directly to tell your questions about MiniTool software by sending an email via [email protected].
File Deleter FAQ
How to permanently delete data?
You can
delete files permanently
with several methods. For instance, you are able to erase files by formatting partition/drive,
wiping disk
, executing corresponding command, and using professional file deleters as talked about in this post.
Is Wise Force Deleter safe?
Yes, it is. Wise Force Deleter is a safe and easy to use file deleter. It allows you to delete any files that cannot be deleted by Windows.
Is LockHunter a malware?
No, it isn't. Actually, LockHunter is a foolproof file unlocker, which can delete files blocked by something you don't know. Besides, it is helpful for fighting against malware and other programs that block files without a reason.