To perform USB speed tests, you need to apply a professional
USB speed tester
. In this post,
MiniTool
collects top 9 USB benchmark software for you. Pick one from them based on your situation to test USB speed now.
Why to Test USB Speed
There are various USB flash drives on the market, but some of them are counterfeit. They could have a fake brand, slower write & read speed, or an unrealistic/smaller capacity than claimed. Among these symptoms, the slower speed is the most common one.
At this time, you can conduct a USB drive speed test. To see the exact read and write speed of a USB drive, you may also need to do such a test. Then you should get an expertized USB speed tester. Well, this post lists the 9 best USB benchmark tools for you.
Tips:
You can also check if a USB drive or SD card is fake by performing a test with a USB/SD card checker.
Further reading:
USB flash drives are widely used because of their small size and portability. A USB drive is often required in the following cases:
#1. Check Flash
Check Flash is a free USB speed tester for Windows devices. After you run a USB drive speed test, it will show you the read and write speed of the device. Actually, the main feature of Check Flash is to check the health of USB drives, hard disk drives, or other storage devices.
It checks every sector of your device to find bad sectors or other damages. The required time varies according to capacity, test length, action type, and other settings of this USB speed tester. According to user reports, it is time-consuming to perform a USB drive speed test via this program.
Access type

Use temporary file
As logical drive (NT-based systems only)
As physical device (NT-based systems only)

Test length

One full pass (to perform only one cycle of the selected test)
Burn it (continuous testing until stopped manually)
Manual (to choose the number of testing cycles manually)
Until first error found

Action type

Read stability test
Write and read test
The logical or physical access type allows flash drive to erase, backup and restore, or customize partition. Different from other USB benchmark tools, Check Flash shows a drive map where you can see the number of tested and remaining to test sectors.
Also read: How to Check Hard Drive or USB Drive Health Free Windows 10
#2. CrystalDiskMark
CrystalDiskMark is also a piece of disk benchmark software for Windows, which allows you to test the performance of hard drives, SSDs, USB flash drives, and even RAM on computers. It comes with portable, installer, and themed versions.
On this USB speed tester, you can set parameters for the speed test. For instance, you are allowed to set Test Size (data to be used for testing), Test Count (the number of the test to take), and Test Drive (the device to test) according to your needs. It is recommended to drop the default test size to 50MB/100MB and the number of passes to 1 or 2 (for slower USB drives) before you start the test.
Tips:
If you have a faster USB drive, try increasing the setting to 500MB/1GB.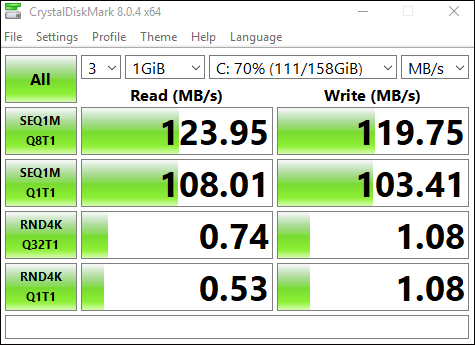 By using sequential and random data transfer techniques, CrystalDiskMark provides you with accurate results. Besides, advanced options like Thread and Queues are also available for you. After you choose the target USB from the list, you can run 4 tests by clicking All or pick a Sequential/4K test to run individually.
You can see and save the real-time result after the flash drive speed test completes. If you want to see if your device works properly, share your results in the community.
#3. SpeedOut
SpeedOut is a tiny, simple, and portable benchmark tool on Windows, which can test the read and write speed of your USB drives at a low level. As it doesn't be affected by the file system, the test result is pretty accurate. It runs a four-phase process for both reading and writing speeds and displays the result of each phase.
To save or copy the scores, simply right-click on the title bar. The USB drive doesn't need to be formatted during the USB speed test and no files will be overwritten by SpeedOut. Hence, you don't have to worry about data loss.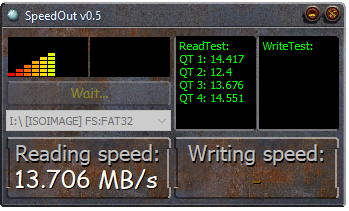 You can test USB speed by plugging into a USB > selecting it from the SpeedOut drop-down menu > running the test. Then it will show you the average results for both the read and write speed.
You may also like: Top 4 Fastest USB Flash Drives [2022 New Update]
#4. Flash Drive Tester
Flash Drive Tester is a free, lightweight, and reliable USB speed tester. In addition to testing USB speed, it also allows you to test the read and write speed of SD, MMC, and CF. With it, you can check the health state of flash drives as well.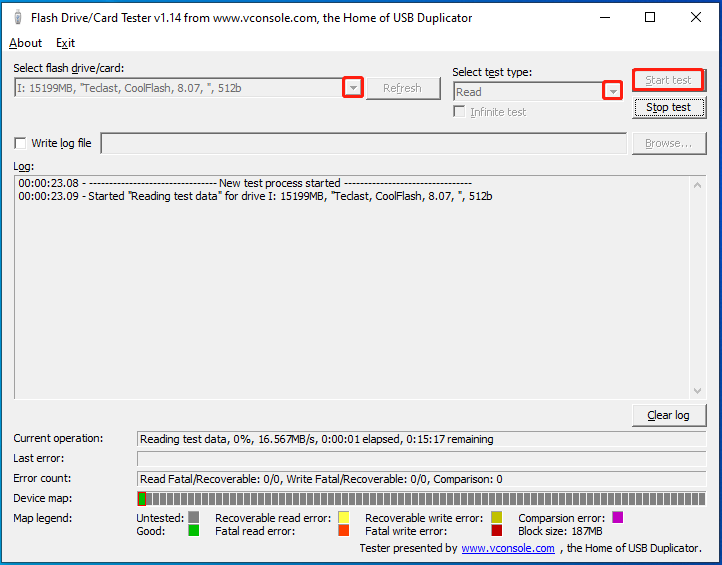 For instance, it will help you find and fix various read and write errors and some other errors on USB drives/SD card/SSDs. It performs device mapping and device data transfer speed test at the same time. After the test finishes, device errors and data transfer speed will be displayed in the Log section. Of course, various details like the test time, size of the tested data, drive name, and drive number are also included in this section.
Tips:
This USB benchmark software includes an option allowing you to perform infinite USB speed tests. It means that it will keep working after you start the test unless you stop it. You can get Flash Drive Tester for your Windows PC from cnet.com.
Also read: Top 8 SSD Tools to Check SSD Health and Performance
#5. MiniTool Partition Wizard
MiniTool Partition Wizard also enables you to test USB speed. Actually, it can test the speed of any supported storage devices like HDD, SSD, SSHD, external hard drive, USB flash drive, SD card, dynamic disk, and hardware RAID.
You are allowed to set multiple parameters on this free Windows USB speed tester. For instance, you can choose transfer size, queue size, queue number, thread number, cool down time, total length, test mode (sequential, random, or sequential & random) based on your needs. If you don't have any specific requirements, just follow the default values.
To perform a USB drive speed test via MiniTool Partition Wizard, download and install this program. Then launch it and plug the USB into your PC. Click Disk Benchmark, and then set parameters and click on the Start button. After the test ends, it displays the result in a graphic form.
MiniTool Partition Wizard FreeClick to Download100%Clean & Safe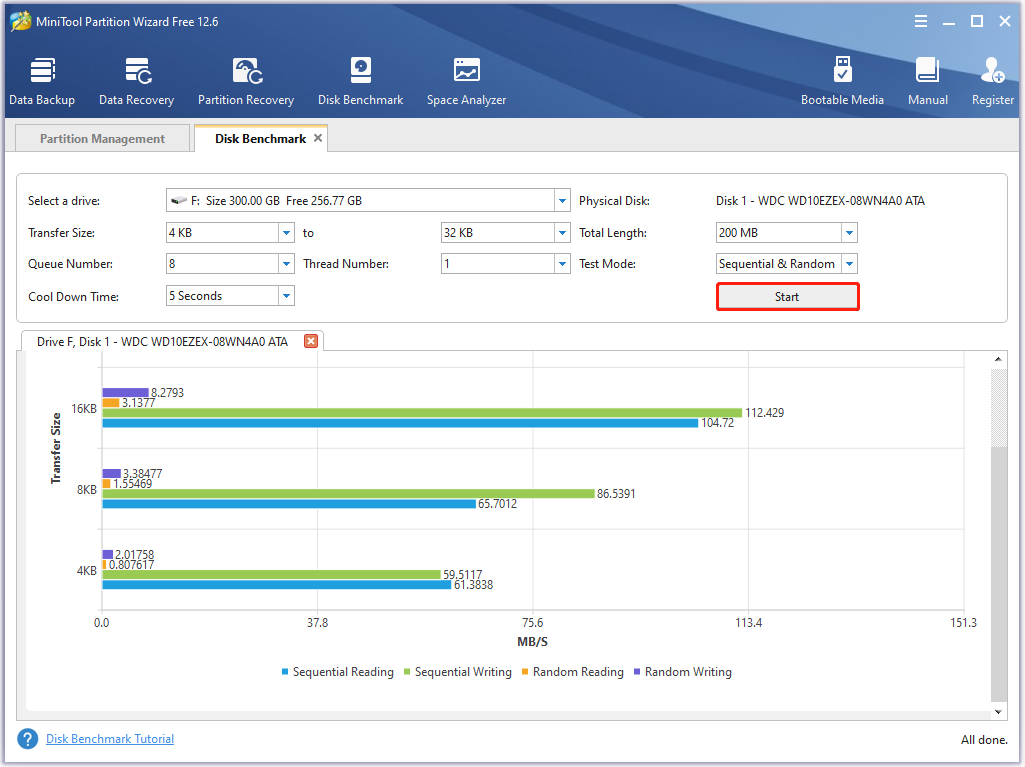 In addition to disk benchmark, MiniTool Partition Wizard boasts many other features. For example, it can check for errors (bad sectors and file system corruption), wipe disk, recover data/partition, copy disk/partition, create/format/extend/move/resize/delete partition, convert MBR to GPT, migrate OS to SSD/HD, convert NTFS to FAT, and execute other operations related to partition or disk.
Tips:
Advanced features are only available for the Pro or higher editions. This page offers you a comparison between different editions so that you can choose a suitable edition.
MiniTool Partition Wizard DemoClick to Download100%Clean & Safe
#6. RMPrepUSb
RMPrepUSB, a free piece of boot loader software for Windows, is also used to test USB speed, format USB, and partition USB. It also displays details of all the external storage devices connected to the computer. It only utilizes sequential data access in its test process. To test USB speed, plug it into your PC. Then RMPrepUSB will detect the drive automatically and show it on the drive section.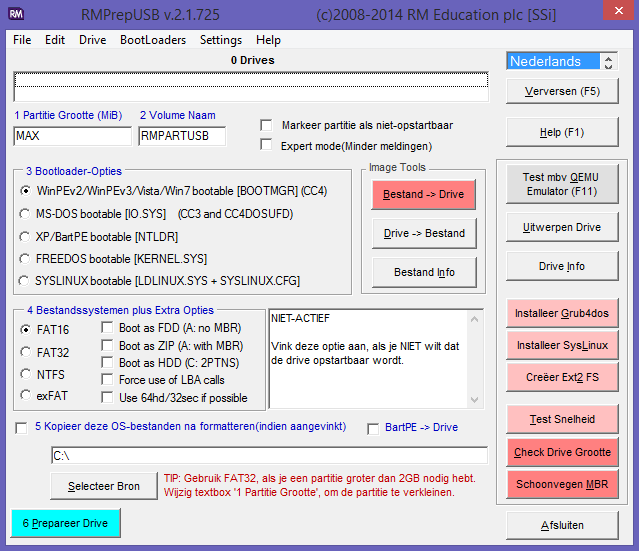 Once you click on the Test Speed button in the lower right, this USB speed tester will start the test. It shows the result in .csv format. If you would like to view the result, you need to press the F6 or F7 key.
Warning:
As the data may get deleted in the test process, you'd better back up all important data from the drive before performing a USB drive speed test.
#7. USBDeview
USBDeview is a free USB speed test tool developed by Nirsoft. It lists all the USB drives connected to the computer and allows you to eject unwanted USB devices. With USBDeview, you can perform a USB drive speed test and publish the result to usbspeed.nirsoft.net.
To take a flash drive speed test, plug your USB into the computer and then find it from the list on USBDeview. The USB device usually is highlighted in green color with a device type of "Mass Storage". Right-click on the drive and select Speed Test or press Ctrl + Tkeys. After clicking the Start Test button, it will begin a sequential read and write test with a 100MB file and then get the score. USBDeview also enables you to auto play media files inside your USB drive.
[Guide]: Blackmagic Disk Speed Test Windows & Its 5 Alternatives
#8. USB Flash Benchmark
USB Flash Benchmark is a free and portable speed tester utility for Windows. It can test the speed of any portable storage device like memory card, SD card, portable HDD, USB flash drives, etc. After you choose the device, this USB benchmark software will display its complete information including the manufacturer name, storage capacity, size, PID, VID, and so on.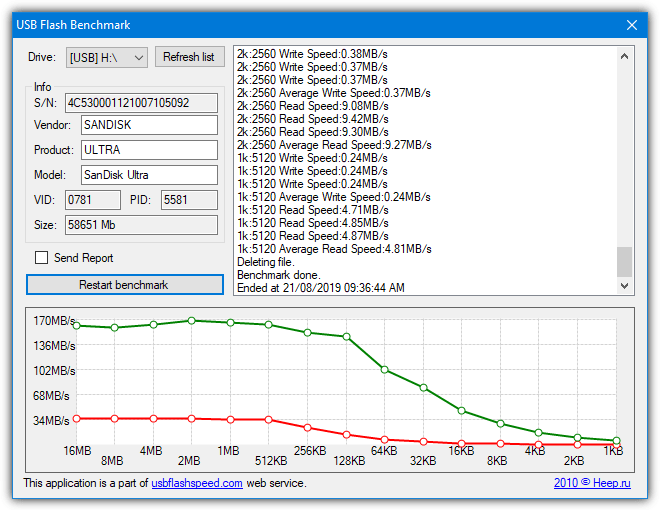 This speed tester will run a full set of benchmark tests for speeds from 1KB chunks to 16MB. After the test finishes, it shows you the results in a chart, so you will have a glimpse of what read and write speed your USB drive offers you.
#9. Flash Memory Toolkit
Flash Memory Toolkit allows you to test the speed of SD card and USB drives. In addition to performing speed tests, it also allows you to check if the product is fake, scan for errors, erase files, recover data, back up, and restore.
Apart from the read speed check and low-level benchmark, other features are locked in the trial version. Moreover, it only supports Windows XP/Vista/7 at present. According to its official website, there's no new update.
Tips:
Unleash Your PC's Potential with MiniTool System Booster: the ultimate solution for optimizing and boosting your computer's speed and efficiency.
MiniTool System Booster TrialClick to Download100%Clean & Safe
Are you looking for a USB speed tester to perform a flash drive speed test? This post summarizes top 9 USB benchmark utilities. You can pick one randomly.Click to Tweet
Conclusion
Out of some reason, you may want to perform USB speed tests. This post collects several high-rating USB speed testers. You can have a try. If you encounter any issues while using MiniTool Partition Wizard, directly contact us by sending an email via [email protected].