You don't have to worry about NTFS partition loss with this NTFS undelete guide as it provides you with some top NTFS undeleting programs. For more information, read this post of MiniTool now!
You may lose files from an NTFS partition due to an accidental deletion. If so, you can recover them from the Recycle Bin. What if you have emptied the Recycle Bin or you lose data due to other accidents? In these cases, you need to get an NTFS undelete tool to recover the lost data.
Avoiding unnecessary read/write operations is vital while recovering data from a physical failing NTFS drive. Otherwise, the data could be overwritten, and then it can't be recovered even by NTFS data recovery software.
Also read: Word Frozen: How to Solve It and Recover the Lost Data
What Causes NTFS Failure
On a Win32 system, the partition may get lost due to an NTFS file system failure. Various factors can lead to NTFS failure. The most common causes are listed as follows.
Corruption with the NTFS file system of the partition
Damaged or deleted system files
Infection with malware or other malicious software
Incompatible driver or faulty firmware
Low system memory capacity
Physical damage on the hard drive
How to Choose a Good NTFS Undelete Tool
If you want to pick a piece of good NTFS data recovery software, you should pay attention to the following features of it.
Performance: This is one of the most important elements that should be taken into account while picking an NTFS undelete tool. High-performance undeletion software can recognize and undelete hundreds of file formats from various NTFS storage devices such as traditional spinning hard drives, modern SSDs, USB flash drives, SD cards, etc.
Reliability: You need to choose NTFS undeleting programs that won't crash, which could cause more damage to the lost partition or data.
Usability: The best NTFS data recovery software should also be intuitive and easy to use. Besides, it can help you find the needed data quickly.
Additional features: If an NTFS undelete tool boosts features like data backup and disk health check, it would be better. Then, it meets your other demand in addition to NTFS recovery.
Safety: You should ensure the NTFS undelete program itself won't pose threats to your data on the computer. Otherwise, you might be stuck in more severe conditions.
Technical support: If you encounter any questions while using the NTFS undeletion software, you may need to seek for help from technical support of this program. In addition, bug fixes should also be released by software developers.
Top 6 NTFS Undelete Tools
Top 6 NTFS undeleting programs are introduced in this section. You can pick one by referring to the above standards or according to your condition.
#1. MiniTool Partition Wizard
MiniTool Partition Wizard is a powerful data recovery, which allows you to scan and recover various files from partitions or drives including FAT12/16/32, exFAT, NTFS, and HFS+. Additionally, it enables you to recover multiple file types such as document, archive, graphics & picture, audio & video, e-mail, etc.
It can scan and recover lost data and partitions caused by different reasons on internal/external hard drives and portable storage devices like SD cards, USB flash drives, TF cards, and XD cards, and so on.
Tip: MiniTool Partition Wizard works on Windows 11/10/8/8.1/7 (both 32/64 bit).
This data recovery software scans existing partitions, lost partitions, partitions without drive letters, and even unallocated space. What's more, it is capable of scanning specific locations like Desktop, Recycle Bin, and Folders.
The Data Recovery feature of MiniTool Partition Wizard helps you recover the lost data in the selected location, while the Partition Recovery feature enables you to recover the picked partition and data in it. You are allowed to pause or stop the scan process once you find the target data.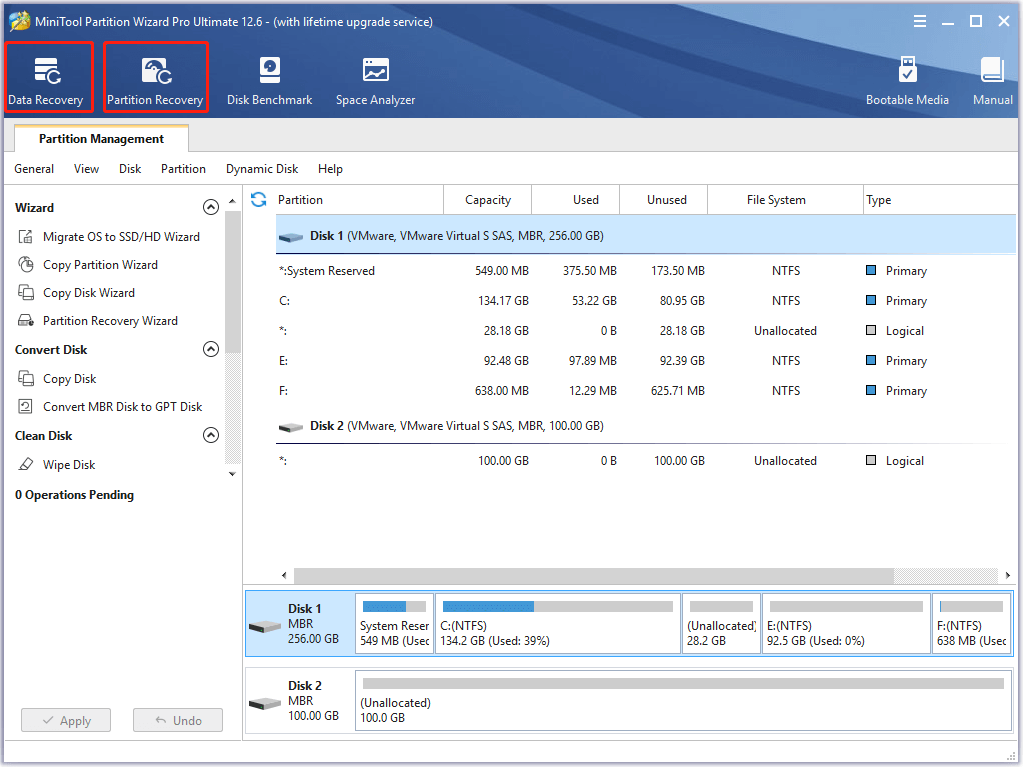 The needed data can be found quickly via provided options like Show Lost Files, Find, and Filter. The Preview option even allows previewing up to 70 kinds of files within 100MB. Besides, the scan result can be exported to a location. Even though you don't save the scan result, you can see it by clicking the Load Manually option in the Data Recovery module the next time you launch this NTFS undelete program.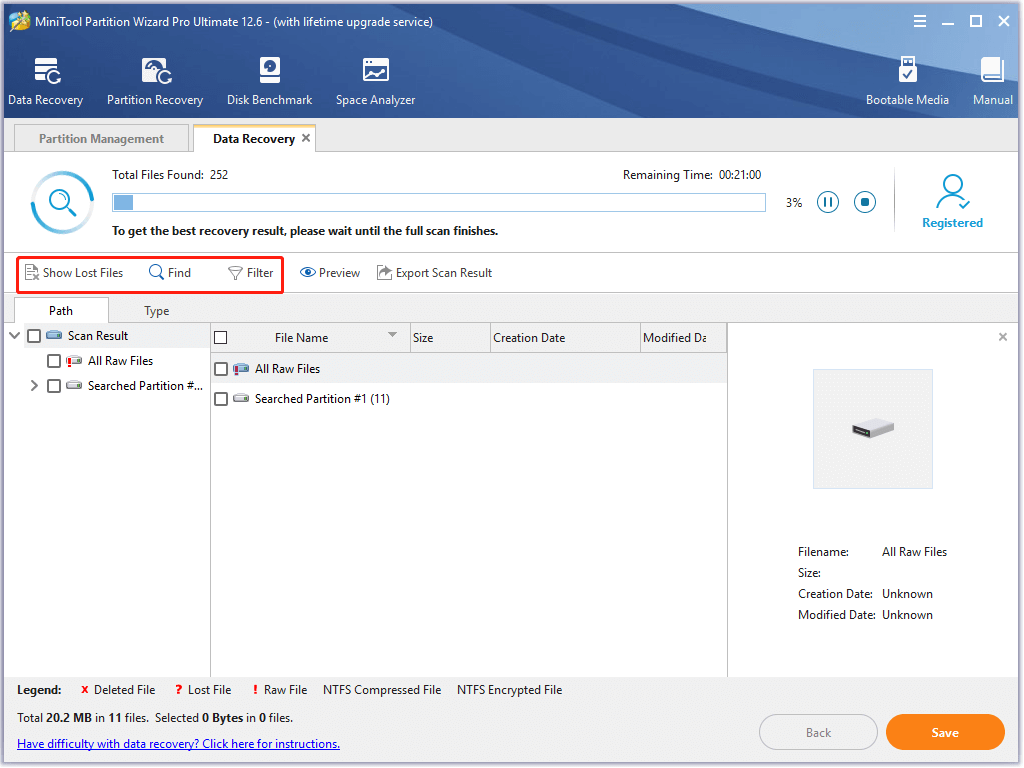 In addition to Data Recovery and Partition Recovery, MiniTool Partition Wizard includes features like Space Analyzer, Disk Benchmark, Surface Test, and Data Backup. You can migrate OS to SSD/HD, rebuild MBR, convert MBR to GPT without data loss, convert NTFS to FAT, and create/format/extend/move/resize partitions with this software.
As for technical support, you can directly contact the customer service. Alternatively, you can obtain quick help from Software FAQ or refer to guides & tips from our website. New features and bug fixes are expected to be added in the later new updates. All the above features enable MiniTool Partition Wizard to be one of the best NTFS recovery tools.
Tip: The Data Recovery feature is only available on MiniTool Partition Wizard Pro Deluxe Edition or higher editions.
MiniTool Partition Wizard DemoClick to Download100%Clean & Safe
Also read: How to Allocate a Hard Drive? Try This Full Guide Now!
#2. Disk Drill
Disk Drill can recover hundreds of file formats from devices like iOS and Android smartphones, tablets, Windows computers, etc. The deleted/formatted partition can be recovered with this NTFS undelete tool.
Tip: In addition to NTFS format, files from other formats like FAT12/16/32, exFAT, ext2/3/4, HFS+, and APFS can also be recovered by Disk Drill. Hard drive brands including Western Digital, Seagate, Toshiba, Hitachi, SanDisk, Kingston Technology, Sony, Transcend, and others are supported.
As this program has an intuitive user interface, you can start and finish the NTFS recovery operation easily. You are allowed to pause, save, and resume scans. The needed data could be found as fast as you can via Filters. Besides, it supports file preview before saving the found files.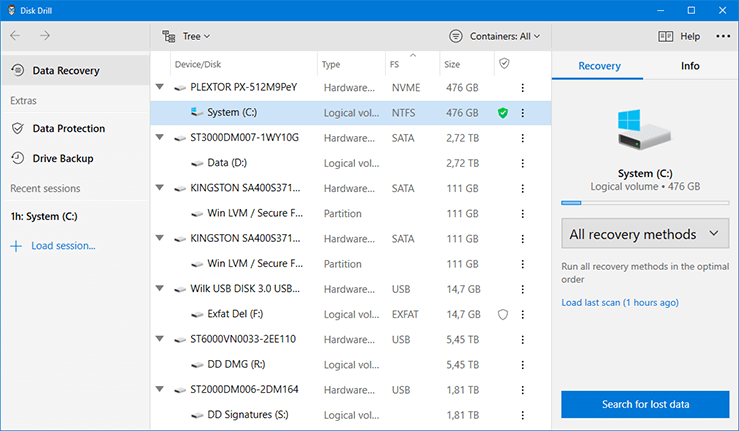 With Disk Drill, you can mount found files as virtual drive in Windows Explorer and view the S.M.A.R.T. hard drive attributes information. Moreover, data protection tools are included for free in the Disk Drill. It offers 500MB free data recovery. To get more data recovered, you have to obtain its paid edition.
Related article: Is Disk Drill Safe & 5 Best Disk Drill Alternatives
#3. Recuva
Recuva can undelete pictures, music, documents, videos, emails, and some other file formats from the NTFS partition. Different from other NTFS undelete tools, you can create a mirror image of the failing drive and then recover data from the image on Recuva.
This undeletion software includes a secure file shredder that can be used to delete sensitive files. Then you won't have to worry about data leak. The NTFS recovery process can be finished by following the on-screen instructions. It has an affordable price.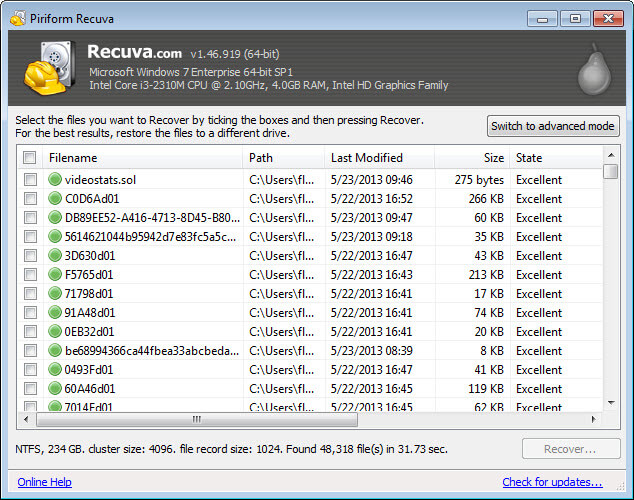 You need to know that Recuva is only available on Windows. Besides, it hasn't been updated for a while, so it doesn't support all the latest file formats. Fortunately, basic image, video, audio, and documents file formats can still be previewed and recovered successfully.
#4. MiniTool Power Data Recovery
MiniTool Power Data Recovery is a professional data undelete program that enables you to solve various data loss cases. For instance, it can help you recover deleted/formatted/RAW partitions or hard drives. If you lost data due to OS crashes, hard drive failure, virus attacks, or partition loss, you can find it back with this NTFS undelete program too.
Tip: This NTFS data recovery software is available on Windows PC and Server.
It is capable of recovering data from both basic and dynamic disks. If your computer can't boot normally, boot it with the created WinPE bootable media using MiniTool Power Data Recovery and then recover data. However, you need to note that the bootable media can't be created through the free edition.
The MiniTool Power Data Recovery Free Edition allows you to recover up to 1GB data. To recover more, you need to get its pro or higher editions. This edition comparison form tells you the corresponding prices, PC number limit, and other information.
Diskpart Clean vs Clean All: Choose a Way to Wipe Disks
#5. TestDisk
TestDisk is an open-source NTFS undelete tool that can run on Windows, DOS, Linux, macOS, FreeBSD, NetBSD, OpenBSD, and SunOS. In addition, it is also included in many Linux-based system rescue disks. It's likely to download standalone binary executables from its website.
TestDisk is a companion product to PhotoRec that is used to recover individual files. Differently, TestDisk is mainly built to recover lost partitions and make non-booting disks bootable again.
TestDisk is a menu-driven command-line tool without a graphical user interface. This NTFS data recovery software is free of charge. However, you can't use it to undelete your files unless you are an experienced user or get a detailed online tutorial.
#6. Recoverit
Recoverit supports recovering files from NTFS, FAT, HFS+, and APFS drives. Over 1000 different file formats from any type of disk-based storage devices can be recovered by this undeletion software.
It can run on both Windows and Mac devices. With the extensive filtering of search results, the scanning time will be minimized. What's more, you are allowed to pause, save and resume scans.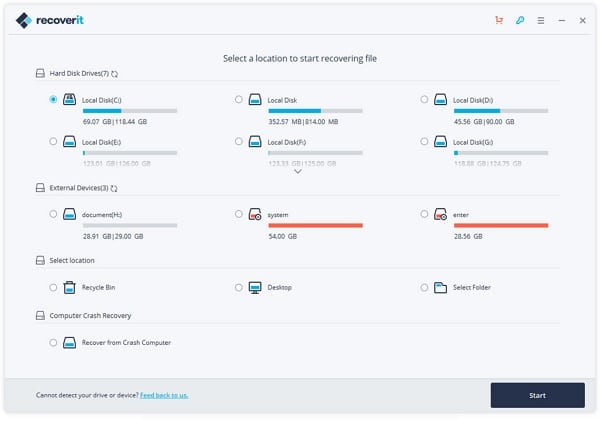 As it offers a user-friendly interface, you are able to recover the deleted or lost files from NTFS partitions with ease. The Wondershare Recoverit free edition only offers 100MB free data recovery. Moreover, certain advanced options are missing.
Are you still looking for an NTFS undelete tool? This post introduces you top 6 NTFS data recovery tools. You can have a try!Click to Tweet
Bottom Line
If you want to choose an NTFS undelete program to recover lost data, this post is suitable for you. It tells you how to choose a good NTFS undeletion software and lists some high-rating undeleting programs.
Here comes the end of the post. If you have any thoughts about the NTFS recovery, leave your words in the following comment area. For any questions about MiniTool software, directly contact us via [email protected].