There are dozens of
free PC cleaners
on the market. Which one to choose? Well,
MiniTool
lists the best programs to clean computers in this post. You can make your choice after comparing their features.
What Does a PC Cleaner Do
A lot of files, applications, and other such items will pile up on your computer after using it for some time. Then the PC would slow down or prompt you with data storage issues. At this time, you need to clean up your computer with a computer cleaning program.
To be specific, you can clear the cache for various programs, eliminate corrupted registry files, as well as locate and remove temporary files with a free PC cleaner. What is the best free PC cleaner? Well, the answer depends on your preference and needs. This post collects the top 10 free PC cleaners in the market. Just choose one randomly.
Tips:
It is recommended to use a PC monitor tool like NZXT CAM to supervise the components of your computer. Then improve the performance of your PC by using the given instructions.
#1. Iolo System Mechanic
Iolo System Mechanic is a feature-packed PC cleaning kit, which enables you to remove unnecessary files, fine-tune your computer's settings, and protect your privacy. Besides, it has the following features.
Finds unwanted startup programs that slow down your PC.
Clears browsing history and patches Windows security vulnerabilities that may do harm to your laptop.
Optimizes hidden Internet settings for faster page loads and downloads.
Erases the whole drive.
Removes more than 50 types of junk files.
Finds and fixes over 30,000 different issues.
Protects your computer from bloatware, malware, spyware, as well as adware and threats.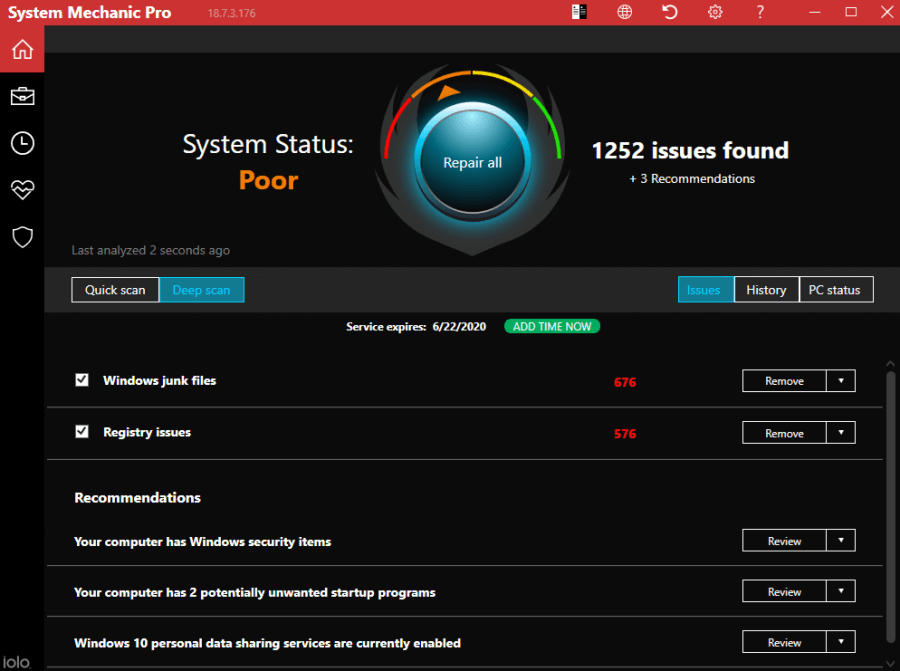 By using these features, you can improve PC boot time, Internet download speed, CPU performance, hard drive speed, etc. You can tune up your computer with a single click. In addition to PC cleanup, Iolo System Mechanic also allows you to perform PC health checks, safe browsing, scheduled automatic disk cleaning, driver update, disk defragment, etc.
Supported system: Windows 11, 10, 8, and 7
Versions: 30-day free trial and paid versions
#2. CCleaner
If you search keywords like free PC cleaner 2022 and best free PC cleaner on browsers, there's no wonder that you would see CCleaner at the top of the listed search results. Why this PC cleaning kit is regarded as one of the best PC cleaners? Well, the answer lies in the features below.
Kindly note: Some of the following features are only available in Pro or higher editions.
Cleans up your Registry, temporary files, junk files, browser history and cache, unwanted cookies, obsolete apps, etc.
Manages browser plugins.
Finds and removes all kinds of duplicate and similar files on the PC.
Disables programs that start up with Windows to speed up your computer.
Wipes an entire hard drive.
Helps you find what's taking up your disk space.
Automatically updates the program in the background.
Adds real-time monitoring, file recovery, and deep-cleaning attachments in the CCleaner Professional version.
Provides customer support via Contact Form, Community Forum, and Chat.
Supports 55 languages
Fits individuals, families, field technicians, and businesses.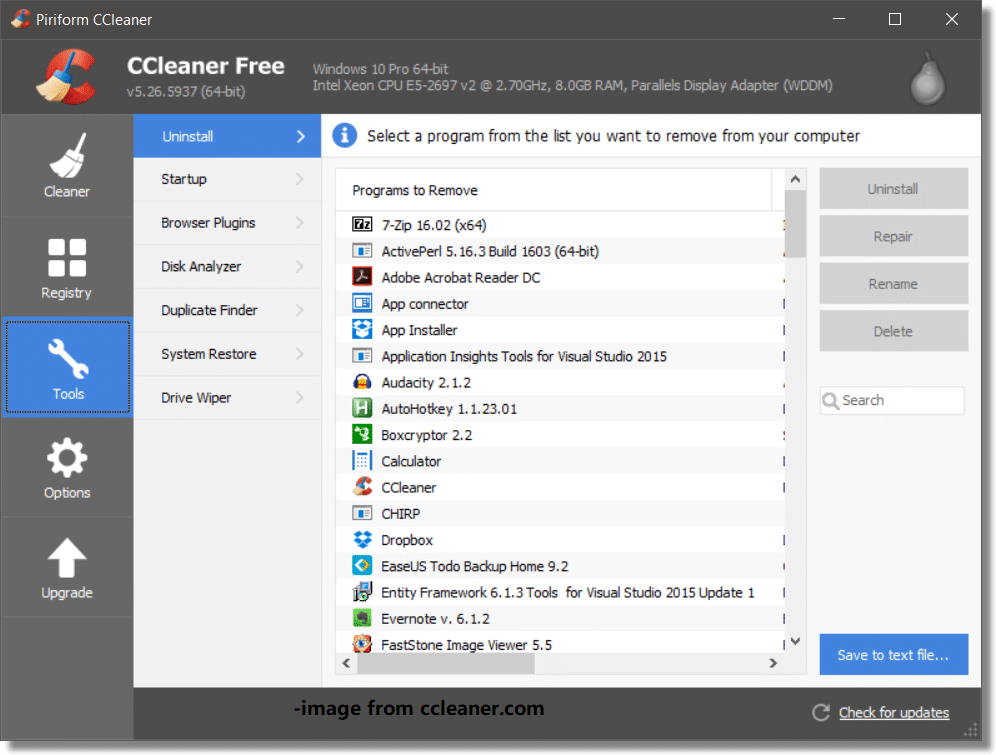 Supported system: Windows, Mac, and Android
Versions: free and paid versions
Due to some reasons, some users raise the question: is CCleaner safe. Besides, you should also know that the CCleaner free version comes with bundled software, but you can opt out of the installation process.
#3. Restoro
Restoro is not only a computer cleaning program but also a PC repair tool. It has the following features.
Performs PC scan & assessment and hardware analysis.
Fixes Windows errors caused by system files and malware infections.
Fixes the damaged DLLs.
Repairs and rebuilds Windows OS.
Solves Windows stability issues.
Repairs damages made by the virus.
Detects dangerous websites.
Releases precious disk space.
Offers convenient PC repairs at any time.
Downloads new and healthy files.
Provides protection from malware and restores peak performance.
Is Restoro safe? Plenty of users wonder that. Well, you can find the answer in the provided post and get an alternative to Restoro.
Supported system: Windows
Version: with both free and paid versions
#4. MyCleanPC
MyCleanPC is also a free PC cleaner, but it is not completely free. You need to get the paid version to obtain some advanced features. Fortunately, you can still obtain some useful features in the free version. This computer cleaning program includes the features below.
Boosts the processing and Internet speed of the PC.
Scans the system to find issues that are causing your system to lag or crash.
Fixes issues found with Registry files.
Fixes incorrect system configurations.
Finds and removes malware from the system.
Finds and deletes junk files and cached records.
Moreover, MyCleanPC is easy to install. With this free PC cleaner 2022, you can scan the whole system and find & fix issues to improve the performance of your computer.
Supported system: Windows
Version: free and paid versions
#5. Microsoft Total PC Cleaner
Microsoft Total PC Cleaner is the best free PC cleaner for computers. It optimizes memory and Windows systems.
To be specific, it includes the following features.
Cleans the cache of the system, application, mail, Office, and browser.
Clears downloads and large files (over 100MB).
Scans and removes all unnecessary files like junk files and duplicate files.
Prevents your computer from being attacked by malware, virus, and other malicious software.
Supported system: Windows 10 and above
You can get this best PC cleaner from its official website. Then find and remove large files that are unused for a long time.
#6. PC Cleaner
PC Cleaner offers a comprehensive PC optimization solution to users. Like Microsoft Total PC Cleaner, it is also a completely free computer cleaning program. With this free PC cleaner, you can clean and optimize your computer to speed up it. To be specific, it scans all the system parameters like Registry, installed programs, system files, and autorun, and then offers solutions to detected issues.
After eliminating failures and errors, your computer will be cleaner and work faster. Therefore, it can be considered as one of the best free PC cleaners.
#7. MiniTool Partition Wizard
MiniTool Partition Wizard is an all-in-one partition manager. It allows you to perform various partition or disk-related operations. For instance, you can create/format/extend/shrink/delete/copy/recover partition, check file system, convert MBR to GPT, etc. It can be used as a duplicate file finder, free PC cleaner, and hard drive space analyzer.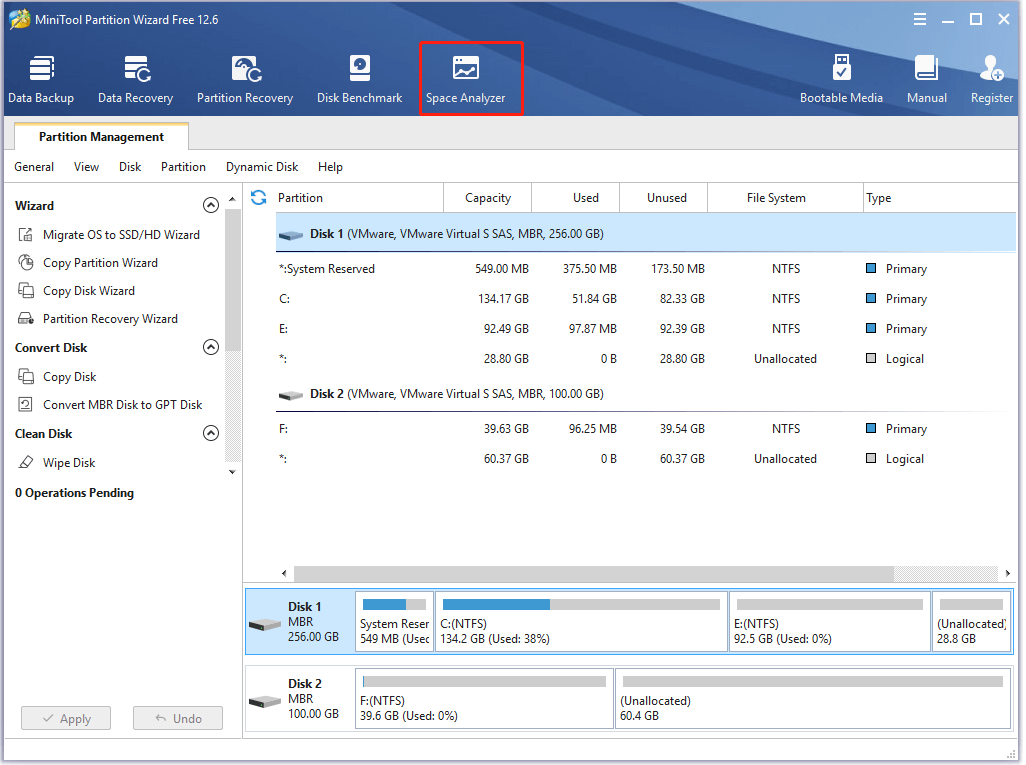 This computer cleaning program can help you find large files, duplicate files, and certain types of files after scanning a partition or folder. It can show the scan result in Tree View, File View, and Folder View.
Tips:
This space analyzer displays the total space, space used, and space free of the selected partition or folder on the top of the page. What's more, it shows the exact size and percentage of each file or folder stored in the target place.
MiniTool Partition Wizard also boasts the features below in addition to Space Analyzer.
Extend partition: It helps you increase disk space.
Move/resize partition: It allows you to expand, shrink, and move a partition.
Surface test: This feature can detect if your hard drive has bad sectors.
Check file system: It finds and repairs detected file system errors.
Copy disk: It enables you to back up your system and data.
Wipe disk: It enables you to erase the entire disk with ease.
Data recovery: You can recover missing or deleted data via this feature.
Supported system: all editions of Windows 11/10/8.1/8/7
Version: with both free and paid versions
Fits for individuals, enterprises, as well as technicians and servers
[Guide]: Blackmagic Disk Speed Test Windows & Its 5 Alternatives
#8. IOBit Advanced SystemCare Free
IOBit Advanced SystemCare is one of the programs to clean computers. Actually, as a PC optimizer, it can clean, speed up, optimize, as well as protect your system and online privacy. To see more details, pay attention to the content below.
Cleans up files and folders you don't need anymore to free up disk space.
Manages Windows Registry and fixes hard drive errors.
Fixes Windows issues.
Improves system security and refreshes your web browsing.
Removes Registry entries, unwanted & stubborn programs, ad-based toolbars & plugins.
Protects your computer from being attacked by malware, spyware, and adware.
Offers capture intruder, removes ads, blocks malicious websites, protects your online privacy proactively, monitors system resources in real-time, and fixes all kinds of computer problems.
Pro version adds features like Internet speed-boosting, real-time optimization, privacy protection, and deep Registry cleaning.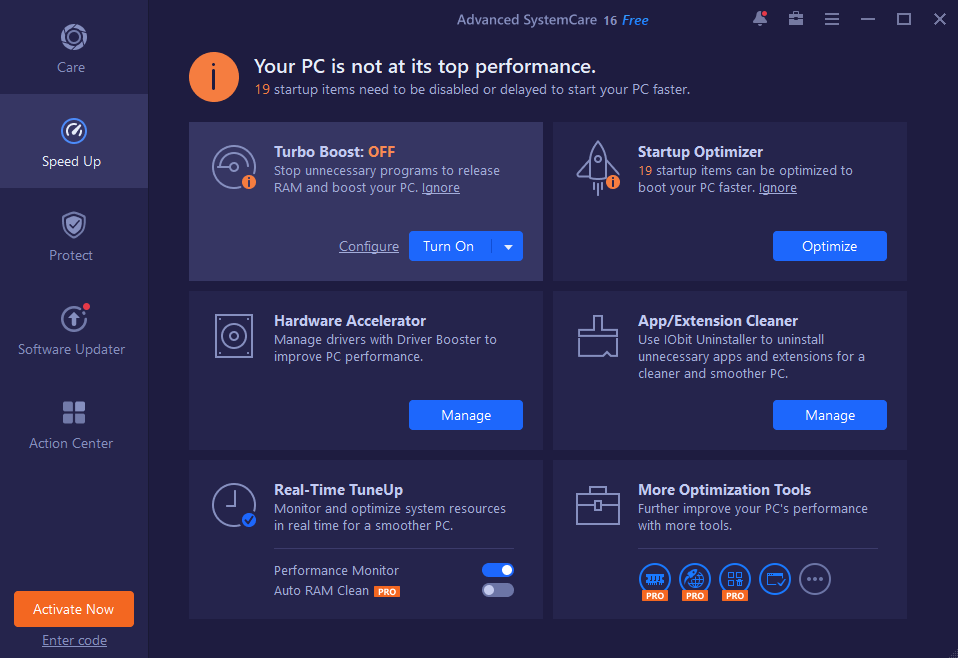 Supported system: Windows
Version: comes with a free and pro edition
Also read: Is Advanced SystemCare Safe? How to Optimize Your PC?
#9. AVG PC TuneUp
AVG TuneUp is a comprehensive PC cleaner and optimizer that offers your computer all-around automatic maintenance. It has the following detailed features.
It frees up space and cleans up browser traces, tracking cookies, cache files, and program leftovers to improve the performance of your PC.
It automatically maintains your computer every week.
It includes driver update software to maintain the overall well-being of the system.
The built-in software uninstaller detects and removes bloatware.
The sleep mode saves battery and optimizes performance.
It updates software like Java, VLC, Skype, and other programs to the latest version.
It comes with backup and restore options.
It allows you to manage your device remotely.
It fixes bugs and crashes and maintains your computer automatically.
It offers email configuration and software setup.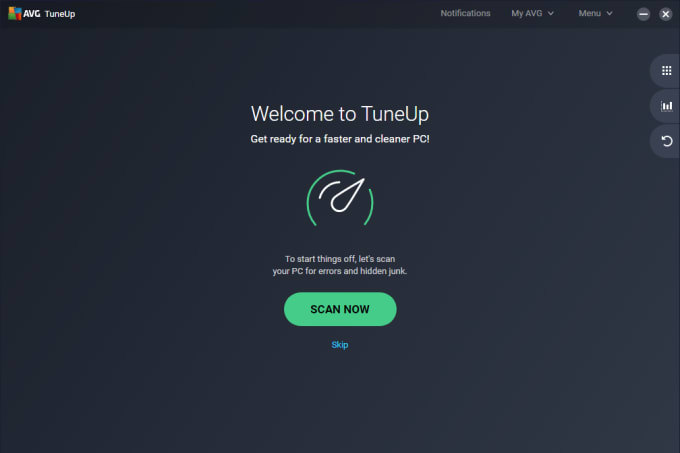 Supported system: Windows, Mac, iOS, and Android
Version: free trial and annual subscription versions
AVG TuneUp is a good choice if your computer takes too long to boot, programs run slowly, games stutter, and the web is slow.
#10. Razer Cortex
Though Razer Cortex might not be the best free PC cleaner, it is a good game enhancing tool. It can even be used as a hardware configuration tool. It disables the CPU sleep mode for obtaining optimal performance and enables CPU core for prioritizing gaming.
Clears unwanted junk files
Frees up RAM by killing unnecessary processes and apps during the gameplay.
Micromanages the Windows OS to boost FPS.
Improves the quality of games.
Supported system: Windows 10/8/7
Version: free
It is considered the best gaming booster for PC that is built for giving high performance to gaming PCs.
You may also like this: Top 5 Games Boosters for PC (Razer/Smart/Wise/IObit/Samsung)
Are you looking for the best free PC cleaner 2022? This post summarizes several free programs to clean computers for you. Pick the best PC cleaner in your mind from them now!Click to Tweet
Bottom Line
The top 10 free PC cleaners and their corresponding features are listed in this post. You can choose the best free PC cleaner from your viewpoint. Then clean up your computer with it to optimize, speed up, and protect the device.
If you encounter any PC problems, you can tell us in the following comment zone. We would try our best to help you. For any questions about MiniTool Partition Wizard, directly contact us by sending an email via [email protected]. We will make a reply as soon as possible.