The article from MiniTool partition software mainly introduces 5 types of Seagate Xbox game drives: HDD, SSD, Game Pass, Cyberpunk 2077, and Star Wars. They are all specially designed for Xbox consoles with USB 3.0 offering fast transfer speed, lightweight and portable…
Today, most people will play games on at least one of these devices: smartphone, tablet, notebook, laptop, desktop, Xbox console, PlayStation (PS), Switch console, etc. As for video games, it is much better to play them on professional game consoles like Xbox One if you can afford one.
With the prosperity of the game industry, many tech companies have explored to produce products special for game activities, including hard disk manufacturers like Seagate, Western Digital (WD), Toshiba, Samsung, etc.
Here in this article, we will talk about the hard drives manufactured by Seagate for playing games on Xbox.
Seagate Game Drive for Xbox
There are many kinds of game drives made by Seagate for Microsoft Xbox, and the following are some popular ones of them.
Game Drive for Xbox
The classic external game drive for Xbox is exclusively designed for Xbox consoles. It can boost your console's storage space by providing up to 4 TB (2 TB or 4 TB) capacity for holding more than 100 video games.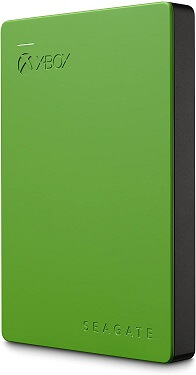 With the easy plug-and-play setup, you can enjoy your game in seconds. This game drive uses USB 3.0 connectivity to deliver full-throttle gaming, just making you feel like playing games directly from your console's internal hard drive.
Being designed to work with Xbox One Series S, and Xbox One Series X, the Seagate 4TB game drive for Xbox will bring all your founding games to the next generation. Moreover, its green color makes it look like harmony with brands of both Seagate and Xbox.
Besides HDD, there are also SSD special designed for Xbox. Seagate has partnered with Xbox to design a premium external solid-state drive, which aims at offering full throttle and lightning speed. At the same time, it will complement the appearance of your Xbox consoles.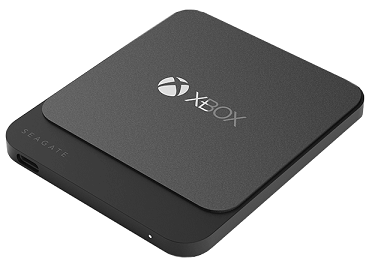 With the SSD technology, you can greatly decrease the launch and load times. The drive provides 500 GB, 1 TB, and 2 TB three capacity choices for its users. If you pick the largest 2 TB, you are able to store 50+ games and downloadable content.
This game SSD for Xbox is shock-proof, lightweight, and portable. You can enjoy its ultra-compact design and superior style. You can also take your frequently played games with you wherever you go. Moreover, after purchasing this kind of disk, you can access 100+ games and new Xbox One exclusives with a 2-month trial membership to Xbox Game Pass.
Tip: Game titles available on Game Pass vary slightly per region and are updated monthly.
Seagate Game Drive for Xbox Game Pass Special Edition
Xbox Game Pass is an Xbox service for its users to access 100+ games and Xbox Live Gold. It applies to consoles, PCs, as well as Android mobile phones. If you get an Xbox Game Pass special drive and connect it to your console, you can have enough storage space for your new Xbox Game Studios titles together with your current game library.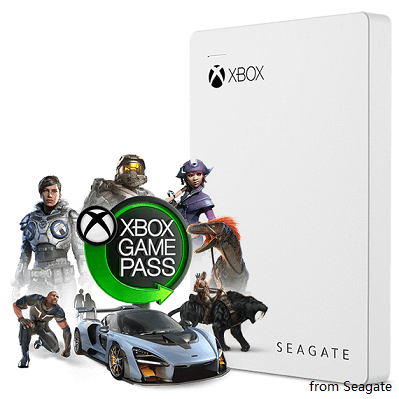 This Seagate Game Pass drive provides both 2 TB and 4 TB storage capacity, with the former offering 1-month trial membership to Xbox Game Pass Ultimate and the latter offering 2 months.
Seagate Cyberpunk 2077 Special Edition
This Seagate game drive for Xbox offers 2 TB or 5 TB for you to choose from, no games have to be executed. This portable hard drive is easy to set up with, just connect, install, and play. It can be connected to any USB port on an Xbox console. After connecting, it will be automatically detected and installed.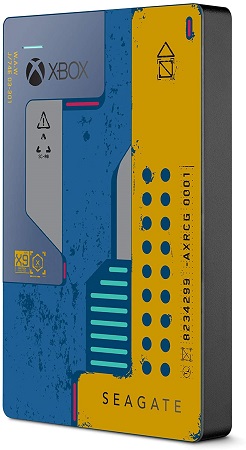 This special edition is a futuristic style of Cyberpunk 2077's immersive universe. Hack the world with it, and finally, the world will be yours. 
Seagate Special Edition for Star Wars Jedi: Fallen Order
Amass an empire of games with the officially-licensed Stars Jedi: Fallen Order Seagate Game Drive for Xbox. It is of the iconic Star Wars Design. This type of hard drive offers 2 terabytes for saving over 50 titles. Built with matching Xbox firmware for seamless gameplay, it's a portable plug-and-play disk that can be connected to any Xbox USB port for auto-detection and quick installation.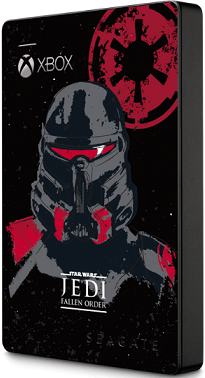 Why Seagate Game Drive for Xbox is Necessary?
Since there are many other Seagate hard drives, why need to stick on the special game drive?
Level up Game Experience
Since those hard disk drives are specially designed for game players for holding their favorite games on the game console, they try their best and adopt many game-friendly technologies to ensure a much better game experience for you.
Pedal to the Metal with USB 3.0
The newest USB 3.0 delivers a full-throttle gaming experience and makes you just feel like playing directly from the console's hard disk.
Compatible with Xbox 360
Though designed to work with Xbox One, the above game drives can also be used on Xbox 360 by connecting them to the USB 2.0 ports on Xbox 360 consoles.
Tip:
Formatting
may be required. Xbox 360 only accepts up to 2 TB of external storage space. So, Xbox 360 gamers should purchase the version whose capacity is no more than 2 TB.
Special Game Drive Named by Yourself
Once you connect the Seagate Game Drive for Xbox to your console and it is detected by the console, the console will ask you to name your Game drive. Therefore, you can customize your own gamertag and make it your own personalization.
Enjoy Your Favorite Games Wherever You Go
The extreme portable Seagate game drive enables you to play your roles wherever you go. Just unplug it from its original console and put it even into your pocket. When you arrive at your destination, your friend's home, for instance, you can take it out and connect it to your friend's console. Finally, you can enjoy your game library with your friends!
Tip: You have to log into your Xbox Live account to share your games with your friends.
Compare Seagate Game Drive for Xbox
Here, we will use a table to compare some parameters of all the above game drives.
Seagate Game Drives
Capacities
USB Interface
Read Speed
Dimensions (L x W x H)
Item Weight
Color
Game Drive for Xbox
2TB / 4TB
3.0
140 MB/s

2TB: 4.61 x 3.15 x 0.58 inches

4TB: 4.61 x 3.15 x 0.82 inches

2TB: 5.90 ounces

4TB: 8.50 ounces

Green
Game Drive Xbox SSD
500GB / 1TB / 2TB
3.0
540 MB/s
3.68 x 3.11 x 0.36 inches
3.04 ounces
Black
Game Pass SE
2TB / 4TB
3.0
140 MB/s
4.61 x 3.15 x 0.58 inches

2TB:5.90 ounces

4TB: 8.50 ounces

White
Cyberpunk 2077 SE
2TB / 5TB
3.0
140 MB/s
4.61 x 3.15 x 0.58 inches

2TB: 5.92 ounces

4TB: 6.08 ounces

Colorful
Star Wars Jedi: Fallen Order SE
2TB
3.0
140 MB/s
4.61 x 3.15 x 0.58 inches
5.90 ounces
Colorful
As you can figure out from the above table, as for storage capacity, all game drives provide more than one choice with the SSD provides three, except for the Star Wars SE only offers 2TB (also provided by the others).
As for the hard disk interface, all of them support the latest USB 3.0. For read transfer speed, all HDDs support up to 140 MB per second while the SSD can reach up to 540 Mb/s. As for the dimensions and weights, all of them are small, portable, and light-weight, with the SSD the smallest and lightest.
Finally, for the color of the game disk case, the two special game editions for Cyberpunk and Star Wars respectively are colorful with many kinds of colors, while the others have a main color.
Expand the capacity of your console by consolidating your Xbox One games and downloadable content on the Seagate Game Drive for Xbox. Archive the rest on your console and keep a massive game library at your fingertips. Then, how to expand your console storage capacity?
How to Upgrade Xbox Storage Capacity?
Just like described in the above content, there are 5 choices for you to upgrade your Xbox storage space with external hard drives. You can choose any one of them, connect it to your console, and start playing your games instantly.
Yet, if you already have been using an external hard disk for your console for a few years and it is running out of space now, you may need to replace the external drive with a new larger one (e.g. Seagate game drive for Xbox 2TB green) from the above choices. Or, maybe your current external disk is an HDD, you'd like to upgrade it to the Seagate SSD game disk.
No matter which new game disk you choose, you have to migrate the games and other game files from the original drive to the new disk. Of course, you can connect both drives to a computer and copy target files from the source drive to the destination drive. Yet, how to get the migration quickly and ensure the system bootable if there is one?
Now, you can rely on a professional and reliable disk copy software like MiniTool Partition Wizard, which can easily transfer your data from one hard drive to another without losing data and ensuring system bootable.
To make use of this powerful program, you should, first of all, download and install it on your computer. Also, for preparation work, remove the old drive from the Xbox console and connect it to the PC. Connect your new game drive to your PC too.
Tip: Since the new game drive will be formatted by the console to make it available for the console, you may first connect it to your console and make it formatted, then connect it to your computer to receive data from your old game drive. Or, you can do it vice versa for MiniTool Partition Wizard will automatically format the new drive during the process of copying disk.
Step 1. Launch Partition Wizard, on its main screen, you can see all the disks on the current computer, both internal hard drives and external ones.
Step 2. Click Copy Disk Wizard on the left menu.
Step 3. Read the welcome message in the pop-up window and click Next to continue.
Step 4. In the next screen, select the old game disk as the source drive.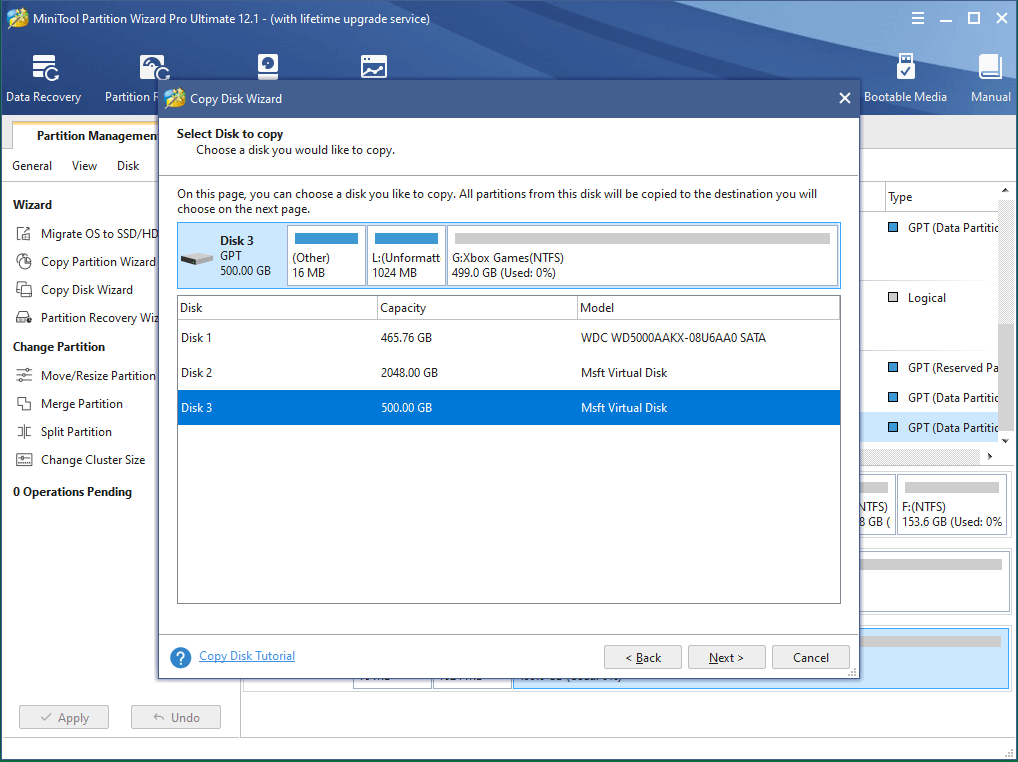 Step 5. Choose the new Xbox game drive as the target disk. All data on the target disk will be deleted.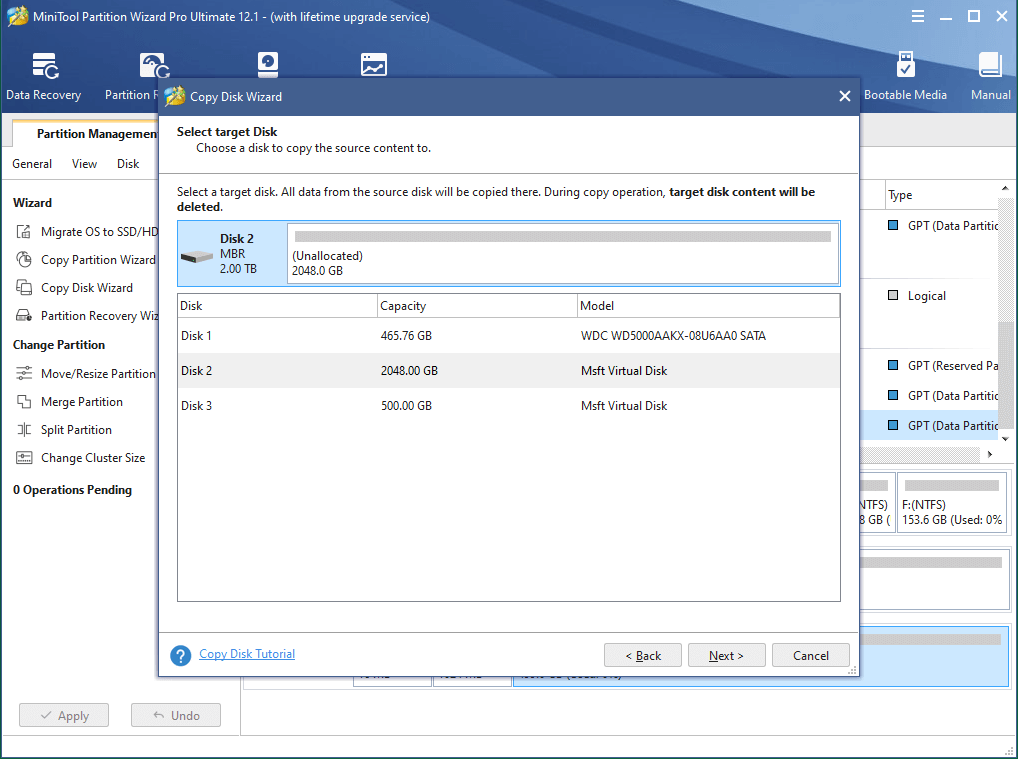 Step 6. Review the changes this task will bring to the target game drive. For the Copy Options, it is recommended to choose the first one since you want to use all the disk space on the new drive.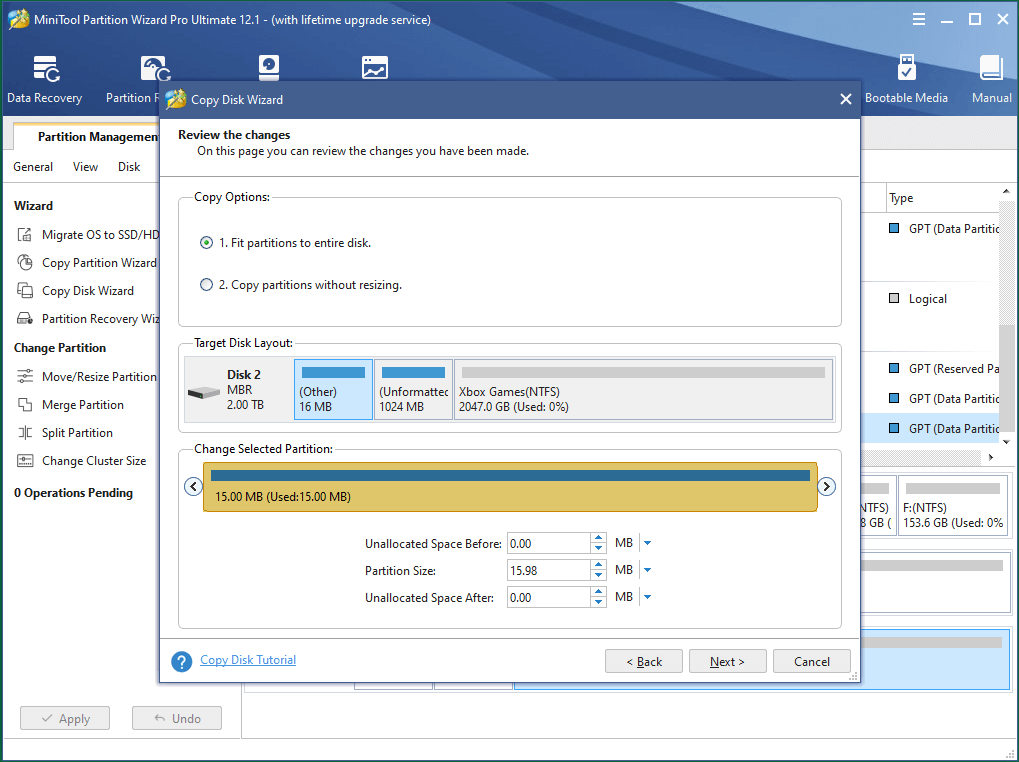 Step 7. Read the reminding message for system disk copy and go on.
Step 8. Preview the result, check the pending operations, finally, click Apply in the lower left to save all changes.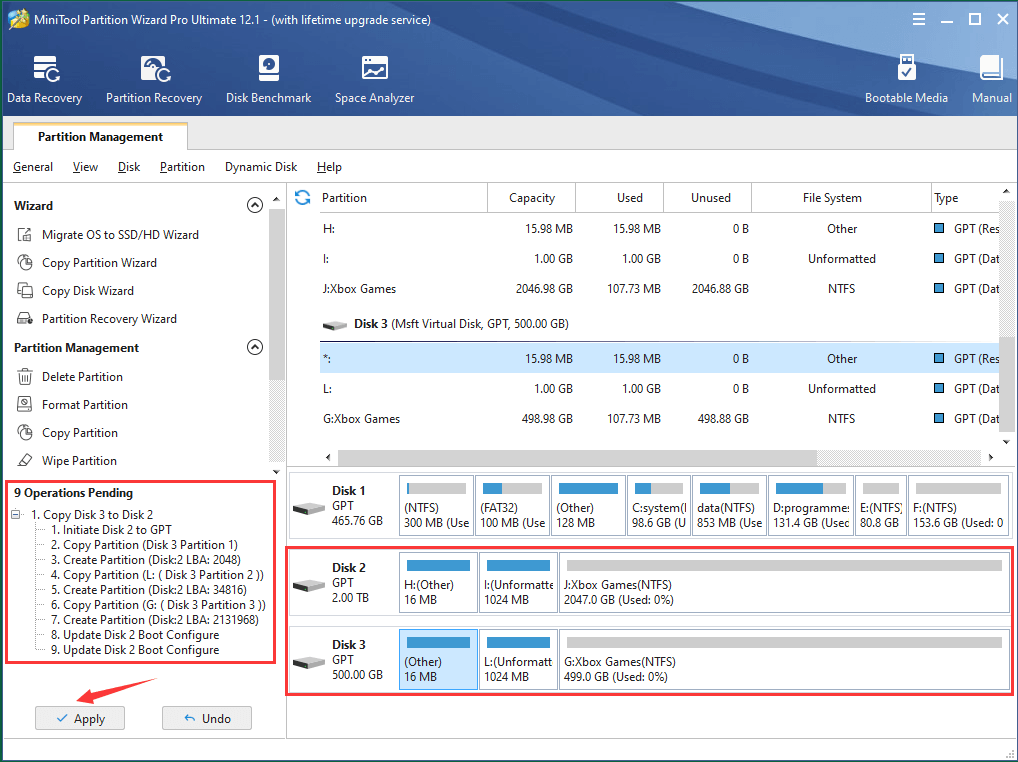 Wait patiently until it finishes. The time for completing this task depends on how much data needed to be migrated. Once it successfully moved all game data to your new Seagate game drive for Xbox, you can remove the new disk from your machine and connect it to your console to enjoy your game without worrying about the low disk space problem.
Also read: