When talking about storage manufacturers, you must have heard of Seagate and Western Digital. What the differences between the two companies' storage devices? Who makes the most reliable hard drives? If you don't know, this article from MiniTool will show you the answers.
Most of you have heard of Seagate and Western Digital, but how much do you really know about them? Before I show you the comparison of Seagate vs Western Digital from several aspects, I'd like to show you some basic information about the two companies. Now let's have a look together.
About Seagate
Seagate Technology PLC is an American data storage company. It was founded in 1978 as Shugart technology. Since 2010, the company has been incorporated in Dublin, Ireland, with its operating headquarters in Cupertino, California, USA.
In 1980, Seagate developed the first 5.25-inch hard disk drive (HDD). In the 1980s, they became the main suppliers of microcomputers. Today, Seagate and its competitor Western Digital dominate the hard disk market. And their main products include Desktop HDD, Laptop HDD, Enterprise HDD, Archive HDD, SSD and so on.
The growth of Seagate was largely achieved by acquiring competitors. In 1989, Seagate acquired the Control Data Corporation's Imprimis division which is devoted to making HDD products. In 1996, Seagate acquired Conner Peripherals. Then Seagate acquired Maxtor in 2006 and Samsung's hard disk business in 2011.
Now, Seagate is a global leader in data storage solutions. It develops amazing storage products that enable home and business users around the world to create, share and save their most critical data.
About Western Digital
Western Digital Corporation, also known as Western Digital and WD, is a famous American computer hard disk manufacturer and provider of various data storage solutions. It develops, manufactures and provides storage devices, data center systems, and cloud storage services to solve the evolving needs of the information technology industry.
Western Digital has a long history in the electronic industry. The company was founded by Alvin B. Phillips in 1970 and was headquartered in Irvine, California. Now they have moved its headquarters to San Jose, California.
Like Seagate, Western Digital becomes one of the manufacturers of large computer hard disks, which is the result of successful acquisition of other enterprises. In March 2012, Western Digital acquired HGST (Hitachi Global Storage Technologies). The acquisition had a great influence on the hard disk industry, as it made WD become the world's largest hard disk manufacturer after the acquisition.
In May 2016, Western Digital acquired the storage chip manufacturer SanDisk. In August 2017, Western Digital acquired cloud storage provider Upthere to build better cloud storage features. In September 2017, Western Digital acquired Tegile Systems, a flash storage array manufacturer.
Now the main hard disk manufacturers are only WD and Seagate, indicating that the hard disk industry has entered the era of oligarchy. And many users will compare the two brands when choosing a storage device such as SSD, HDD. So today, I will show you the differences of Seagate vs Western Digital on storage devices.
Seagate vs Western Digital HDD
As is known to all, HDD is the main business of Seagate Technology and Western Digital Corporation. What's the difference between their HDD products? The following will give you a comparison of Seagate vs Western Digital HDD, which introduces the differences on reliability, speed, capacity of the two HDD brands.
Reliability
When you want to upgrade hard drive, choosing a high-performance and reliable hard drive is essential. Any drive you buy today will fail eventually, but the more reliable your drive is, the longer you should be able to use it. So the reliability is an essential factor.
Western Digital is the hard drive manufacturer that many users prefer for traditional platter drives. Many people have been using WD hard drives for years. And they assume WD hard drives have terrific reliability with very low failure rate.
However, according to a study from BackBlaze, it shows that Western Digital's drives were overall the least reliable among HGST, Seagate, Toshiba, and Western Digital. Is that true? Well, hard disk drive failures vary by brand, model, and capacity. These numbers are found only when the manufacturer is considered regardless of the model and capacity. So these numbers are not 100% percent accurate.
After searching on the internet, you will find many people hold the opinion that Western Digital's hard drives are more reliable than that of Seagate. And many users report that Western Digital HDDs fail less than any from Seagate.
Whatever the reliability, you may occasionally encounter WD or Seagate hard drive failure as not all hard drives are created equal. You can have drive failure from any manufacturer. So, no matter what drive you are using, the best way to protect your valuable data is to make a backup.
Speed
As for the HDD speed, I see such an analogy on the Internet: Seagate and the Western Digital are like two people of completely different character. Seagate is a young man in pursuit of superior performance. While the Western Digital is more like an old man with rich experience who does not pursue speed but pursue the reliability.
What does this mean? It means that Seagate's hard disk speed will be faster than that of the Western Digital. But despite of the faster read-write speed, its failure rate is also higher than that of the Western Digital.
The read-write speed of Western Digital HDDs is a little slower compared with Seagate, but it is more suitable for storage due to its good stability and durability.
In conclusion, Seagate hard disk drives are generally fast, fluent in reading and writing, and generally light. The HDD of Western Digital is relatively stable with low hard drive failure rate.
If you want to test their read write speed, a free disk benchmarking tool is recommended – MiniTool Partition Wizard Free Edition, which can help you test hard drive sequential and random read/write speeds. If you want to perform Seagate/Western Digital HDD benchmark, download one now.
MiniTool Partition Wizard FreeClick to Download100%Clean & Safe
Capacity
When talking about capacity, Western Digital impressed us, as it was the first one who introduced 2TB SATA hard drives to us. And its capacity of hard drives is ever increasing. In October 2017, Western Digital shipped the world's first 14 TB HDD, the helium-filled HGST Ultrastar Hs14.
As for Seagate, it has desktop-class drives with a capacity up to 10TB. And the capacity of this drive is not the largest. Its internal hard drive Seagate BarraCuda's Pro version has a capacity of 14TB, which enables you to store more games, movies, and music than ever before.
Both Western Digital and Seagate can satisfy your need on hard drive capacity. In this case, when picking up a hard drive from the two companies, you can focus on other critical factors such as price, performance, reliability and so on.
Seagate vs Western Digital SSD
Both Western Digital and Seagate were initially reluctant to invest in SSDs, but now they all offer speedy solid-state drives.
In the new NVMe series, Firecuda 510 is the one that makes Seagate stand out in the competition. Western Digital Black 3D NVME is not as fast as Firecuda 510, but its price is higher.
Seagate is currently leading the way in larger internal storage and speed competition, although the gap is small. Western Digital still has a place in the middle and low-end market.
Seagate vs Western Digital External Storage
External storage is important and necessary for users who want to backup internal drives. The following will show you three kinds of external storages.
Portable Drive
Both Seagate and Western Digital offer pocket external hard drives with different capacities and connectivity. Among those external drives, Western Digital's My Passport series and Seagate's Backup Plus portable drives are popular. If you are considering purchasing an external hard drive, the following Seagate/Western Digital is worth buying.
Seagate Backup Plus Slim 2 TB
WD 3 TB My Passport Wireless Pro
WD My Passport Ultra 4 TB
Desktop Drive
If you are a photo or video editor, or a movie buff, a portable drive may not satisfy you, as you will need several terabytes of space to store large media collections. In this case, you can consider a desktop-class drive.
If you want to choose a desktop-class drive, WD My Book Duo Desktop drive is a good choice. The desktop drive has up to 28TB capacity in RAID 0 or RAID 1 configurations. As for Seagate, they can provide 10TB of storage from a single-drive Backup Plus Hub or Expansion Desktop.
Both desktop drives have mass storage for photos, videos, music and document backups. However, if you want to do 4K or even 8K video editing, or backup other massive media collection, Western Digital is your best choice.
NAS Devices
NAS devices seem to be an afterthought for Seagate. Why? Because Western Digital offers the My Cloud Pro and Expert lines in up to 40 TB but Seagate currently does not have a first-party NAS server. Instead, they choose to produce NAS-designed drives, with the IronWolf range in up to 14TB.
Nowadays, My Cloud offers build-in support for Plex Media Server. This organizes your library and allows streaming to any enabled device – smartphones, Chromecast, PlayStation 4 and more, which is very convenient. While Seagate drives can be merged into NAS servers and used in the same way, they do not have high-capacity servers with similar capabilities.
In this case, Western Digital is your best choice when you want to choose wireless storage products or use cloud storage.
The Best Disk Cloning Software for Seagate/Western Digital
After reading this post, you should know the pros and cons of Western Digital vs Seagate in terms of storage. Both of them are very good HDD brands. If you need to upgrade your HDD/SSD or backup your disk to an external device, you need to utilize a piece of disk cloning software. And MiniTool Partition Wizard can be your best choice.
MiniTool Partition Wizard is a reputable partition manager & disk cloning software. It can help you to migrate OS to SSD/HD, backup disk or partition, move/resize partition, convert MBR disk to GPT, and convert FAT to NTFS and so on. All of these operations can be performed with extremely simple procedures, so you don't need to worry about how to use.
And the following will show you the detailed steps on how to upgrade SSD/HDD without data loss or backup hard drive with the help of MiniTool Partition Wizard. Note that if you want to backup system related partitions or upgrade system disk, MiniTool Parition Wizard Pro Ultimate is required. After connecting the target disk to your computer, you can follow the steps below:
Step 1. Get MiniTool Partition Wizard by clicking the following button. Install it on your computer, launch it and get the main interface.
MiniTool Partition Wizard FreeClick to Download100%Clean & Safe
Step 2. Select the disk you want to copy and choose Copy Disk from the left panel.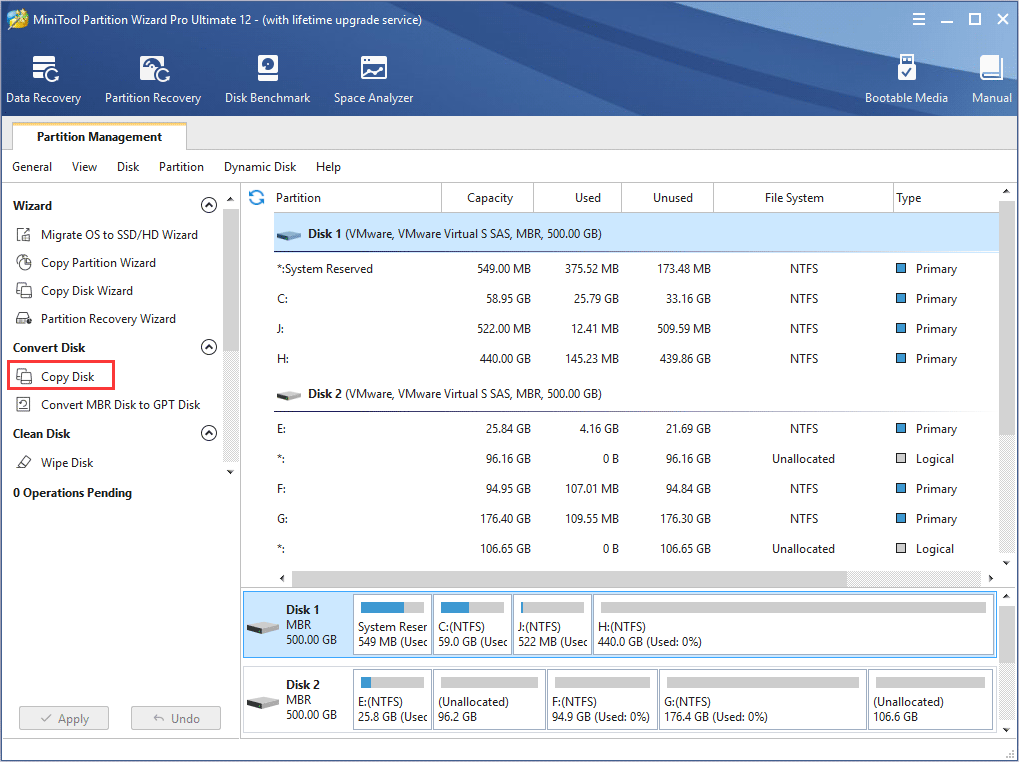 Step 3. Select a target disk to copy content to and click Next. When you click Next, it will remind you all the data on the target disk will be deleted, click OK if there are no important files on the target disk.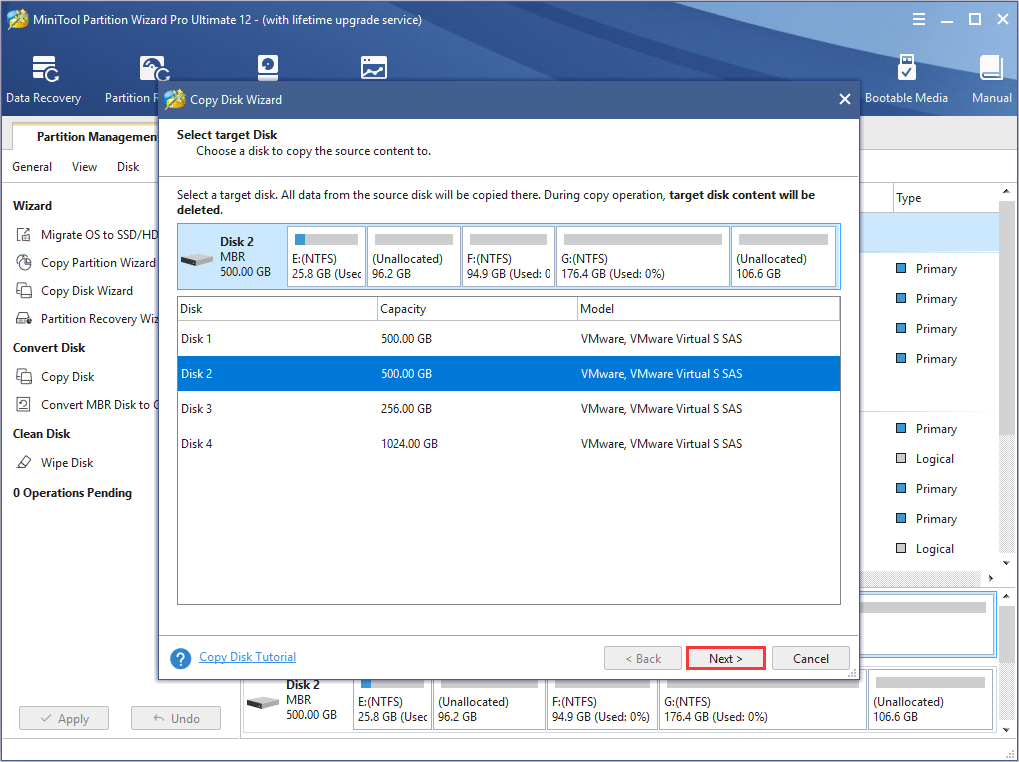 Step 4. Review the changes you are going to make and click Next to go on.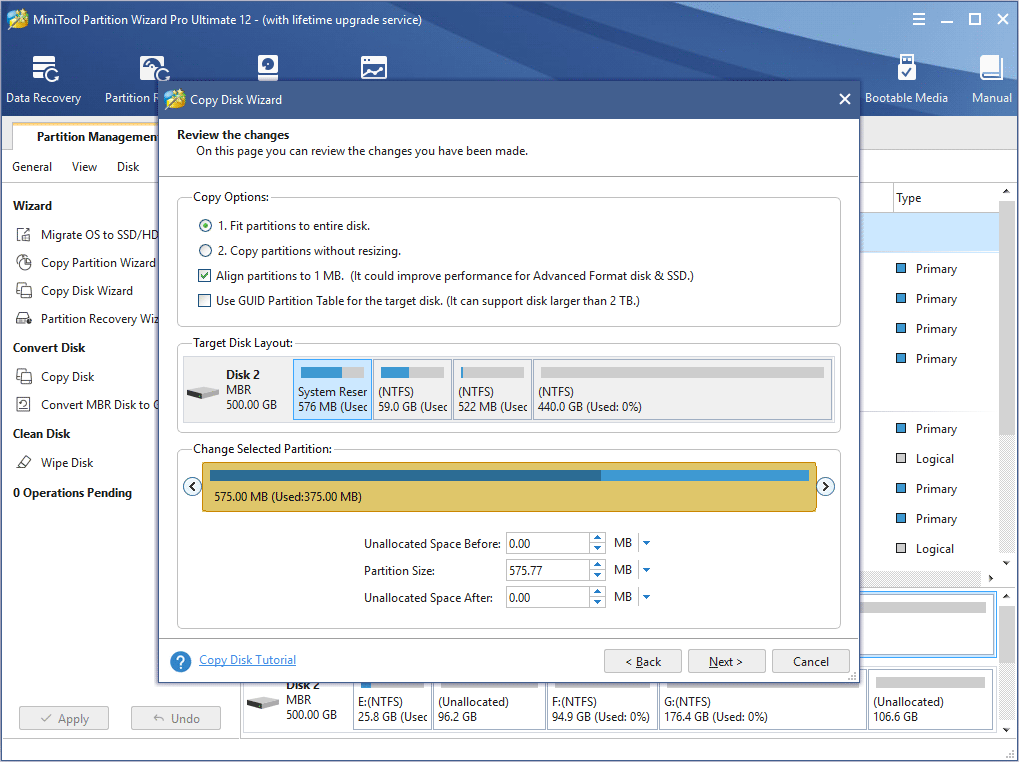 Step 5. Read the note about how to boot from the destination drive. Then click Finish.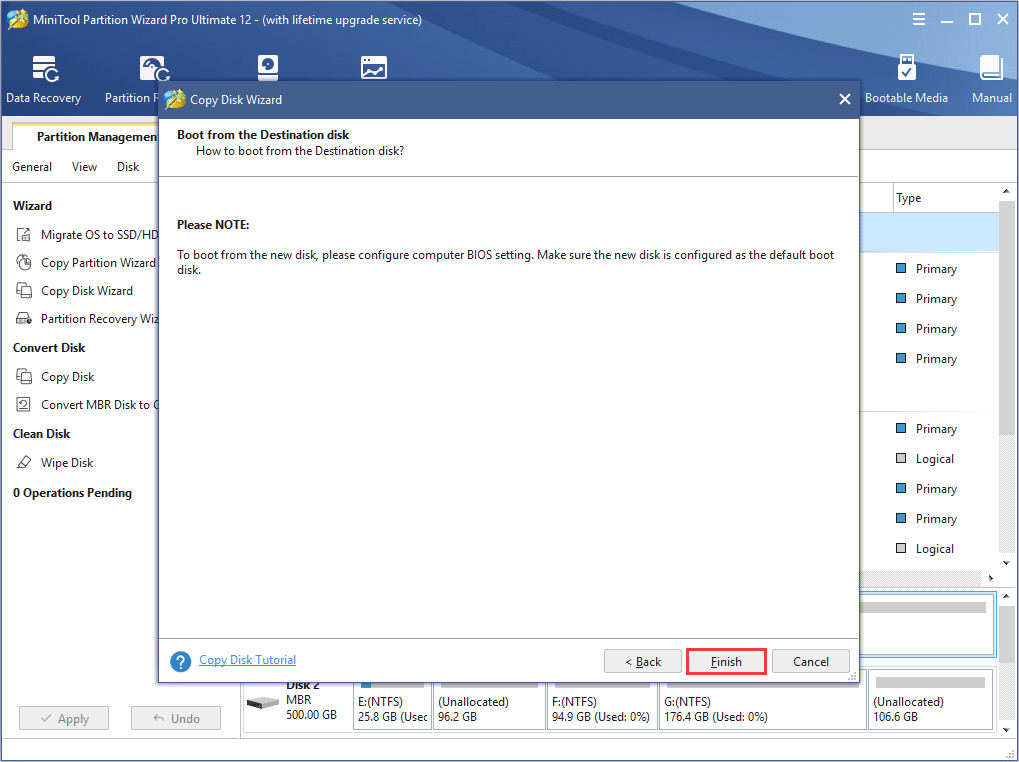 Step 6. At last, click Apply to allow the pending operations.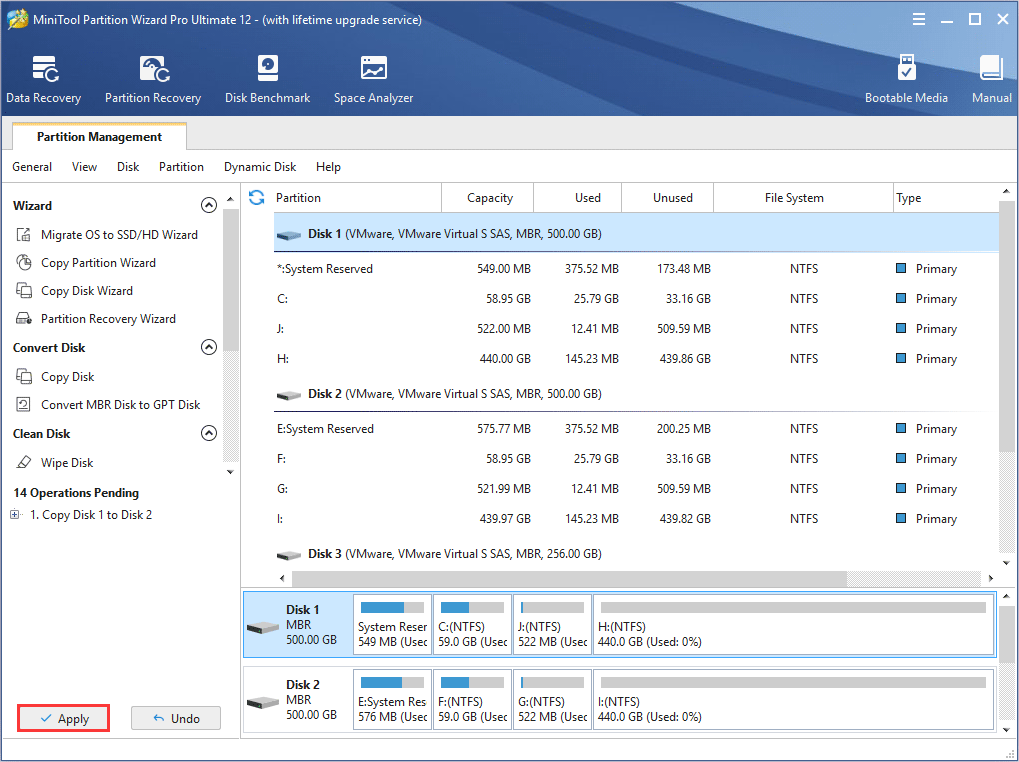 With the assistance of MiniTool Partition Wizard, I successfully upgrade my old drive to my new WD drive. I'd like to share the disk cloning software with my friends.Click to Tweet
You see, it is very convenient to upgrade SSD or HDD with MiniTool Partition Wizard Pro Ultimate. With only a few clicks, all the files on the old drive will be transferred to the new one. If you need to backup hard drive or upgrade HDD to SSD, try using the best disk cloning software MiniTool Partition Wizard now.
MiniTool Partition Wizard FreeClick to Download100%Clean & Safe
Bottom Line
Now, do you have a better understanding of Seagate vs Western Digital on storage? If you have different opinion on Seagate vs Western Digital external hard drive, SSD, cloud storage and other aspects, please don't hesitate to share it with us.
If you have encountered any issue when using MiniTool Partition Wizard, you can leave a message on the following comment zone and we will reply as soon as possible. If you need any help when using MiniTool software, you may contact us via [email protected].
Seagate vs Western Digital FAQ
Is Western Digital Seagate?
Western Digital is not Seagate. Seagate and Western Digital (WD) are both well-known American computer hard disk manufacturers and data storage solution providers. They are two giants that dominate the hard disk market. Western Digital does not belong to Seagate, and vice versa.
Is WD more reliable than Seagate?
Many users report that Western Digital HDDs are more reliable than Seagate hard drives. But, regardless of reliability, you may occasionally encounter WD or Seagate hard disk drive failure because there are many factors that can cause disk failure. (
Here Are 6 Signs Indicating Hard Drive Failure, Check out Now
)
Is Seagate a good brand?
As one of the global leader in data storage field, Seagate is a very good and reliable hard disk brand. Now the products of Seagate technology mainly includes Desktop/Laptop HDD, Enterprise HDD, Archive HDD, SSD and so on.
Is Seagate owned by Samsung?
Seagate acquired Samsung's hard disk business in the year of 2011, so Seagate is not owned by Samsung. On the contrary, Samsung's HDD business is owned by Seagate.