MicroSD vs. microSDHC: which one is better? If you are curious about this question like others, this post is worth reading. MiniTool would introduce the two cards at first and then analyze the difference between microSD and microSDHC.
Here are various brands and types of SD cards on the market so that you can get confused easily. Among multiple SD cards, microSD and microSDHC cards are highly discussed. What's the difference between microSD and microSDHC? Which one is better?
Tip:
How to know if you get a fake SD card? Well, a direct way is to perform a
fake SD card test
. You can also avoid buying a counterfeit SD card by checking its package, brand, and card information. You'd better buy it in its official store.
This post introduces the two kinds of cards respectively and then illustrates the difference between them. You can make a decision after reading the content.
microSD
MicroSD, a smaller variant of the SD card, is the first generation of Secure Digital cards. It was designed to boost your experience with the MMC (MultiMediaCard) standard. Besides, it can extend the storage space of mobile phones.
Note: The MMC is a memory card standard for storage. Compared with the SD card, it has more storage capacity options and more pins, but with a lower speed in transfer rate. Moreover, it is not as up-to-date as SD cards.
This card usually is used in devices like cell phones, PDAs and smaller and lighter devices. The microSD card can be read by regular SD card slots via an adaptor. It uses FAT12, FAT16, or FAT16B file system.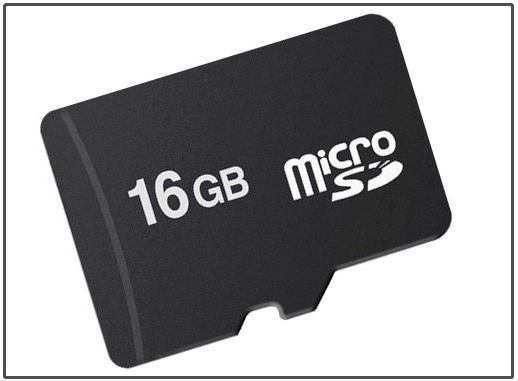 As the microSD card is a kind of flash memory without moving parts, it is durable if maintained properly. The card is miniature about the size of a fingernail.
Further reading:
In addition to microSD cards, secure digital cards come in standard and mini formats. Standard-sized SD cards are frequently used in cameras, while miniSD cards are built for mobile phones. However, the miniSD cards have largely been replaced by microSD cards.
You may also like this: TF Card vs Micro SD Card & How to Format It
microSDHC
MicroSDHC stands for Secure Digital High Capacity. It is a sort of card with extended capacity that was introduced in 2009. It uses the FAT32 file system.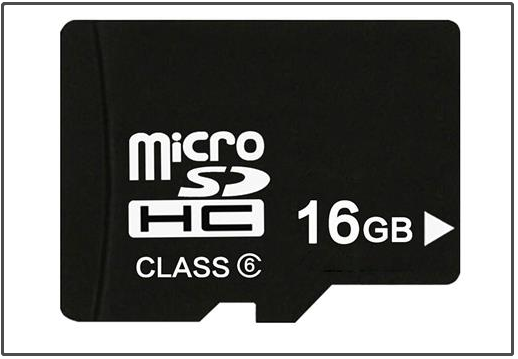 The capacity of the microSDHC card ranges from 2GB and up to 32GB. It works in hardware that supports either SDHC or SDXC.
The "SD" in microSD and microSDHC represents "Secure Digital" referring to the type of technology utilized in the cards.
Note:
1.The Secure Digital standard is developed by the SD Association (SDA) in order to set up reliable, quick, and standardized flash memory technology.
2. Both the microSD and microSDHC cards are most commonly used in mobile electronics like cell phones and tablets.
Also read: SDHC VS. SDXC – Which One Is Better for You?
microSD vs. microSDHC
This section shows you the difference between microSD and microSDHC on dimension, capacity, speed, use, as well as compatibility. Check the details by reading the content below.
Dimension
The dimension of microSD cards is 11mm by 15mm. Like microSD card, the microSDHC card also has the same standard size (11mm x 15mm). So, you don't have to consider the difference of dimension while you hesitate to buy a microSD or microSDHC card.
Also read: Thumb Drive VS Flash Drive: Compare Them and Make a Choice
Capacity
The capacity is the primary difference between microSD and microSDHC. The maximum storage size of a microSD card is 2GB, while that of a microSDHC card is 32GB. The common-to-see capacities of a microSDHC are 16GB and 32GB.
Tip: The added "HC" in microSDHC refers to high capacity.
Speed
The maximum read and write speed of the microSD card is 25MB/s. Considering its small size, this speed is pretty fast. Compared with the microSD card, the microSDHC card has a higher transfer rate ranging from 50MB/s to 150MB/s.
The speed of these memory cards depends on the speed classes they apply (2, 4, 6, 8, and 10). The respective minimum serial data writing speed of them are 2MB/s, 4MB/s, 6MB/s, 8MB/s, and 10MB/s.
The microSDHC and microSDXC cards' speed are marked by UHS 3 or UHS 1. The minimum speed of UHS 1 is 10MB/s, while that of UHS 3 is 30MB/s.
You can also test the speed of the SD memory card manually. For that, the Disk Benchmark feature of MiniTool Partition Wizard helps. Download this program by clicking the button below and then follow the on-screen instruction to finish the installation.
MiniTool Partition Wizard FreeClick to Download100%Clean & Safe
Then connect the microSD or microSDHC card to a Windows computer and run MiniTool Partition Wizard. Click Disk Benchmark in the main interface of the program and follow the prompted guide to complete the process.
For more details, please refer to the article: Quick SD Card Speed Test on Windows PC/Android/Mac
Use
The microSD card is usually used for mobile phones for storing photos, videos, and applications.
The microSDHC can be used on devices including telephones, tablets, action cameras, 360-degree cameras, and drones. The micro SDHC host devices are asked to accept older SD cards, which indicates that the older SD cards with new technologies can comply with an SDHC device.
Compatibility
When buying a memory card, you should also take compatibility into consideration. If the card is not compatible with your device, it doesn't make sense. MicroSD cards can work with new host devices. It means that they are compatible with SD, SDHC, and SDXC host devices.
As for micro SDHC cards, they are incompatible with SD host products. But they are compatible with SDXV and SDHC devices.
MicroSD versus microSDHC: which one to buy? After reading the above comparison, you may have an answer in your mind now! There's no absolute answer. Instead, it depends on your need and preference.
Five main differences between microSD and microSDHC cards have been explained. You can check the details by reading this post. Click to Tweet
Format the New MicroSD or MicroSDHC Card
How to do with a new microSD or microSDHC card? This part will explain the details. Please keep reading.
When you get a new microSD or microSDHC card, you often need to create a partition on it before putting it into use. Sometimes, you are even required to format the card.
Generally speaking, the memory card is formatted before you get it. If you are still prompted with the message "the SD card needs to be formatted" or something like that, you need to format the card by yourself.
Besides, you are also strongly recommended to format the SD card periodically. This operation can boost the performance of it. What does format an SD card mean? To get more details, read the linked post.
Warning: You need to back up your data before formatting the SD card to avoid data loss.
You have multiple ways to format an SD card. For instance, you can format a microSD or microSDHC card by using Windows built-in utilities like Disk Management, Windows Explorer, and Diskpart.
In these programs, the available file systems are limited. In Disk Management and Windows Explorer, only NTFS, FAT, FAT32, and exFAT file systems are offered. Moreover, you may receive errors like Windows was unable to complete the format, the disk is write-protected, etc.
At this time, you can consider using a free and professional SD card formatter to finish the format operation. Then MiniTool Partition Wizard is recommended. It provides you with more file systems than Windows embedded programs. To be specific, it includes FAT32, exFAT, NTFS, Ext/2/3/4, and Linux Swap file systems.
Besides, MiniTool Partition Wizard also allows you to convert file system, extend partition, recover data, wipe disk, migrate OS to SSD/HD, and so forth. It can help you remove USB virus, repair corrupted SD card, delete undeletable files on SD card, etc. In a word, it is a multifunctional program.
To format your microSD or microSDHC card via MiniTool Partition Wizard, download and install the program first. After that, follow the offered steps to carry out the format operation.
MiniTool Partition Wizard FreeClick to Download100%Clean & Safe
Step 1: Connect the microSD or microSDHC card to your computer
Step 2: Launch MiniTool Partition Wizard to get its main interface.
Step 3: Highlight the connected SD card from the disk map and tap Format Partition in the left action panel.
Step 4: In the prompted window, configure partition label, file system, and cluster size. Then click OK to save the changes.
Step 5: Finally, click Apply to execute the operation.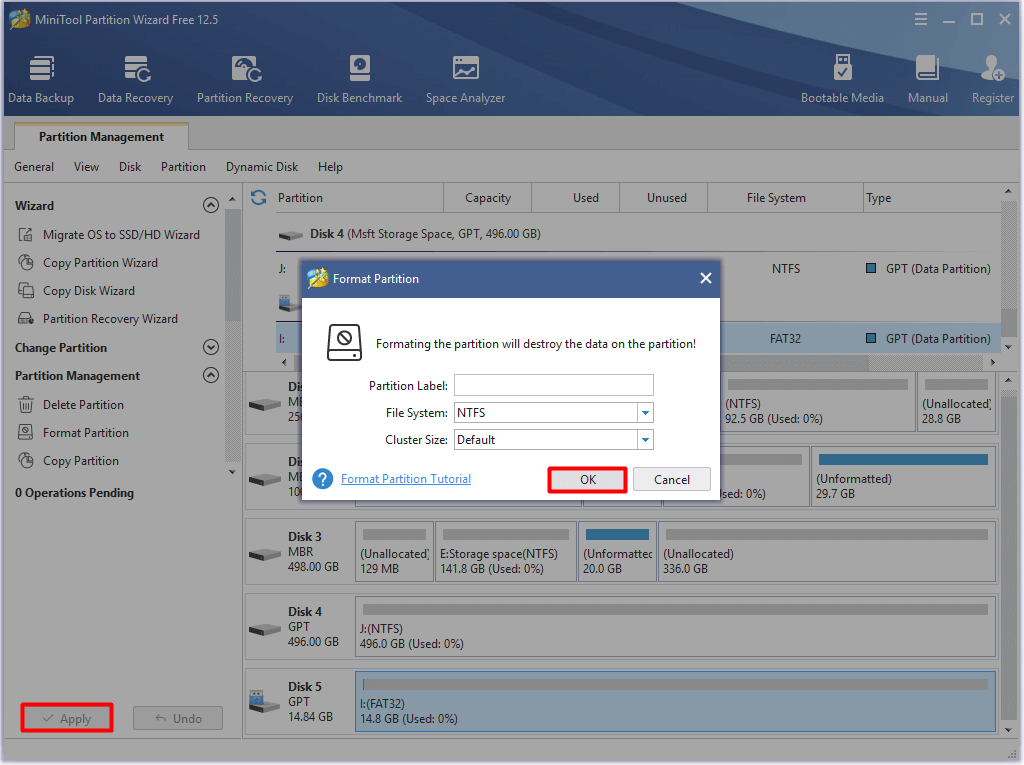 microSD vs. microSDHC: which one to pick? If you are confused about it, read this post now! It illustrates the difference between microSD and microSDHC cards, which can help you make a wise decision. Click to Tweet
Bottom Line
MicroSD versus microSDHC: which one is better? This post shows you the difference between the two types of SD cards on aspects of dimension, capacity, speed, use, and compatibility. Based on that, you can choose a suitable card.
Is this post helpful for you? Do you have other ideas on the "Micro SD vs microSDHC" topic? If you have any thoughts on them, please leave your words in the comment area below. For any questions about MiniTool Partition Wizard, directly contact us by sending an email via [email protected].