SD card formatter plays an important role in the daily life, and has been widely used in every aspect of our life. MiniTool Partition Wizard is the best SD formatter that supports various file systems. Download the freeware to have a try!
Today SD card (including mini SD and micro SD, SDHC and SDXC card for digital cameras) is widely used in many aspects of our life. For example, we use it on camera, camcorder, PDA, mobile phone, MP3 player, notebook, digital voice recorder, game console, automobile data recorder, etc. In the daily usage, we may need to format the SDHC/SDXC memory card for security function and other purpose. This guide introduces you some useful SD card formatter tools. 
Why Do You Need to Format an SD Card
To Delete Files: when you want to clean the data on the

SDHC/SDXC 

memory card, you can format the SD card directly.
To Change File System: in order to use the SD card on multiple personal computers and devices, you will need to use the appointed file systems. For example, to increase the internal storage space of Android, you need to format the first SD card partition with FAT32, and the second partition with EXT file system. To successfully read and write in Mac OS X, you are suggested to choose FAT file system.
To Fix Issues: sometimes, when you try to access the SD card which has a RAW file system, Windows asks you to format it before you can use it. Similarly, if Windows reports "The Disk Structure Is Corrupted and Unreadable", formatting is always the right solution.
To Kill Viruses: if the SD card is infected by viruses, formatting is a good trying to remove the viruses for security purpose.
Knowing the reasons that cause you to format an SD card, the next topic is how to format SD card easily and quickly? Here in today's post, we put forward 4 solutions.
Want to know the best part? Please read on.
4 Solutions to Formatting SD Card
In this part, we list 4 solutions to help SD card formatting. You can choose any one to do the formatting. However, the first solution is strongly recommended because it breaks many limitations that you can find in the process of using Windows built-in SD card formatters.
Kind remind:
Connect the

SDHC/SDXC 

SD card to your computer and make sure it is recognized by Windows. If you are dealing with micro SD card, then a card reader is needed.
Formatting SD card will lead to data loss. So please make sure you do not care the data. Otherwise, make a backup in advance.
Formatting to FAT32 will limit single file size to 4GB. 
After doing the preparatory jobs, you can try the following SD/memory formatter tools.
The Best SD Card Formatter – MiniTool Partition Wizard Free
MiniTool Partition Wizard Free is regarded as the best SD card formatter tool, because it offers full file systems such as NTFS, FAT32, FAT, exFAT, Ext2, Ext3, Ext4, Linux Swap to choose. Besides, its clean interfaces and straightforward wizards can lead users to go through all steps without any difficulty. What's more, useful features like create/delete/format partition, merge/split partition, move/resize partition, change file system, convert partition style, migrate system, copy disk, etc. are provided for SD partitioning.
Due to these advantages, this freeware product has earned great reputation all over the world. Download this SD formatter tool to start the magic journey!
MiniTool Partition Wizard FreeClick to Download100%Clean & Safe
Then let's have a look at how the memory card formatter works on formatting an SD card. 
Step 1. Connect the SD card (via card reader) to your computer and then launch MiniTool Partition Wizard. Select the partition on the SD card and choose "Format Partition" from the action panel.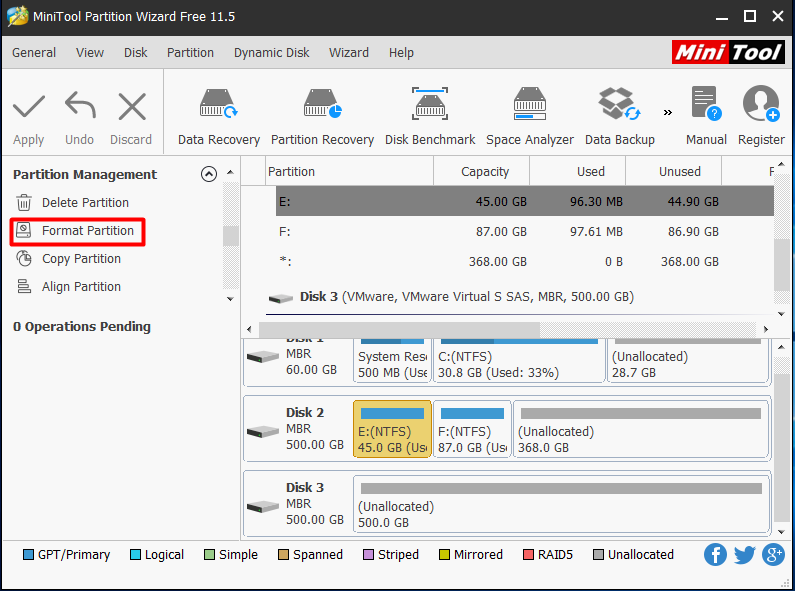 Step 2. Then you can see a new window comes out, where you can specify the file system, partition label, and cluster size. After doing these choices, exit and go back to the main interface.
Tip: See there are so many file systems offered there, including NTFS, FAT16 (shown as FAT file system when the partition is smaller than 4 GB), FAT32, exFAT, Ext2, Ext3, Ext4, and Linux Swap. Besides, most of them can be selected without considering the partition capacity of the SD/microSD card. These are the advantages that MiniTool Partition Wizard owns than the rest three SD formatters.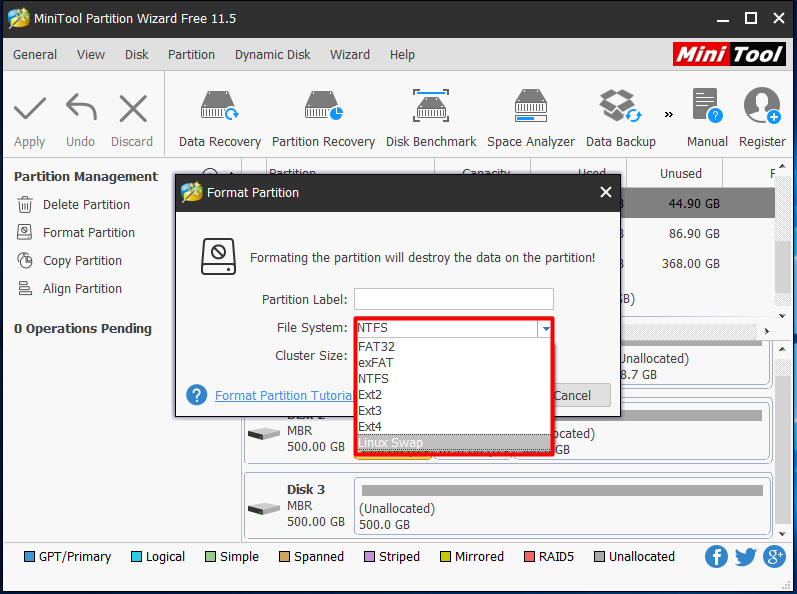 Step 3. Click "Apply" to finish SD card format process.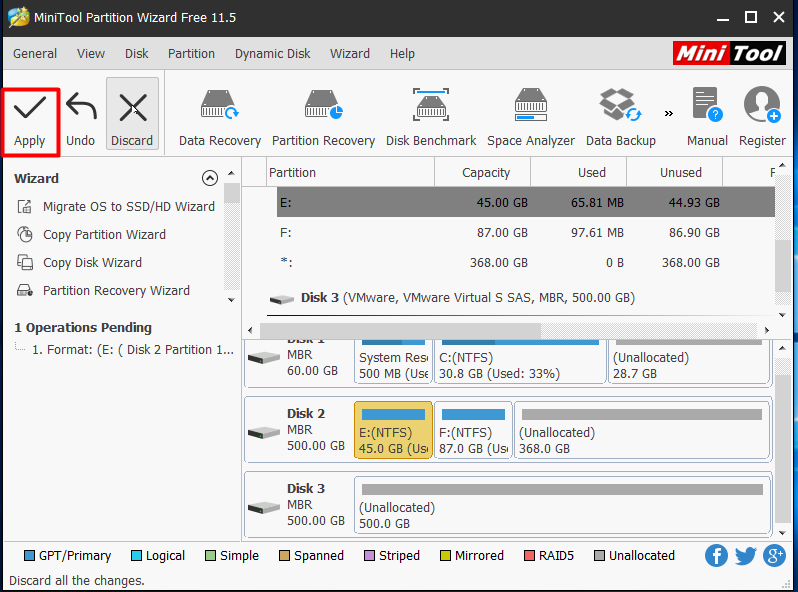 Quick Video Guide:
"MiniTool Partition Wizard is a wonderful SD formatter that has helped me format my SD card to Ext2 quickly. So I want to share this tool to all of you, thinking it may also help you in SD card formatting." Click to Tweet
Built-in SD Card Formatter – Disk Management
Disk Management is the second solution we recommend, because it is easy to access (one of the useful built-in tools in Windows) and the GUI (Graphical User Interface) is also clear for you to operate. Many disk management tasks such as create volume, delete volume, shrink volume, change drive letter and path can be finished by using this tool.
Note: Only NTFS, FAT, FAT32, and exFAT are offered in Windows Disk Management. However, due to the capacity of the SD card partition, you may find that you are unable to change the file system.
Step 1. Run "diskmgmt.msc" at CMD. Then the Disk Management utility will appear. Find the SD card you want to format and then select "Format…" from the right-click menu.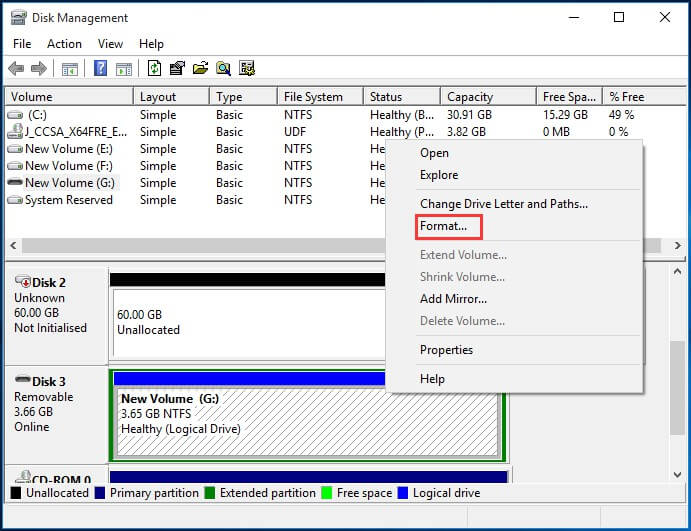 Step 2. In the format window, customize the volume label, file system, and allocation unit size, choose whether to perform a quick format and enable folder compression, then click "OK".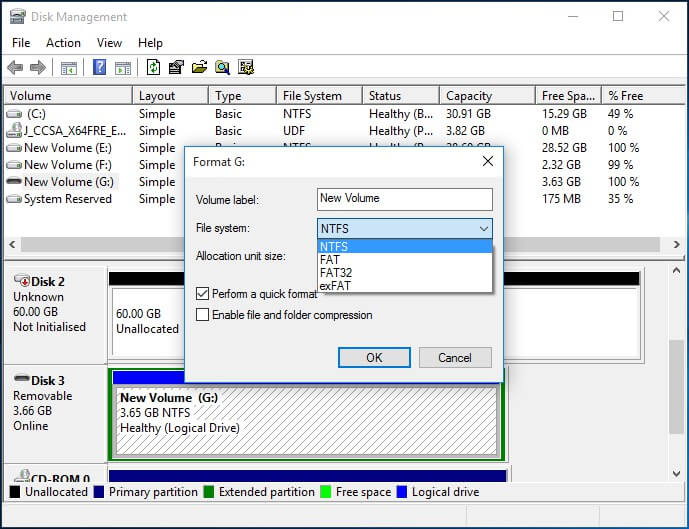 Step 3. Disk Management sends out a warning message which reads "Formatting this volume will erase all data on it. Back up any data you want to keep before formatting. Do you want to continue?" Now click "OK" to format memory card/SD card, which should be finished in a minute if the quick format is selected.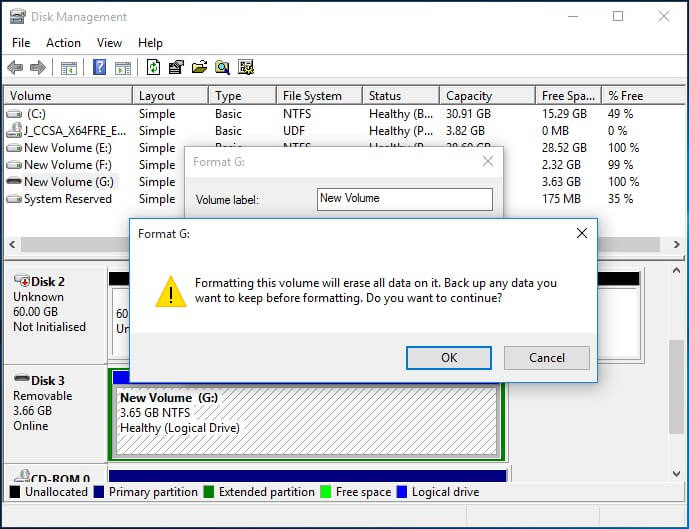 Optional SD Card Formatter – Windows Explorer
You may also find that there is a "Format…" option when you right-click the partition in Windows Explorer. Yes, this also helps you to format memory card/SD card. And all things you need to do are:
Step 1. Select "Format…" from the GUI of the right click menu.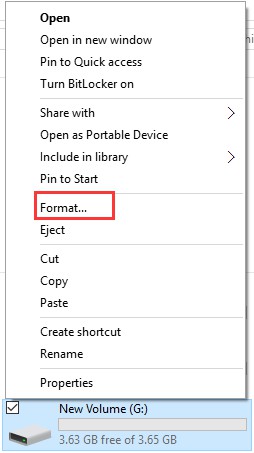 Step 2. Then you can choose the file system & allocation unit size, enter a volume label, select quick format and then hit "Start" button.
Note: Only NTFS, FAT, FAT32, and exFAT are offered in Windows Disk Management. However, due to the capacity of the SD card partition, you may find that you can not change the file system..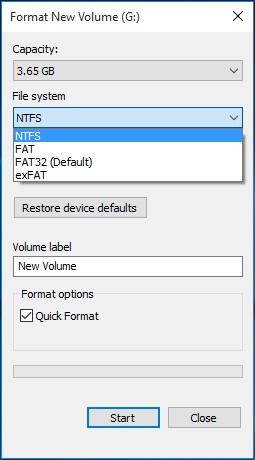 Step 3. Finally, a warning message saying "Formatting will erase ALL data on this disk. To format the disk, click OK. To quit, click "CANCEL". Click "OK" to confirm formatting the SD card.

Tip: Sometimes while using Windows Explorer to do the formatting, you may encounter this error message: "Windows was unable to complete the format."

This is probably caused by the RAW file system, or the drive letter is assigned to the removable disk instead of the partition. In this case, use MiniTool Partition Wizard or Disk Management to do the formatting can solve this issue quickly.
For a detailed explanation, please refer to "How Do I Fix Windows Was Unable to Complete the Format."
Optional SD Card Formatter – Diskpart
Diskpart is the last solution that we can resort to. Why do we place it at the end? Well, because it requires putting some commands before memory card format is finally carried out. Here is the process you need to go through if you want to format an SD card.
Step 1. Run diskpart and confirm you want to allow this app to make changes to your PC.
Step 2. In the command shell, type the following commands in order, and make sure each command is ended up with Enter key.
list disk
select disk n where n is the disk number that represents the SD card to be formatted
list par
select par n where n is the partition number of the SD partition
format fs=ntfs quick OR format fs=fat32 quick
exit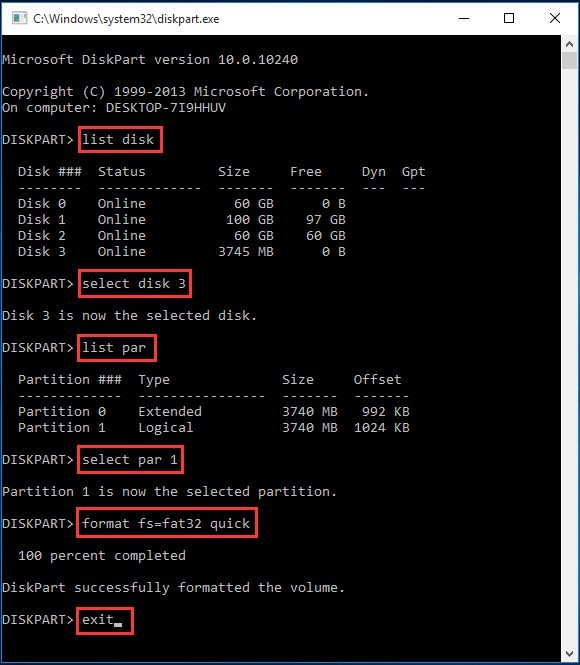 In this case, you should make sure that the SD card is not physically locked by the movable button at first. If the SD card is not physically locked, you should try to find the solutions to remove write-protection. We think our previous post "How to Remove Write Protected Error" may be helpful to you.
Recover SD Card Before Formatting
In some cases, you need to format the SD card because it runs into errors, and formatting is an effective way to remove the error. But formatting will lead to data loss, so you must be wondering: is there a way to save data on the SD card before formatting. Here we would like to suggest using the data recovery feature of MiniTool Partition Wizard to do this job, which scans deep and is very easy to operate.
Tip: You need to get the MiniTool Partition Wizard Pro Ultimate and above editions to recover your data, because its free and pro editions can't do that.
Data recovery of MiniTool Partition Wizard is a great data recovery tool for Windows users. No matter you want to recover lost/deleted files form Recycle Bin, formatted hard drives, or damaged hard drives, it offers the best solution to save your effort. As to how to restore data from damaged SD card, it is easy to complete.
Step 1. Connect SD card to your PC (you may need a SD card reader to help the connection).
Step 2. Install and launch this data recovery product. 
Step 3. Select the best data recovery module.
Step 4. Scan, preview and save.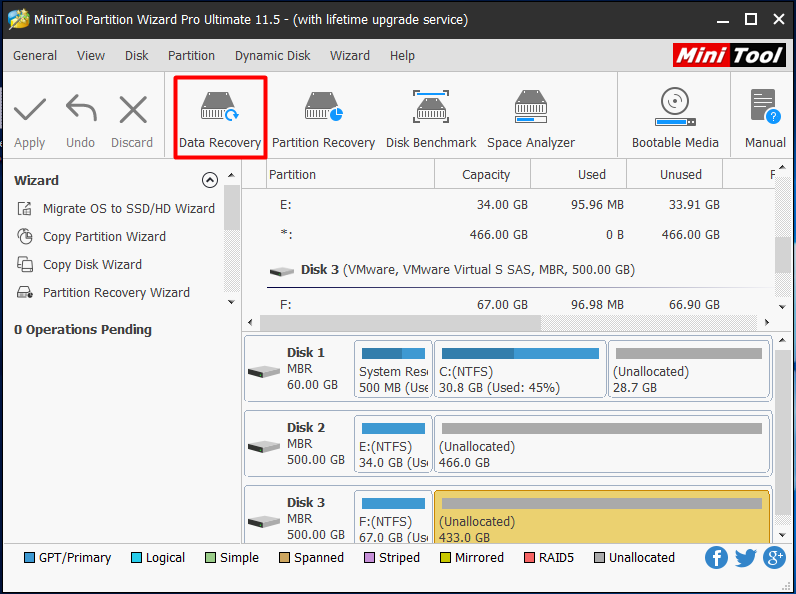 To get more information, you can refer to SD Card Recovery. To format in Mac OS X, you can read here.
What File System You Should Use
In computing, a file system is used to control how data is stored and retrieved, and there are various file systems included in Windows. Usually, when formatting an SD card, Windows offers the following four file systems: NTFS, FAT32, exFAT, and FAT. Well, which one is the most suitable for you?
NTFS: NTFS (New Technology File System) is the most widely used file system. Windows uses it for system installing and hard drives are formatted with NTFS file system by default. In general, it is the best choice for you when formatting hard drives because it is more powerful and safer than FAT or FAT32. With NTFS file system, you can create partitions with 2TB storage space. And large files can be saved safely.
FAT32: FAT32 is an older file system that is most commonly used on removable drives, such as USB flash drives and SD cards. When you create an FAT32 partition using the GUI of Windows Disk Management, the largest partition size it supports is 32GB. Besides, FAT32 is not as efficient as NTFS and doesn't support individual files larger than 4GB. If you are interested, this post "File Is Too Large for the Destination File System" will show you everything you want to know. However, it does offer greater compatibility with other operating systems.
exFAT: exFAT is a modern replacement for FAT32. Today more and more devices and operating systems support exFAT. However, it is not as widespread as FAT32.
FAT(16): FAT16 is the original file system used in DOS and Windows 3.X, and was originally designed to be used on relatively small partitions. After revision, now it's possible to create an FAT16 partition up to 4GB in size.
Conclusion
In this post, we introduce four SD/micro SD card formatters and show you how to use them to format SD card one by one. We hope you can benefit something from this post and use one of them to help you when you need to someday. Obviously, the top recommendation here is MiniTool Partition Wizard, as it offers more file systems and breaks many limitations that you may encounter when using Windows built-in tools. Get this free SD card formatter!
Now it's your turn to have a try on the listed products above. If you have nice suggestions or any questions towards this post, please leave us comments in the comment zone, or contact us via [email protected]. We appreciate any endeavor that makes us go further.
SD Card Formatter FAQ:
How do I fix a corrupted SD card?
When your SD card is corrupted and becomes inaccessible, you can repair it with the CMD commands like CHKDSK or utilize other
SD card repair tools
. If it cannot be repaired, you format the SD card with an SD card formatter to repair it. However this will clear the data on your SD card. You can use MiniTool Partition Wizard to scan and
recover the lost data
after formatting.
How do I format a microSD card?
The best way to format a microSD card is to format it on your Windows PC. Connect the microSD card to your PC with an SD card reader. Then download a free SD card formatter and run it on your PC. Select your microSD card and click
Format
. Choose FAT32 or exFAT file system for the microSD card (
NTFS vs. FAT32 vs. exFAT – Differences and How to Format to
). At last, click
Apply
button to apply the change. 
What is the best format for SD card?
If you don't use the SD card to store large files, FAT32 can be the best format for SD card, as it offers great compatibility but cannot store a single file larger than 4 GB. If you use the SD card to store large files, then exFAT is recommended, as it is similar to FAT32 file system, but does not have the limits of FAT32 file system. The post of NTFS vs. FAT32 vs. exFAT will show you more information about their pros and cons.
How can I format my memory card?
Connect your memory card on your PC with a card reader. Download a free SD card formatter and install it. Select the partition on the memory card you want to format and then select Format. Then follow the prompts on the software to format the memory card. FAT32 and exFAT file system are the recommended file systems for memory card format. You can format it to FAT32 or exFAT while formatting the card.