You can try an alternative OS to Windows 11 if your computer can't install Windows 11. Then this post deserves your attention as several alternatives to Windows 11 are listed in it. Additionally, MiniTool shows you how to back up your data before switching to another system.
Why You Need Alternatives to Windows 11
Though Windows 11 comes with many new features and beautiful UI, plenty of users still want to seek Windows 11 alternatives. Why this phenomenon occurs? You will know the answer after learning the content below.
Microsoft removed features that Windows users have been relying on for years on Windows 11. For instance, it disabled the ability to drag items onto applications in the Taskbar.
Windows 11 removed support for many commonly used processors.
To install Windows 11, your computer should have at least 4GB RAM, 64GB free space, 1Ghz or faster with 2 or more cores CPU, and a graphics card compatible with DirectX 12 or later with WDDM 2.0 driver.
Your PC is required to include TPM (Trusted Platform Module) version 2.0. (Click here to get the guide to installing Windows 11 without TPM)
The computer to install Windows 11 should be UEFI and Secure Boot capable. (Click here to enable/bypass secure boot to install Windows 11)
Tips:
Why Windows 11 sucks? This post explores the reasons for you.
If your computer can't install the standard Windows 11, try its lightweight versions like Tiny11 and Windows 11 Lite. For PCs that don't come with TPM and secure boot, Rectify11 is a good choice. In addition to that, there are multiple alternatives to Windows 11 that you can choose from.
Windows 11 Replacement 1: Zorin OS
Zorin OS is suitable for users who are switching from Windows or macOS to Linux. It features several familiar desktop layouts that can be activated with a single click on the Zorin Appearance app. Besides, it is capable of running Windows executables using the Wine compatibility layer.
Tips:
You don't have to manually install and configure the Wine compatibility layer. Besides, it can be used on other distributions of Linux too.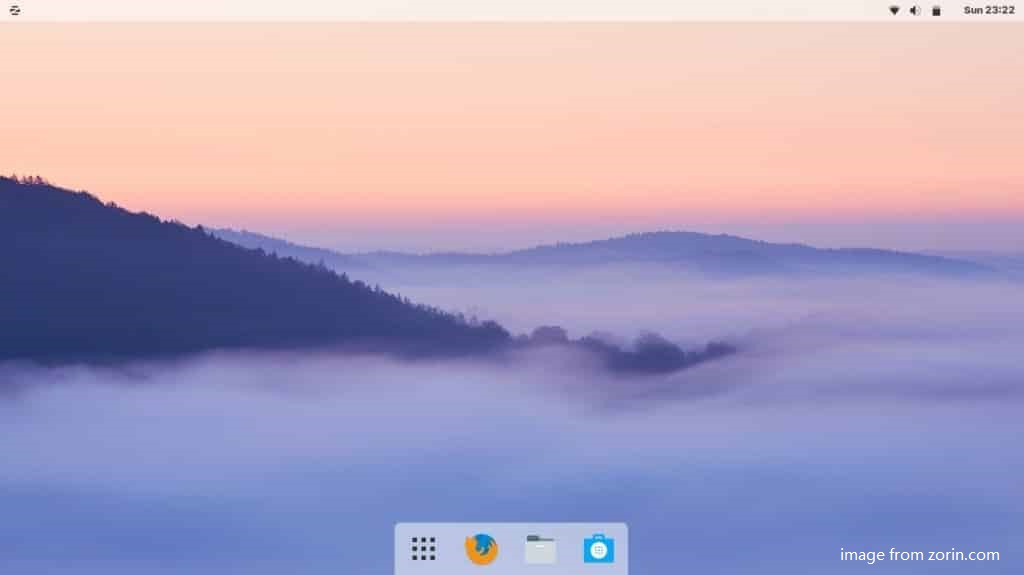 This system comes with Nvidia & AMD graphics drivers and game optimizations to ensure high frame rates in a simple indie game or some AAA megahit with cutting-edge graphics. It is updated with Ubuntu and offers you the latest features.
Through Zorin connect, you can connect your smartphones with Android OS to your computer. Then share files and control the computer with the phone. The only drawback of Zorin OS is its high volume compared with other Linux distributions. If you don't mind that, just ignore it.
Windows 11 Replacement 2: Chrome OS
Chrome OS comes with Chromebooks, so you don't have to install it from scratch. It's a simple system that is built based on Linux. Like Android, Chrome OS doesn't allow you to install Adobe software. The good thing is that you can use Google's wide range of applications to the fullest without any issues.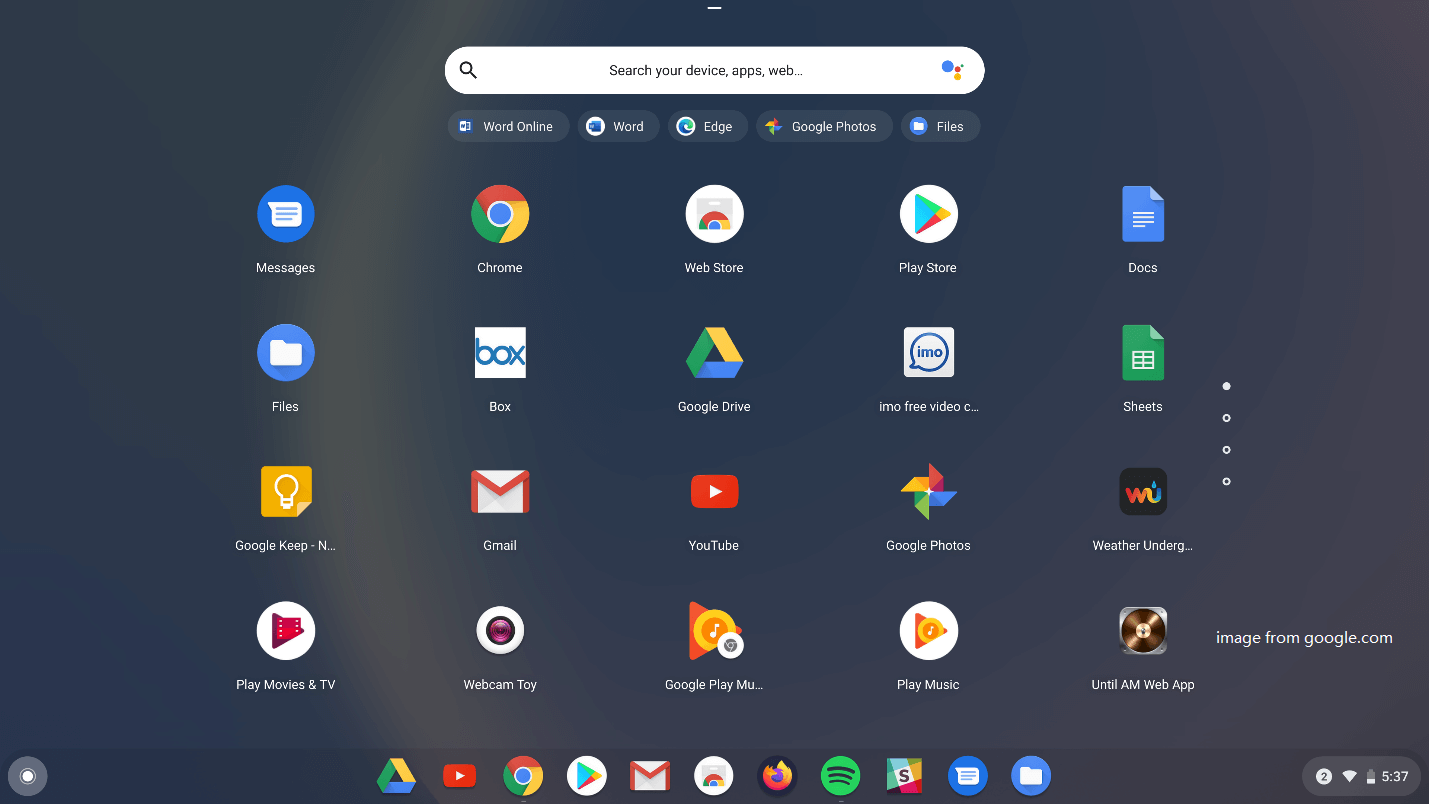 On devices with Chrome OS, you can access pre-downloaded documents, spreadsheets, presentations, and emails offline. However, you can't access Windows desktop software. It can update automatically and sync with Google drive for file storage.
Windows 11 Replacement 3: Ubuntu
Ubuntu is a Linux-based operating system that is perfect for laptops, desktops, and servers. It is lightweight, portable, open-source, and extensible by plugins/extensions. It contains almost all the needed applications such as the web browser, presentation, document and spreadsheet software, instant messaging, etc.
Ubuntu supports older hardware and works on most computers that are capable of running recent Windows versions without issues. You are able to choose between several flavors when you download Ubuntu. Among them, Kubuntu is regarded as one of the best alternatives to Windows 11 within Linux distributions.
Tips:
No matter what flavor you select, you can always enjoy compatibility with a lot of third-party applications.
If you are going to install Ubuntu, you may be interested in the posts below.
Windows 11 Replacement 4: Linux Mint
Linux Mint is one of the most popular desktop Linux distributions, owning millions of users. It is a modern, elegant, and comfortable operating system. Like Zorin OS, Linux Mint is also an Ubuntu-based alternative OS to Windows 11.
similar to Ubuntu, Linux Mint allows you to choose between several desktop environments. Differently, it comes with several important codecs bundled and is more beginner-friendly than Ubuntu. To be specific, it is very easy to install proprietary drivers on it.
Tips:
Cinnamon refers to the flagship desktop environment that is inspired by Windows.
With full multimedia support, this Windows 11 replacement works out of the box. Besides, it requires little because it uses a conservative way to update software and has a unique update manager and robust Linux architecture.
Best Operating Systems for Computers – How to Dual Boot
Windows 11 Replacement 5: Windows 10
Compared with Windows 11, Windows 10 is less hardware-demanding. For example, it requires only 1GB RAM for 32-bit and 2GB RAM for 64-bit. As for hard drive space, you should get 16GB for 32-bit and 32GB for 64-bit OS. To get more details about their difference, click Windows 11 vs Windows 10.
As one of the most classic systems, Windows 10 includes features like PowerShell scripting, Xbox streaming, OneDrive integration, auto-update, binary packages, etc. With a traditional user interface, it enables you to use it habitually.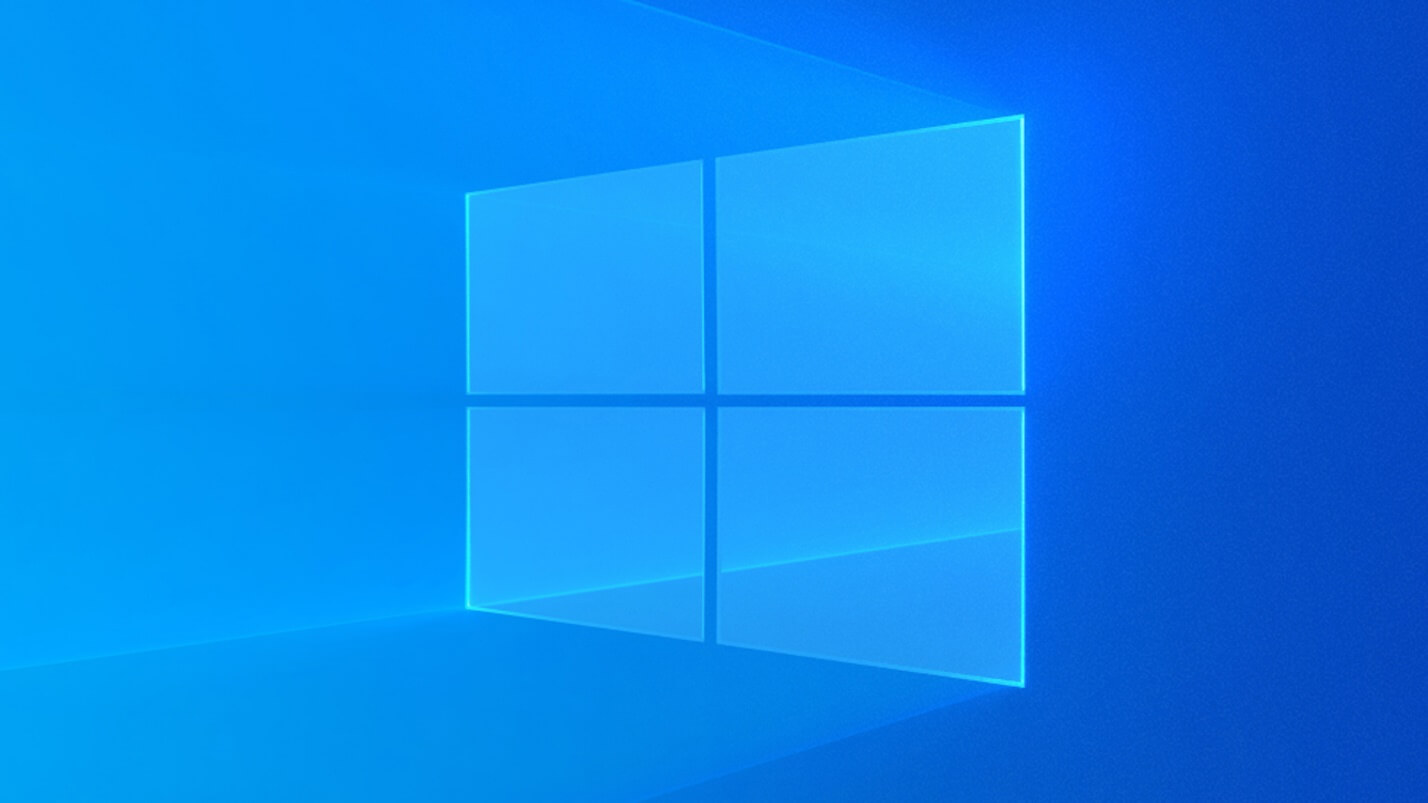 Windows 11 Replacement 6: Manjaro
Manjaro, one of the Linux distributions, is suitable for Windows power users who want as much control over their OS as possible. On this system, you can enter the free world and enjoy it. Like dozens of other distributions, Manjaro allows you to install thousands of free tools in various repositories.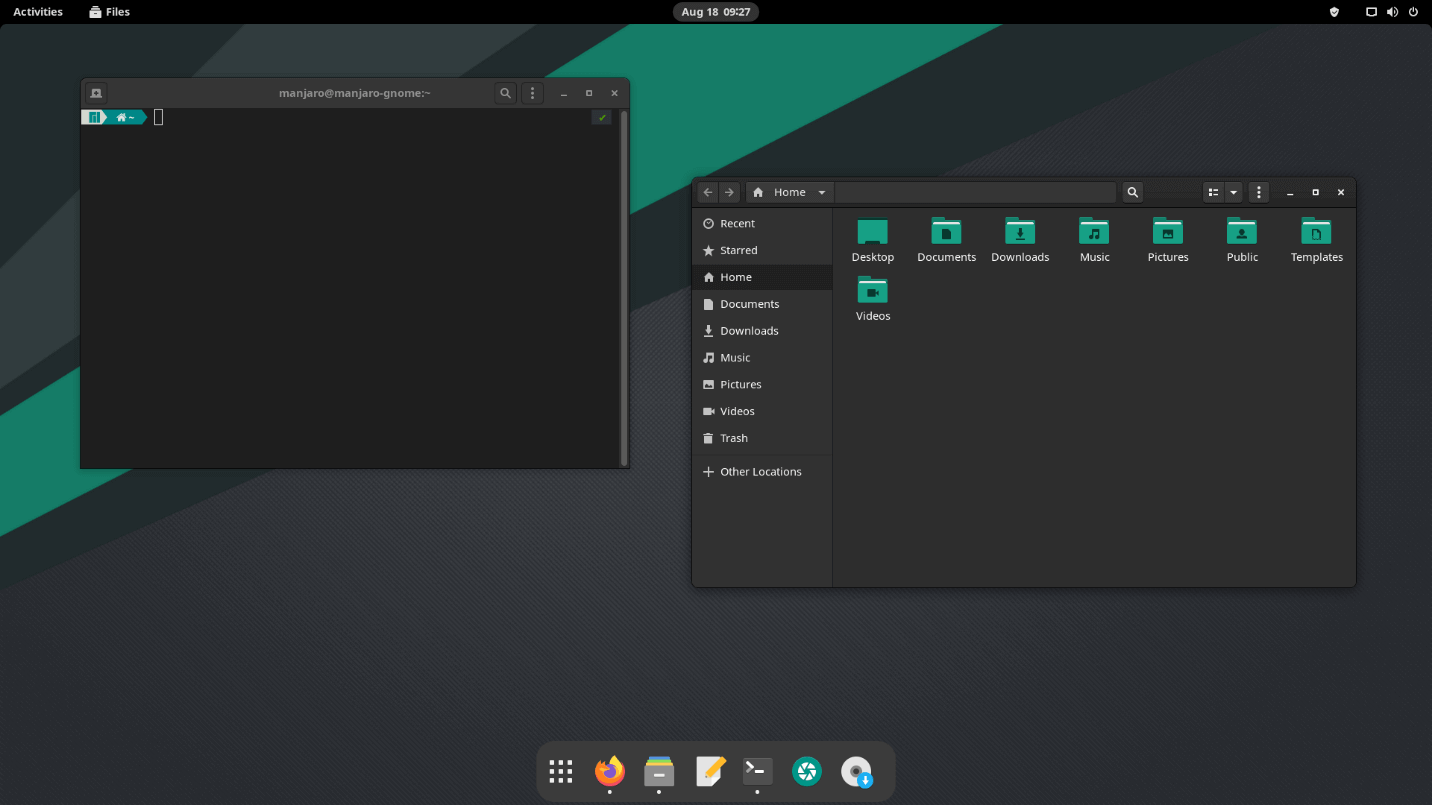 Manjaro receives software updates once they are available. However, it sometimes may fail to update. For that, you'd better monitor the official forum to get the latest news about the update.
Tips:
If you would like to get a Windows 10 alternative, it is recommended to use the KDE Plasma edition of Manjaro because its layout is similar to Windows 10. KDE Plasma can be customized to reflect your needs and preferences, which is different from Windows 10.
Windows 11 Replacement 7: Android
Being the most widely installed mobile operating system, Android is available for devices like smartphones, TVs, and even computers. It is built based on a modified Linux kernel version and other open-source software.
As Windows 11 adds support for Android apps, you can open them on PCs with Windows 11 directly. That's also the reason why Android can be used as an alternative OS to Windows 11.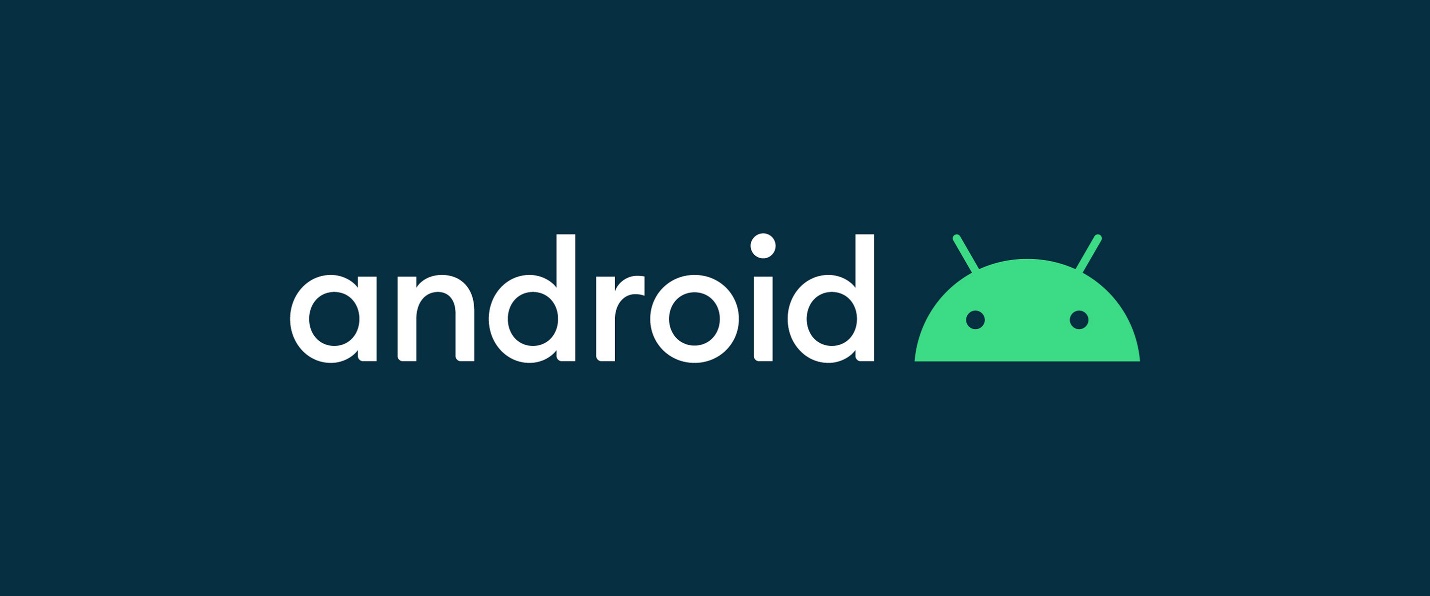 What to do if you don't have Windows 11 but want to open Android apps on laptops? The first way is to get the APK file of that app on your Windows computer and then open APK files manually. The second way is to download Android ISO and then install Android on PC. After that, you can open Android apps on computers freely.
Back up Your Data before Switching to Another System
To avoid data loss, you should back up important data on your Windows 11 before switching to other systems. Here comes the need for MiniTool Partition Wizard. Its Copy Disk feature helps you back up data from one drive to another drive (including external storage device) with ease.
Here's the full tutorial on making a backup for your computer with MiniTool Partition Wizard.
Step 1: First and foremost, download this program by clicking the button below and then install it from the downloaded setup file.
MiniTool Partition Wizard DemoClick to Download100%Clean & Safe
Step 2: If you follow all the default settings during the installation, MiniTool Partition Wizard will automatically launch after installation. You need to launch it manually if you uncheck the "Launch MiniTool Partition Wizard" option before clicking Finish. To do that, double-click on the program's icon on the desktop and click Yes in the pop-up window.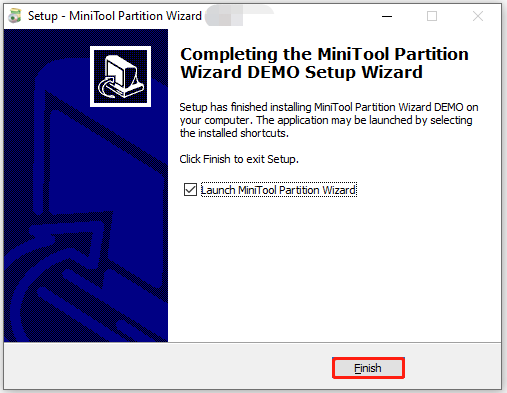 Step 3: In the left action panel, tap the Copy Disk Wizard option.
Tips:
If you plan to copy the disk to an external storage device, connect it to your PC now.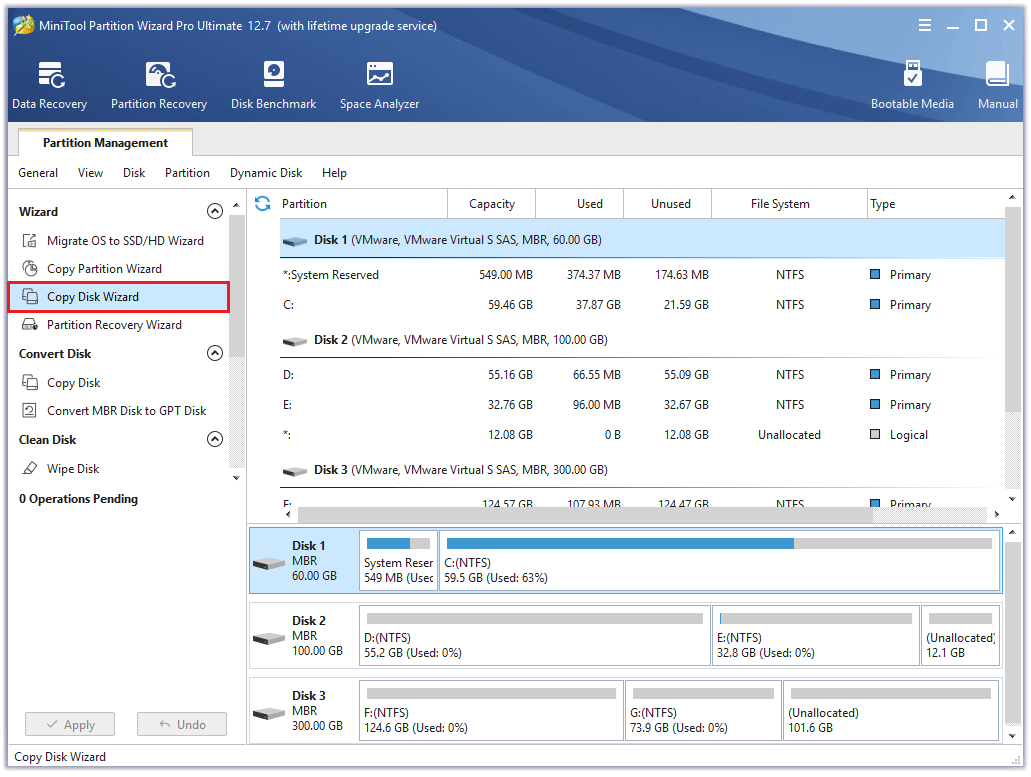 Step 4: In the next window, choose the disk you would like to copy and then click Next. Here, we select Disk 1.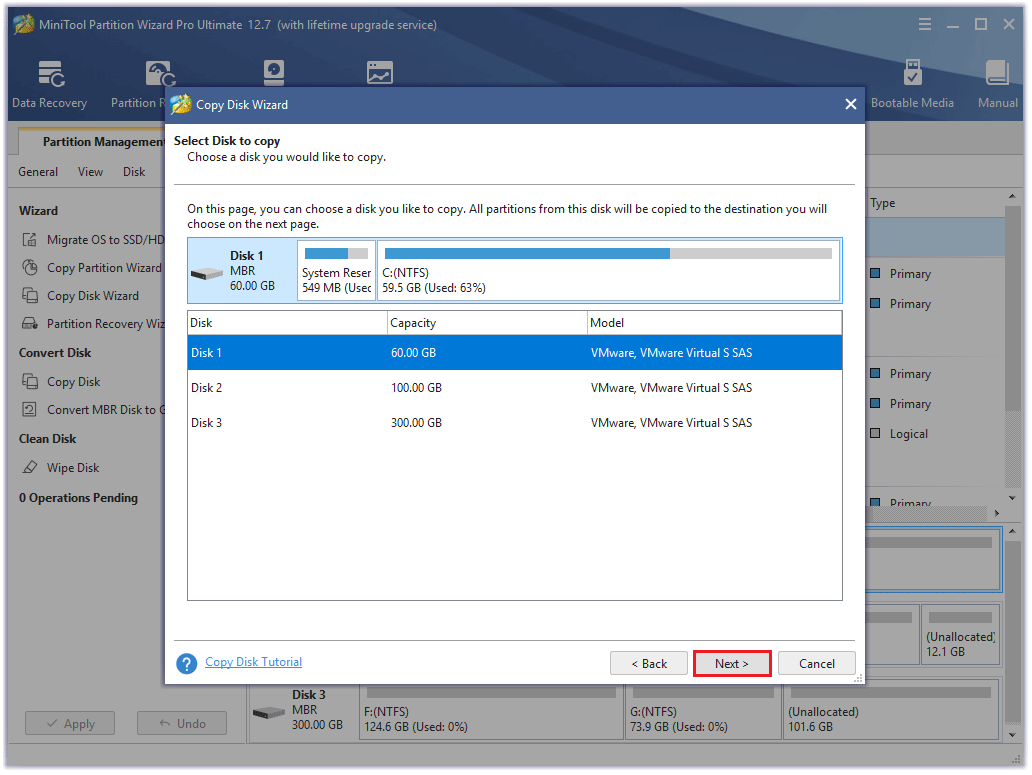 Step 5: Select the destination disk for the copied disk and click Next to continue.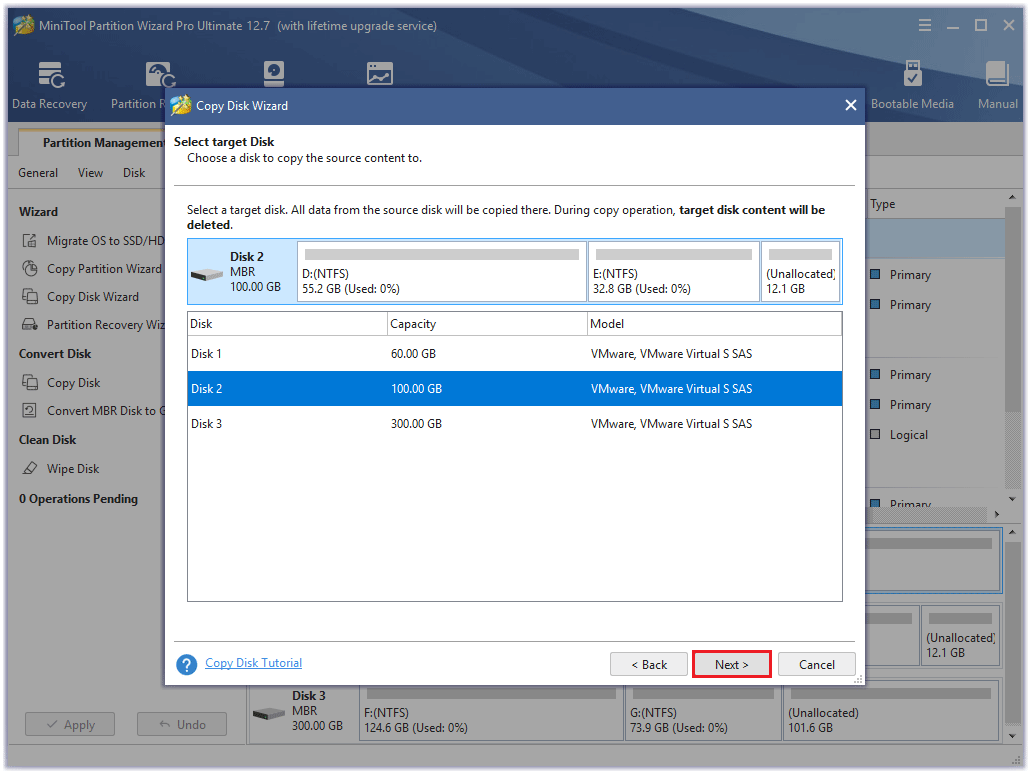 Step 6: According to your needs, pick copy options from the listed items and click Next.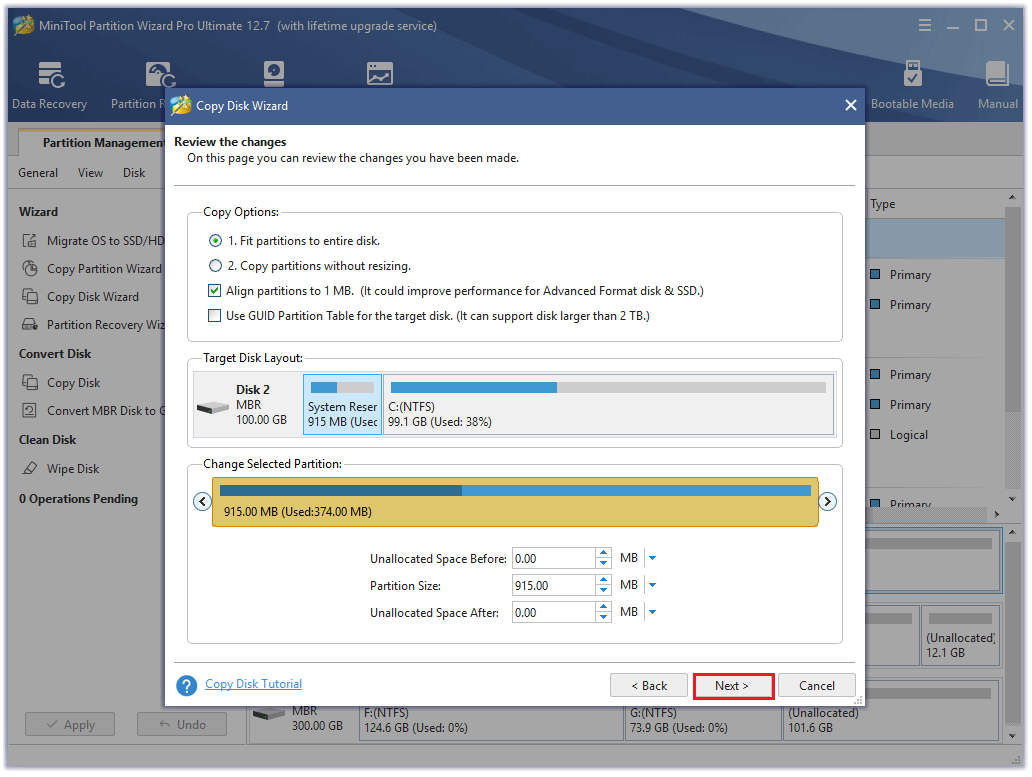 Step 7: Click Finish > Apply > Yes to execute the operation.
After you make the backup, you can uninstall Windows 11 and then install the new system on your PC. Alternatively, you can directly install the alternative OS to Windows 11 without uninstalling it. To do that, follow the steps below.
Download the ISO file from the official website of the target system.
Make a bootable USB drive with Rufus, Windows USB/DVD Download Tool, or other tools like that.
After the bootable drive/installation media is ready, restart the computer to enter its boot menu. You should keep pressing the boot key when the PC boots up.
Choose the USB drive as the boot option and confirm the operation.
Follow the on-screen instructions to finish the setup process.
You may also like: How to Delete Chrome OS Flex and Reinstall Windows [Two Methods]
Further reading:
If you want to try other systems while keeping Windows 11, dual boot it with your desired system. Here are some common dual-boot cases related to Windows 11.
Dual boot Windows 11 and Linux
Dual boot Windows 11 and Ubuntu
Dual boot Windows 11 and Windows 10
Dual boot Windows 11 and Kali Linux
Are you searching for an alternative OS to Windows 11? This post summarizes several Windows 11 alternatives. You can pick one from them.Click to Tweet
Conclusion
Out of some reasons, you may want to get alternatives to Windows 11. Which system can be used as a Windows 11 replacement? Well, this post collects some Windows 11 alternatives for you. Select one from them now!
If you have any thoughts about this topic, share them with us in the comment area below! For issues related to MiniTool Partition Wizard, directly send us an email via [email protected]. We will get back to you as soon as possible.