If you are a gamer for Rainbow Six Siege, you may have encountered lag spikes. Actually, Rainbow Six Siege lag spikes become common in these days. It has confused plenty of gamers. Well, MiniTool will focus on this issue and offer you some fixes.
An Overview of Rainbow Six Siege Lag Spikes
Rainbow Six Siege lag spikes occur frequently, which is quite confusing. A large number of gamers seek for help on technical communities and forums. Here is a true example from pcpartpicker.com.
"Hello I recently built my computer about a month ago and a few days ago I started playing rainbow 6 siege and noticed a few lag spikes, where the game would seem to studder and the sound would be on repeat like a scratched cd for about a second. I started to notice it more on world of tanks when shooting at other tanks. Once I turned on vsync It seemed to fix the problem. Please help, thanks!" 

–pcpartpicker.com
What causes Rainbow Six Siege lag spikes PC error? The main causes for the lag are the poor game connection and network issues. Certainly, other reasons like a buggy game and a standard-below computer can result in Rainbow Six Siege ping spikes as well.
If you don't know how to fix Rainbow Six Siege lag spikes PC, this Rainbow Six Siege lag fix is suitable for you. It introduces several troubleshooting methods. You can try them one by one until the issue is resolved.
Fix Rainbow Six Siege Lag Spikes with the following 7 methods
Check if your computer fulfills the minimum requirements of Rainbow Six Siege
Update graphics driver to the latest version
Run Rainbow Six Siege in a single core
Lower the graphics settings on the game
Limit FPS
Close background apps and downloads
Change the power plan of PC
Method 1: Check If Your Computer Meets the Minimum Requirements
Can I Run Rainbow Six Siege? The answer depends on your computer specs. Actually, the PC requirements are also associated with the running of game. For instance, if your available hard drive space is not enough, your game may lag, freeze, or even crash.
Hence, you are recommended to check if your computer fully fulfills the game's minimum requirement. Check the specs of your computer and then compare them with the following standards.
Operating System: Windows 7/8/10
Processor: Intel Core i3 560 @3.3GHz or AMD Phenom II X4 945 @ 3.0 GHz
RAM: 6GB
Video Card: NVIDIA GeForce GTX 460 or AMD Radeon HD 5870 (DirectX-11 Compliant with 1GB of VRAM)
DVD ROM Drive: DVD-ROM Dual Layer
Sound: DirectX 9.0c compatible sound card with latest drivers
Hard Drive: 30 GB
Multiplayer: Broadband connection with 256kbps upstream or faster
If the free hard drive space is not enough, you need to increase some disk space. How can you do that? Well, you can do that with a professional partition manager with ease.
MiniTool Partition Wizard is such a program. Its Move/Resize Partition and Extend Partition features enable you to enlarge disk space easily. Besides, it can help you rebuild MBR, convert MBR to GPT, copy disk, migrate OS to SSD/HD, change cluster size, and so forth.
Download and install MiniTool Partition Wizard by clicking the buttons below, and then follow the steps below to extend disk.
Tip: The Move/Resize feature requires contiguous unallocated space on the same disk.
Step 1: Launch MiniTool Partition Wizard to enter its main interface. Right click on the partition that contains Rainbow Six Siege and click the Move/Resize option in the pop-up menu.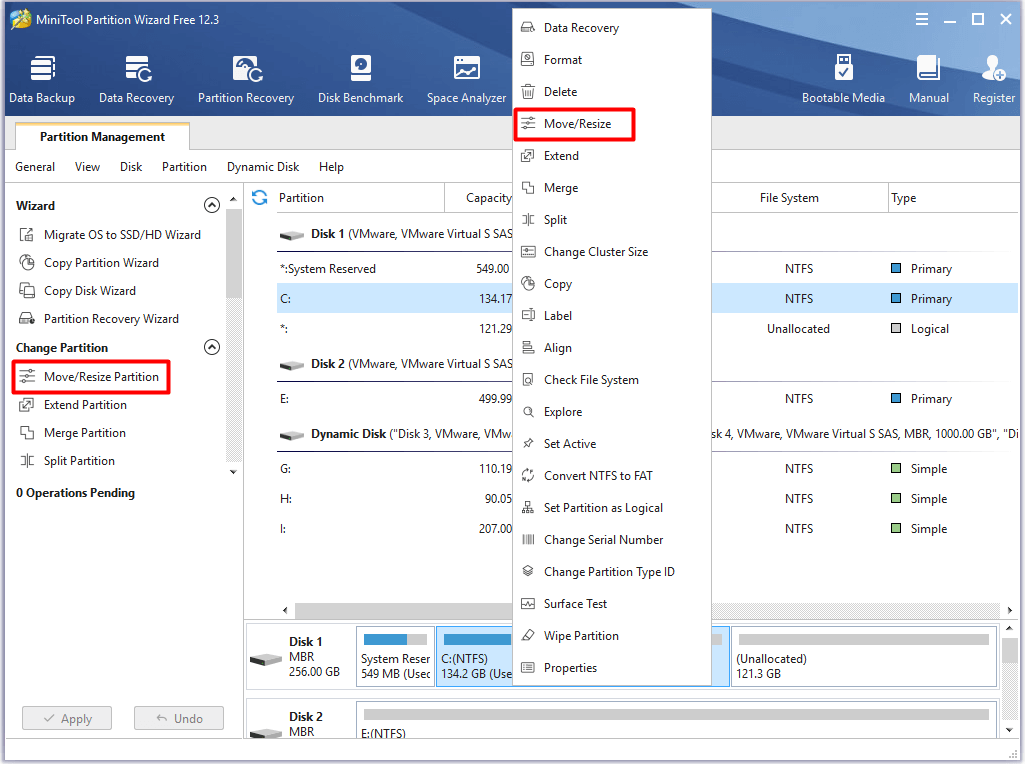 Step 2: Configure the size and location of the selected partition by dragging the handle bar in the prompted window. After that, click OK and Apply buttons to save and execute the changes.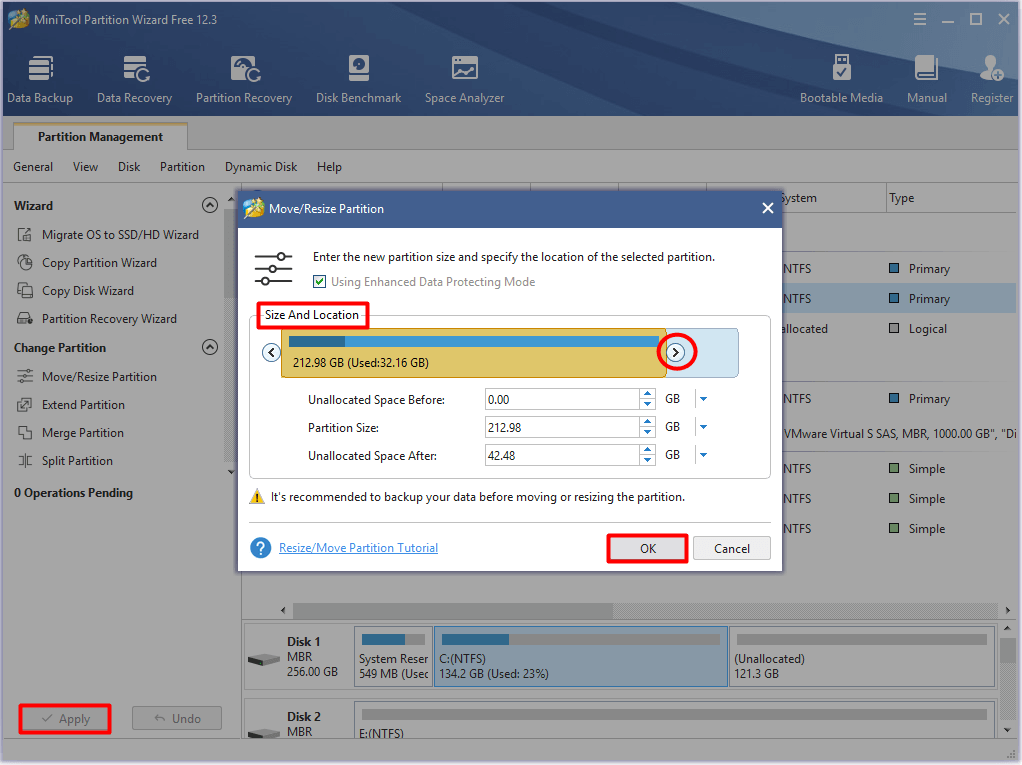 If there is no unallocated or free space on the disk or you want to extend a partition to non-contiguous unallocated or free space, you should utilize the Extend Partition feature instead.
Step 1: Run MiniTool Partition Wizard to access its main page.
Step 2: Choose the partition to enlarge and click on Extend Partition in the left pane.
Step 3: In the pop-up window, choose the partition that you would like to take space from and decide the taken space by moving the handle bar.
Step 4: At last, click OK to confirm the changes and click Apply to execute the operation.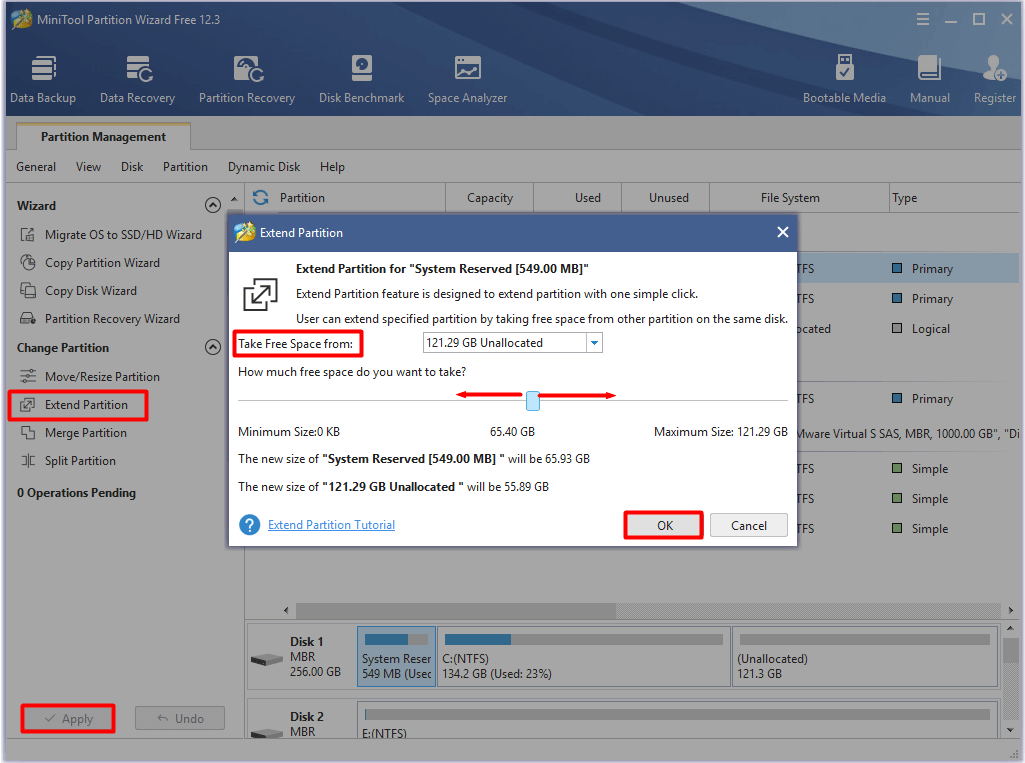 Further reading:
In addition to insufficient available disk space, incompatible processor, unabundant RAM, and unsuitable OS will cause your game running improperly too. Fortunately, you can take some actions to fix the issue. Follow the corresponding guide based on your situation.
You may encounter the Rainbow Six Siege lagging issue because your PC doesn't fulfill the minimum requirements of game. Here's how to fix it. Click to Tweet
Method 2: Update Graphics Driver
According to user reports, updating graphics driver can solve Rainbow Six Siege input lag effectively. In fact, this method can help you get rid of various errors, including the group or resource is not in the correct state, NVIDIA settings are not available, Dev error 5761, computer keeps crashing, etc.
Now, follow the steps below to update your graphics driver.
Step 1: Right click on the Windows icon on your desktop and click the Device Manager option in the Start menu.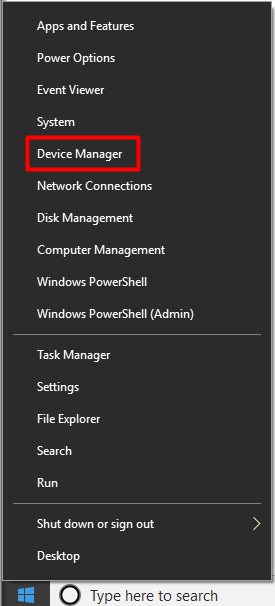 Step 2: Expand Display adapters by double-clicking on it. Right click on your graphics driver from the listed drivers and click Update driver.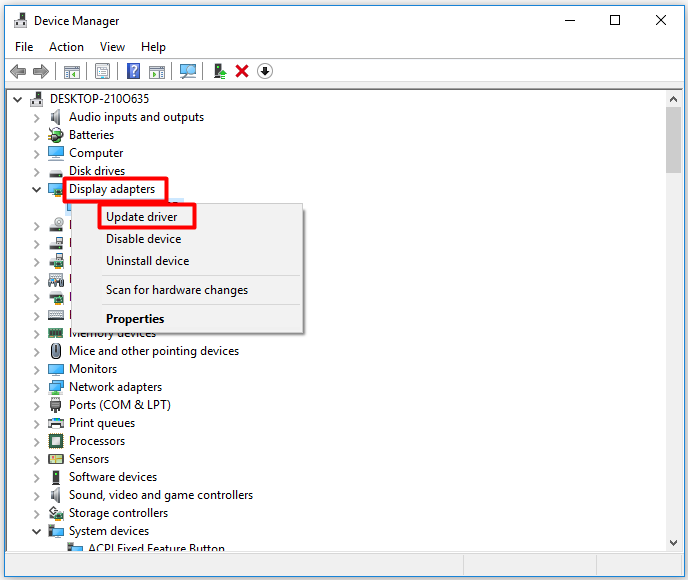 Step 3: In the next window, you can either click on Search automatically for updated driver software or Browse my computer for driver software according to your condition. Then, follow the prompted instruction to finish the operation.
Tip: The second option requires you finish the operation manually.
Method 3: Run Rainbow Six Siege in a Single Core
You can try disabling the CPU Core 0 via Task Manager to fix Rainbow Six Siege lag spikes. Here are detailed steps.
Step 1: Open the Run window by pressing Windows and R keys, and then type taskmgr and click on OK.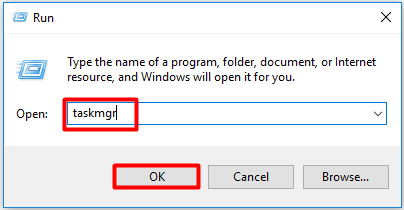 Step 2: Click on the Details tab. Scroll down the list to find Rainbow Six Siege exe file, and then right click on it and choose the Set affinity option from the elevated menu.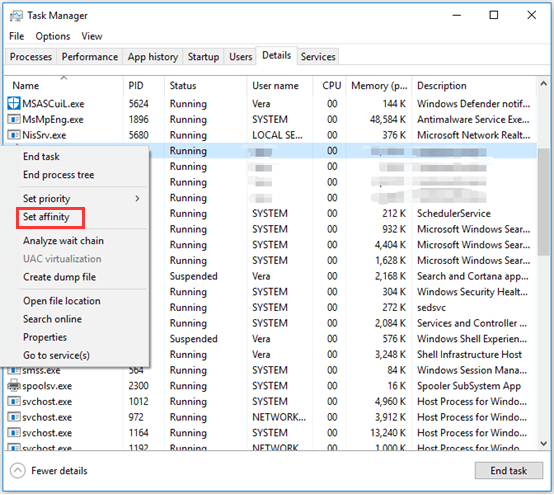 Step 3: Uncheck the CPU 0 box and click OK to save the changes.
Step 4: Now, restart Rainbow Six Siege to see if it still lags.
Method 4: Lower Graphics Settings on the Game
It is said that lowering graphics settings of the game can troubleshoot Rainbow Six Siege lag spikes PC. Here is a full guide for you.
Step 1: Run your game in Windowed mode and then move to in-game settings.
Step 2: Disable the V-Sync.
Step 3: Configure your game graphics settings like Texture Quality, Shading, and other effects to Low. Then save the changes and exit the game.
Step 4: Relaunch Rainbow Six Siege and check if the lag issue disappears.
Recommended reading: How to Make Apex Legends Run Faster? Here's Optimization Guide
Method 5: Limit FPS
According to some users, Rainbow Six Siege lag spikes can be resolved by simply modifying the FPS limit of the game. If you don't know how to do, there are detailed steps.
Step 1: Locate to the My Games folder, and then find the Rainbow Six Siege folder and go to GamesSettings.ini.
Step 2: Find the DISPLAY line.
Step 3: Then set the FPS limit to 60 or below.
Step 4: Save the changes and Launch your game to see if the error is solved.
Method 6: Stop Background Apps and Downloads
If you run other applications or execute downloading tasks in the background while playing the game, it may stutter. Therefore, you'd better check if there are any apps or downloads running in the background when receiving the Rainbow Six Siege ping spikes error.
It is simple to do that. You can see what's running in your background in Task Manager. Open the Task Manager utility from the Start menu. For that, right click on the Windows icon on the desktop and click Task Manager from the pop-up menu.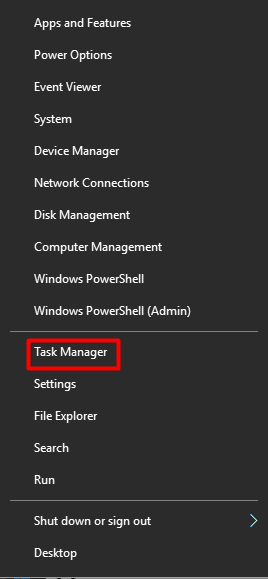 Right click on any apps that are slowing down your computer and click End task to execute the operation.
Alternatively, you can also stop the running apps on your PC with Windows Task Manager alternatives.
Method 7: Modify the Power Plan of Computer
The power plan of computer sometimes can affect the performance of the game. To be specific, if your computer is in Balanced mode, then the graphics and CPU functions might be impacted. Then you can modify the power plan of your PC with the following steps.
Step 1: Open the Run window by pressing Windows and R keys, and then type powercfg.cpl and click on OK.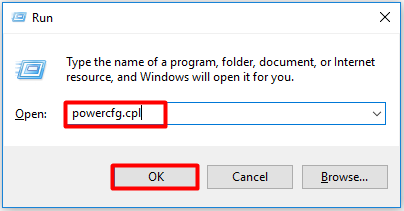 Step 2: In the Power Options window, expand Hide additional plans and choose High performance.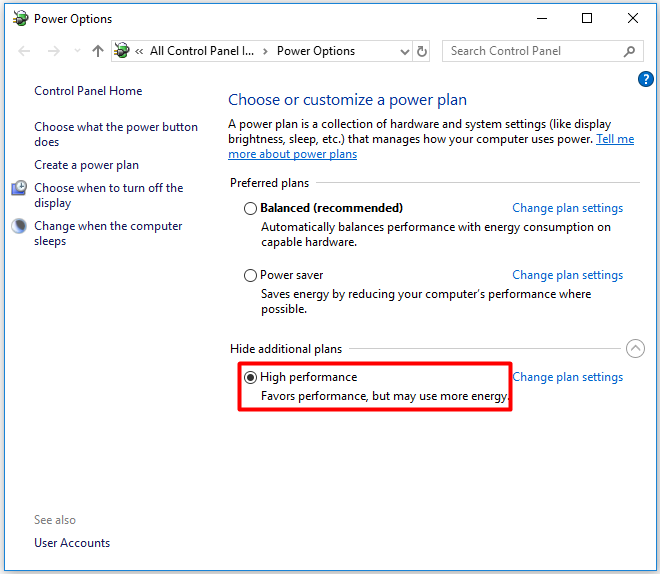 Step 3: Type advanced in the search box in the upper right corner of the window and then click on the View advanced system settings option under the System section.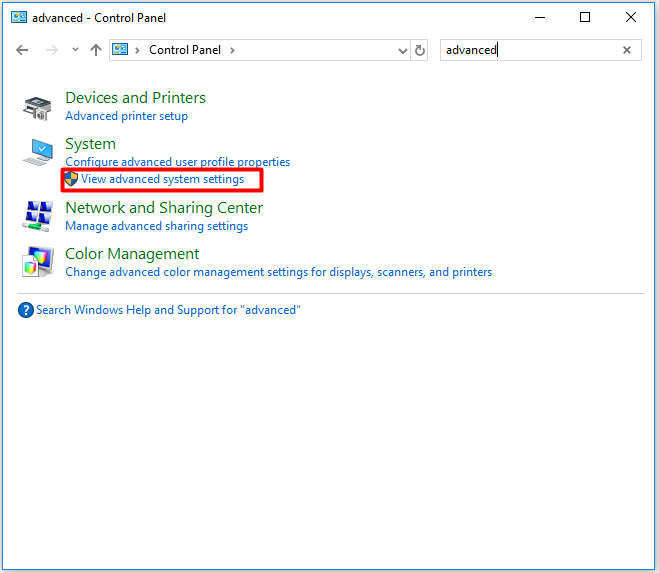 Step 4: In the pop-up window, click on Settings in the Performance section.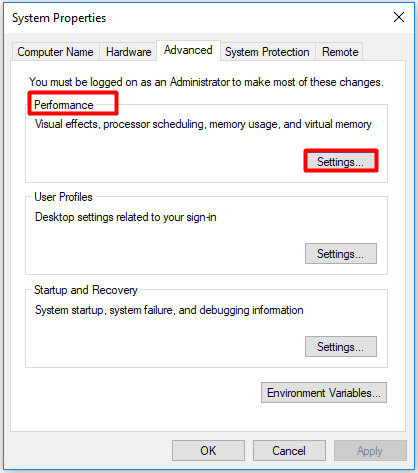 Step 5: At this window, tick the Adjust for best performance option and click OK to save the changes.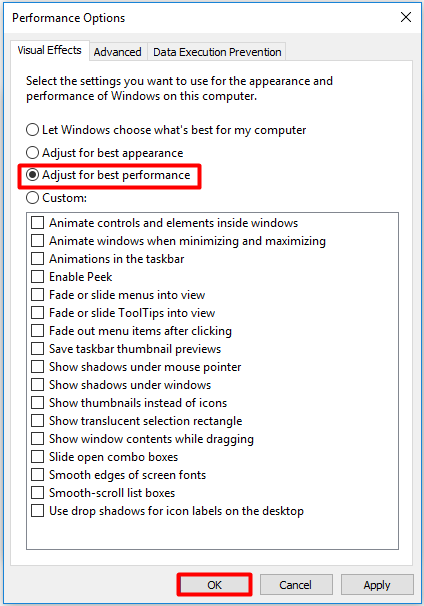 Are you still bothered by Rainbow Six Siege lag spikes? I fixed the error under the help of this guide. Probably this guide is what you need now!  Click to Tweet
Conclusion
This post simply introduces the Rainbow Six Siege lag spikes PC issue, including its occurrence and causes. Based on the analysis for the reasons of the error, some methods are provided. If you are not sure about the exact cause for the error, try the given methods one by one until the error is fixed.
To share your thoughts on Rainbow Six Siege lag spikes, write down the words in the following comment area. For any doubt or questions about MiniTool software, please send us an email via [email protected].