Summary :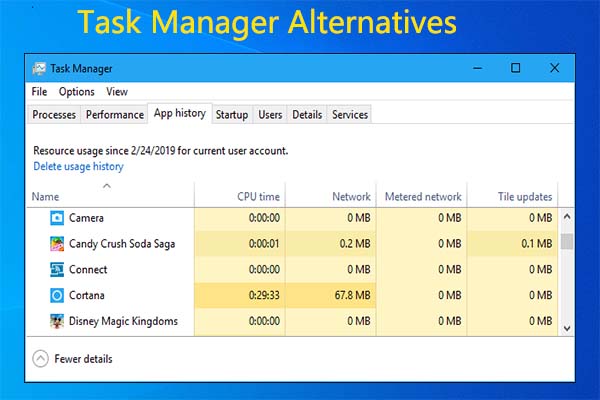 Task Manager comes with Windows operating system. Not only does it function as a task manager, but also work as a system monitor and startup manager. However, Task Manager is not the only task management program for Windows 10. Instead, here are various Task Manager alternatives. MiniTool will introduce some to you.
An Overview of Task Manager
Before discussing Task Manager alternatives, we need to raise some questions. Now, let's talk about them one by one.
What is Task Manager?
First and foremost, you should have an overall understanding of Task Manager. It is the default task managing application on Windows OS. It shows you the usage of hardware resources like CPU, RAM, HDD, and so forth by the installed programs, processes, as well as the services on the system.
What does Windows Task Manager do?
Task Manager is often used as a task killer. When a certain process doesn't respond, you can open Task Manager and end the process.
Why do you need a Task Manager alternative?
The Task Manager lacks some advanced features, which means that you don't have enough options to manage your processes. Besides, it can run into issues like unresponsiveness, high CPU usage, high disk usage, suspicious applications, etc. Most importantly, you don't have to rely on Task Manager to manager tasks on your system.
Stardock Fence is often used to manage laptop desktop. Actually, there are many other applications can do that job too. They are called Fences alternatives.
Task Manager Alternatives
In this section, top 5 Windows Task Manager alternatives will be introduced. They are:
Process Explorer
AnVir Task Manager
Processor Hacker
System Explorer
Daphne
Process Explorer
Process Explorer is a free and portable task managing application that is developed by Microsoft Windows Sysinternals team. You will have an overview of all running processes on your system once you launch Process Explorer. This program shows you a tree structure with processes and the processes they started. In one word, you can see what is running on the computer clearly through it.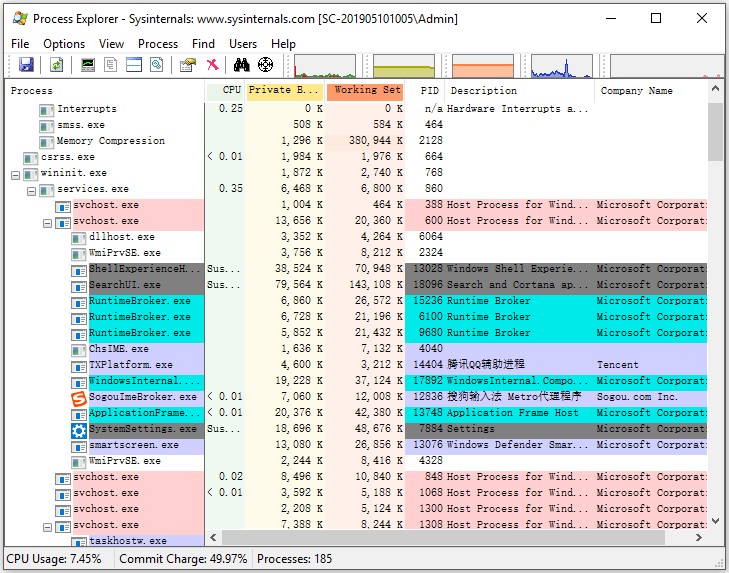 In addition to that, Process Explorer has the following features.
It has a color-coded processes list.
It shows you which open files are locked by which processes.
It can be used to set affinity and priority actions for processes.
It shows you real-time CPU, GPU, RAM, and I/O diagnostic data and graphs.
It helps you restart, suspend, kill process, and kill process tree actions.
AnVir Task Manager
AnVir Task Manager probably is the most feature-rich and the most customizable free Windows Task Manager alternative. It contains multiple settings, features, and tools. It shows you the detailed information about each process on the system.
For instance, you can see the DDLs that the application uses, inbound and outbound traffic, disk load, performance graph, open files through AnVir Task Manager. Besides, you can view the information about startup programs, services, drivers, and active Internet connections. You are able to remove or add applications to startup if necessary.
It informs you applications that try to add themselves to the startup.
It includes some File Explorer enhancements.
It helps you minimize any open window to the system tray or create a floating icon with ease.
It enables you to change the transparency and priority of every application.
It shows you the additional information about running processes.
Process Hacker
Process Hacker displays the detailed information about all running processes on the computer like Task Manager. When you hover over the graph, you can see the application that uses the most resources at present. To learn more information about the application, double click the graph.
It provides almost the same features as Process Explorer and comes in both installed and portable versions. Differently from Task Manager, Process Hacker has a search bar on the top right so that you can find wanted application or process quickly.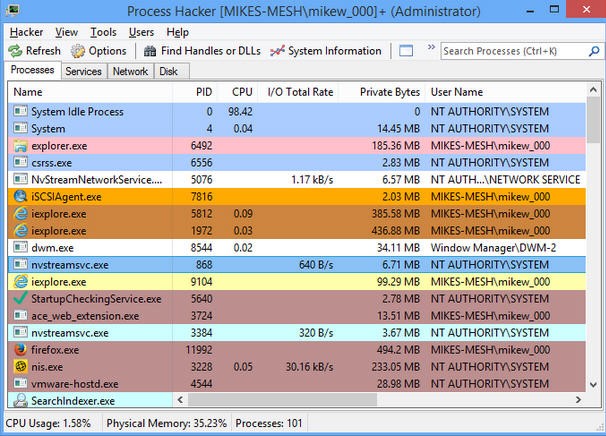 It can help you remove files that are used by other applications.
It shows you the exact programs that have active network connections and the real-time information regarding disk access.
It can manage services on your computer.
It allows you to modify or redistribute it.
It can be customized with plugins.
It can restart, suspend, terminate, and terminate tree actions.
It allows you to set affinity, priority, and I/O priority actions for processes.
System Explorer
System Explorer manages processes, increases system security, and protects against disaster. You can see the per-process CPU usage history over the previous minute, past hour, and past day via this program. In addition, it shows you the overall system performance in real-time.
System Explorer has the following features.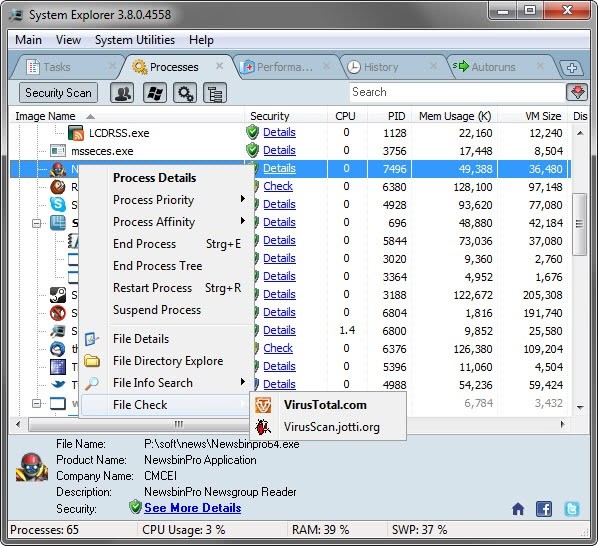 It is the only task manager listed in this list that supports two view modes (Task Manager Mode and Explorer Mode).
It contains a Security Scan feature.
It stores and compares file, registry, and file plus registry snapshots.
It helps you set affinity and priority actions for processes.
It enables you to restart, suspend, end processes, and end process tree actions.
It can manage modules, autoruns, drivers, users, and etc.
Daphne
Daphne has a simple user interface, which shows you the list of active processes, CPU, and memory usage. It is a lightweight and open-source Task Manager alternative. It allows you to kill a process in 4 ways including immediate, immediate polite (non-forced), scheduled, and scheduled polite.
It enables you to move processes to the front or back, set alpha transparencies, or change window sizes.
It can separate hierarchical process tree view.
It allows you to find processes by window and windows by processes.
It can help you set affinity and priority actions for processes.
It can copy all live processes to the clipboard for troubleshooting.
This post introduces you 5 Windows 10 Task Manager alternatives to you. Pick one from them now!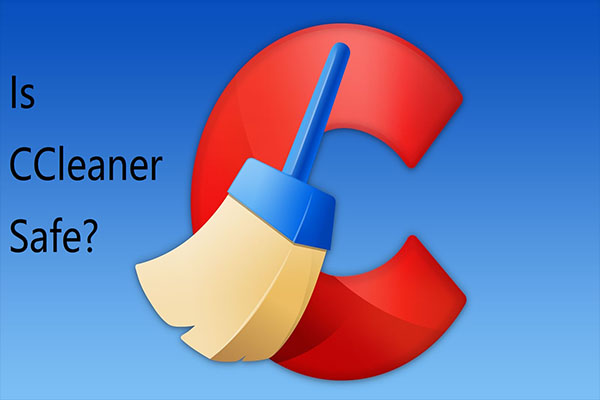 The system cleaning software - CCleaner may be recommended by some technicians, but have you ever asked that is CCleaner safe? This post tells you the answer.