A free PC optimizer is necessary for those whose computers freeze or take a long time to respond. What is a PC optimizer? What does a PC optimizer do? MiniTool will tell you the answers and recommend you 8 best PC optimizers.
What Is a PC Optimizer
PC optimizer is a tool that helps you improve the performance of your computer. To be specific, the PC optimizer makes your computer respond more quickly. If you want to execute a task, the computer will function immediately after optimization.
What does a PC optimizer do? Generally speaking, a PC optimizer will scan your hard drive for any unwanted data and free up storage space. Besides, it may back up items on your computer like Registry, restore options, etc.
The best PC optimizer enables you to defrag the entire file system, recovered deleted files, extend partition and so forth. In a word, a PC optimizer aims to boost your PC's performance and reduce startup time.
Tips:
To monitor the status of your PC parts, you can get a PC monitor tool like NZXT CAM. Download and install it on your computer, and then run it on your computer. 
Each PC optimizer has different emphasis on optimization. For instance, some focus on Internet connection speed and malicious software precaution, while others pay attention to disk space analysis and disk defragmentation.
Here are 8 best free PC optimizers that can help you optimize your Windows system. Learn about them and then make a choice.
8 Best PC Optimizers
MiniTool Partition Wizard
System Mechanic
AVG PC TuneUp
CCleaner
IObit Advanced SystemCare
ITL Windows Optimizer
The PC Decrapifier
Ashampoo WinOptimizer
#1. MiniTool Partition Wizard
MiniTool Partition Wizard is a professional partition manager, which has powerful magic in partition management. It is reliable and effective. The main interface is designed well – tidy and organized. The features for partition wizard and hard drive are divided respectively.
You can choose features from the left action panel, the context menu, or from the top of main interface. It can even manage external devices such as external hard drive, USB flash drive, memory stick, U disk and others as long as you connect them to your computer.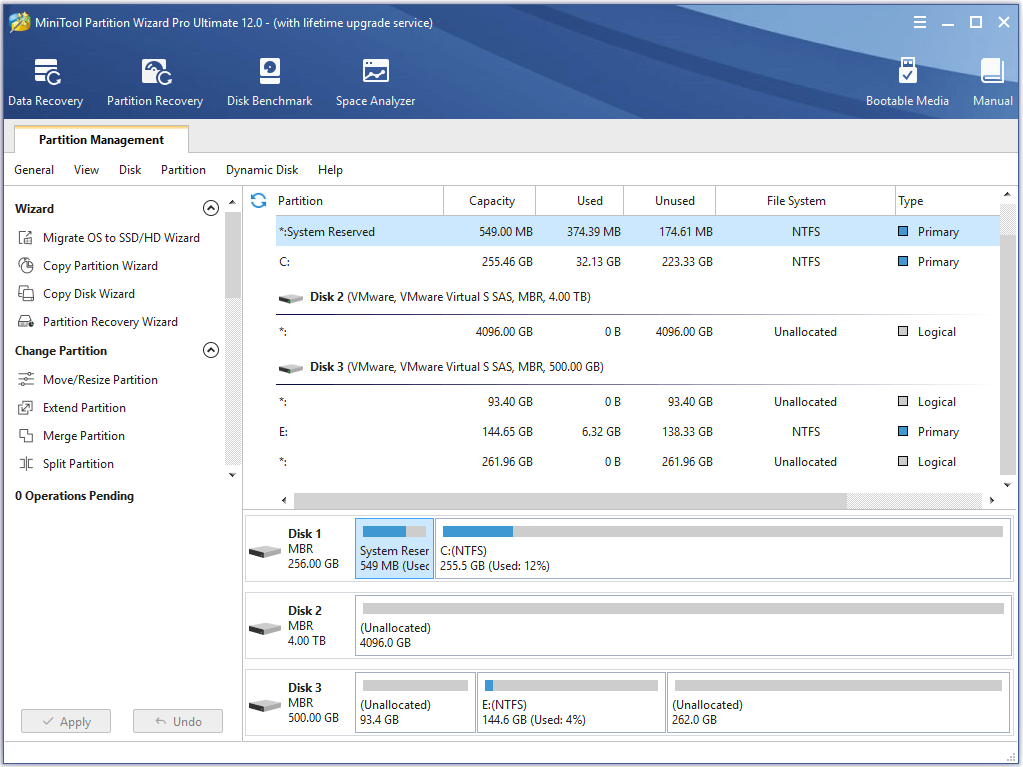 It is a multifunctional program. With this software, you can do various operations to protect and improve the performance of your PC. What it can do for you exactly? They are listed as follows.
Tip:
Though MiniTool Partition Wizard Free Edition allows you to optimize and clean your PC, some features require its Pro, Ultimate or more advanced editions. You can refer to
edition comparison
and then choose a suitable edition.
MiniTool Partition Wizard FreeClick to Download100%Clean & Safe
Extend partition to get more storage space
Detect and fix file system errors on your hard drive
Scan hard drive for bad sectors
Clean up disk completely
Analyze your disk space usage to find what's taking up your storage space
Recover any missing data on your computer
Migrate OS to other hard drives
Help you fix PC errors like amifldrv64.sys BSOD and 0x0000001a blue screen
Copy disk 
Convert NTFS to FAT with ease
#2. Iolo System Mechanic
Iolo System Mechanic is an optimizer that offers you fast optimizing speed. Besides, it can provide you with a personalized report that contains the detailed problems on your PC and corresponding fixes. It only supports Windows operating system.
Tip: The free edition doesn't support some of features. Hence, if you want to get the full function, you need to pay for its Pro edition.
This software boasts many features. They are summarized as follows.
Detect and remove 50 (the maximum) types of junk files
Offer a short startup time (the 89% of previous startup time)
Solve PC problems up to 30, 000
Improve the speed of Internet, CPU and hard drive
Uninstall bloatware
Find startup programs that can slow down the launching process and run without your permission
Recover plenty of files that get lost or are deleted by accident and other items such as pictures, videos and documents
Protect your private data by wiping it
Allow you to repair invalid registry entries
Prevent you from missing any data
Make your computer run faster by defragmenting your RAM and hard drive
Also read: Top 7 SSD Optimizers for Windows to Get Optimal SSD Performance
#3. AVG PC TuneUp
AVG PC TuneUp is an antivirus-based PC optimization tool. Besides the regular junk files cleanup feature, it boasts other features such as remove duplicate files, clean up the Registry, etc. What makes it stands out from the line is its unique feature – Sleep Mode.
Tip: You need to notice that AVG PC TuneUp also only supports Windows operating system.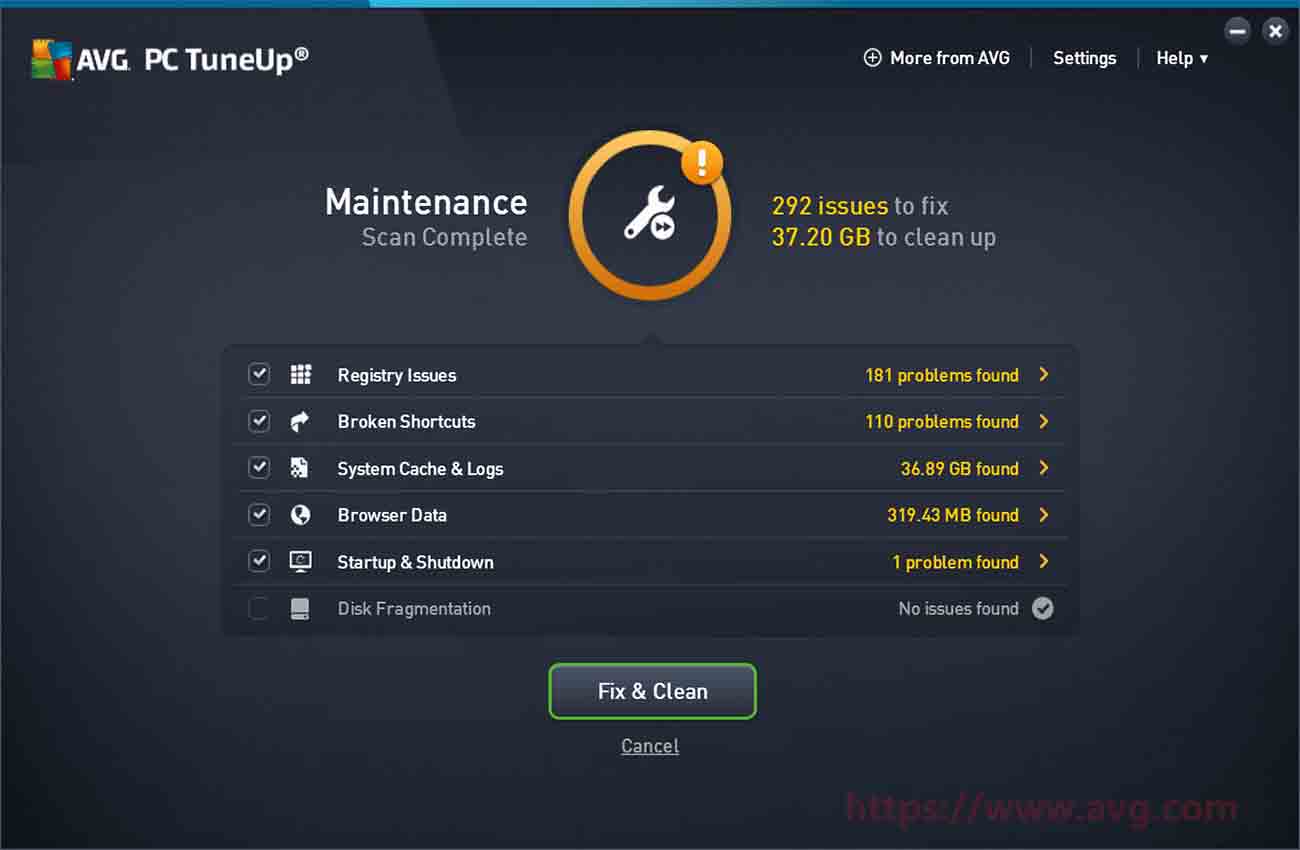 This mode can improve your computer performance, browsing speed, as well as quick disk cleanup. If there are some programs running in the background generating some inconvenience but you still want to keep them, the sleep mode is useful.
You can put these programs to sleep under the help of this sleep mode. This operation can stop these programs from taking any more system resources. What does AVG PC TuneUp do? Here are the details.
Accelerate the booting and running speed of your computer
Enable you to access your hard drive more quickly by defragmenting it
Uninstall junk files to release disk space
Remove the hidden files of your browser
Uninstall any software that you don't need
One-click full maintenance
Update all your programs regularly
De-clutter and clean your Registry
Find the program that slows down the startup
Provide economy mode for laptops
Prevent unutilized programs from draining power
Uninstall duplicate files
#4. Piriform CCleaner
Piriform CCleaner is well-known for solving Registry settings issues and removing junk files. Now, it combines incorporate privacy settings with system optimization and cleaning tool. It gets more powerful than before.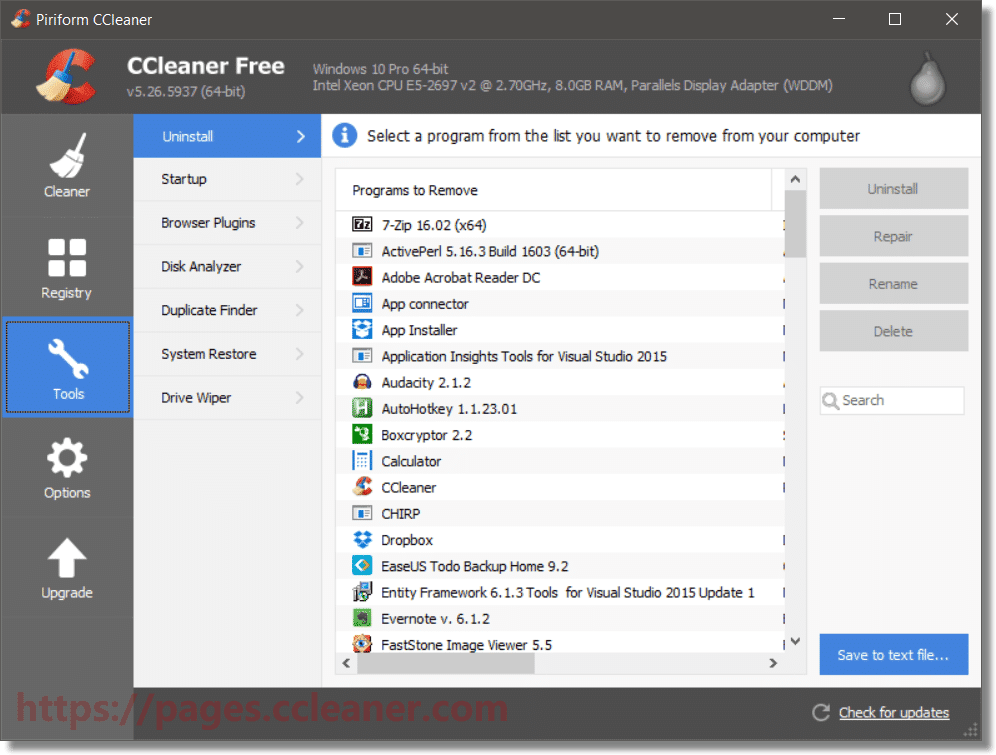 However, its users have doubts about the security of CCleaner as it has been hacked at the end of 2017. That is because millions of users (around 2.27 million) are under the risk of being infected by malware due to the hack. Since then, users always wondering that is CCleaner safe.
The issue was solved after it was found and updated. Many users still use it to optimize and clean their computers. As you see, CCleaner is a system optimization and cleaning tool. It can be used on Windows, Mac and Android operating systems. But you should know that CCleaner can copy many Windows tools that can consume your storage space.
What CCleaner can do for you? Here are features of it.
Note: The paid edition will even offer you real time protection and cleanup scheduling. Besides, it will create a backup before erasing junk entries.
Offer standard privacy protection
Optimize the speed of your Internet and computer
Provide you with a faster startup and high device performance
Give you customize cleaning based on your business demands
Improve security and stay compliant
Remove junk and broken files to free up disk space
Uninstall invalid and unessential Registry entries
Remove browser caches and unwanted cookies
#5. IObit Advanced SystemCare
IObit Advanced SystemCare has two editions including the Free Edition and Pro Edition. The interface of both editions is well-designed. The interface is clean and customizable. This optimizer is purely a PC optimization tool that can only run on Windows OS.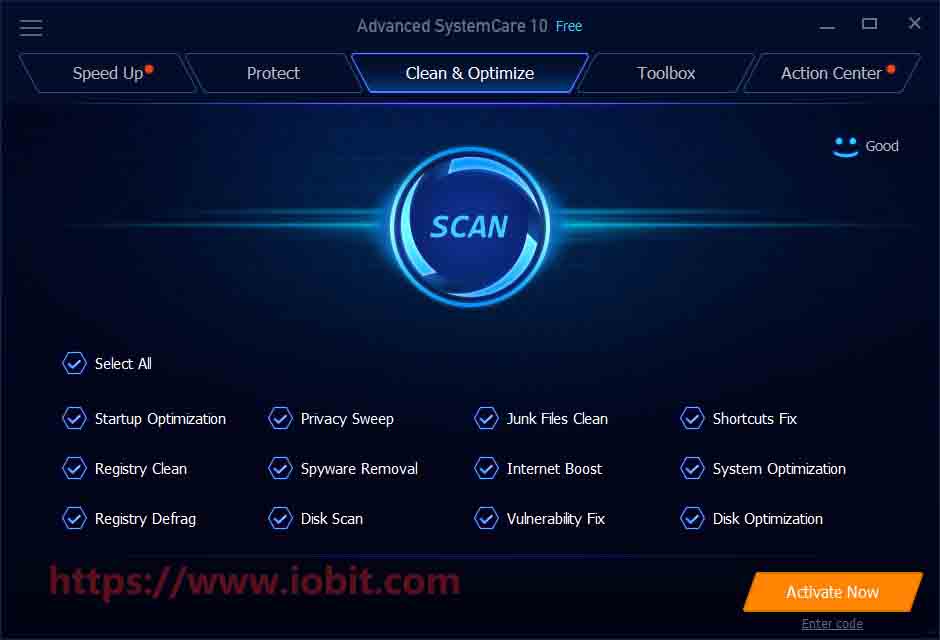 The difference is that the IObit Advanced SystemCare Free Edition only allows you to do some basic PC cleaning work. Differently, its Pro Edition adds features like Internet speed-enhancing, real-time optimization, privacy protection and deep Registry cleaning.
This PC optimization tool also has its own drawbacks. For instance, it is unable to exclude individual files and has extra software in installation package. What can this PC optimization tool do? Here are the main features of this optimizer.
Remove unnecessary files and folders automatically
Sort out Registry
Detect and fix errors on the hard drive
#6. ITL Windows Optimizer
ITL Windows Optimizer is one of the best free PC optimizers. It is a multifunctional computer maintenance and protection tool. It can clean your computer and will not let it bog down. It has a great reputation and positive reviews. Hence, ITL Windows Optimizer is worth considering for optimizing the PC.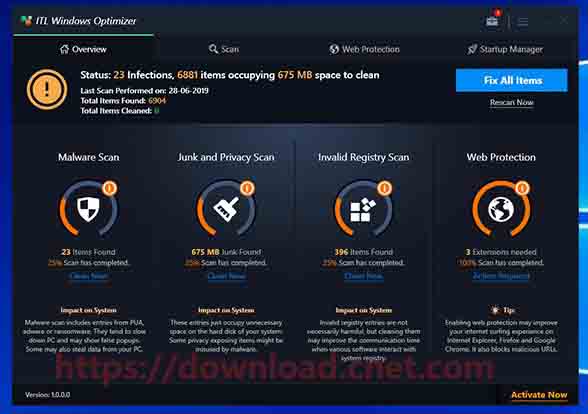 It can help you do the things below.
Recover disk space
Remove junk like temporary files, memory dumps, unwanted data, privacy traces and other unwanted & space-consuming stuff
Improve system speed
Remove invalid registries to reduce system response time and improve performance
Protect your web privacy
#7. The PC Decrapifier
As its name indicates, the PC Decrapifier can effectively clean your system. This PC optimization tool can help you discard programs that preinstalled on your freshly bought PC. It does well in removing the bloat on your newly installed system.
Tip: It works on Windows 7/8/10 operating system.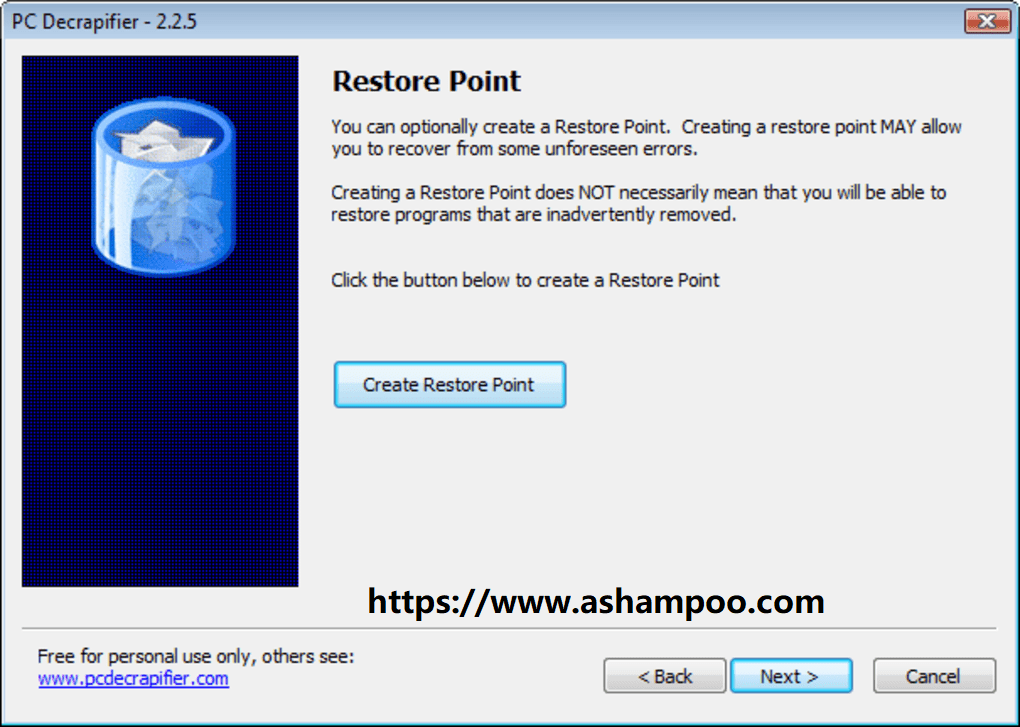 This is totally free PC optimizer tool. Besides, it is easy to use. It has the following features.
Can handle the junk email that congests your computer easily
Boost your PC booting time
Remove junk from the Registry of your computer
#8. Ashampoo WinOptimizer
Ashampoo WinOptimizer can effectively scan, clean and optimize your computer, so the functionality and stability of your PC will be greatly enhanced after optimization. As its name indicates, it can clean your computer like a shampoo. The one-click optimization feature can fix multiple issues in a time.
 You can only use this free PC optimizer on Windows operating system. It's a professional PC optimizer. With a descriptive interface, you can use it more easily. The comprehensive toolkit enables you to optimize and clean your computer thoroughly.
You may like this: The Definition, Types, Application & Removal Guide of Rootkit
With this comprehensive toolkit, you are able to configure and tune your computer. By doing so, it can work in a way that you want it to. The detailed scan result will be shown to you after clicking the Details button. Ashampoo WinOptimizer will explain and offer you solutions to each issue it scanned.
You need to have a basic understanding of its features before using this best PC optimization program.
Maintain your Windows operating system
Improve the performance of your PC
Can customize the context menus of Windows
Split up and encrypt files through File Splitter and File Encrypter
Analyze your system for further optimization
Lessen the startup time of your computer
Make backups in case of data missing
Recover the accidently deleted files via the Un-delete tools
Are you seeking a free PC optimizer? Here are 8 best free PC optimizers for you. All of them work well and win high popularity with users. You can view the details of each PC optimizer and then choose one from them. Click to Tweet
Conclusion
The 8 best PC optimization programs have been introduced to you. Now, it's your turn to select a PC optimizer free from these programs to optimize your computer. You can get one to optimize your old or sluggish PC and then enjoy a faster response speed.
If you have any ideas on the topic – free PC optimizer, you can share them in the below comment area. You can send your questions and problems about MiniTool software through an email via [email protected].
Free PC Optimizer FAQ
What is the best free PC optimization software?
There's no absolute answer to this question. Different PC optimizers have their own features. Some PC optimization software are good at handling anti-virus, while others do well in privacy protection. So, you can pick one based on your needs.
Is PC optimizer safe?
Yes, PC optimizer is safe in most cases. Generally speaking, the features of each PC optimizer have been tested over and over again. The PC optimization tool only focuses on the cleaning and optimization of the computer. So, you don't have to worry about security.
Is there a free program to clean up my computer?
Yes, there is.
MiniTool Partition Wizard
is such one program. The Wipe Disk feature enables you to clean hard disk on your computer with ease. If you want to seek more solutions to clean up your computer, please refer to this
full guide
.
How do I speed up my PC performance for free?
There are multiple ways to
speed up PC performance
. For example, you can optimize your computer with a free PC optimizer to improve the performance. Alternatively, clean up your computer by deleting temporary files or other unused and space-consuming files, uninstalling applications, upgrading RAM, etc.