If you are looking for Ashampoo WinOptimizer alternatives, this post of MiniTool Partition Wizard is worth reading. It collects 6 apps like Ashampoo WinOptimizer. Moreover, you can obtain additional information about this PC optimizer & cleaner.
Ashampoo WinOptimizer Review
Generally speaking, operating systems will slow down and become unstable and clutter up after some time. Then here comes the need of speeding up the computer. To do that easily, you need to apply a free PC optimizer. Ashampoo WinOptimizer is such a program that can accelerate, clean, and fix your Windows system. Moreover, it protects your privacy and allows you to customize Windows as you like.
With a clear interface, Ashampoo WinOptimizer also offers you a complete view of your system issues including hard disk temperature, memory status, graphics card performance, and so on. From this computer performance optimizer, you can get features like hard disk speed evaluation, one-click cleaning & optimization, Internet cache cleaner, HDD Inspector, live tuning, etc.
As Ashampoo WinOptimizer works on Windows 11/10/8/7, you can use it without worrying about compatibility issues. To learn more about its features, keep reading the post.
Also read: How to Clean up Your Computer? Top 8 Methods for You
What Does Ashampoo WinOptimizer Do
By using Ashampoo WinOptimizer, you can orange folders, manage disk space, and improve the performance and speed of your Windows system. The specific features of Ashampoo WinOptimizer are listed as follows.
Reduced and clearer user interface
In-depth cleaning of system-critical areas
Massively accelerated and more efficient cleaners
Cleans startup folder for quicker boot times and more disk space
Find and detect old Windows versions, updates, and system caches
Eliminate web browsing traces (remove junk files created during web browsing or downloads)
Updated start page with CPU speedometer and up-to-date hardware details
Super-fast 1-click optimization based on new cleaner modules
Convenient cookie manager for safe cookies
Window scaling and docking based on Windows Aero Snap
Access to Windows license key
Multiple new Windows 11 tweaks for Taskbar, Explorer, and more
Better overview and easier handling in Link Checker and Context Menu Manager
Support for modern multi-core processors in System Information
New confirm dialog in File Wiper plus deletion method selection
Split large files to fit them onto separate storage volumes
Delete, encrypt, and recover files safely
Make backups
New design for Uninstall Manager and Process Manager
[Guide]: Blackmagic Disk Speed Test Windows & Its 5 Alternatives
Ashampoo WinOptimizer Download and Install
To get this Windows PC optimizer, navigate to its official website and click on the Free Download button. Then follow the steps below to finish the installation.
Step 1: Double-click on the downloaded Ashampoo WinOptimizer setup file to start the installation process.
Step 2: In the pop-up window, click Agree & Proceed to continue.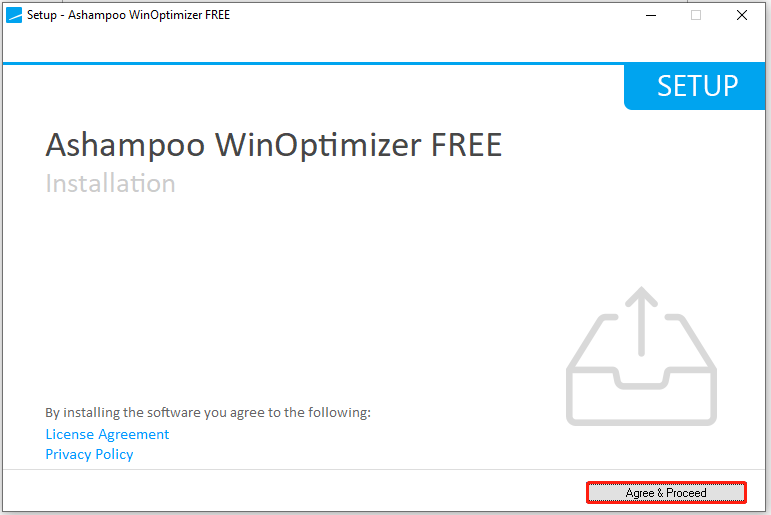 Step 3: Choose an install location and confirm the operation.
Click Browse for folder to configure the installation location.
In the prompted window, choose the specific place to install Ashampoo WinOptimizer and then click OK.
Click Next to move on.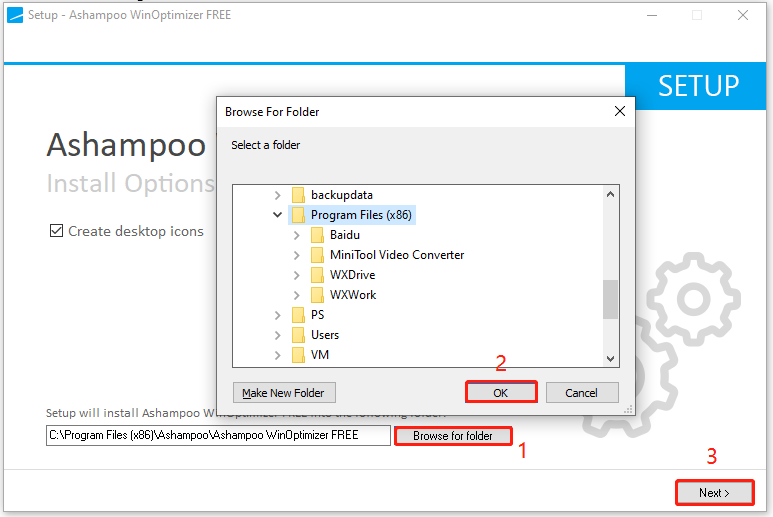 Step 4: After the installation process ends, click Finish. Then it will launch automatically.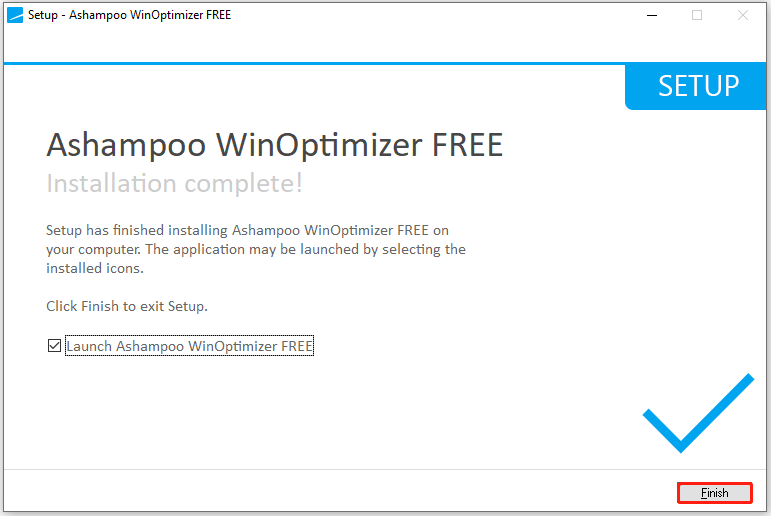 Step 5: You are required to activate your personal license for Ashampoo WinOptimizer Free by entering your email address and clicking Next. Then you can access all the provided features by this PC optimizer.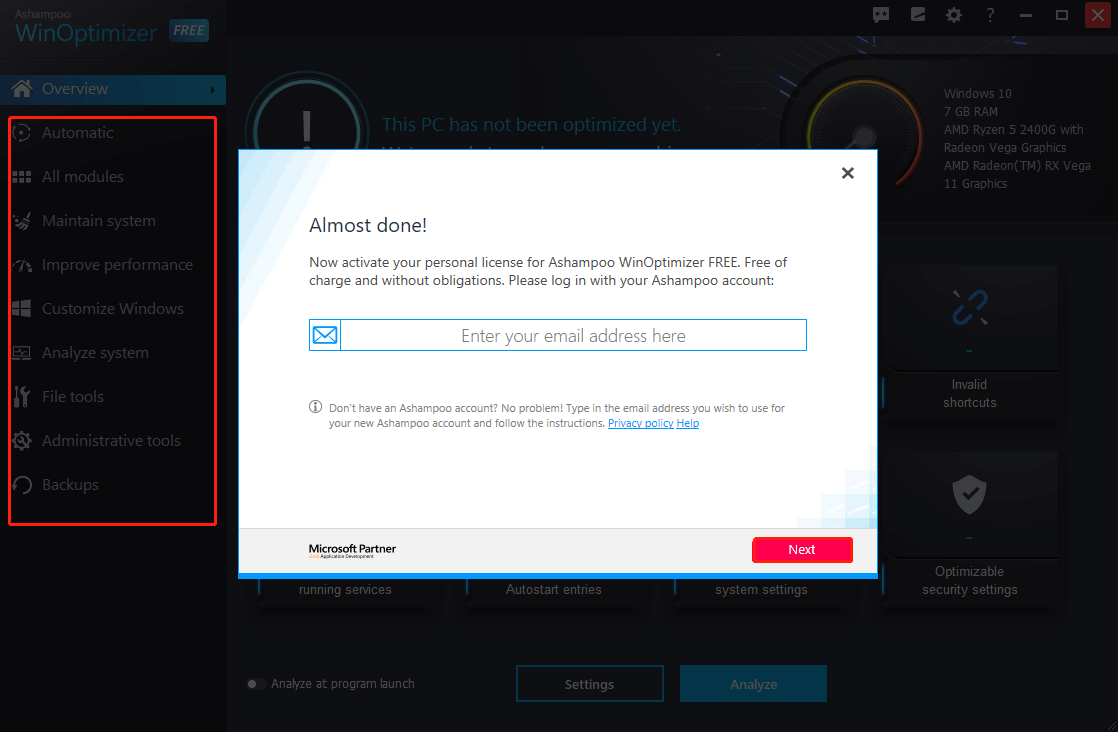 You will get an Ashampoo WinOptimizer review from this post. Moreover, you can download and install this PC optimizer & cleaner by following the given steps.Click to Tweet
Ashampoo WinOptimizer Alternatives
Ashampoo WinOptimizer is indeed a great powerful system optimization tool, but you may don't want to use it for some reasons. For instance, you are unwilling to register a Ashampoo account. In this case, you should consider other apps like Ashampoo WinOptimizer.
There are multiple alternatives to Ashampoo WinOptimizer. They are mainly PC optimizers, but they may also be system cleaners, duplicate file finders, or software uninstallers. These Ashampoo WinOptimizer alternatives can be on platforms like Windows, Mac, Android, Linux, and web-based.
#1. CCleaner
CCleaner is regarded as one of the best alternatives to Ashampoo WinOptimizer. It removes unused files from your system, freeing up disk space. It also clears your Internet history and tracking files to protect your privacy. With it, you can perform PC health checks with ease as it will analyze, fix, and tune up your PC automatically.
As CCleaner includes Speccy, you can spot issues or find compatible upgrades. With Recuva included, CCleaner enables you to recover missing data. It can be used as a system cleaner, duplicate file finder, and software uninstaller.
Tips:
All these features are available in CCleaner free edition. To access advanced features like software updater and performance optimizer, you need to subscribe to its professional or professional plus edition. It offers you a 14-day free trial.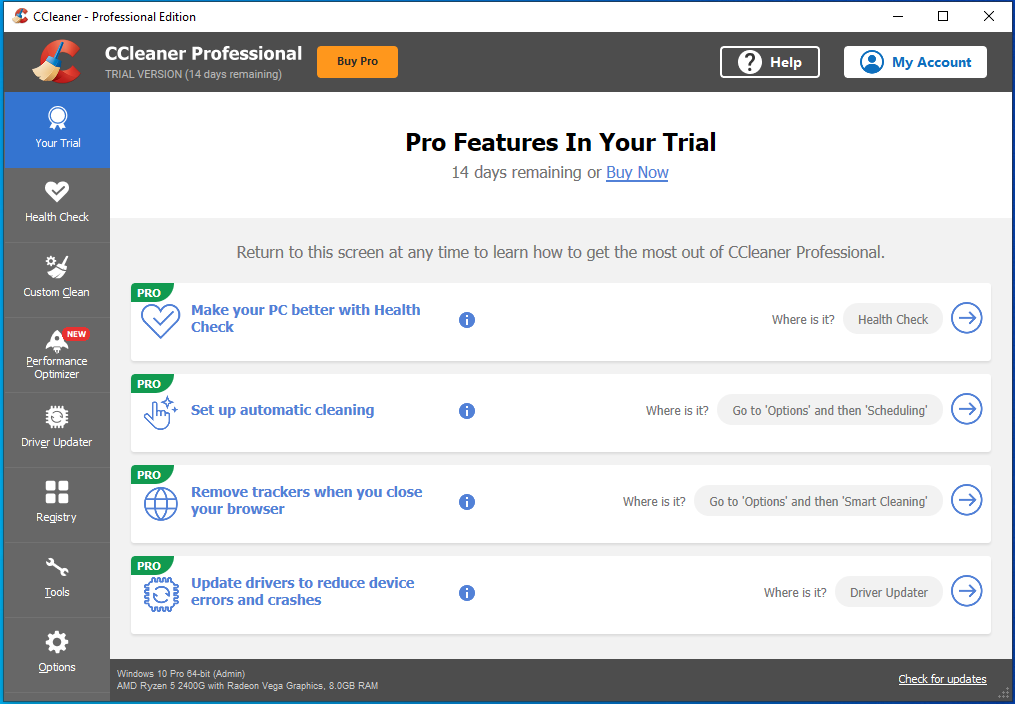 If you doubt the security of CCleaner or simply want to get an alternative, please read this post to obtain detailed information.
#2. IObit Advanced SystemCare
IObit Advanced SystemCare can do in-depth scans to clean system logs, temp files, and invalid registry entries.
For instance, it often cleans up junk files in popular applications like Dropbox, Steam, Java, Adobe Photoshop Lightroom, Spotify, and MS OneDrive. It also finds, locates, and removes large files on the PC.
Tips:
It supports Windows 11/10/8/8/Vista/XP.
It cleans traces and blocks suspicious processes on the computer too. This operation can protect your privacy and security. Additionally, it can find out & fix PC issues and optimize the device with 30+ troubleshooters. By doing so, your computer would run faster.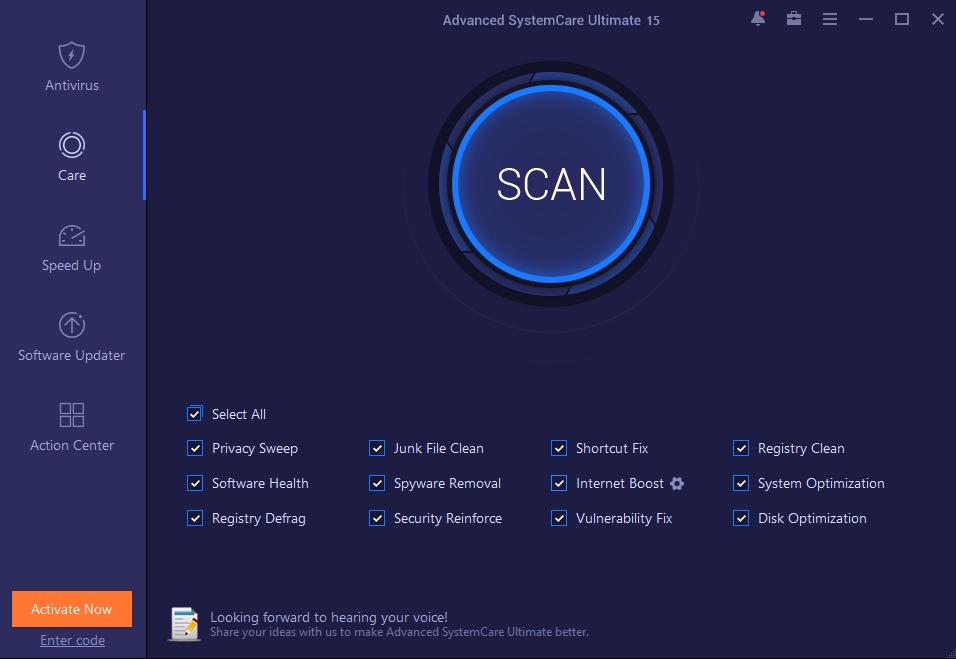 Furthermore, it updates all must-have software to avoid PC risks and boosts your Internet speed by maximizing network bandwidth. Then you won't suffer from sluggish video streaming and download speed.
Note:
The IObit Advanced SystemCare free edition only allows you to do some basic PC cleanup jobs. If you want to use features like real-time optimization and privacy protection, you should upgrade to its pro edition.
#3. Iolo System Mechanic
Iolo System Mechanic is also a famous Windows system optimizer. It can scan the whole system to detect every redundant file, process, and registry entry and then clean them all. One of the best parts is that it offers you a personalized report containing detailed problems on your computer and corresponding solutions.
As one of the best Ashampoo WinOptimizer alternatives, Iolo System Mechanic includes the features below.
Fix up to 30, 000 PC issues
Find and remove up to 50 kinds of junk files
Offer a short startup time
Boost the speed of Internet, CPU, hard drive, and the whole PC
Protect your private data by wiping it
Recover lost or deleted files types like pictures, videos, and documents
#4. MiniTool Partition Wizard
MiniTool Partition Wizard is also an Ashampoo WinOptimizer replacement. It is capable of optimizing and cleaning up computers via its powerful features. For instance, it can find large files on the hard drive through the disk space analyzer function. It can be used as a file deleter to permanently delete files on the PC.
Being a multifunctional PC optimizer, MiniTool Partition Wizard also boasts other features to speed up a computer. It has some features that are similar to that of Ashampoo WinOptimizer. In addition to that, it allows you to do other partitions/disks related operations as well.
Tips:
It is compatible with Windows 11/10/8.1/8/7/Vista.
Wipe Disk/Partition – cleans up your disk or partition completely
Space Analyzer – finds space-consuming files or folders on the hard drive and then removes them.
Copy Disk – clones your hard drive to another one to avoid data loss.
Migrate OS to SSD/HD – copies all the partitions on the system disk or only the system required partitions to another hard disk.
Surface Test – checks bad sectors on the partitions or hard disks.
Check File System – checks and fixes detected file system errors.
Data Recovery – recovers lost or deleted graphics & pictures, audio & video, e-mail, database, archive, document, and other files.
Partition Recovery – recovers missing or deleted partitions.
Extend Partition – enlarge your partitions by taking space from other partitions or unallocated space on the same hard disk.
Move/Resize Partition – expands or shrinks the partition size and changes the location of the partition.
Convert NTFS to FAT (vice versa) – helps you change the file system of the partition without data loss
Convert MBR to GPT (vice versa) – changes the partition scheme.
MiniTool Partition Wizard DemoClick to Download100%Clean & Safe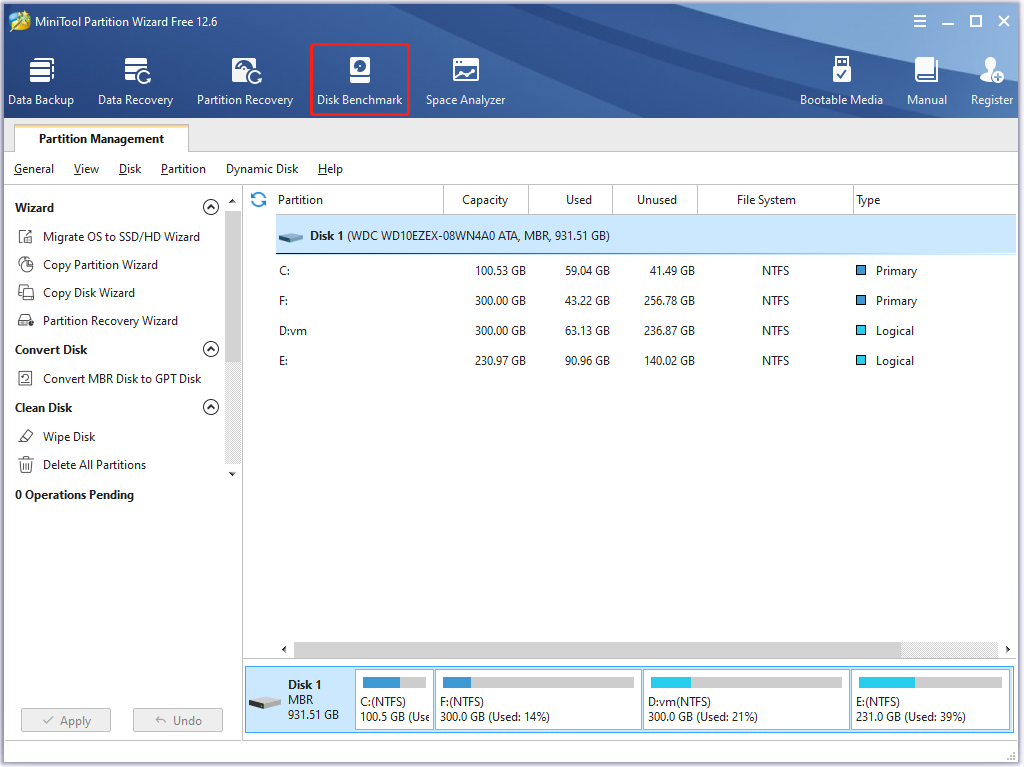 #5. dupeGuru
dupeGuru can be used as an Ashampoo WinOptimizer replacement too. It is a free and open-source tool that can find duplicate files on your computer. To be specific, it scans either filename or contents. In particular, the filename scan features a fuzzy matching algorithm that can find duplicate filenames even though they are not completely the same. Besides, it will identify and deal with critical problems and performance issues on the PC.
#6. Ultimate Windows Tweaker
As its name indicates, Ultimate Windows Tweaker is a utility used for tweaking and optimizing Windows. You can get a more stable, personal, and secure system within a few clicks. All the tweaks offered by this Ashampoo WinOptimizer can be categorized as follows.
System information: You will see some system specs like operating system version, build, system type, processor, installed RAM, computer name, user name, the WEI score, and so on after opening UWT. You can also open recovery options, run DISM, run SFC, or create a system restore point.
Customization: Under this category, you can tweak the settings of Taskbar, Thumbnails, File Explorer, and the Modern UI. For instance, you are able to choose the light or dark theme for OS or apps, disable Start animations, use default or change Battery Date & Time flyouts, etc.
User accounts: Under this tab, you can change your User Account settings, Logon information, and sign-in options.
Performance tweaks: This tab offers tweaks to help you optimize Windows 10 to the expected status.
Security tweaks: There is a new Privacy tab where you can change privacy settings, disable Telemetry, Biometrics, Advertising ID, Bing search, Cortana, Windows Update sharing, Feedback requests, Password Reveal button, Steps Recorder, etc.
Context menu tweaks: It enables you to add Windows Store apps, features, and useful functions to the right-click context menu. You are also allowed to add scan with Windows Defender, Clear Clipboard, all built-in default Windows Store apps, and more to the context menu.
Additional system tweaks: Some additional system and network tweaks are shown under this category.
About tab: There are some useful links except the license agreement. To submit bugs, visit the About page and use the Submit Bugs link.
Tips:
If you are a Windows 11 user, you can use Ultimate Windows Tweaker 5.
Windows 10 users should use Ultimate Windows Tweaker 4.
Windows 8.1 and Windows 8 users should continue to utilize Ultimate Windows Tweaker 3.
Windows 7 and Windows Vista users should use Ultimate Windows Tweaker 2.2.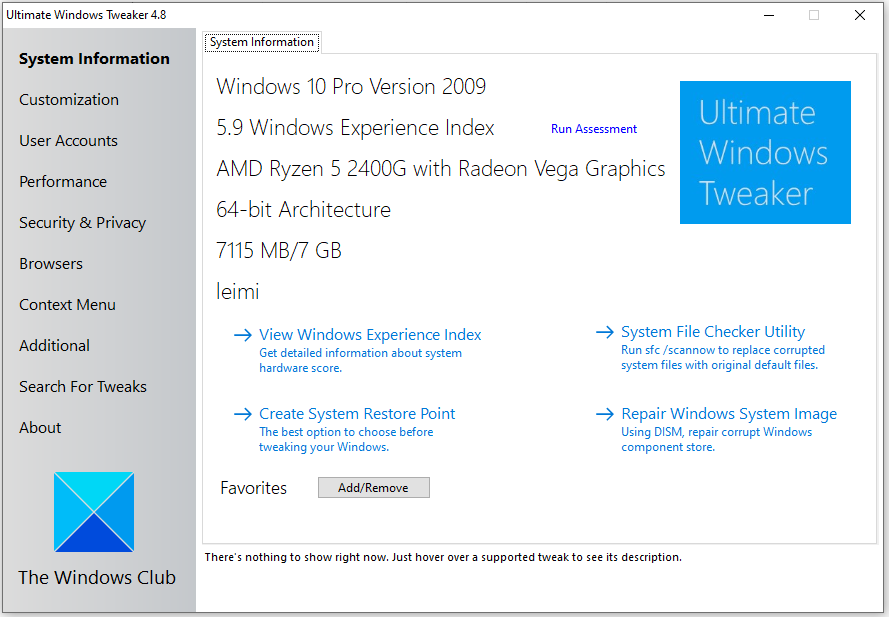 Are you still looking for Ashampoo WinOptimizer alternatives? There are 6 apps like Ashampoo WinOptimizer that can be used for optimizing PCs. Click to Tweet
Conclusion
To sum up, this post offers you an Ashampoo WinOptimizer review, Ashampoo WinOptimizer download and install steps, as well as 6 Ashampoo WinOptimizer alternatives. In a word, it is a full guide on Ashampoo WinOptimizer.
If you have any thoughts about this topic, share them with us in the following comment area. For any questions related to MiniTool Partition Wizard, contact us by sending an email via [email protected].