If you are going to download NZXT CAM, this post is worth reading. It summarizes the features and download sources of this software. With the help of MiniTool, you can obtain NZXT CAM downloads and some other useful guides related to PCs.
What Is NZXT CAM
NZXT CAM is a piece of free PC monitoring software for Windows systems. To be specific, it works on 32-bit and 64-bit versions of Windows XP/Vista/7/8/8.1/10/11 systems. It keeps track of the PC components like CPU, GPU, RAM, network, fan, etc.
Then you can see the status of these PC components and then configure them according to your demands. By doing so, you can get the best performance of your computer. In addition, this utility also displays the temperature, frequency, fan speed, and current load in real-time. Then you can have an overview of your computer's health.
Tips:
If you want to optimize your PC to improve its performance, pay attention to these free PC optimizers now.
This computer monitor program has a clean and simple interface. Besides, it is fast, efficient, and easy to use. It's a legitimate tool that doesn't come with any malware or viruses. Compared with alternatives like Dual Monitor Tools, HWMonitor, and Speccy, NZXT CAM offers you detailed information about all aspects of your computer.
What Does NZXT CAM Do
If you get NZXT CAM downloaded, your Function Keyboard customizability won't end with the purchase. Instead, you can create custom profiles with unique RFB lighting or intricate macros for a custom look. NZXT CAM is compatible with various NZXT products.
With NZXT CAM, you can monitor how running applications are making use of your gaming PC. Then track down any issues to get the optimal performance. You can sync with your games. To be specific, set your lights and fans to change whenever you launch one of the supported games. You are also able to see the mood, sync it to audio queues, or turn all of your lights off for a competitive edge.
As for in-game monitoring, NZXT CAM can track your FPS, temperatures, bandwidth, and time played, battery level, other items with the stable and low-impact in-game overlay. Importantly, it offers suggestions for possible improvements and potential upgrades. You can make changes based on your needs.
Download NZXT CAM
To get legitimate NZXT CAM downloads, you need to navigate to its official website and then click on the Download CAM button. This is the way to get an NZXT CAM software download on Windows PCs. If you run a mobile device, you can download NZXT either on the App Store or Google Play.
Tips:
IFTTT integration allows you to connect your PC to your suite of existing smart home devices, making a cohesive and dynamic gaming environment.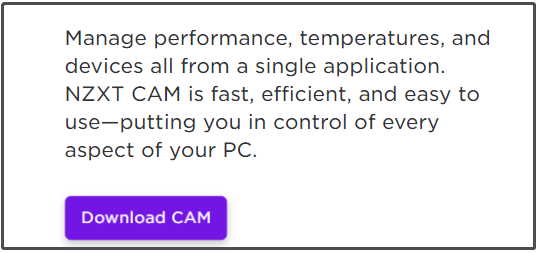 Different from other PC monitoring tools, NZXT CAM doesn't allow you to directly use it after installation. Instead, it requires you to sign up or sign in with the existing Google account or email address & password registered for the CAM Cloud account.
Then you are able to log and save historic data over time. NZXT CAM offers you 3 modes to view the details of your system. The Basic mode displays the most vital information at a glance, the Advanced shows graphs and reading, while the Expanded allows you to see the expected weeds of your PC.
If you don't want to create an ID, you can operate this software as a guest too. You are allowed to use all of its features even as a guest. However, you can't share your system information with others who are using NZXT CAM.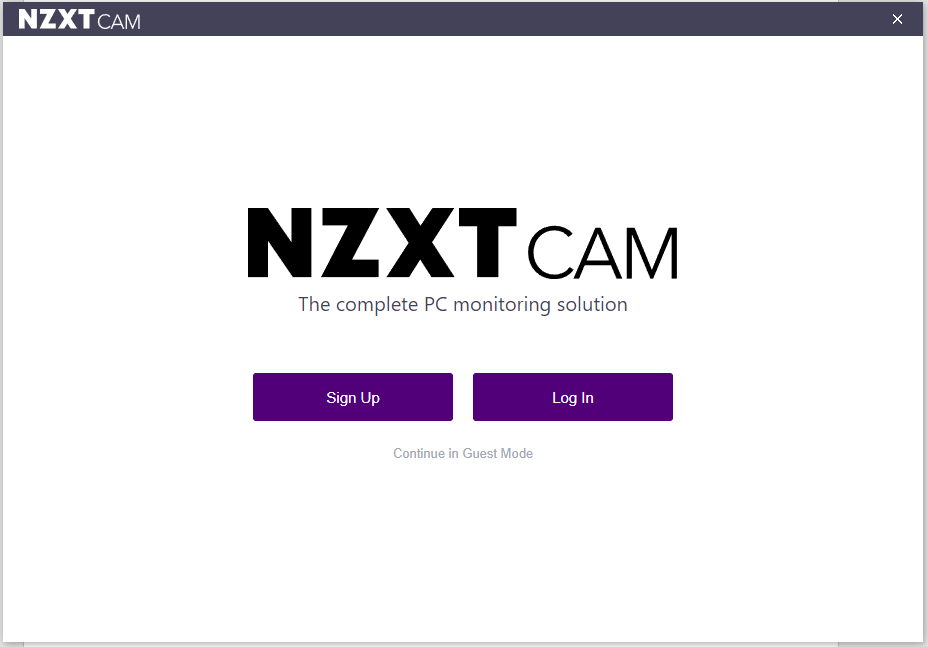 After you load the software, you will see a black background with text in white and tabs in purple. You can change the look to Dark Mode as you like. The dashboard of the app includes 9 tabs offering information and controls to manage the system.
Bottom Line
Do you want to get NZXT CAM software downloads? If you do, read the post now! You will have an overall understanding of NZXT CAM after reading the post. If you would like to clean up and optimize your Windows PC, try using MiniTool Partition Wizard. It helps you find what's taking up your hard drive space, issues with hard drive or partitions, increase disk space, etc.