This post mainly talks about
Tiny10 2303
, including its basic information and download & install steps. If you don't want to set up Tiny10 version 2303 step by step, migrate it from another computer by using
MiniTool Partition Wizard
– a piece of
PC cloning software
.
Tiny10, an extremely streamlined version of Windows 10, was created by overseas expert NTDEV based on Microsoft's original Windows 10 LTSC 2021. Built for old computers that can't run the standard Windows 10 properly, Tiny10 removes a large number of system accessories and only keeps core functions.
Recently, Tiny10 2303 update is released. Based on Tiny10, it adds some new features. For more details, read the content below.
About Tiny10 2303
Tiny10 2303 aims to fold in some of the recently added advantages of Tiny11. For example, Tiny10 version 2303 includes a component store that allows you to update the operating system and add new features. For example, you can add new languages and features from the store.
Besides, Tiny10 2303 also includes features like Remote Desktop and Windows Defender that protect your computer without third-party antivirus. As the x64 version has been superseded by Tiny11, there won't be a new release of Tiny10 x64. Hence, Tiny10 version 2303 is x86-only. It needs a little more than 5GB of disk space.
Tips:
The operating system is not activated, so you need a valid Windows 10 key (Windows 7 and 8 keys may also work). You should also be aware of the risks of using modified Windows images.
Ghost Spectre Windows 11 Superlite
Ghost Spectre Windows 10 Superlite
Windows 8.1 (Pro) Black Edition
Further reading:
To optimize your Windows computer effectively, try using MiniTool Partition Wizard – a free PC optimizer. It frees up disk space, checks hard drives for errors, increase disk space, clones hard drives, wipes disks, and recovers data from hard drives with bad sectors, etc.
MiniTool Partition Wizard FreeClick to Download100%Clean & Safe
Download and Install Tiny10 2303
As you know, Tiny10 is made for old computers. It means that Tiny10 version 2303 can work with low-end PCs. To be specific, Tiny10 2303 update can even be downloaded and installed on computers equipped with 2GB RAM and 12GB disk space.
How to download and install Tiny10 2303? Here's the full tutorial for you.
Tips:
Before starting the process, ensure that you have a fast and stable network.
Step 1: Navigate to this website and click ISO IMAGE.
Step 2: From the expanded menu, click a preferred version to download. In this scenario, we download tiny10 2303 x86.iso. You can also click SHOW ALL to view all the setup file types of Tiny10 version 2303.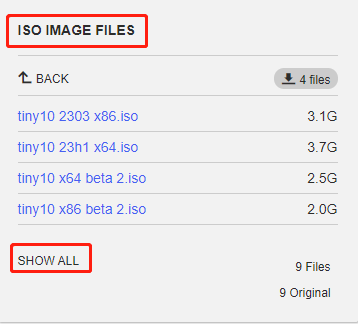 Step 3: Run the ISO file and follow the on-screen instructions to complete the installation.
Also read: Top 2 Methods to Install Windows 10 on New SSD Without USB
If you want to install Tiny10 2303 update on other computers, make a Windows installation drive by using a piece of USB bootable software and an empty USB drive. For instance, you can download and install Rufus on your PC. Then connect the USB to the computer and run Rufus. Select the downloaded Tiny10 2303 ISO in Rufus and configure other settings based on your demands. After that, click the START button to begin the process.
Once the installation drive is created, unplug the USB drive and insert it into the target PC. Power on the computer and keep pressing keys like F12 to access its boot menu. Then click on the USB drive with installation media and follow the prompted instructions to finish the installation procedure.
If you don't want to install Tiny10 2303 from scratch, migrate it from other computers with the help of a system migration tool like MiniTool Partition Wizard. Its Migrate OS to SSD/HD and Copy Disk features allow you to migrate the system easily. After migration, you can use the system without installing it.
MiniTool Partition Wizard DemoClick to Download100%Clean & Safe