This post tells you what is Ghost Spectre Windows 11 Superlite and how to install it from an ISO file. If you plan to try this lightweight system, this post is worth reading. Explore the details with MiniTool now!
As its name suggests, Ghost Spectre Windows 11 Superlite is a modified version of the original Windows. Compared with the standard Windows 11, this system is lightweight and easy to install. You can install it even if you have a low-end PC.
That is to say, you don't have to worry about the update, RAM limitations, or hard drives with limited speed while installing Windows 11 Superlite. Differently, your computer should meet hardware requirements like TPM 2.0, Secure Boot, available free space, etc. to install Windows 11.
>>More information about Windows 11 system requirements for PCs & laptops
Ghost Spectre Windows 11 Superlite Features
Windows 11 Superlite is light because many useless features are removed by its developers. Given that fact, this system is superlite and fast even on low-end machines. What features are removed on Ghost Spectre Windows 11 Superlite? Here's a list for that.
OneDrive
Telemetry
WinSxS backup
Winre (You can add it back through the ghost toolbox)
Action Center
Print Spooler
Windows apps and system apps
Remote Desktop/Focus Assist/NFC/Clipboard/tablet keyboard
Windows smart screen/Windows Defender/Windows Security (in some versions of Superlite)
What features does this Windows 11 Superlite version have? We summarize the key features of this system as follows.
It allows you to pause the Windows Update until 2077.
It supports all different keyboards and languages.
It has some unique theme packs, icons, and wallpaper.
It includes the LZX algorithm.
You are allowed to add or remove the Windows Store via Ghost Toolbox.
It can optimize the privacy of your computer together with the performance mode.
It enables you to run UWP games or apps.
It helps you get the optimized page file, search indexer, and services in addition to scheduling them.
Ghost Spectre Windows 11 Superlite ISO Download
If you want to install this Windows 11 Superlite system on your PC, download Windows 11 Superlite ISO first. There are several Windows 11 Superlite versions on the Internet. You just need to download a version according to your demands.
Note:
The links are from the Internet. We don't own any of them and we won't be responsible for any loss.
Download Windows 11 Superlite ISO 21H2 (Stable Build): Its build version is 22000.194, with a size of 3GB. Its OS architecture is x64.
Download Windows 11 Superlite ISO 22H2 SV2 (Official Release): Its build version is 22621.1265 and its OS architecture is x64. It has a size of 3.56GB. The password to unlock the file is 22h2u8.
Download Windows 11 Superlite ISO 22H2 SV2 (Official Release): Its build version is 22621.963 and its system architecture is x64. Its file size is 3.46GB. The password is SV2GHOST1234U7.
As you can see, these versions of Windows 11 Superlite are x64 bit. If your computer is 32-bit, upgrade it to 64-bit before installing the system.
Ghost Spectre Windows 11 Superlite Install
After you download Ghost Spectre Windows 11 Superlite ISO, you can install the system with the steps below.
Step 1: Unzip the downloaded ISO file via programs like 7-Zip, WinRAR, etc.
Tips:
If you are prompted with a window while unzipping the file, enter the password of the corresponding file and click OK.
Step 2: Install a piece of USB bootable software on the Internet and then run it. Here, we use Rufus.
Step 3: Connect a USB flash drive on your computer.
Step 4: Click the SELECT button on Rufus and find the downloaded Windows 11 Superlite ISO file in the prompted window. Then click Open.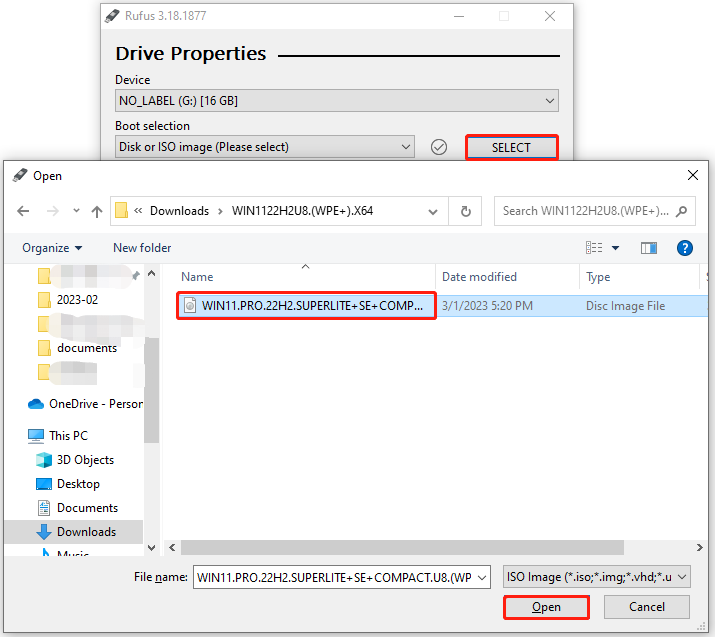 Step 5: Click the down arrow icon to open the drop-down menu of Image option. Then select an image option based on your PC specs.
Step 6: Tap the START button to begin the bootable USB drive creation process.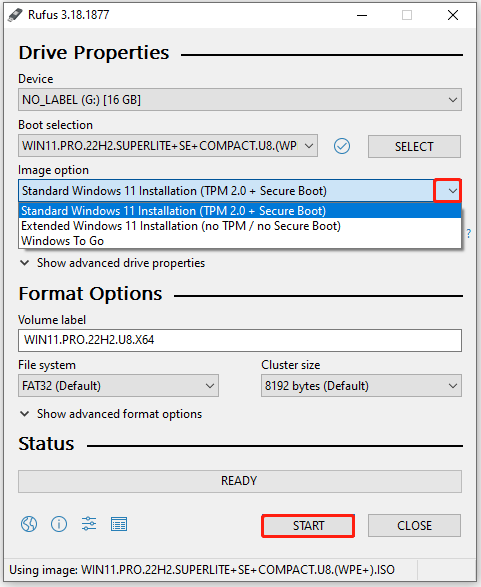 Step 7: After creating the bootable drive, plug it into the computer that you would like to install Windows 11 Superlite system.
Step 8: Restart that computer to enter its boot menu. For that, you just need to keep pressing the boot key while the PC boots up.
Step 9: Select the USB drive as the boot option and confirm the operation.
Step 10: Follow the on-screen instructions to finish the installation.
Bonus tip: If you want to get a system without installing from scratch, migrate the system from another computer with system migration tools like MiniTool Partition Wizard. Its Copy Disk and Migrate OS to SSD/HDD features allow you to do that easily.
MiniTool Partition Wizard DemoClick to Download100%Clean & Safe
Download and install this software, and then migrate the desired system with it.