As you know, various booting software is available on the market. What is the
best USB bootable software
? Here,
MiniTool
would recommend you top 8 bootable software for Windows and Mac devices.
To install an operating system or create a rescue disk, it is vital to burn the operating system onto CD/DVD/USB. Then you can get a bootable media. Nevertheless, you need to note that a piece of USB bootable software is required while burning the OS to CD/DVD/USB.
Bootable CDs/DVDs are used before the existence of bootable USBs, but they are gradually disregarded because of technological development and improvements. Hence, an increasing number of users prefer to bootable USBs now. Windows bootable USB enables you to install an operating system even though you currently don't have any running/working operating system.
What is the best USB bootable software? When you search top 10 bootable software on Google, you may see many results. Here, some of the best booting software is introduced.
To make a bootable USB drive with the following booting software, you need to prepare a USB flash drive and ISO files.
Rufus
Rufus is an open-source and free USB bootable program. You can directly run it by double-clicking on its setup file without installation. This booting software enables you to create a bootable USB for all versions of Windows and Linux. The needed time depends on the drive size, the amount of passes, and USB drive speed.
In addition to making bootable USB drive, Rufus can also be used to flash BIOS and firmware, and run low-level utilities. And it offers you advanced options like partition scheme file system and cluster size while creating a Windows USB bootable drive. These options are beneficial to the creation of BIOS firmware or other low-level devices.
With Rufus, you can also check the USB drive for any bad sectors by selecting the check device for bad blocks option under the Format section. It supports files systems including FAT, FAT32, NTFS, UDF, and exFAT. Importantly, it has customizable bootloader options so that you can pick one based on your situation.  
The USB drives can be detected by Rufus after plugging it in the PC. After that, you just need to choose the OS type and ISO, and then click the Start button.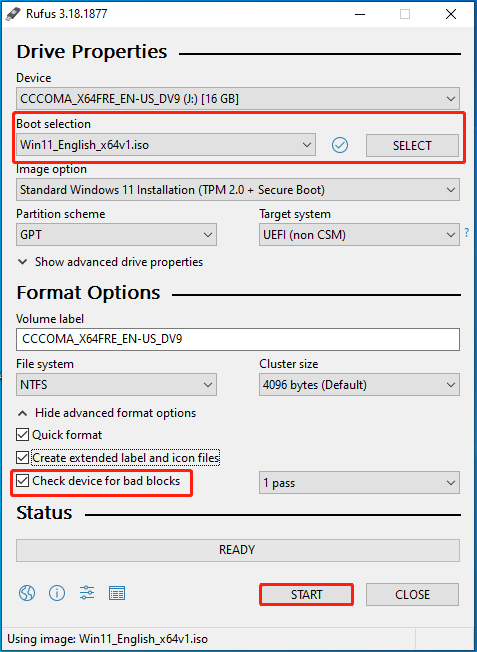 Windows USB/DVD Download Tool
Windows 7 USB/DVD Download Tool allows you to create both bootable USB and DVD drives for Windows devices. You can install Windows XP, Vista, 7/8/8.1/10 on your computer with the bootable USB/DVD drives created by this tool.
Tip: You are required to get the Microsoft .NET Framework 2.0 or higher to download the Windows USB/DVD Download Tool. Otherwise, you will fail to download it.
To make a bootable USB drive through this tool, you need to download and install it, and download the ISO file of the target system. Then plug the USB into your PC and run Windows USB/DVD Download Tool. After that, follow the on-screen instructions to finish the process.
Unlike Rufus, this USB bootable software doesn't have advanced options and customizable features. For instance, you can't change partition scheme or file system, or check for bad blocks.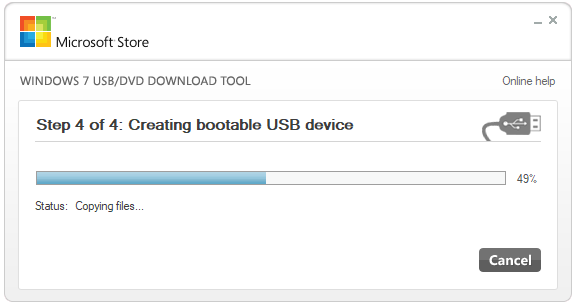 WinSetupFromUSB
WinSetupFromUSB is another multifunctional bootable USB creator for Windows. As it prepares a multiboot USB flash drive or fixed disk, you can install multiple operating systems (like Windows 7, Windows 8, and Linux). It means that you can create more than one sets of Windows setup files and create a program that allows you to create a USB disc that can boot both in BIOS and UEFI. You will be asked which OS would you like to boot while booting from the USB drive.
Tip: WinSetupFromUSB creates bootable Linux distributions using SysLinux or IsoLinux.
In addition, WinSetupFromUSB can create bootable media for WinBuilder, WinPE, BartPE, UBCD4Win, etc. Though its interface is simple, it still provides you with advanced options that can be found under the Advanced Options checkbox. Last but not the least, it can test bootable media in QEMU emulator along with other tools like 7-Zip, RMPrepUSB, Bootice, etc.
WinToUSB
If you need plug-and-play bootable USB software, WinToUSB is an ideal option. It has a user-friendly interface. It allows you to transfer contents of the Windows PE image to a USB drive so that you can create a bootable Windows PE USB drive. This is the feature what makes it one of the best USB bootable software.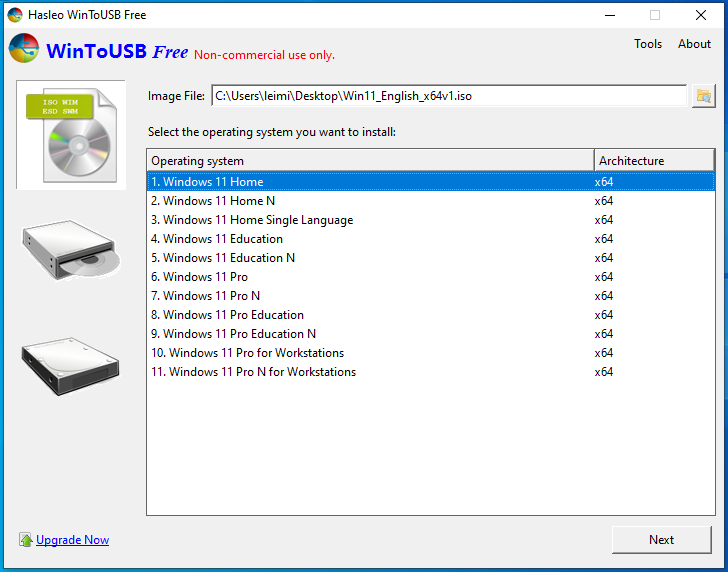 Furthermore, WinToUSB lets you directly create Windows To Go from ESD/ISO/SWM/WIM/VHD/VHDX image files or CD/DVD drives. This booting software is available for Windows Vista/XP/7/8/10. It works with USB type C ports.
Universal USB Installer
As its name indicates, Universal USB Installer enables you to create any type of bootable USB media. To be specific, it is capable of creating a bootable USB drive for Windows Linux/Vista/7/8/8.1. Moreover, it allows creating USB bootable devices with persistence storage, but please note that it is only available for the selected Linux distributions.
Like WinToUSB, Universal USB Installer also works with USB type C ports. This booting software has a simple interface. Even if you are a beginner, you can create a bootable USB drive on this tool smoothly. Simply choose the operating system from the drop-down menu, choose the ISO file and your USB drive, and then hit Install.
Windows Bootable Image Creator
Windows Bootable Image Creator is a lightweight tool to create bootable USB drives from CD/DVD. It is easy to use and compatible with popular operating systems. However, it has limited OS options and few features. As you see in the next picture, its offered OS types only include Windows 7, Windows Vista, and Windows XP.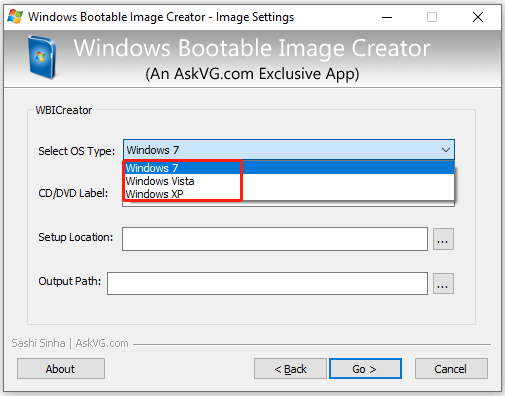 UNetBootin
UNetBootin includes a collection of predefined distributions and system utilities. It is available for Windows, Mac OS X, and Linux but with a separate file for each OS. It is built to create bootable Live USB drives for Ubuntu, Fedora, and other Linux distributions.
This USB bootable software enables you to create bootable media using ISO files and allows directly downloading the Linux distribution from the user interface. It is free of charge and easy to use. The drawback is that it doesn't offer advanced options.
DiskMaker
DiskMaker, built with AppleScript, works on Mac. It can be used with various versions of OS X/macOS, so it can help you build a bootable USB drive from the OS X/macOS installer program. The operation can be done within a few clicks.
After that, you can clean install the OS on the newly formatted drive. With the bootable USB drive, you are able to install Mac OS on multiple Macs without having to re-download the whole installer.
Are you seeking for the best USB bootable software? Eight pieces of best booting software is talked about. You can pick one to make a bootable USB drive for your Windows or Mac devices.