Summary :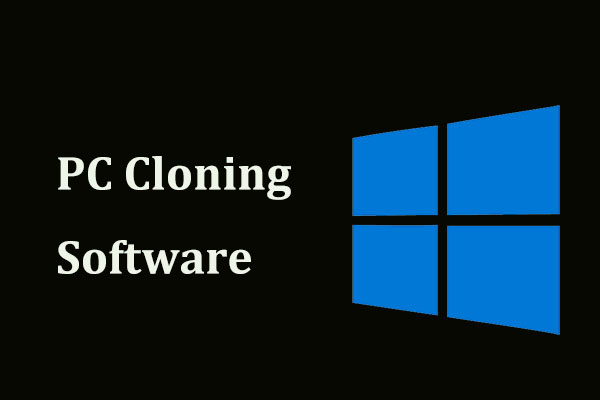 Decide to clone your hard drive to another disk for backup, disk upgrade or good performance in Windows 10/8/7? Take it easy now! This post shows you one of the best free PC cloning software - MiniTool ShadowMaker Trial Edition, so just read on and have a trial.
When Need to Clone Hard Drive
Disk cloning means the process of copying all the contents of one hard disk to another disk. Unlike simple copying & pasting, hard drive cloning contains some hidden and in-use files.
What's more, cloning not only ensures files are all the same but also guarantees the physical locations of files are the same as the source disk.
In many cases, you probably need to clone a hard drive:
Replace a hard drive: Usually, if your disk is too small and has encountered low disk space warning due to its insufficient disk space, to clone disk to a larger one for data storage is a good choice.
Use SSD for better performance: As is well known, SSD is widely used due to its advantages, especially its high read-write speed. Therefore, you want to use SSD as system disk to improve your computer performance.
Make a backup: Usually, disk issues, for instance, Windows detected a hard disk problem, system corruption, and virus attack always happen. To avoid data loss, we highly recommend you to use professional disk cloning software to clone the entire disk for data backup.
Then, you may ask: Is there a piece of PC cloning software to do disk cloning? Read the following content to find the answer.
The Best PC Cloning Software Windows 10/8/7
As a matter of fact, to clone a hard disk in Windows 10/8/7 is not an easy job. Someone may want to ask Windows built-in Disk Management for help. Nevertheless, when opening it and right clicking your disk, you will find this free tool doesn't have such a feature for this work.
Thus, a third-party program should be used. Among so many programs, MiniTool hard drive cloning software is worthy of being recommended.
Here are two pieces of free disk cloning software for Windows 10/8/7, and they are MiniTool ShadowMaker and MiniTool Partition Wizard, enabling you to clone a hard drive with ease.
Next, let's see some details about them.
MiniTool ShadowMaker
MiniTool ShadowMaker, known as free backup software, helps you to back up files, Windows OS, partition and the entire disk with simple steps.
In addition, it can be viewed as PC cloning software since it has a feature called Clone Disk, making disk copy easy in Windows 10/8/7.
To clone your disk to SSD or another big disk, you can free get MiniTool ShadowMaker Trial Edition for 30-days trial or directly get its Pro Edition to enjoy all features all the time.
Now, let's see how to use the best cloning software to implement disk cloning.
Step 1: After launching the Trial Edition of MiniTool ShadowMaker, choose a computer to start the disk copy.
Tip: If you want to clone the disk of the local PC, just click the left Connect to go on. To clone the hard drive of the computer on the same LAN, input IP to continue.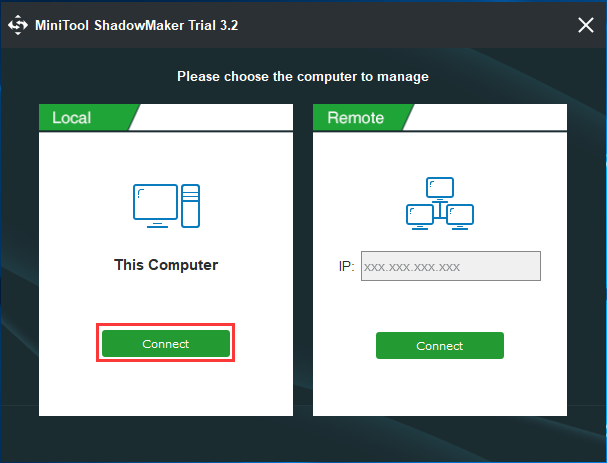 Step 2: Then click Clone Disk feature under Tools page.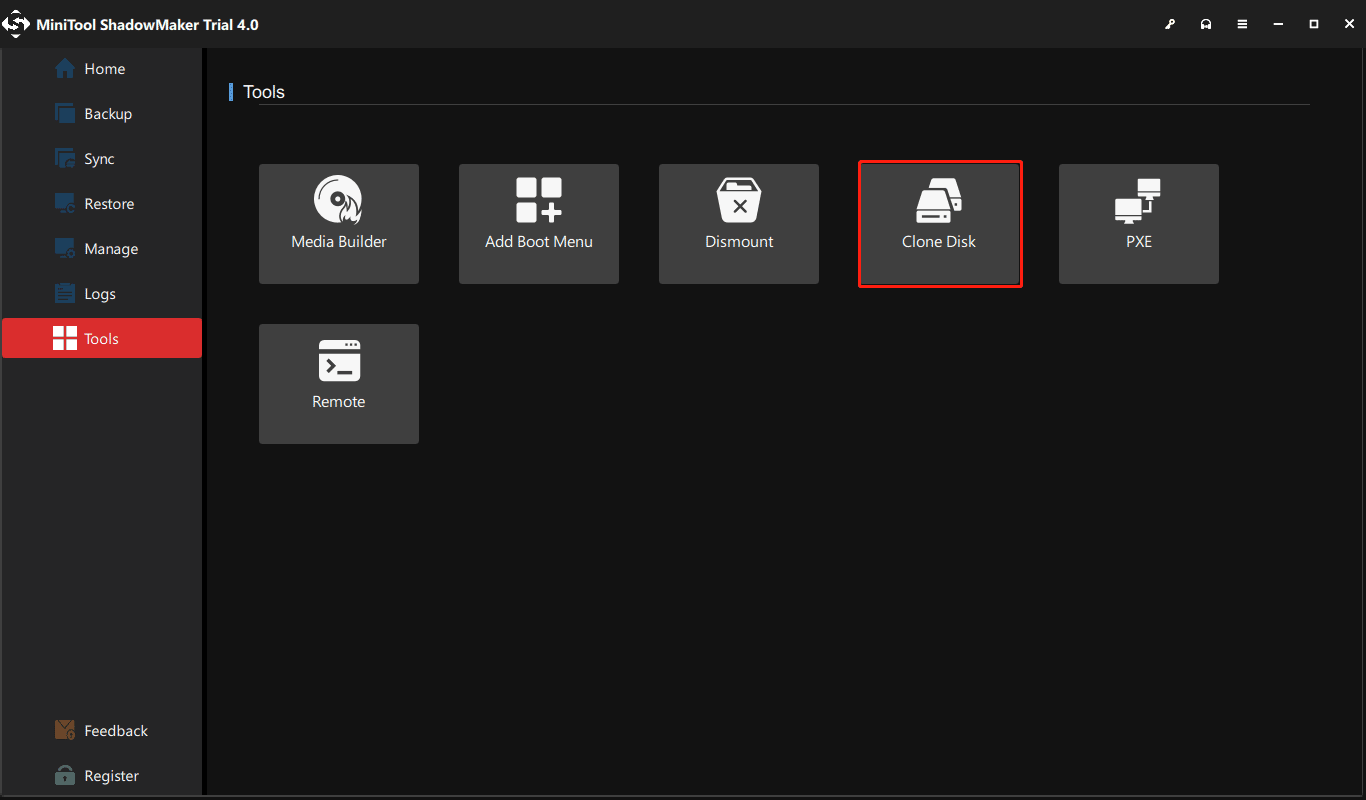 Step 3: In the pop-up window, choose the source disk and destination disk for the cloning.
Tip:
If you want to
clone system disk to SSD without reinstalling OS
, the best cloning software supports. Here enter the corresponding section to choose the disks. Besides, to avoid data deletion during disk cloning, ensure no important files are saved on the target disk -SSD.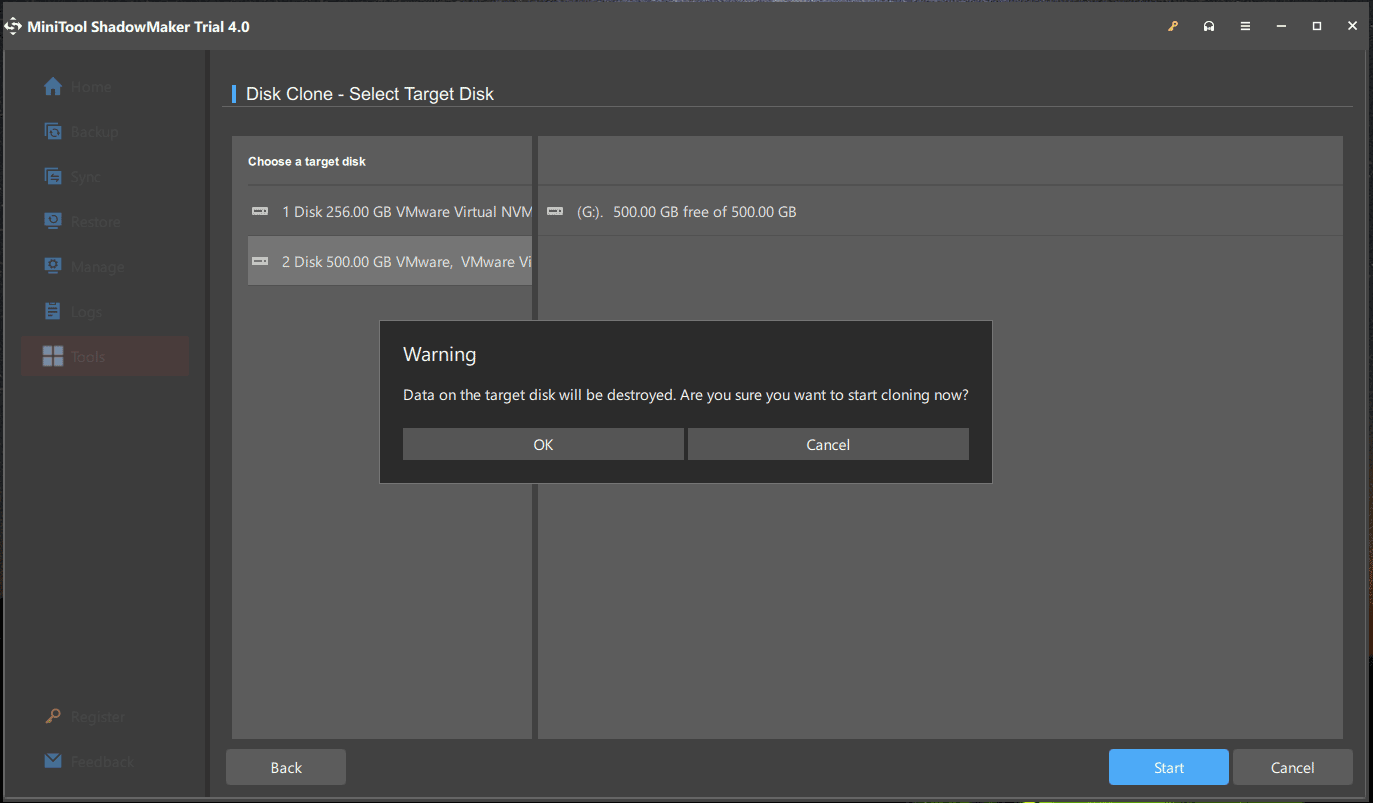 Step 4: Next, this PC cloning software is performing the cloning operation. Just wait patiently.
After finishing the operation, a warning will pop up telling you to disconnect one hard drive since Windows will mark one offline.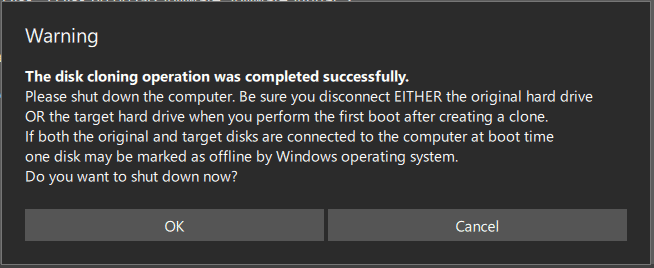 If you need to replace the original disk with the target disk, please shut down your PC, remove the source disk and put the target disk into the original place.
If you clone a disk only for backup, just shut down the PC and remove the target disk.
"MiniTool ShadowMaker is really one of the best PC cloning software to clone system to SSD for better performance. Hope you also like it."Click to tweet
Want to use this hard drive cloning software to clone your disk? Now, free download and install it on your PC to have a try.
MiniTool Partition Wizard
As a professional & free partition manager, it provides many powerful features, for instance, extend/resize partition and more basic disk & partition management, some advanced features including copy disk/partition, migrate OS to SSD/HD, and more.
Among those features, Copy Disk, Copy Partition and Migrate OS to SSD/HD functions can be used to perform PC cloning for disk replacement, system upgrade or data backup.
Before you do, please do a free hard drive cloning software download and install it on Windows 10/8/7. If you need to copy OS disk or migrate OS disk from MBR to GPT, we advise you to use its Professional Edition. To know more edition comparison, click here.
Now let's begin to do disk partition cloning or OS migration.
① Clone the Entire Disk
In order to make a backup, upgrade hard drive or replace an old or wrong disk, we advise you to clone the entire hard drive to another disk which can be an SSD or HD. As dedicated disk cloning software for Windows 10/7/8, MiniTool Partition Wizard Copy Disk is suitable. How can you clone hard drive to SSD/HDD?
Attentions:
Please prepare a hard disk as the target disk which must have enough disk space to hold all data of the source disk.
During the process of disk copy, all data on the target disk will be destroyed, thus, please make sure that no important data are saved on this hard drive.
Related article: MiniTool Programs Help to Clone Hard Drive to Smaller SSD
Step 1: After launching MiniTool Partition Wizard, then select the source disk which you want to clone, and click Copy Disk feature in the left pane. Then sector-by-sector copy will be done with this best PC cloning software.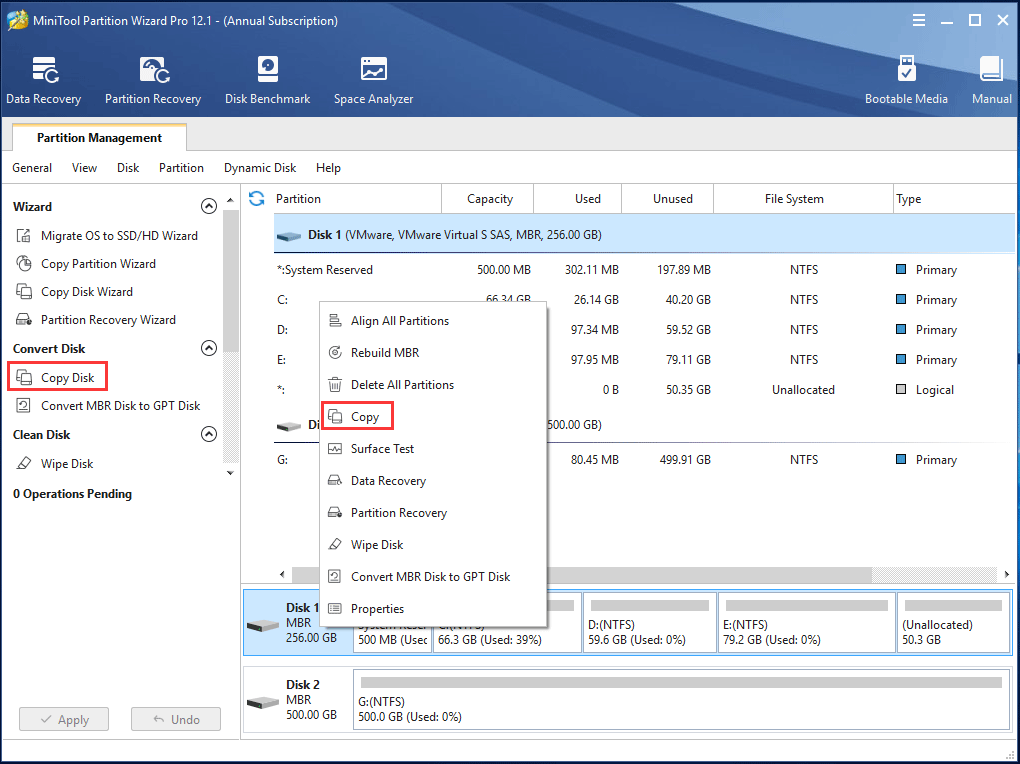 Step 2: Then please select a target disk and click Next button to continue.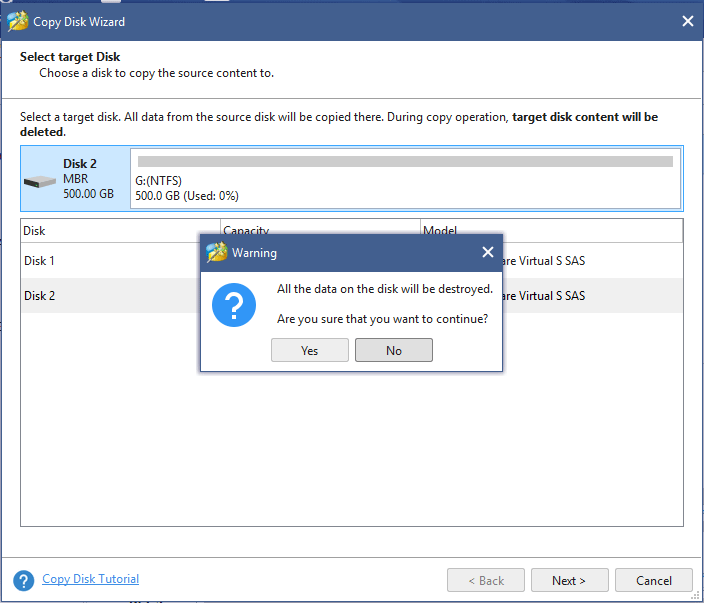 Step 3: In the following interface, you will see two copy options listed.
Fit partitions to entire disk: this method allows you to copy partitions to occupy the entire disk space of the target disk based on the proportion of original partition size.
Copy partitions without resizing: the original partition size won't be changed. This option only works when target hard disk size is equal to or larger than the source disk size.
Tip:
1. Align partitions to 1MB is checked by default, which is suitable for an SSD or advanced format disk for better improvement.
2. If you want to
clone system disk to GPT disk
, we recommend you to check Use GUID Partition Table option but this feature isn't included in Free Edition. Just upgrade to the Pro Edition.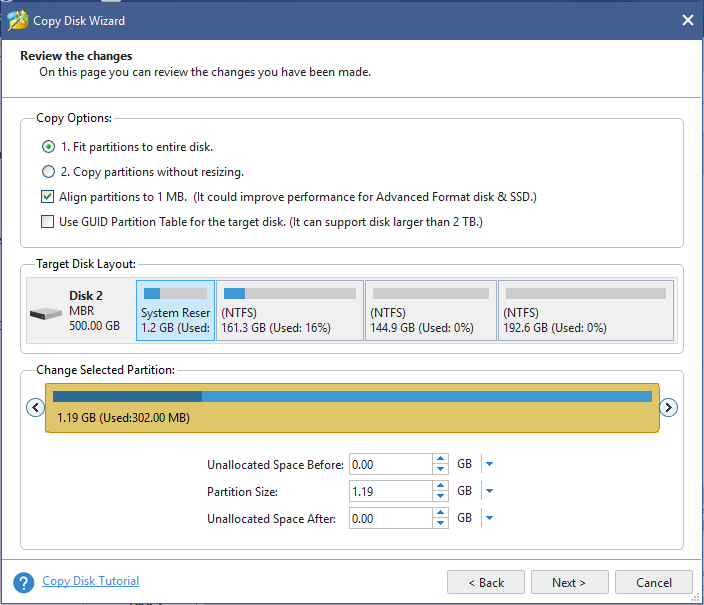 Step 4: Next this disk cloning software will remind you to change BIOS setting if you want to boot from this new disk in Windows 10/8/7. Click Finish to go back to MiniTool Partition Wizard main interface.
Step 5: From this figure as follows, you can preview the target disk layout. Click Apply button to make this disk copy operation effective.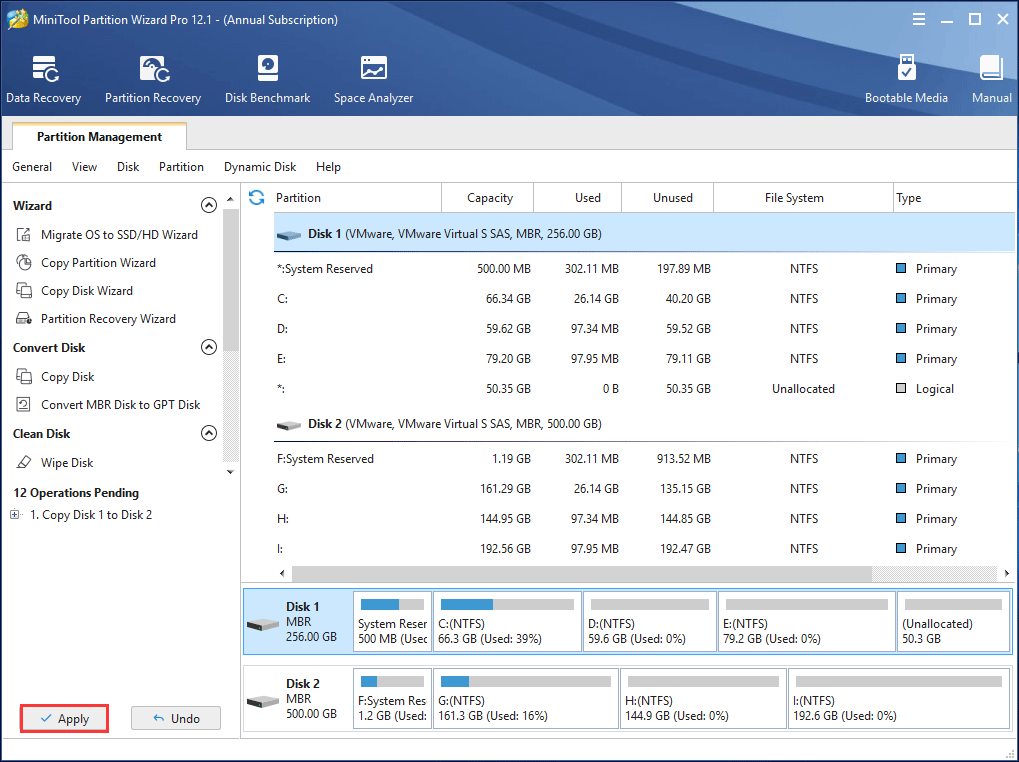 ② Migrate OS to SSD/HD
In addition to cloning the entire disk, some of you only want to migrate the operating system to SSD to improve your computer performance, upgrade to a bigger disk or make a system backup.
Fortunately, MiniTool Partition Wizard also provides a feature which is called "Migrate OS to SSD/HD" for this job. As the best cloning software for SSD, this tool is useful and effective to do OS migration in Windows 10/8/7. Now follow the guidance below:
Hot article: New SSD, Clean Install or Clone Disk or Migrate Windows OS?
Step 1: Run MiniTool Partition Wizard to the main interface. Then click Migrate OS to SSD/HD from the toolbar.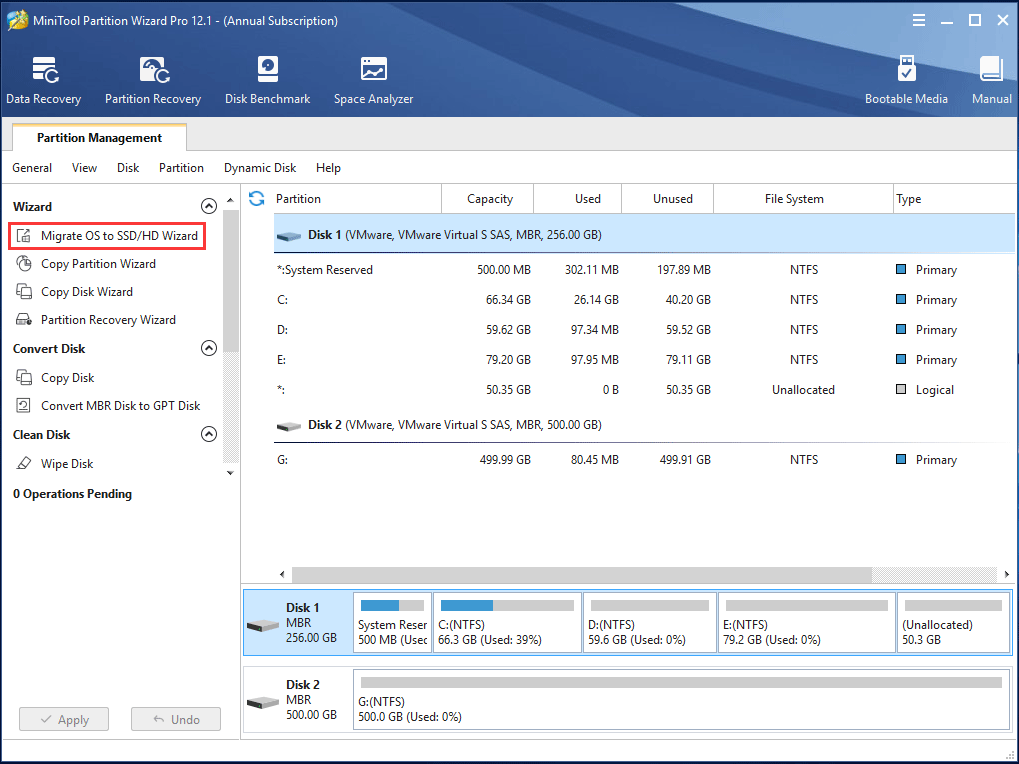 Step 2: Then you need to choose the right method to migrate your system. There are two methods:
To replace your system disk with another hard disk, please select A. This will copy all partitions of the system disk. Actually, this method is the same as the disk cloning.
To only move the system to another disk, B is suitable. This best cloning software for SSD will only copy the system required partitions.
Here we take B as an example.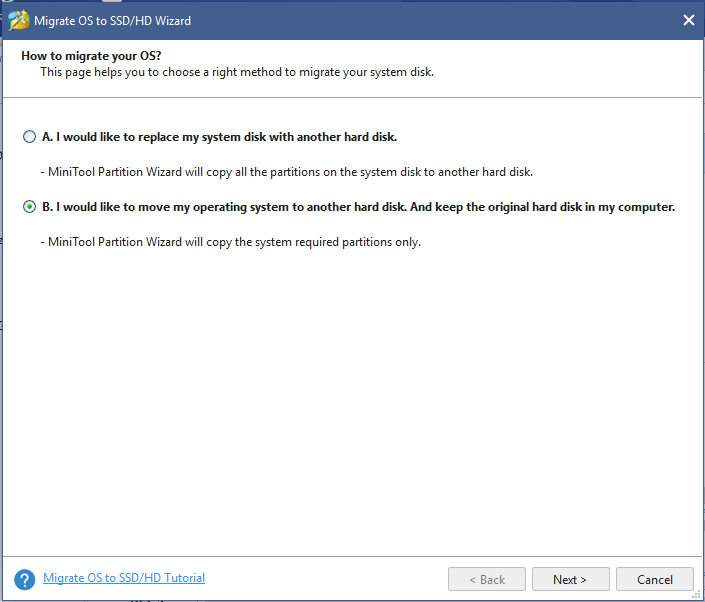 Step 3: Then please choose an SSD as the target disk.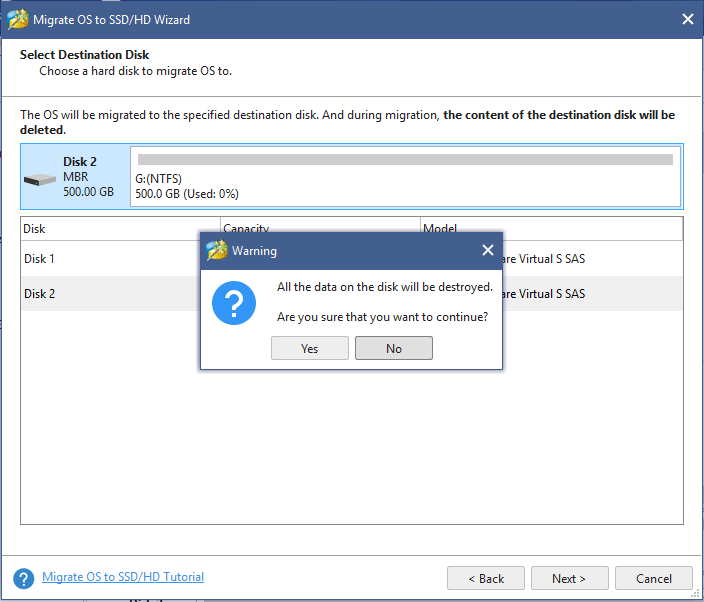 Step 4: On this page, please choose a proper copy option. Please set to align partitions of your SSD for better performance. Similarly, the Free Edition doesn't allow migrating system to GPT disk.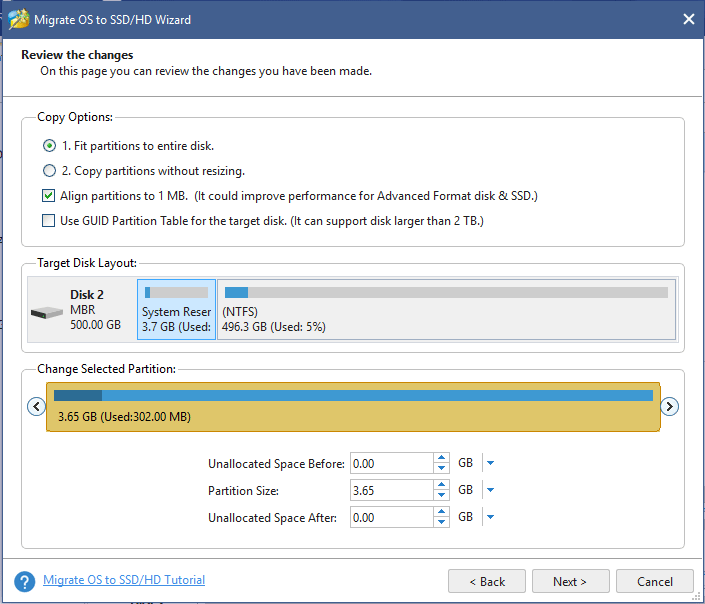 Step 5: Then the best cloning software for SSD also tells you to modify BIOS setting before booting your PC from this new disk in Windows 10/8/7.
Step 6: Finally, hit Apply to start OS migration.
If you think this tool is useful to migrate OS or clone disk, please share it with your friends.
After finishing cloning disk or migrating OS, it is possible that you want to boot your computer from the new disk. How to ensure OS can start up successfully?
Useful Article: 2 Ways to Boot from New Hard Drive after Copying Disk or Migrating OS
③ Copy Partition
In addition, you may choose to copy a certain partition to the unallocated space for data backup with MiniTool Partition Wizard Copy Partition feature. Click this help document to learn how to copy a partition.
④ Some Tips about This PC Cloning Software
In the above part, we introduce you three cloning methods of the best disk cloning software Windows 10/8/7 -MiniTool Partition Wizard. Here we will show you some related knowledge about them.
Copy Partition: it can be used to make a partition backup.
Clone Disk: This feature is suitable for disk replacement or disk backup. All disk data of the source disk will be transferred to the target disk.
Migrate OS: This feature can be used for system backup to replace a hard drive or restore the system to its original status in event of system issues. During the process of migration, all system related partitions will be moved.
Then you probably ask: I want to make a system backup, is Copy Partition suitable? The answer is negative. If you only copy system partition, some related system boot files are not copied and then your system won't boot.
Related article: Cloned Drive Won't Boot | How to Make Cloned Drive Bootable?
But the other two methods adopt sector-by-sector mode and the data of the target disk are the same as the source disk, so they can guarantee your PC boots normally.
Do you want to know more FAQs about PC cloning? Check this post How Do I Clone Hard Drive Windows 10 with 5-star Partition Manager now.
Bottom Line
In this post, we introduce you when need to clone disk, 2 best PC cloning software, as well as how to clone disk with these programs and some tips about disk cloning in Windows 10/8/7. Hope the information is really useful to help you to cope with hard drive cloning issues.
Moreover, should you have any questions when using MiniTool Partition Wizard, please contact [email protected] or leave a comment in the following comment zone. Any suggestions are appreciated here.