If are interested in Windows XP Embedded, this post is worth reading as it is a full guide to this system. To be specific, MiniTool Partition Wizard introduces the specifications, featured functions, and configurations of this system in this post.
Windows XP Embedded is the successor to the Microsoft Windows XP version. It excites users with advanced designs, efficient features, unique and attractive user interface, and smooth functionalities. To obtain more details about this system, read the content below.
Further reading:
If you want to get the optimal performance out of the PC, try using MiniTool Partition Wizard to clean up and optimize the PC. Actually, this program is a free PC optimizer that works with Windows 11/10/8.1/8/7 computers. It can also be used as PC cloning software to clone hard drives, migrate Windows 10, or make Windows backups.
MiniTool Partition Wizard FreeClick to Download100%Clean & Safe
About Windows XP Embedded
As its name indicates, Windows XP Embedded is an Embedded operating system that provides the functions of Windows in a componentized form. Like Windows XP Professional, Windows XP Embedded is a binary-based version that contains more than 10,000 independent functional components.
Tips:
The first Windows XP Embedded Edition was released on November 28, 2001. In October 2008, the service pack 3 (SP3) was released.
Given that fact, developers can pick the optimal functions while customizing device image management or reducing memory usage. Windows XP Embedded is built based on the certified Windows 2000 programming code library, which offers corresponding reliability, security, and functionality. Besides, this system includes the latest multimedia, web browsing, power management, and configuration support.
It's worth noting that Windows XP Embedded integrates the latest Embedded support features like headless support, as well as flexible boot and storage options. Additionally, it has a newly designed toolset for Windows Embedded Studio. These six tools enable developers to configure, build, and deploy custom designs more quickly.
The Embedded edition was only for Compact PCI which includes gaming machines, cash registers, automatic teller machines, slot machines, industrial robotics, thin clients, set-top boxes, network-attached storage, and time clocks.
Related systems:
Download Windows XP Embedded ISO
As Windows XP Embedded is not for full-fledged PCs, its system requirement is lower than most systems. To download and install this system, your computer just needs to have 32MB of RAM, 32MB of free space, and a P-200 microprocessor.
Make sure that you have a fast and stable network and then start the downloading process. If necessary, prepare an empty USB drive to make USB installation drive.
You can download Windows XP Embedded SP1 and Windows XP Embedded SP2 in different file types (EXE and CDR) from this website. If you want to download Windows XP Embedded ISO, navigate to the site archive.org and then find the target system.
For instance, the Windows XP Embedded SP2 ISO file is available here. Under the DOWNLOAD OPTIONS section, click on ISO IMAGE to open the drop-down menu. Then click on a desired Windows XP Embedded Service Pack 2 version from the listed options to get it downloaded. You can also click SHOW ALL to view all the available file types.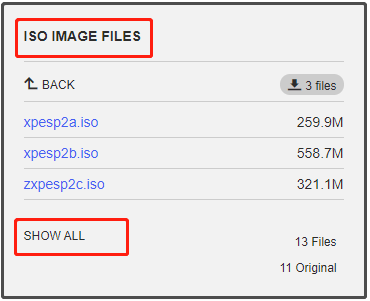 Download and install Rufus or other USB bootable software on your computer. Then connect the USB drive to the device and launch Rufus. Generally speaking, Rufus will detect the connected USB automatically. If not, please refer to this guide to solve the issue. After that, click SELECT to browse and open the downloaded Windows XP Embedded ISO.
Configure other settings based on your demands and click START to begin the process. After the USB installation drive is created, plug it into the target computer and then boot it from the drive. Finally, follow the on-screen instructions to complete the installation process.