Before you start reading the post, take a look at this part. It is helpful for improving gaming experience.
To get a good game experience, you should ensure that your computer specifications meet the requirements of the game. To be specific, get a good enough graphics card/processor/RAM and obtain enough disk space. If your space is running out, increase disk space by freeing up space, extending partition, or directly upgrading to a larger hard drive.
MiniTool Partition Wizard helps a lot in adding disk space. To be specific, as a space analyzer, it can check disk space usage and remove useless files. Its Extend Partition and Move/Resize Partition features allow you to take free space to enlarge the partition. Before you upgrade the hard drive, you can clone it by using this software to avoid data loss.
MiniTool Partition Wizard FreeClick to Download100%Clean & Safe
Also read: How Much Storage Should a Gaming PC Have? 500GB/1TB/2TB/3TB/4TB?
About Error Code 0x8003001F
GeForce Now is a service that enables you to stream games directly from NVIDIA in the highest possible quality. However, it sometimes prompts you with the error code: 0x8003001F. This mainly happens due to network and server issues, but it can also be caused by corrupted app cache, Firewall and antivirus interference, as well as VPN and Proxy interference.
After learning the possible reasons behind the error, you can fix it by taking corresponding measures.
Method 1: Clear GeForce Now Cache
GeForce Now malfunctions if its cache data gets corrupted. Then it can trigger the NVIDIA error code 0x8003001F. If so, you can try clearing the GeForce Now cache to get rid of the issue.
Step 1: Open the Run window by pressing the Windows and R keys.
Step 2: In the Run window, type the path below and click OK to continue.
%LocalAppData%\NVIDIA Corporation\GeForceNOW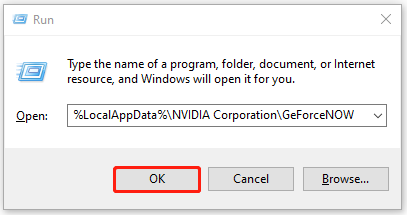 Step 3: Search for the Cache folder and delete it.
Step 4: Now, restart your computer and check if the error code: 0x8003001F disappears.
Method 2: Restart Services Related to NVIDIA
According to user reports, restarting NVIDIA-related services is useful for solving the NVIDIA GeForce Now error code 0x8003001F. Here, you can also have a try! Here's how to do it.
Step 1: Type services.msc after opening the Run window.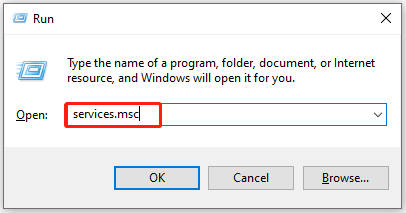 Step 2: Scroll down the content in the Services window to find services that are related to NVIDIA.
Step 3: Right-click on the service and click Restart. Repeat this operation to restart all NVIDIA-related services.
Step 4: Close the window and check if the NVIDIA error code 0x8003001F is fixed.
Method 3: Run the Game as Admin
Running GeForce as an administrator can ensure that it won't crash because of insufficient permissions. This operation is very simple. To run GeForce Now as an admin, right-click on the NVIDIA GeForce Now.exe file and pick the Run as Administrator option.
Method 4: Update GeForce Drivers
The NVIDIA GeForce Now error code 0x8003001F can also be caused by outdated or corrupted graphics drivers. To troubleshoot the error code: 0x8003001F, update your GeForce drivers manually.
Step 1: Right-click on the Windows icon and then click Device Manager.
Step 2: In the Device Manager window, find and expand Display adapters.
Step 3: Right-click on your GeForce driver and click Update driver.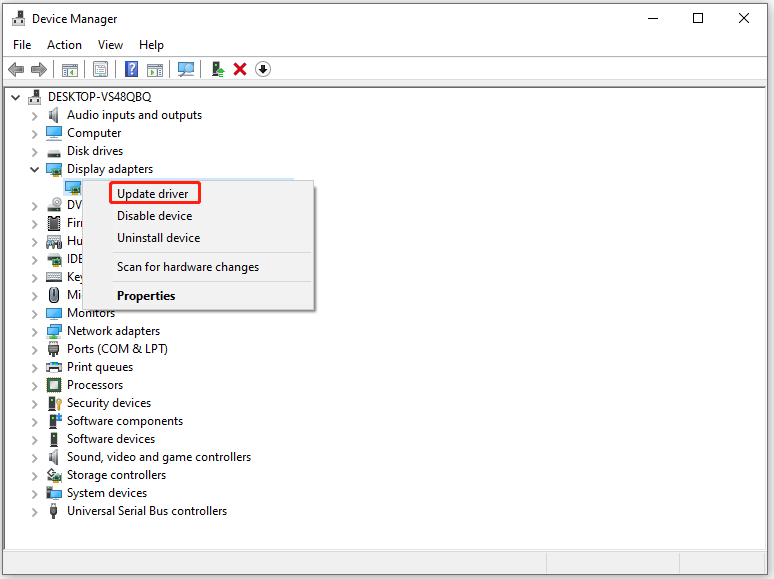 Step 4: In the pop-up window, pick a way to update the driver. Here, we select Search automatically for drivers. After that, follow the on-screen instructions to complete the operation.
Method 5: Reinstall GeForce Now
If none of the above methods work, reinstall GeForce Now to resolve the NVIDIA error code 0x8003001F.
Step 1: Open the Settings, and then click Apps.
Step 2: On the right side of the window, find GeForce Now under the Apps & features section.
Step 3: Click on GeForce Now and hit the Uninstall button. In the prompted window, click Uninstall again to confirm the operation.
Step 4: After uninstallation, navigate to the official website of GeForce Now to download and install the program.
How to troubleshoot NVIDIA GeForce Now error code 0x8003001F? This post collects 5 troubleshooting methods for you. You can try them one by one until the issue is solved.