How much storage should a gaming PC have? If you have the same doubt, you come to the right place. MiniTool Partition Wizard shows you everything about the recommended/best storage for gaming PCs.
What You Should Know About Gaming Storage
Video games have developed for quite a long period of time. The game size also changes rapidly. In the early days of Nintendo cartridges, the game size ranged from 8KB to 6MB. When comes to the era of PlayStation, game sizes expanded to over 650MB.
Up to 2021, the size of a AAA game varies from 4GB to over 100GB. The majority of the lower-specced titles have a capacity ranging from 4GB to 10GB. Indies games are usually smaller, but they're still bulky. In addition, there's no guarantee that an indie game is bound to be smaller than a AAA game.
Fortunately, gaming consoles and PCs gradually become more powerful, which indicates that they can support more detailed graphics and higher resolutions. All this quality comes at the cost of the growth of the game installation size. For instance, Forza 7 exceeds 100GB even if it's heavily compressed.
How much storage should a gaming PC have? This post will tell you the recommended storage for gaming PCs from both capacity and disk type.
What If Your Gaming PC Doesn't Have Enough Space
If your computer doesn't reach the minimum storage space limit of a certain game, you can't run it successfully. It is very likely that you won't have smooth game experience if your PC barely meets the minimum requirement. For instance, you may encounter errors like content package no longer available, Fallout 4 crashing, Rainbow Six Siege lag spikes, and so on.
To play the game smoothly, you'd better meet the recommended disk space requirement of the game. What's the recommended storage for gaming PCs? Explore the answer in the content below now!
Recommended Storage for Gaming PCs (Capacity)
The best storage capacity for gaming PCs depends on the number and size of the downloaded games. Well, the following table lists some popular games and their required disk space.
Tip: Other items like multimedia files (music, movies, and videos can consume much space) and apps would take up your storage space too.
| | |
| --- | --- |
| Games | Required disk space |
| Call of Duty: Modern Warfare Warzone | 175GB |
| Red Dead Redemption 2 | 150GB |
| Call of Duty Cold War | 82GB |
| Forza Horizon 5 | 110GB |
| Watch Dogs: Legions | 80GB |
| Rainbow Six Siege | 85GB |
| Grand Theft Auto 5 | 75GB |
| Cyberpunk 2077 | 70GB |
| Forza Horizon 4 | 80GB |
| Spider-Man | 75GB |
| Assassin's Creed Odyssey | 50GB |
| Battlefield 5 | 50GB |
| PUBG | 30GB |
500GB
A gaming PC should have minimum storage of 500GB. Otherwise, you need to often delete games and other files to free up space for new games. If you like using cloud storage for media files and don't download plenty of games, you can choose a hard drive with 500GB capacity. Besides, it is also a good option for casual or budget gamers who don't have a large stream library and play only a few games.
As for 500GB hard drives, some nice hard drives are introduced in previous posts. You can consider them while shopping.
1TB
The storage capacity of 1TB is regarded as the best storage for gaming PCs. You can see many gamers adapt the 1TB hard drive. That makes it the most popular hard drive size. It allows you to save many games. Moreover, 1TB hard drives are pretty affordable nowadays. Hence, the 1TB hard drive is usually the recommended storage for gaming PCs.
Tip: Even if you are a light editor, 1TB may also meet your demand.
In addition to the HDD, there are two SSD recommendations for you.
Samsung 980 Pro SSD: It has a read speed of 7000MB/s. This PCIe 4.0 M.2 SSD works best with a heatsink, which can avoid throttling. Furthermore, it is compatible with PlayStation 5.
Samsung 970 EVO Plus SSD: Its maximum read speed is 35MB/s. It has a reasonable price.
Also read: Is 1TB SSD Enough for Gaming? Get the Answer Now!
2TB
This disk size is also preferred by a lot of gamers as it offers enough space for storing games, multimedia files, and screen recordings of different gaming sessions. If you only play modern games and frequently buy new ones, 2TB hard disks can be filled up in a long period of time. Importantly, 2TB hard disks are very affordable too.
Here are two recommendations for 2TB hard drives. You can pick one of them according to your situation.
Seagate Portable 2TB Portable HDD: It is designed to work with Windows and Mac devices. This drive offers plug-and-play simplicity through the embedded 18-inch USB 3.0 cable.
Samsung 870 EVO 2TB SSD: Thanks to its SATA interface, its read speed can reach up to 560MB/s. It provides you with a good value if you are interested in SATA SSDs.
3TB
If you want to expand your game collection and play more versions, 3TB hard drives would be a great choice for you. Besides, this disk size can also meet the demand of content creators who would like to record their gaming sessions. With a 3TB hard disk, you don't need to upgrade your storage in a short time.
In fact, 3TB hard disks are on the high-end of the spectrum that surpasses the requirements of a typical video gamer. Only a few dedicated gamers have a gaming PC with this disk size.
Buffalo DriveStation Axis Velocity High-Speed External Hard Drive: It is compatible with both Windows and Mac devices after formatting. What's more, it allows you to schedule automatic backups for your computer via the Buffalo Backup Utility. Its optional 256-bit AES hardware encryption offers an extra level of data protection.
You can learn the frequency that you need to upgrade your gaming PC and its components from this post: Fixed: How Long Do Gaming PCs Last & How to Extend Their Lifespan
4TB
Hard drives with 4TB capacity enable you to download games without restriction. Multiple games can be installed on the drive at the same time. Then you still have much space for storing other items. Hard drives larger than 3TB are possible, they are often reserved for high-end servers and networks.
You can pick a suitable4TB hard drive from this shopping guide: Choose Best 4TB Hard Drives and Fix Common Issues with Them
What's the best storage for gaming PCs? There's no absolute answer. If you use cloud storage and don't stream or download many games, a hard drive with 500GB to 1TB capacity is enough. If you like downloading a lot of games and having multiple games installed simultaneously, a 2TB hard disk would be good.
If you work on content creation and want to stream, it is recommended to use a 3TB or 4TB hard drive. As you see, the recommended storage for gaming PCs is different based on needs. The hard drive with the biggest capacity doesn't mean it's the best storage for gaming PCs.
Also read: How Much Storage Does the PS5 Have & How to Increase Space
Recommended Storage for Gaming PCs (Disk Types)
Here are two main hard drive types on the market (HDD and SSD). SSD vs HDD: which should you use for a gaming PC. Both the two types of hard drive have their pros and cons. Make your choice after reading their advantages and disadvantages.
HDD
Advantages
With a low price
Large-capacity
Disadvantages
Slower read and write rate compared with SSDs
With a shorter lifespan (it usually lasts for 3 to 5 years)
With some noise due to the rotating disk and a magnetic head
To learn more about the HDD, refer to this guide: How Does a Hard Drive Work? Here Are Answers for You
SSD
Advantages
Fast read and write speeds (SSDs can be as much as 20 to 200 times faster than HDDs)
Without any moving parts
With a longer lifespan than HDDs (it can last up to 10 years)
Disadvantages
With a high price (SSD costs twice as much compared with an HDD if the same capacity)
Explore more information about SSD by reading this post: What Does an SSD Do? Here Are the Answers and Steps to Use It
Should you get an HDD or SSD for gaming? It depends on your condition. If possible, it is recommended to combine two hard drives. You can apply the SSD for critical activities and use the HDD to store long-term data. If so, it is suggested that you run a 2TB HDD along with a 500GB (1TB is better) SSD.
Tip: To keep enough free space for the running of games, you can move games that you don't play very often to other places. Steam and many other platforms enable you to transfer games within a few clicks.
You may need this guide: Can I Use SSD and HDD at the Same Time – Here's Your Full Guide
How to Upgrade to a Larger Disk Without Data Loss
How to get more storage on PCs? If the current storage space is not enough, you can upgrade to a larger disk. By doing so, you will immediately obtain much free space. Besides, you don't have to delete any games or items on the device.
However, the key point is how to upgrade to a larger disk without data loss. Then MiniTool Partition Wizard deserves your attention. Its Copy Disk and Migrate OS to SSD/HD Wizard features can help you clone the disk to the new disk.
To start the operation, you need to get a hard disk with a large capacity. You can buy one from the recommended options above. Then download and install MiniTool Partition Wizard by clicking the button below and following the on-screen instructions.
MiniTool Partition Wizard DemoClick to Download100%Clean & Safe
Step 1: Connect the new hard disk to your computer and then run MiniTool Partition Wizard to enter its main interface.
Step 2: Right-click on the original disk and click Copy.
Step 3: In the pop-up window, you need to select the destination disk and click Next. Here, you should tap on the connected disk.
Tip: If you are prompted with a warning window stating that data would be destroyed during the process, click Yes to confirm.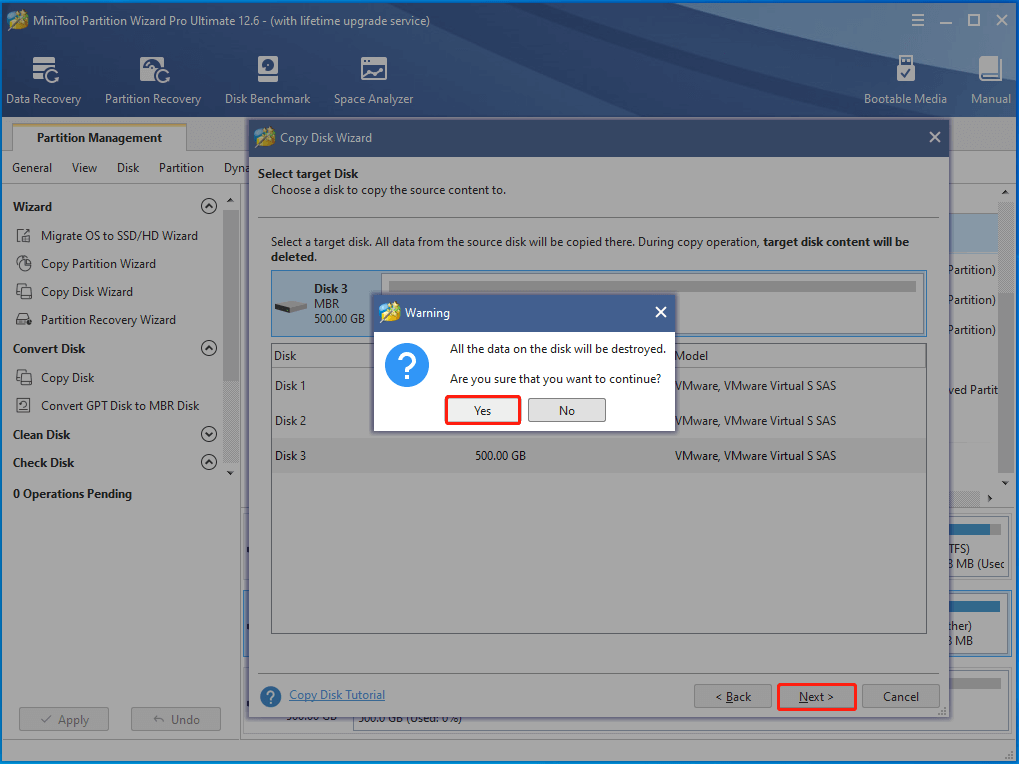 Step 4: You need to choose copy options and click Next in the next window. If you don't have special requirements, you can follow the default settings.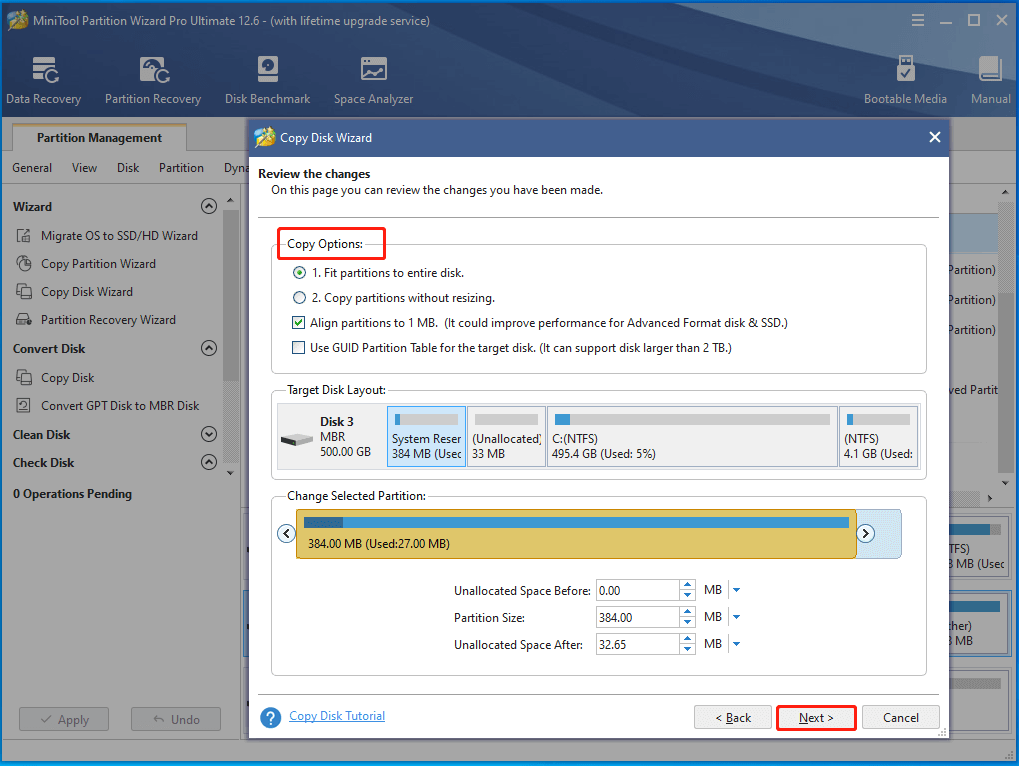 Step 5: Click the Finish button in the elevated window to save the changes.
Step 6: After backing to the main interface, click Apply to execute the operation. Then you can take out the original disk and put the copied disk into the device. Finally, boot up your PC.
Also read: How to Increase Disk Space for Laptop? Try These Methods Now
How much storage should a gaming PC have? How to get more storage on PC? If you are still bothered by this question, this post is worth reading. You can find answers from it. Click to Tweet
Bottom Line
How much storage for gaming PC? It is decided by your needs for games. You can get the recommended storage for gaming PCs. How to get more storage on PC? To reach the purpose, simply upgrade to a larger disk with the offered steps.
If you have any thoughts on the best storage for gaming PCs, please share with us in the comment area below. For any questions about MiniTool Partition Wizard, directly contact us by sending an email via [email protected].