This post provides you with top 5 Apex Legends trackers including their basic information and usage. You can make your choice after reading this post of MiniTool.
Apex Tracker gg
Apex tracker gg is an online Apex Legends tracker showing Apex Legends stats and global & regional leaderboards for gamers across the world. It offers you the latest news of your favorite games and the personalized stats profile to keep you informed and ahead of competition.
With this Apex tracker, you can see leaderboards for combat, score, and team play. Furthermore, you are able to see stats like kills per minute, head shot accuracy, and seasonal win stats. The leaderboards show the leaders for every player on Origin, PlayStation, and Xbox who has used apex.tracker.gg.
From this Apex stat tracker, you can view your top legends and match history grouped by gaming session. In addition, Apex tracker gg allows you to compare your Apex Legends stats with that of your friends or streamers.
To check detailed Apex Legends stats and leaderboards online via Apex tracker gg, head to its website. Then enter your Origin/Xbox Live/PlayStation Network username and hit the Enter key. After that, you will get the result.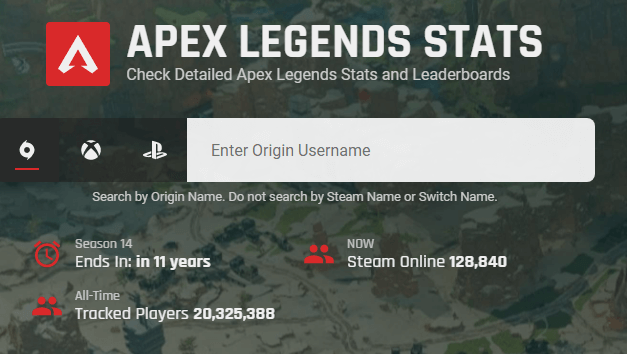 Alternatively, you can also see Apex Legends stats via an app from Apex track gg. For that, click on the Get the Apps tab and then tap Apex Legends Tracker in the expanded menu.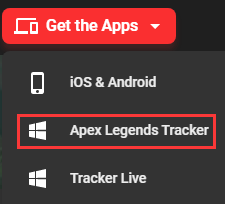 In the next page, click on the Download Now button to get its setup file. Then install and launch it to check your Apex Legends stats.
apexlegendsstatus.com
Like Apex tracker gg, this is also an online Apex Legends stats tracker. You can check the Apex Legends server status and player statistics from it. To do that, move to its website, and then input your Apex Legends/Xbox Live/PlayStation username and hit Search.
Tips:
If you are a Steam player, you must link to your Steam account with your Origin account name. Otherwise, you can't find your profile.

fpstracker.com
The Apex Legends stat tracker from the fpstracker.com website can help you check player wins, KD, matches, accuracy of shots, number of played games, and etc. Moreover, it enables you to view your global ranking and compare your stats with other Apex players.
Importantly, this Apex Legends stats tracker offers you tutorials and guides to help you get better at Apex Legends. To access the leaderboards and stats, you need to register on the fpstraccker.com. Then enter a username and search for the Apex Legends stats.

Apex Pack Tracker (Apex Dev Tracker & Apex Legends Twitch Tracker)
If you want to track how many Apex Packs you have opened, you need to get an Apex Legends Tracker for Apex Packs. Then both Apex Legends Dev Tracker and Apex Legends Twitch Tracker are good options.
To keep an eye on everything the Apex Legends Devs have been up to in the world of the interwebs, pick Apex Legends Dev Tracker. If you are more of a viewer than a player, Apex Legends Twitch Tracker is an ideal choice. With it, you can monitor all the top Apex streams and check the highlights of the month.
Tab Stats
You can track wins, kills, and other items of your Apex Legends by using Tab Stats. In addition to Apex Legends, Tab Stats can also track the stats of games like Valorant, Rainbow Six Siege, and Call of Duty: Warzone.
To check Apex Legends stats with Tab Stats, go to the Tab Stats Apex Legends Tracker page and input your username. Choose the platform (PC, Xbox, or PlayStation) on which you play Apex Legends and click Search. Then you can see the results.
Best 5 Apex Legends stat trackers have been introduced to you. It's time for you to choose a suitable Apex stat tracker from them. Then you can track your performance in Apex Legends. To improve your game experience, try applying tips given by the website or using MiniTool Partition Wizard to increase disk space.