Summary :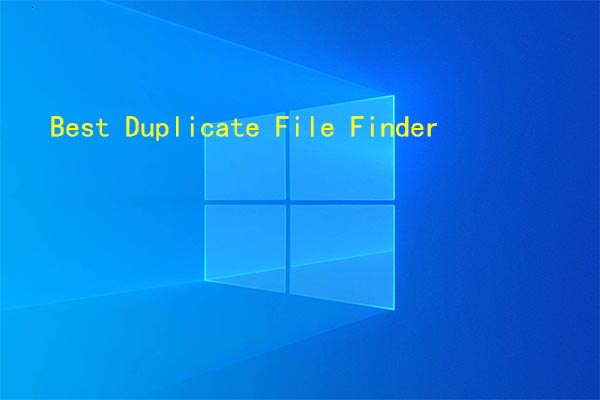 Duplicate files may be a burden for you when there is limited disk space on the laptop. In some cases, duplicate files affect the proper running of the PC. If so, you should remove them to free up space and improve the performance of computer. MiniTool introduces you 9 best duplicate file finders in this post.
You may encounter various issues when using a computer, including black screen of death, blue screen of death, crashing, low disk space error, computer lagging, and so forth. Among these issues, low disk space error is a rather common error.
For instance, you may receive error messages like E drive full, there is not enough memory or disk space, patch claims not enough disk space, not enough space for Windows 10 update, and etc. A lot of factors can attribute to the low disk space error.
Items like temporary files, duplicate files, and caches can take up the hard drive space quickly. To free up space or increase disk space, it is vital to find and remove these files. In this post, we would like to share several best duplicate file finders with you. Well, you can obtain an overall understanding of duplicate files by reading the content below.
An Overview of Duplicate Files
As implied by its name, duplicate files refer to files that are totally same, including their name and content. Duplicate and similar files will pile up after a period of time, which occupy your disk space, especially when the duplicate files are very large.
In addition to that, duplicate files can cause lots of confusions when they are stored in different locations on the PC. You may don't know which one should to use. Sometimes, conflicts can appear between them.
Tip: You are only recommended to use duplicate files as a backup on a different hard drive.
Fortunately, you are able to find and remove the duplicate files on your computer. As Windows doesn't have any built-in programs to get rid of duplicate files, you need to find and remove them with a professional duplicate file finder Windows.
Further reading:
To improve the performance of your computer, you should try performing a PC cleanup or optimizing it with a free PC optimizer. You are also able to delete useless files via file deleters.
Note: You shouldn't remove duplicate files in the system folders like Windows and Program File folders. Otherwise, the stability and working of your computer will be negatively influenced.
What Does Duplicate File Finders Do
A duplicate file finder can help you find and delete duplicate files on the computer with ease. By doing so, you can free up disk space and speed up computer. Then you will get rid of errors like low disk space, computer freezing and lagging.
What duplicate file finder should I use? If you are also looking for answers, read the following section. Couples of best duplicate file finders will be introduced.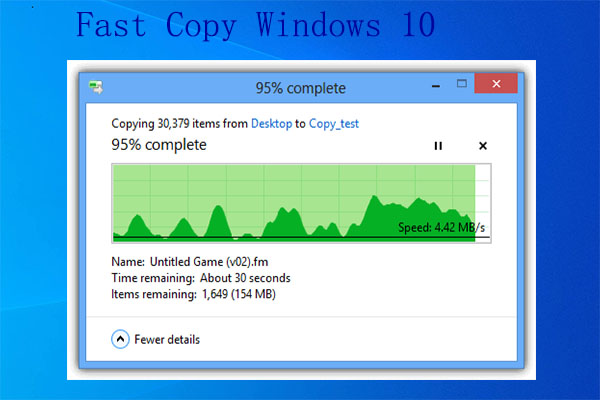 How to copy files faster in Windows 10? You can enjoy a quick copy by taking some actions. This fast copy Windows 10 guide introduces you the details.
Best Duplicate File Finders
In this section, top 9 duplicate file finders are talked about. After reading the content, select one based on your demand to find and remove duplicate files on your device.
You can have a quick preview of the 9 best duplicate file finders.
duperGuru
CloneSpy
Auslogics Duplicate File Finder
CCleaner
Anti-Twin
AllDup
Fast Duplicate File Finder
Ashisoft Duplicate File Finder
MiniTool Partition Wizard
#1: duperGuru
duperGuru is one of the best duplicate file finders that can work on Windows, macOS, and Linux. With powerful and intelligent algorithm, duperGuru allows you to find duplicate files quickly based on file name, metadata, creation date, content, as well as tags and other similar attributes.
This program is capable of analyzing the content inside the file. For instance, you will find duplicate images by scanning and comparing the similarity between images. To obtain desirable results, you can customize the matching engine further.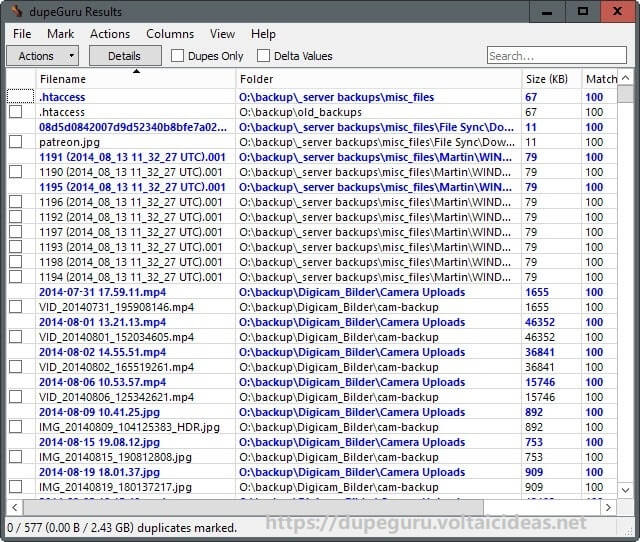 duperGuru comes with a special music mode where you can scan songs in various formats like FLAC, MP3, WAV, AAC, and other types for duplicate files. It displays music-specific information in a separate window so that you can compare audio files side by side.
Besides, this duplicate file finder comes with a dedicated picture mode that can help you find and remove duplicate photos and similar-looking images. It comes in multiple languages, so you should pick a proper version according to your need. More importantly, it is safe to use.
#2: CloneSpy
CloneSpy has a simple interface. Most of options are shown on the main window. It can find and remove duplicate files between the network drive and local hard drives. This feature makes it be the best free duplicate file finder. It works the same way as many paid programs do.
Packed with powerful modules, CloneSpy can delete duplicate files automatically. Additionally, you don't have to set too many options to find and delete these files. It also provides you with a byte-by-byte comparison for finding duplicates.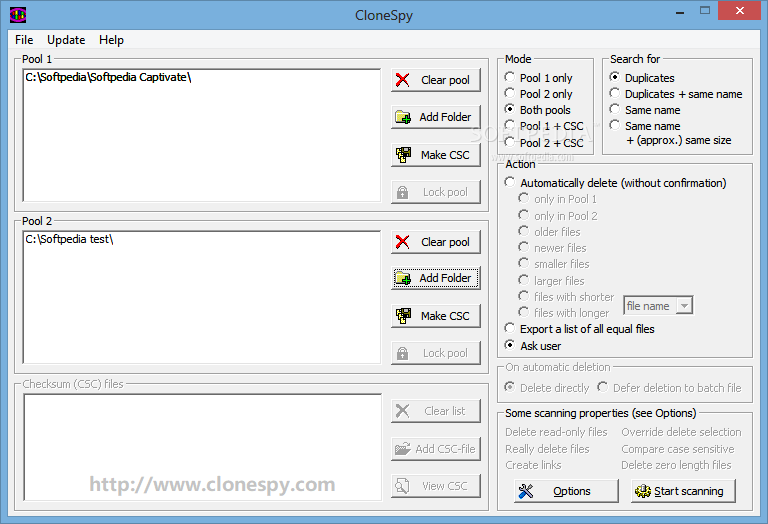 CloneSpy finds duplicates that are not exact matches too. For instance, if you have two files that have the same name but with slightly different content, they will be found. To get better results, it offers a detailed report including all the duplicate files on the PC.
It allows you to compare files based on names and extensions and scan 0-byte files. It is regarded as the best duplicate file finder because it works well with all Windows versions and is completely free to use.
If you don't mind the time taken to scan large folders, you are recommended to select CloneSpy to search and delete duplicate files on the computer.
#3: Auslogics Duplicate File Finder
Auslogics Duplicate File Finder has an intelligent interface. It can scan duplicate files on the chosen hard drive quickly. As a free duplicate file finder, it offers you some features that are only available for some paid programs.
This duplicate file finder Windows allows you to find desired files by size, name, or date. You need to note that the operation can be paused and cancelled at any time. What's more, it enables you to sort results and delete unwanted files.
Tip: The program allows you to define various search parameters, including file types, minimum/maximum file size, names, creation dates, etc.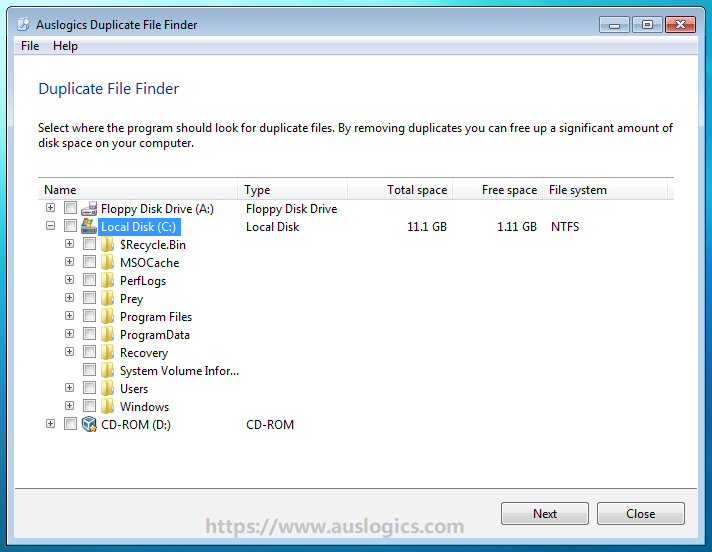 You can decide to either delete duplicate files permanently or keep them in a restore center to recycle if necessary. Compared with other duplicate file finders, Auslogics Duplicate File Finder allows you to search in different folder locations not limited to a single one.
File content is matched on the basis of MD5 checksum, but the byte-by-byte comparison is not included. If you don't want any additional software, uncheck the option during the process of installation.
#4: CCleaner
CCleaner is a great PC cleaner. It is not only a junk file remover, but also a duplicate file finder. Some features of CCleaner make it become the best duplicate file finder. It allows you to customize the search with the embedded Selection Assistant feature.
You are able to find duplicate music files even after you have edited the original files with CCleaner. It manages the startup items on the PC so that you will get a fast loading. With simple and easy navigation, it brings much convenience.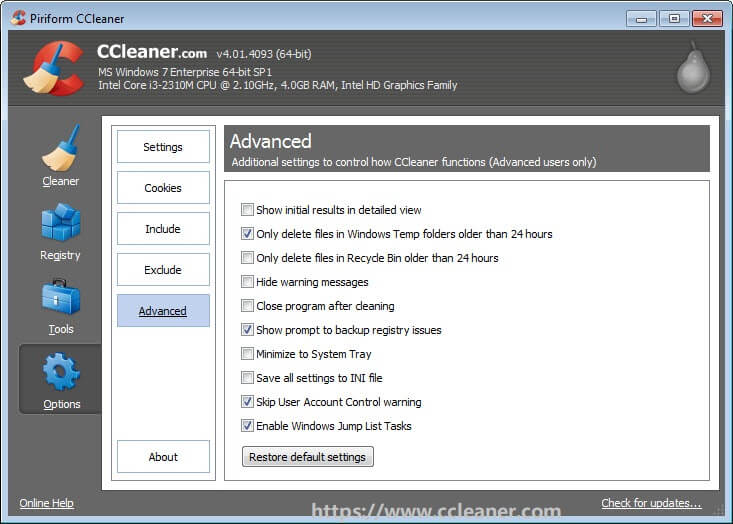 You will not the encounter data loss issue because CCleaner will create a data backup before every scan. This best duplicate file finder works on Windows, Mac, and Android devices. Importantly, it doesn't scan system files and hidden files.
#5: Anti-Twin
Anti-Twin is a duplicate file finder with a small size so that it won't burden the running of your computer. It can detect and delete duplicate files on your computer automatically. That's why it is viewed as the best duplicate file finder.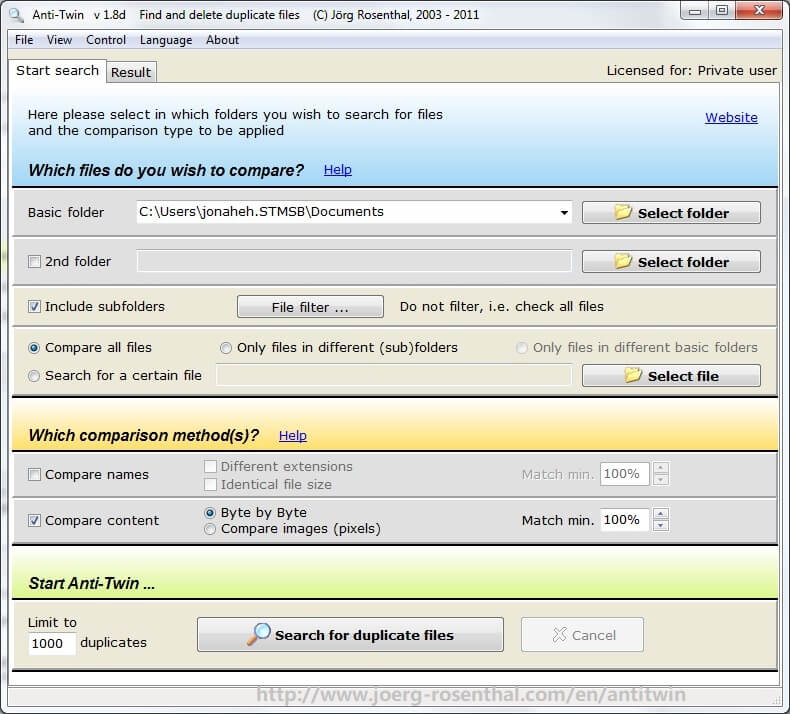 Its Compare Files Content feature digs deep into the files to check if they are duplicated. Moreover, it helps you find the unnecessary file copies and redundant data backups. After scanning, it shows the percentage of duplicability.
#6: AllDup
AllDup is a free duplicate file finder that can work on Windows 10/8/7/XP. It enables you to find and remove duplicate files on your device based on their file names, file sizes, file dates, extensions, as well as tags and other attributes quickly.
With AllDup, you can search and delete duplicate texts, pictures, music, and movies. The picture mode of this program can even go beyond the basic file attribute analysis and dive deep to find the similarity in content. The similar algorithm is applied for scanning large video files to find duplicity.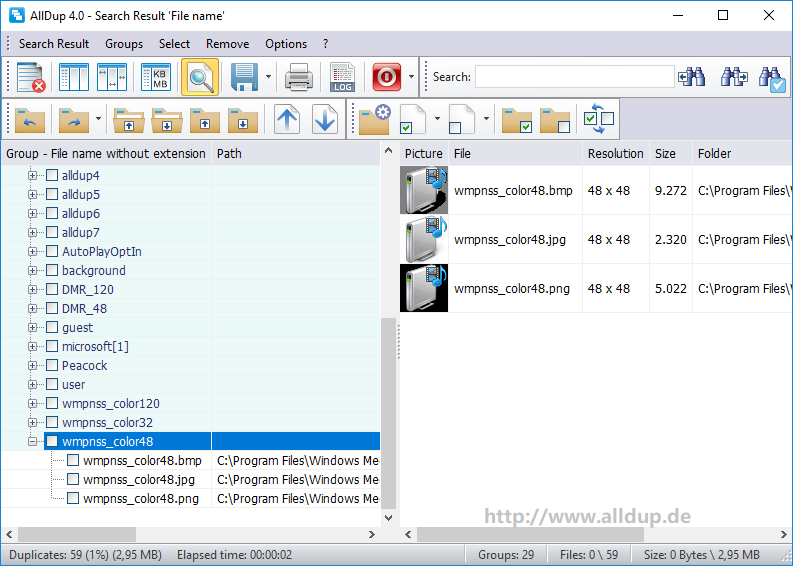 In addition to that, AllDup can find duplicate songs from MP3, FLAC, and other audio formats. After checking the metadata of audio files, it shows you all the duplicates in a flexible manner. Then you can move or copy the duplicate files to a designated folder or directly delete them.
Tip: For the sake of security, AllDup keeps all the deleted files in a backup folder. If you delete a necessary file by accident, you can use the file in that folder.
AllDup is capable of scanning multiple files and folders for duplicates simultaneously, which can save you much time. To sum up, AllDup is one of the best free duplicate file finders on the market. You should have a try.
#7: Fast Duplicate File Finder
Fast Duplicate File Finder is also an automatic duplicate file finder. It compares and analyzes multiple file attributes like file name, size, and creation date to find similar files. Packed with advanced search algorithm, it can offer you precise results.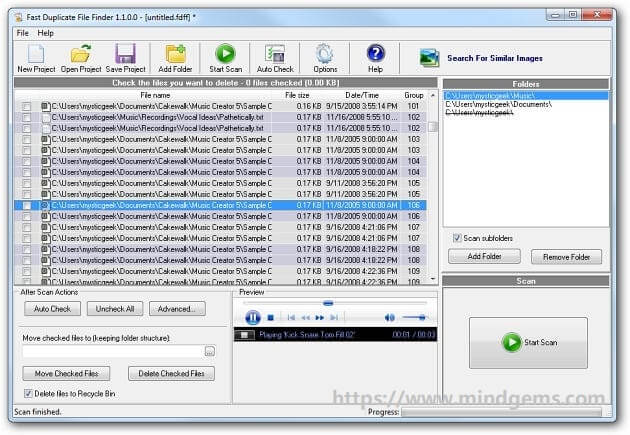 When the scanning process ends, it shows you the results in its preview area where you can see or play files (audio and video files) before deleting them. You can either delete duplicate files permanently or move them to the recycle bin or a custom folder.
Fast Duplicate File Finder detects duplicates and identifies similar files by a degree that you select. As this program is fully compatible with all primary Windows OS versions, you don't have to worry about the conflicts.
#8: Ashisoft Duplicate File Finder
Ashisoft Duplicate File Finder contains powerful search methods (byte-by-byte and SHA-1 Hash or based on File Properties). It is one of the best duplicate file finder and remover. It is compatible with Windows 10/8/7/XP and removable media devices.
The protected folder tab of this program can prevent you from deleting any important files accidentally, while its Selection Assistant helps you specify search criteria based on drivers, folders, date, and so on. Its Photo Viewer option enables you to preview thumbnail images and check for duplicate files easily.
Ashisoft is a great choice for finding duplicate photos, similar music soundtracks, videos, documents, etc. You need to note that this program comes with free and paid versions.
#9: MiniTool Partition Wizard
MiniTool Partition Wizard is a free duplicate file finder, which enables you to find and delete duplicates within a few clicks. You are allowed to choose the drive to scan based on your demand. After selecting the target drive, the program will automatically scan all the files and folders on it.
Tip: The required scanning time varies according to the number of files and folders on the drive.
When the scanning ends, it shows you the results including the total space, used space, and free space. There are 3 available view ways (tree view, file view, and folder view).
Tree View: It offers you a hierarchical view of files and folders in the selected drive. Each folder contains many subfolders.
File View: It shows you all the files in a descending order on the basis of file size. You can check the size of a specific file by typing file name behind the File Search Filter section and clicking Apply. If you choose Match entire path, you need to input the entire path of the file.
Folder View: It lists all the files in folders. You can check directories of all the folders under this view.
As shown by the picture below, you can find duplicate files easily. Right-click on the duplicates and then decide either to delete them permanently or move to recycle bin.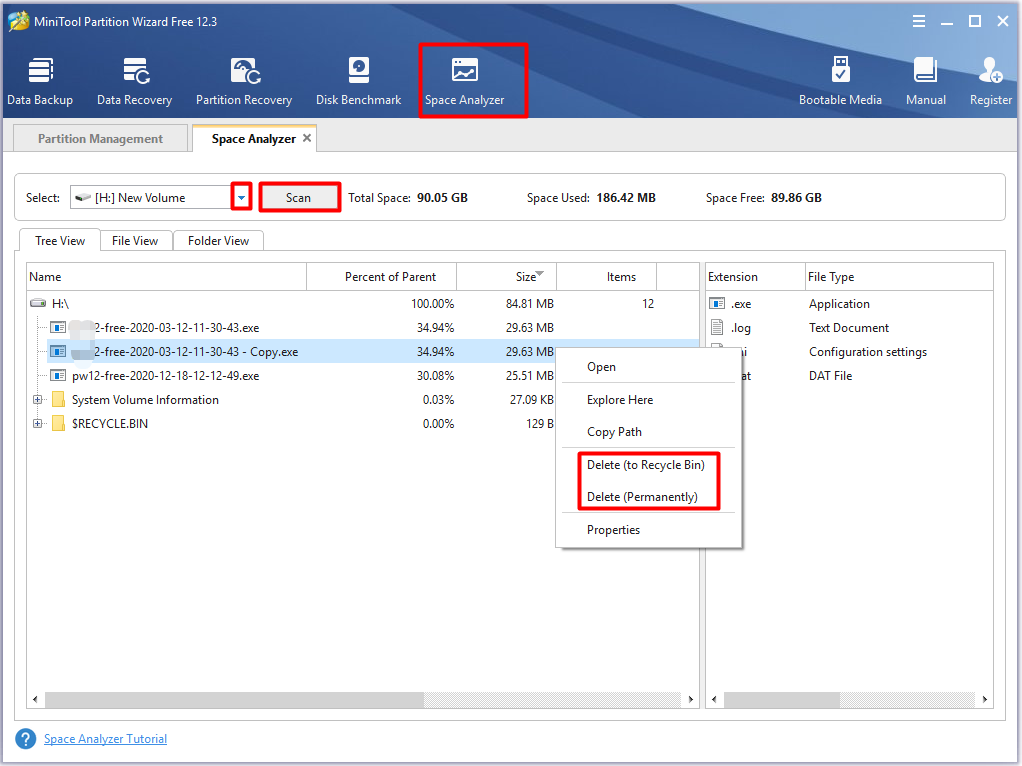 Tip:
In addition to finding duplicate files, the Space Analyzer feature of MiniTool Partition Wizard can tell you
what's taking up your space
too.
Are you still searching for the best duplicate file finder for your device? Top 9 duplicate file finders are discussed in this post. Pick one from them now! Click to tweet
Conclusion
If you want to find and delete duplicate files on your PC quickly, use a duplicate file finder. There are 9 best duplicate file finders for you. All of them are powerful and efficient. Choose one based on your situation.
If you have any good duplicate file finders for sharing, please write them down in the comment area below. For any questions about MiniTool Partition Wizard, send us an email via [email protected].