If you are looking for a Fortnite tracker, this post of MiniTool is worth reading. It shares several Fortnite stat trackers with you. With them, you can see Fortnite players stats, wins, KD ratio, and other details on Fortnite.
#1. fortnitetracker.com
This is an online Fortnite stat tracker that includes Fortnite item shop and Fortnite events happening in different regions. Hence, it is also regarded as a Fortnite item shop tracker and Fortnite even tracker.
From this Fortnite tracker, you will see Fortnite players stats, leaderboards, wins, kills, tops, etc. You can also see your season stats, best streaks, and highest-kill games. To check your Fortnite stats by using it, move to the fortnitetracker.com website and input your EPIC name, PSN, or Account ID. Then hit Enter to see the results.
Tips:
If you fail to find your account via the display name, you can search it with the Account ID. To find that, go to in-game Settings > tap the Account tab > Account ID is located under Account Info.

Alternatively, you can also check Fortnite stats offline. For that, you need to download the Fortnite tracker from fortnitetracker.com. Click on the Get the Apps tab on the main interface and then click Download Now. To choose a suitable version, click on the Get the Apps tab and click Fortnite Tracker or iOS & Android.

After the download process ends, double-click the setup file to run it. Once you enter its main interface, you will see tabs like match history, events, weapons, live match, highlights, item shop, and app info. Then use this Fortnite item shop tracker to start the tracking process.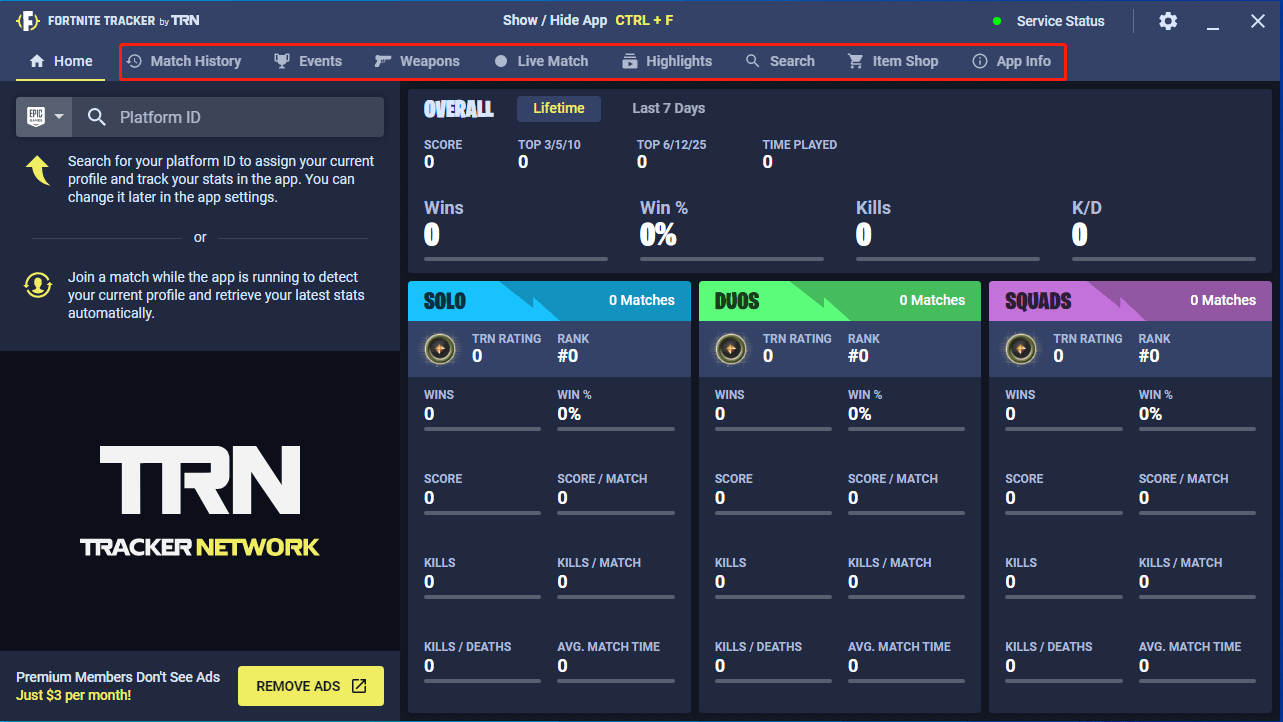 #2. playersauctions.com
PlayersAuctions is also an online Fortnite tracker. It means that you can find your and your friends' Fortnite stats without downloading an app. To be specific, you will see all your current season progress along with a weekly tracker, the condition of your K:D, average score, the total number of your games, deaths, kills per game, etc.
To check Fortnite stats via PlayersAuctions' Fortnite stat tracker, navigate to its website. Then enter your Epic username and hit Enter or click on the Search icon.

#3. fortnitetracker.gg
The fortnitetracker.gg website also offers you an online Fortnite stats tracker. You can easily find the Fortnite stats, events, leaderboards, items, shops, weapons, designs, fish, challenges, maps, and other items on this Fortnite tracker. Given that fact, it can be used as a Fortnite item shop tracker or Fortnite event tracker.
Furthermore, you can see all your wins and arrange all of them as a registered players on a computer, mobile phone, Xbox, or PlayStation. To check these details, go to fortnitetracker.gg and input your EPIC name or Gamertag of all platforms. After that, hit Enter to find the results.

#4. fortnitestats.com
This Fortnite stat tracker can help you track the stats and rankings for any players on Fortnite Battle Royale. With it, you can view the kills, wins, k/d of any Fortnite gamer. It's worth noting that it supports all platforms including Xbox, PlayStation, PC, iOS, and Android.
Go to fortnitestats.com and input your Epic games username.
Choose a platform from the drop-down menu. You can pick PC, Xbox, or PSN.
Tap Get Stats to execute the operation.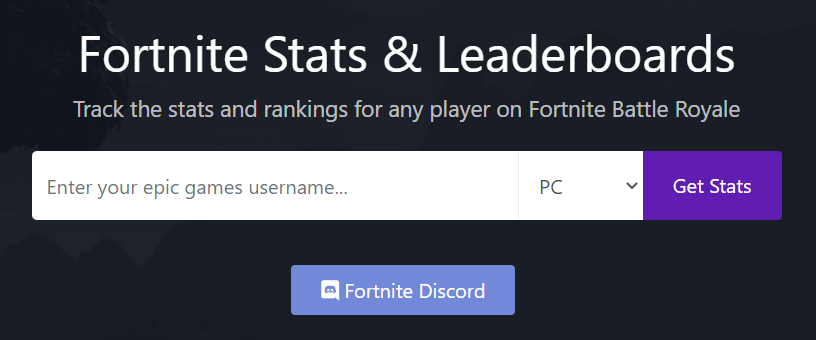 #5. fortnite.gg
The Fortnite tracker from fortnite.gg website is also worth having a try. It is very easy to check Fortnite players' stats via it. For doing that, head to the website and enter your Epic name, Xbox Gamertag, or PlayStation ID. Then click on the Search button to get the results.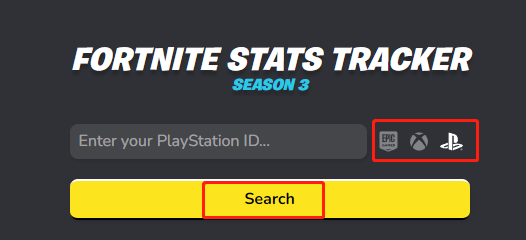 Recommended Partition Manager for Windows 10/11
If you need a partition manager on your Windows 10/11 PC, MiniTool Partition Wizard is a great option. As an all-in-one partition managing program, it allows you to do various operations related to partitions and disks.
For instance, you can rebuild MBR, migrate OS to SSD/HD, check file system, convert MBR to GPT, recover missing data, and so on with it. Moreover, it supports various storage devices like HDD, SSD, SD card, USB flash drive, dynamic disk, etc.