Is Advanced SystemCare safe? You probably are eager to know the answer if you are running it on your computer. In this post, MiniTool will discus this topic and then show you how to optimize your PC.
What Does IObit Advanced SystemCare Do
IObit Advanced SystemCare is a PC optimizer and cleaner. With this software, you can improve the performance of your computer and then the device can work smoothly. What does IObit Advanced SystemCare do exactly? Here, we list its features as below.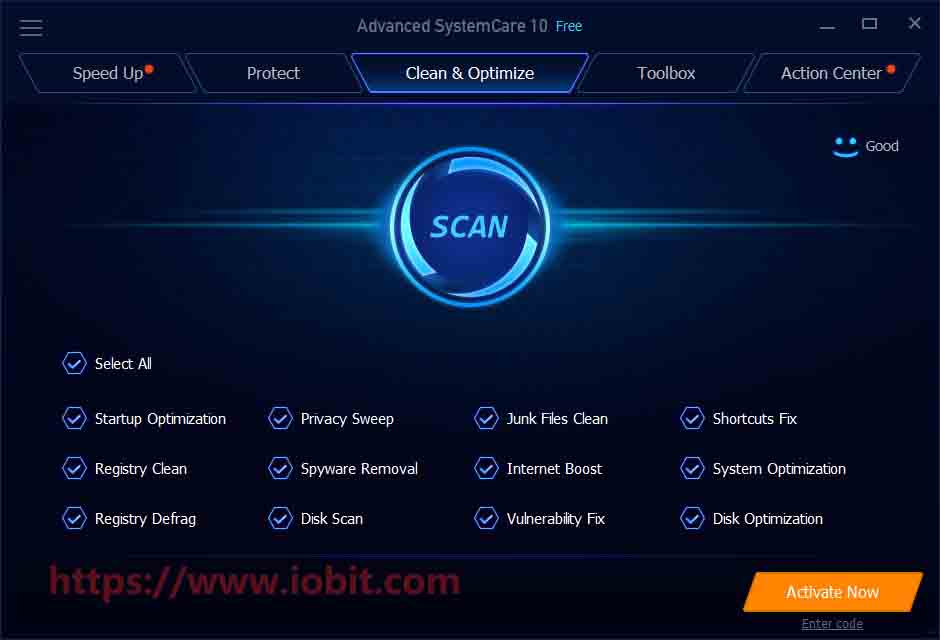 Tip: Some features are only available for paid version.
Junk files clean: It deletes rubbish left by old uninstalled programs and Windows processes. This operation can free up much space for your PC.
System optimization: This program can find system modifications and weaknesses in your computer and then offer you fixes.
Disk optimization: It optimizes your hard disk so that the performance of drive can be maintained. Then you can access regularly used files/data/programs more quickly.
Disk scan: It analyzes the condition of your hard drive. If Advanced SystemCare finds the drive starts to fail or contain errors, it will try its best to correct them.
Registry clean: It repairs defective or corrupt Windows Registry.
Internet boost: It can stabilize and speed up your network in certain situations by prioritizing bandwidth and selecting the best channel in the area. It can also modify data packet transmission to improve network speed for tech experts.
Spyware removal: It detects and removes viruses and programs that spy on your computer/browser usage and data.
Privacy sweep: It cleans your browser history, including saved and typed URLs, visited sites, download history, saved sessions, as well as cookies and cache.
Shortcuts fix: It helps you find shortcuts to programs and files on the desktop quickly. It is a great option to uninstall them.
Vulnerability fix: It finds vulnerabilities in the installation of your Windows. Then it can disable/enable/repair these elements.
Is IObit Advanced SystemCare Safe
Is Advanced SystemCare good? Yes, it is. It can optimize and protect your computer so that the PC runs properly and smoothly. However, it still has some limitations and drawbacks. For instance, it has installation limitations. A few features are and upsells. It lacks across-the-board community-based recommendations.
Moreover, plenty of people wonder if Advanced SystemCare is safe. This is a vital question as it is associated with the safety of your computer. If it is harmful, your computer is likely to be attacked. What's more, the important data or your personal information might be leaked. To know more detailed information, please move on.
Firstly, IObit Advanced SystemCare is not a virus, malware, nor any type of threat. Hence, you don't have to worry that it infects your PC. Secondly, Advanced SystemCare is definitely safe for your computer. It is just a cleanup and optimizer utility for Windows computer.
IObit Advanced SystemCare poses no threats for your system. Nevertheless, it is viewed as a PUP by certain antivirus programs. It will not result in any issues. So, you don't have to worry about it. Advanced SystemCare contains a series of system utilities built for accelerating PCs.
For instance, Windows built-in utility – Disk Cleanup can clear junk files on your computer quickly. Windows Defender Firewall can protect your system from viruses and malware. Tools in File Explorer can check your drive for errors and optimize the drive.
IObit Advanced SystemCare Alternatives
If you don't want use Advanced SystemCare, you can try the Windows built-in utilities or third-party programs like CCleaner, Ashampoo WinOptimizer, BleachBit and Clean Master. You can read the content below to get a quick preview.
CCleaner: It is also a PC optimizer, which is available for Windows, Mac, Android, etc. It possesses multiple features, including system cleaning, real-time monitoring, privacy protection, scheduled cleaning, automated updates, disk wipe, and disk analyzing. It has a free and two paid editions. You should note that its free edition doesn't support many features. Moreover, a large number of users are also doubtful about its security. You can get the detailed information from this post: Is CCleaner Safe? Here Are Answers and Alternatives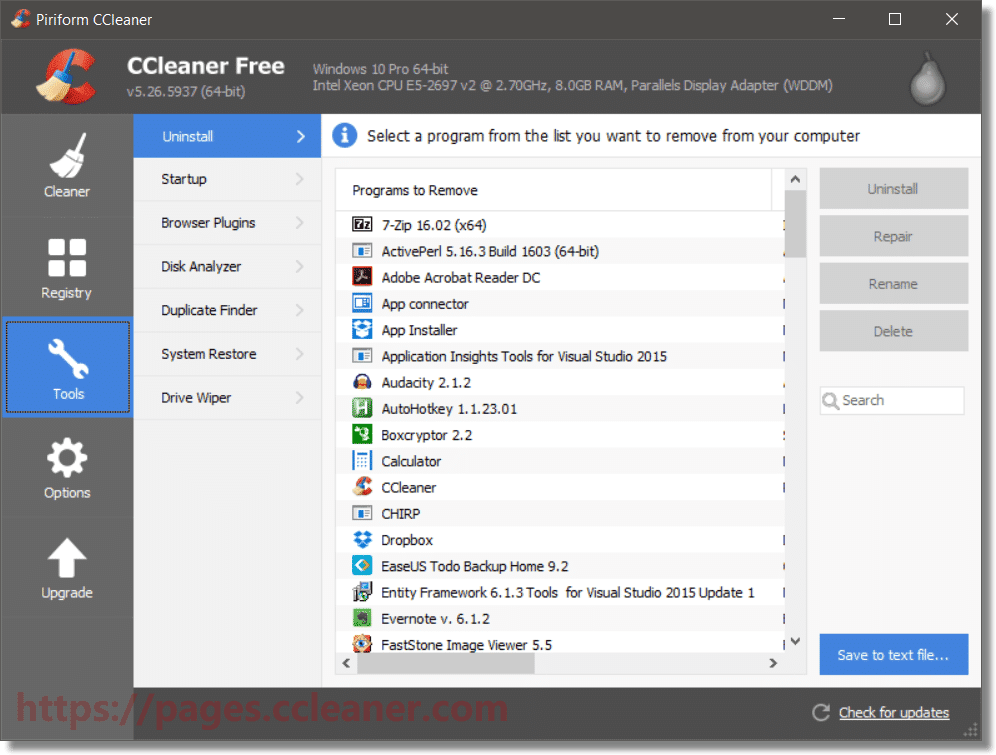 Ashampoo WinOptimizer: It has similar features to IObit Advanced SystemCare. Differently, it contains more features in its interface. It is only available for Windows OS. After scanning, cleaning, and optimizing with this program, the performance of your computer will be improved greatly. If you want to see the detailed scan result, simply click on the Details button.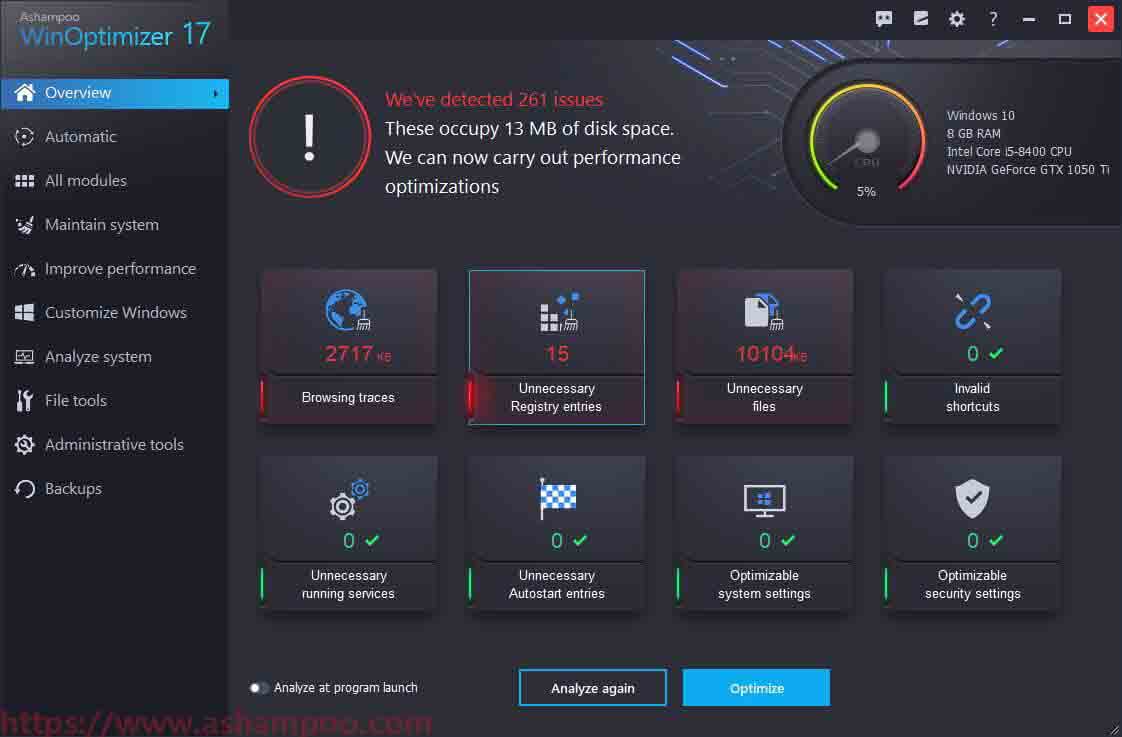 BleachBit: It is a free and open-source disk space cleaner, privacy manager, and computer system optimizer. You can easily clear cache, delete cookies, clear Internet history, and remove temporary files and logs with this program. It can be used on Linux and Windows operating systems.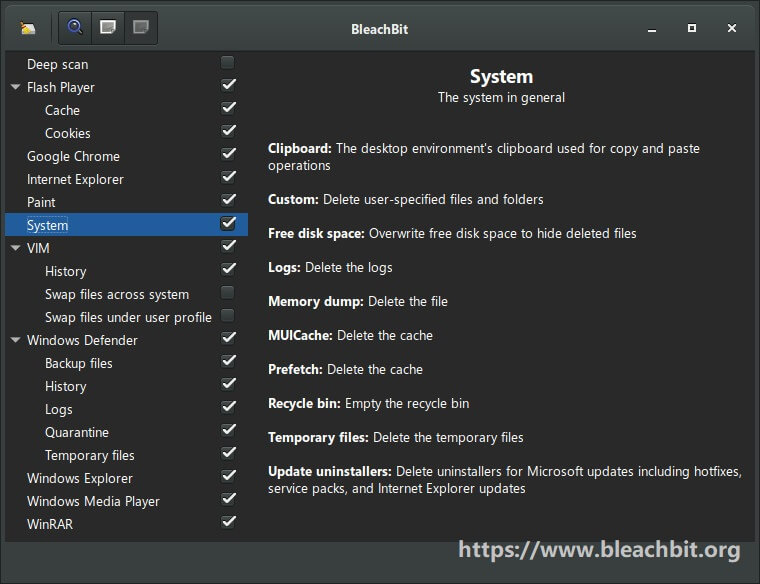 Clean Master: It includes features like junk file clean, privacy clean, PC boost, and driver boost, etc.  It can help you accelerate your computer as well. It supports Windows XP/7/8/10.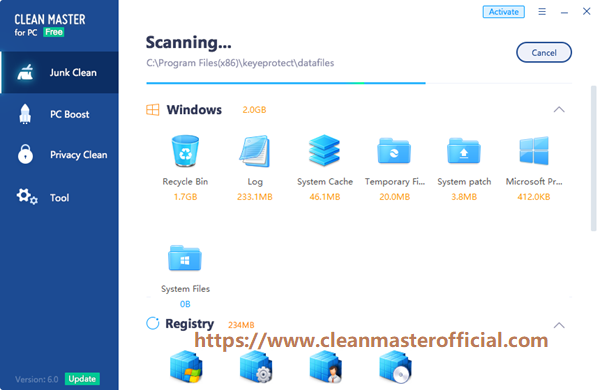 If you just want to optimize system for better performance, you are recommended to migrate OS to SSD. This is a direct and effective way. And you don't have to delete the files on the PC. Additionally, you don't need to figure out if these programs are safe.
The section below further illustrates the benefits of booting from SSD and shows you the detailed steps to migrate OS to SSD. Please keep reading.
Is Advanced SystemCare safe? Is Advanced SystemCare good? These questions are discussed and answered in this post. You can read it now for details. Click to Tweet
Migrate OS to SSD
As you know, the speed of SSD is faster than , especially the boot speed. According to an investigation, the average bootup time of the SSD is about 10-13 seconds, while the average bootup time of the HDD is around 30-40 seconds. Hence, if you migrate your OS to SSD, your computer can boot up in a shorter time.
In addition, applications on SSD load more quickly than on HDD. Compared with HDD, SSD has more advantages. You can obtain more details in this post. To migrate Windows 10 to SSD without reinstalling OS, you need an expertized tool. MiniTool Partition Wizard is such a program.
The Migrate OS to SSD/HD Wizard feature enables you to do that operation within a few clicks. How to do? Here's a tutorial for you.
Note:
1. MiniTool Partition Wizard Free edition doesn't support this feature, so you should get its Pro or more advanced editions. You can refer to this
comparison table
to choose a suitable edition.
2. You should prepare an SSD before starting the operation. Don't forget that the disk space of SSD should be larger than the used space of the source disk.
MiniTool Partition Wizard DemoClick to Download100%Clean & Safe
Step 1: Connect the prepared SSD to your computer and then launch MiniTool Partition Wizard.
Step 2: In the main interface of program, click on the Migrate OS to SSD/HD Wizard option in the left pane.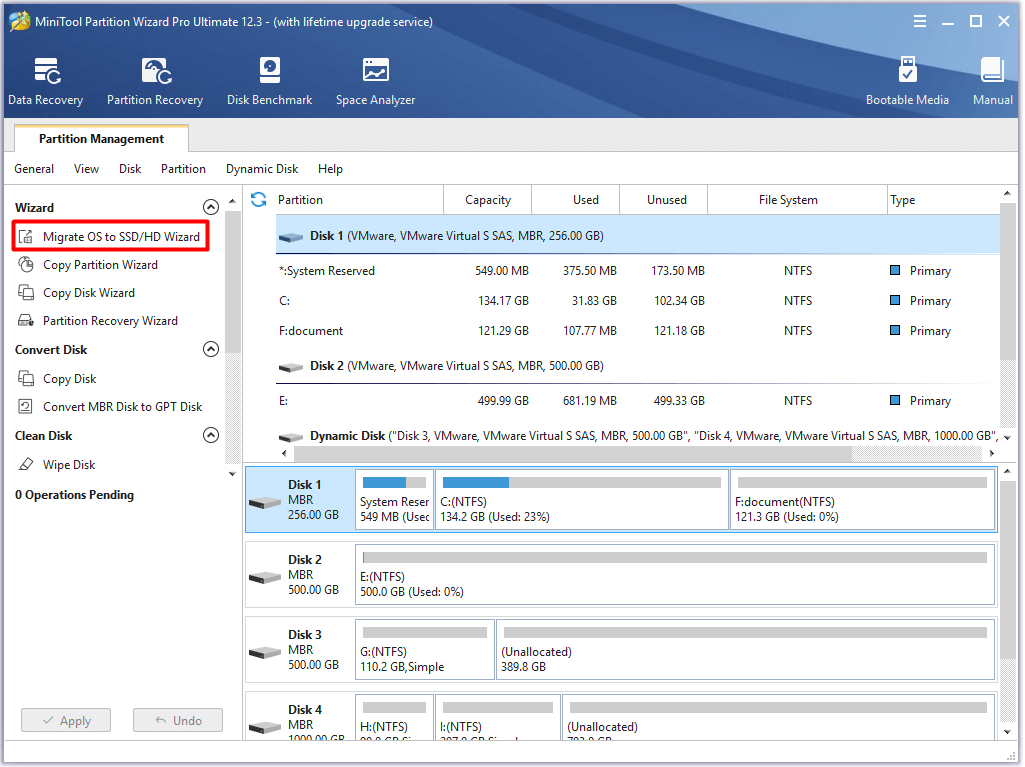 Step 3: You need to decide the way to migrate your OS. To migrate OS without reinstalling OS, choose the second option. Then, click Next to continue.
Tip: If you want to replace the system disk with the new SSD, pick the first option.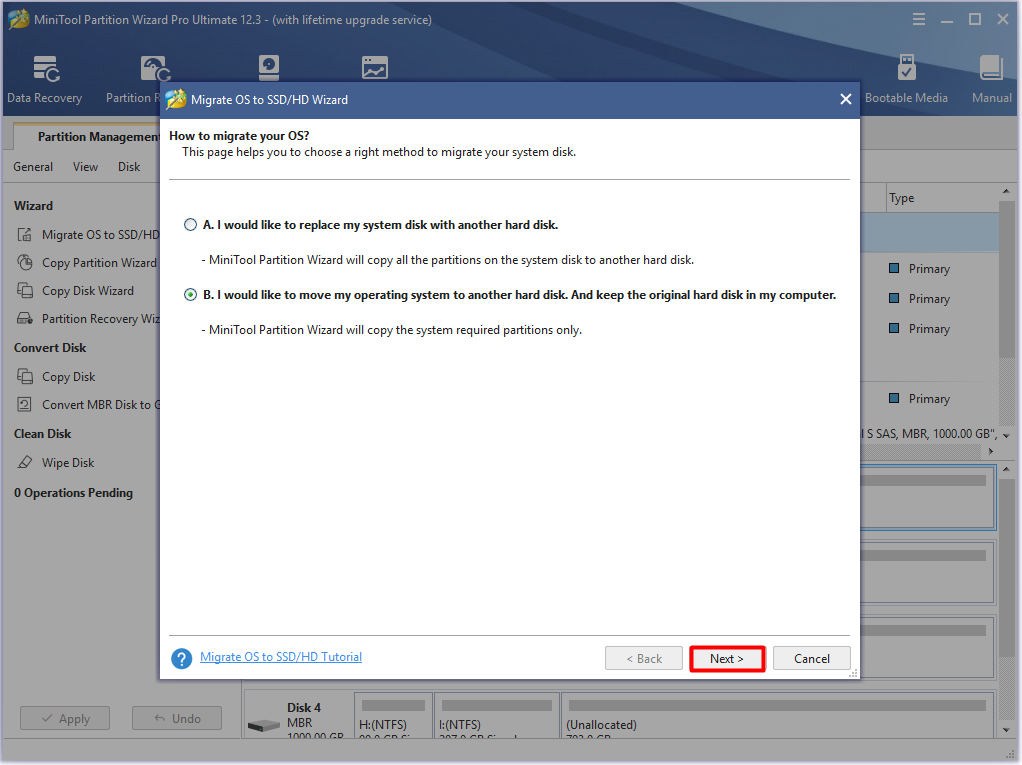 Step 4: Choose the prepared SSD as the destination disk and then click on the Next button.
Note: A warning window will pop up reminding you that all the data on the disk will be destroyed during the process. If you are sure that there's no important data on it, click Yes to confirm the operation.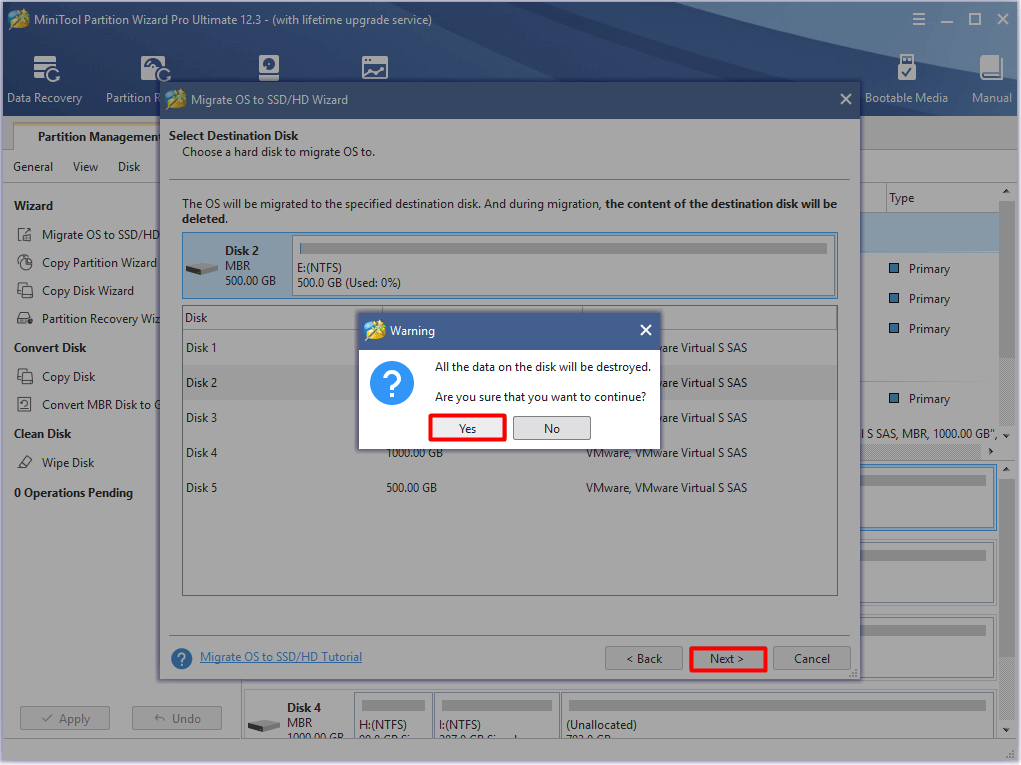 Step 5: In this window, you can choose copy options based on your demand. For instance, fit partitions or copy partitions without resizing. To utilize GPT as the partition style of your SSD, you should check the Use GUID Partition Table for the target disk option.
You are allowed to change the location and size of the selected partition by moving the handle bar or typing the exact number in the corresponding section. After configuring the changes, click Next.
Tip: If you don't have special requirements for the copy operation, just follow the default settings and click OK.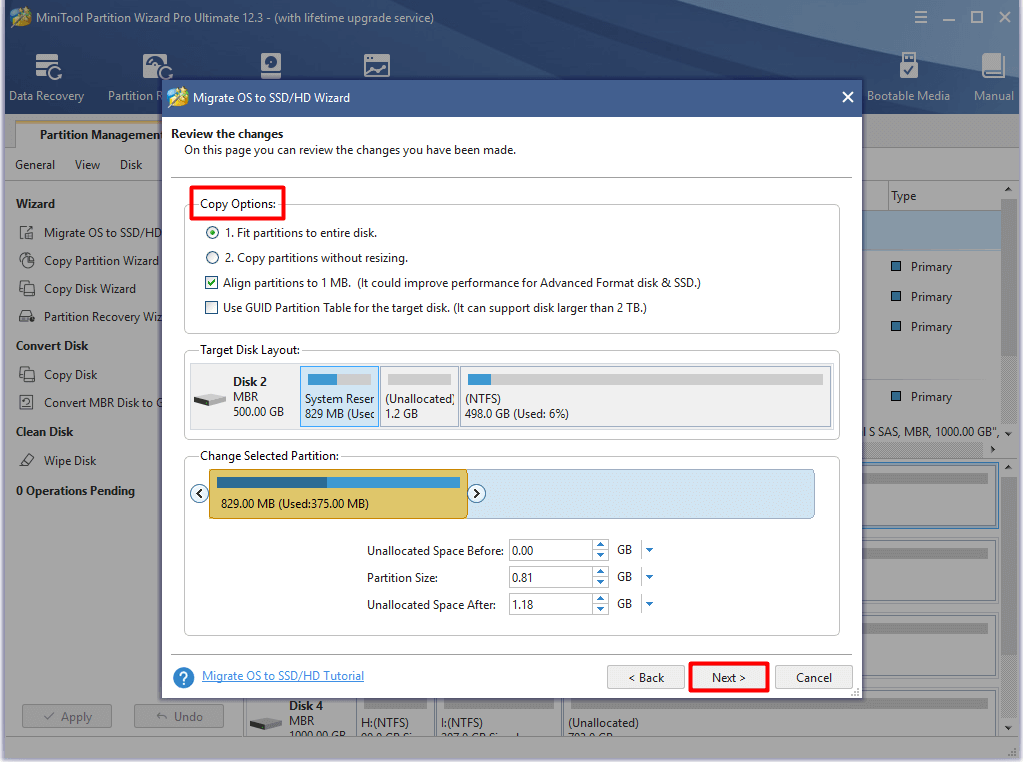 Step 6: Before clicking the Finish button to save the changes, you should read the note carefully.  Then click Apply to carry out the migration process.
Note that: To boot from the new SSD, you are required to set it as the first boot in BIOS. How to change boot order safely on Windows device? Our previous article has illustrated it thoroughly.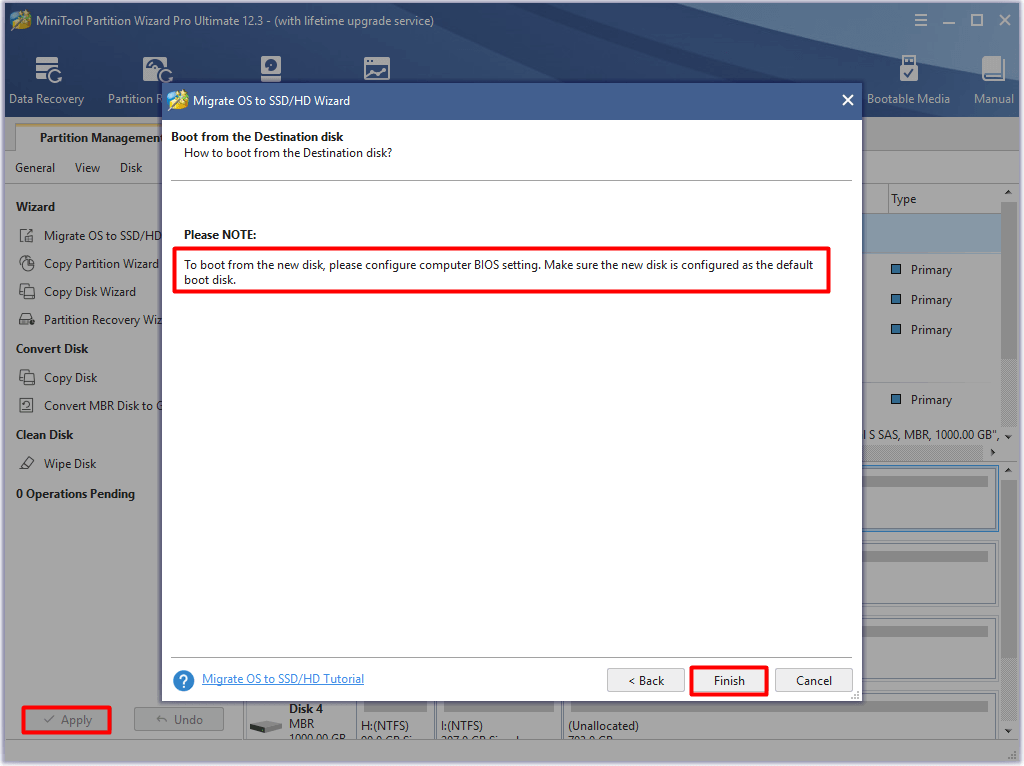 Further reading:
In addition to migrating OS, you can also inrease disk sapce via MiniTool Partition Wizard to obtain system optimization. Besides, you can speed up computer by adding more RAM, uninstalling unwanted programs, disabling startup programs, going opaque, setting no special effects, etc.
Like IObit Advanced SystemCare, MiniTool Partition Wizard allows you to check hard drive for errors and delete junk files too. Actually, it is a hard drive health checker, space analyzer, file deleter, and hard drive formatter. In one word, it has multiple functions.
MiniTool Partition Wizard DemoClick to Download100%Clean & Safe
Is IObit Advanced SystemCare safe? Are you still unclear about it? You can find the answer and learn a method to get system optimization in this post. Probably this is what you need. Click to Tweet
Conclusion
Is Advanced SystemCare safe? You may have known the answer now. If you want to optimize system for better performance, a great method is also introduced to you. If you have any thoughts on this topic, please leave your words in the following comment area. For any questions and doubts about MiniTool software, you can directly send us an email via [email protected].
Is IObit Advanced SystemCare Safe FAQ
Is IObit Advanced SystemCare a virus?
No, it isn't. It is simply a PC optimization and cleanup tool that can optimize your PC for getting better performance.
Does Advanced SystemCare slow down computer?
No, it doesn't. On the contrary, it can speed up computer. Your PC can run fast because of the junk file clean, system optimization, and disk optimization features of IObit Advanced SystemCare.
CCleaner vs Advanced SystemCare: which is better?
Compared with CCleaner, Advanced SystemCare Pro has more features. What's more, Advanced SystemCare protects your privacy and safety. It clears your digital footprint in real-time and prevents you from online threats.