You may have used Restoro to fix crashes and other issues on your computer. Is Restoro safe? Is there anything that Restoro can't fix? You can find the comprehensive information about Restoro from MiniTool Partition Wizard.
What Is Restoro?
In your daily life, have you ever been annoyed by your computer? Computers are vulnerable to malware threats and bugs. Besides, PCs may run slowly due to low disk space. If you are tired of repairing your computer and cleaning disk space manually, Restoro PC repair tool deserves your attention.
There are a wealth of computer repair and anti-malware tools on the market. Windows systems also have a variety of such tools. In order to ensure that the computer system works smoothly for a long time, it's time to try a useful tool. Restoro provides you with the complete system maintenance, which has powerful technology that protects and safely repairs your computer to an optimized state.
Restoro, designed for Windows computers, is an ultimate malware removal and PC repair tool. It can scan, diagnose, and repair your damaged files. In addition, it can help you free up precious disk space. That said, Restoro can significantly boost your computer's performance.
Tip:
When your computer starts malfunctioning or showing various error messages, you may take the old method –
restalling Windows
. However, it often means losing personal files and saved data or settings on the device. With Restoro, you don't have to worry about it as it can replace damaged OS file without the need of reinstalling the whole operating system.
What Does Restoro Do?
There are the features of Restoro:
Fix the Windows errors (including BSoD): Restoro could fix the problem caused by damaged system files, malware infections, or any other problems in Windows. It can automatically identify damaged or faulty files in Windows systems and replace them with secure and healthy ones from its database.
Fix the damaged DLLS: DLLs, which stands for Dynamic Link Library files, are vital for the system. It could reduce the times of faults, take memory efficiently, and so on. The loss of DLLs will cause the application to fail to run, but the DLLs are easily damaged because of accidental deletion, overwriting, and any other reasons. Restoro provides you with the magic feature that can fix the damaged DLLs.
Fix the system crashes to improve PC' stability: Not only could Restoro show you important information such as hardware details and the PC's operation temperature, but also it can detect files and applications that are crashing frequently. For instance, you can use Restoro to fix errors like kernelbase.dll, Oleaut32.dll, Dbghelp.dll fatal error, ntdll.dll and Rsaenh.dll.
Remove spyware and malware: In addition to removing the malware, Restoro can fix the damage caused by it. And then, it could replace the corrupted or missing files that were altered or removed by malware.
Diagnose issues automatically: You will never have to worry about some problems appearing randomly or some issues caused by a power outage as Restoro can diagnose issues automatically.
Clean any duplicate or corrupted files: After diagnosing your computer, Restoro helps you clean or replace the duplicate or corrupted files.
Optimize your system for best speeds: Restoro can refresh your system constantly to ensure that the system works optimally.
Clearly, Restoro is an excellent computer repair and anti-malware tool.
What Restoro Can't fix?
There are still some problems in computers, which Restoro could not provide you with the solution.
1. Restoro can't fix the programs that are not included in Windows operating system by default. Therefore, if you encounter the issues with the third-party program, you'd better reinstall the third-party program. Of course, you are supposed to remove it directly if the third-party program is incompatible with the Windows operating system.
Tip: Restoro is program that works with the Windows operating system entirely. With Restoro, you can restore the optimal performance of the Windows operating system.
2. Restoro does not work as the traditional antivirus software. Before installing Restoro, you ought to distinguish the differences between antivirus software and Restoro. Restoro is designed to remove the threats, while the traditional antivirus specializes in erasing viruses. That is to say, Restoro could be considered as an additional solution to an antivirus, repairing the damage left behind by malware after it has been removed by an antivirus program.
3. Restoro can't fix the hardware-related issues. If you want to solve the problems about hardware, you might need to upgrade your RAM or just replace your computer parts.
Some shortages of Restoro have been introduced above, but you could still use it to solve a lot of problems in your computer. You can rest assured to install Restoro in your computer.
Is Restoro Safe?
Is Restoro safe? It is really a safe piece of software to repair your computer without doubt. Not only is it NOT malware or a malicious program, but it could help you get rid of the malware in your system and any other issues that cause your computer to malfunction.
Besides, Restoro does not bundle any additional extras like other untrustworthy programs. This tool is 100% safe and secure by Microsoft Security itself and other well-known antivirus companies.
Maybe you have noticed some opposite voice from some Restoro reviews. There are also some conflicts about system optimizers and some discussions about "Is Restoro safe?" Hence, it's time for you to clear your mind about it.
Tip: You have probably found many tutorials on how to uninstall Restoro PC repair tool on search engines like Google. As a lot of people do not know enough about Restoro, they are misguided by the information.
Do not worry about anything. You can use Restoro with confidence.
Restoro Free Alternative: MiniTool Partition Wizard
As described above, Restoro helps you clean the duplicate files. In some Restoro reviews, you may have seen some recommendations. There is a free alternative program you can choose to deal with the duplicate files in your computer.
MiniTool Partition Wizard could help you find your duplicate files in computer with its Space Analyzer. This feature is one of the featured functions in MiniTool Partition Wizard. It can help you scan your hard drive and give you a great view of the hard drive space usage.
Besides, you can explore the files which you want to check and delete by using Space Analyzer. Hence, this tool could also be regarded as a duplicate file finder.
In addition to Space Analyzer, MiniTool Partition Wizard provides you with many other functions such as data recovery, disk benchmark, move/resize partition, change cluster size without data loss, convert dynamic disk to basic disk, migrate OS to SSD/HD, and so on.
If you want to find the duplicate files via this free alternative tool, you are supposed to follow the steps below.
Step 1: After launching MiniTool Partition Wizard, you are supposed to hit the option of Space Analyzer on the top of the interface.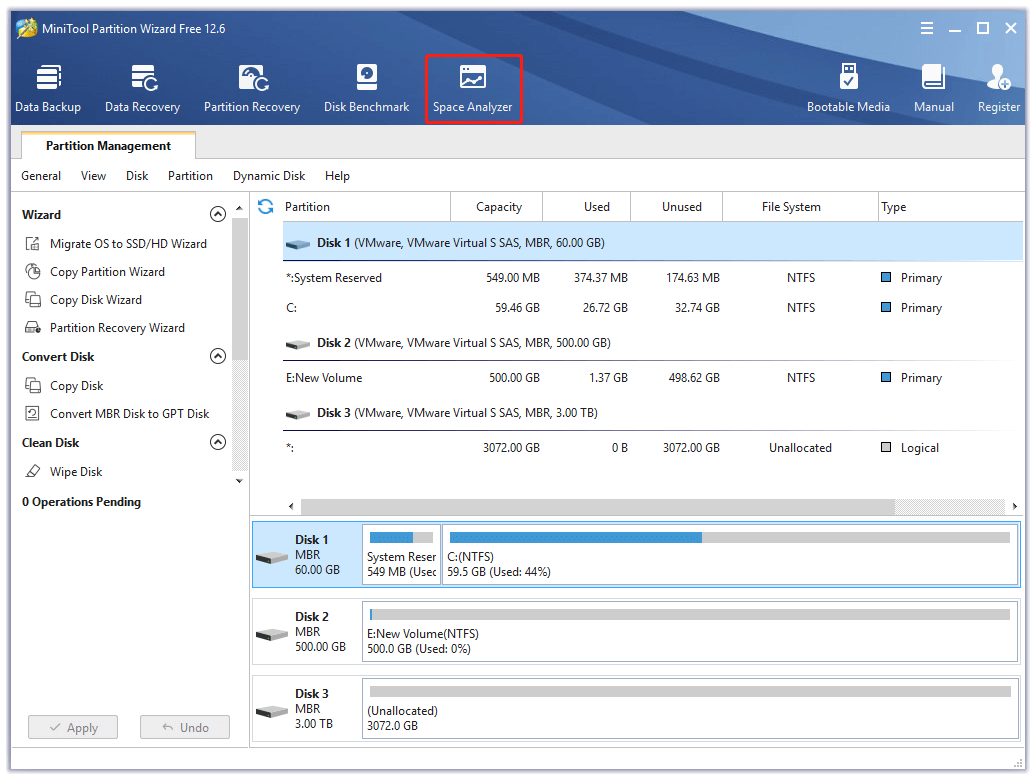 Step 2: If you can remember the locations of the duplicate files, you could scroll the mouse to select. Taking drive C for example, you should click it and hit Scan.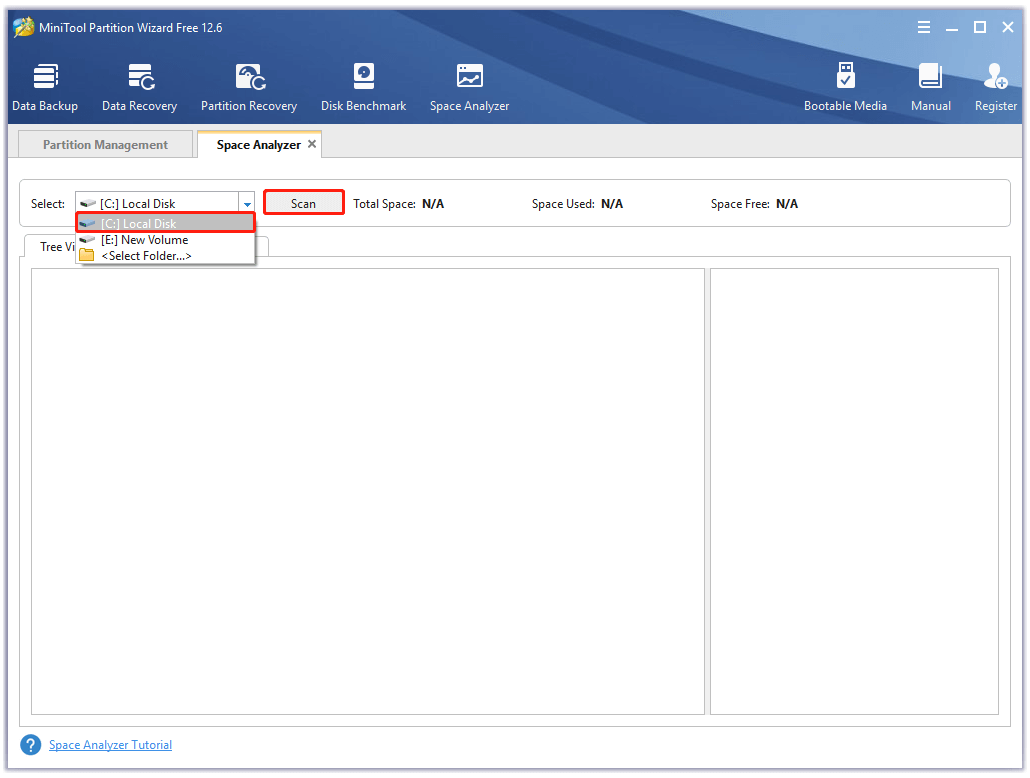 Step 3: After scanning, you should choose the option of File View to check your files. The next picture shows you all the files in drive C.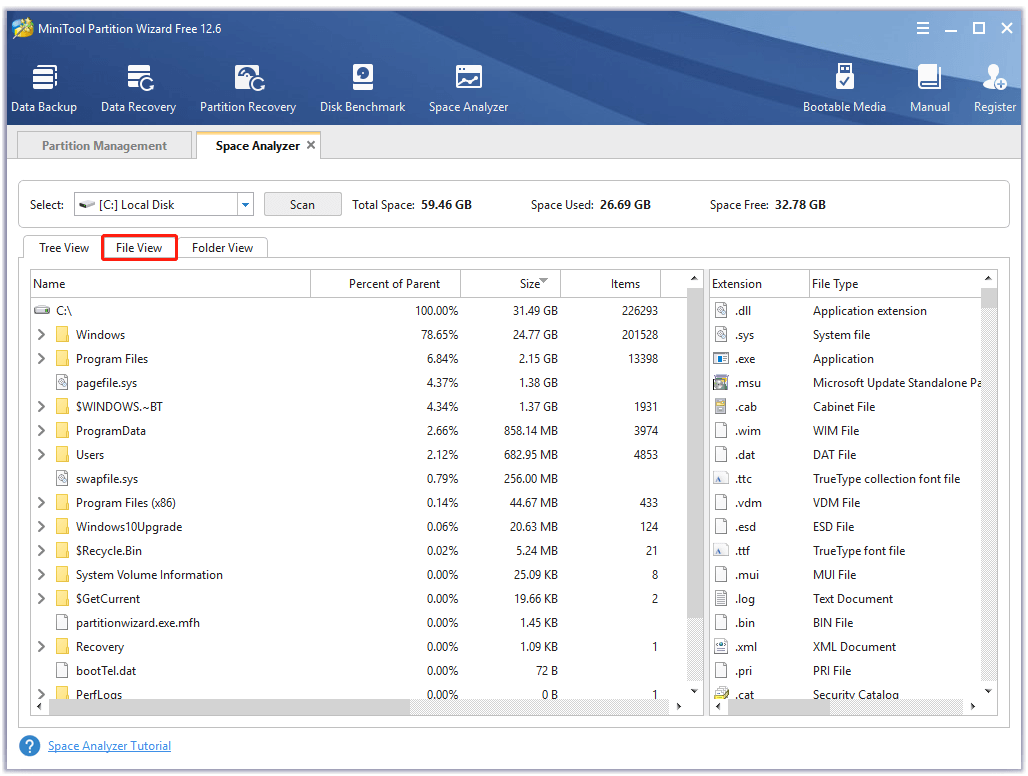 Step 4: In this interface, you are supposed to type the name of your target files and hit Apply. You can also find the target files by using the option of Match entire path.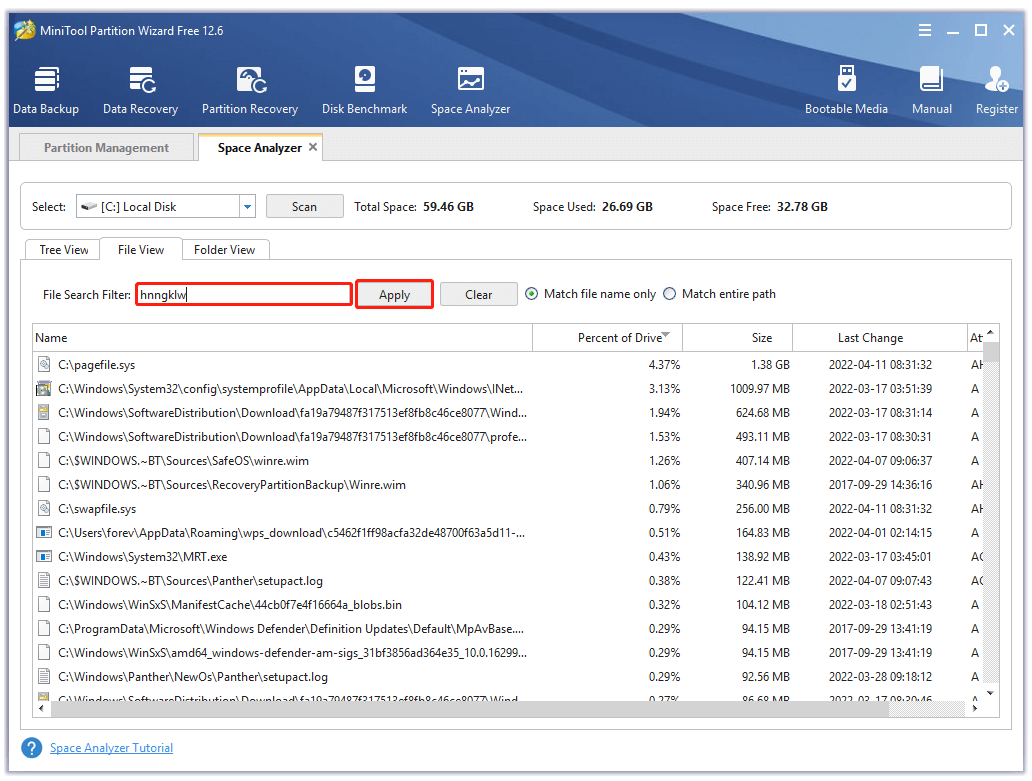 Step 5: The next picture shows the duplicate files for you. Now, if you just want to keep only one of them, you can right-click the target file and choose an option to delete it.
Tip: There are two options. As implied by their descriptions, you can delete the file to the Recycle Bin or delete it permanently.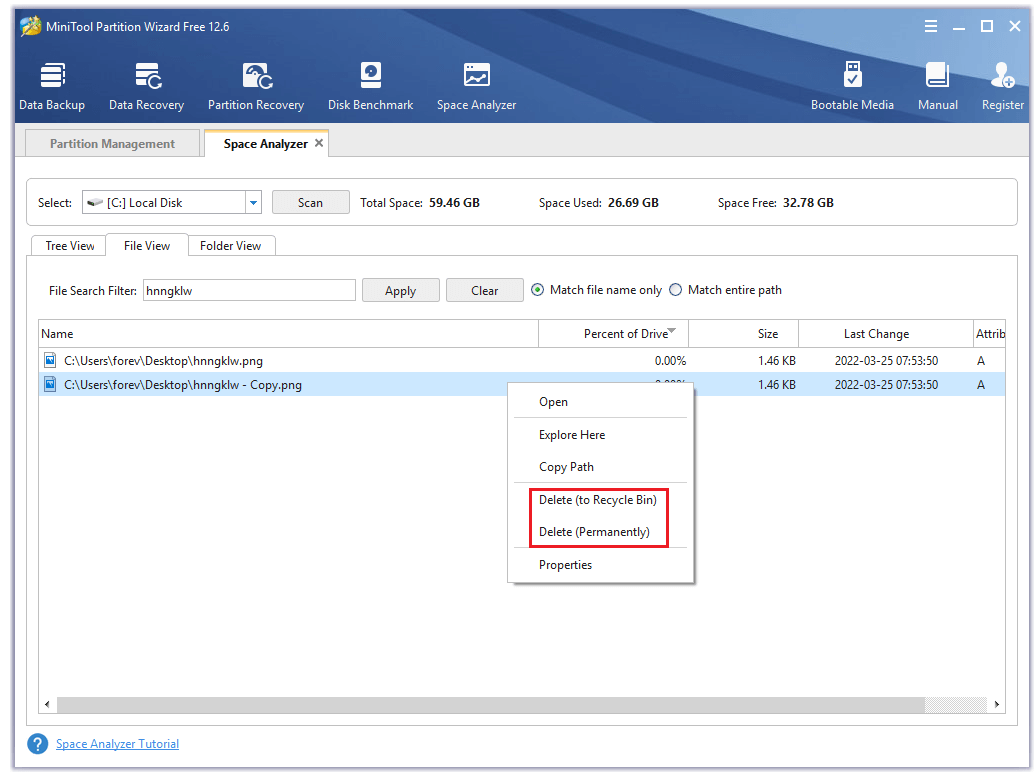 If you want to know more about hard drive space usage, you can read this post: What Is Taking up Space on PC? Top 7 Disk Space Analyzers Help!
  "Is Restoro safe? Guys! I have learned a lot about Restoro from MiniTool Partition Wizard, and its Space Analyzer helped me find the duplicate files like Restoro. Share it with all of you!"Click to Tweet
Bottom Line
Is Restoro safe? This post has shown you the answer. In fact, it tells you all you want to know about Restoro. Besides, if you want to find a Restoro free alternative, try MiniTool Partition Wizard. If you have any problems after using MiniTool Partition Wizard, please contact us via [email protected]