Both micro USB and USB C are very popular USB connectors in the market. This lets a great many people feel confused about the difference between micro USB and USB C. Micro USB vs USB C, which is better? Today, MiniTool will explore these questions together with you.
Nowadays, micro USB and USB C technologies are widely used in a variety of devices such as computers, phones, storage devices, etc. So, it is inevitable to discuss the difference between micro USB and USB C.
This post will introduce the definition of the 2 USB connectors respectively. Besides, the top 5 differences between micro USB vs USB C will be discussed in detail. After reading this post, I believe you can make an easier choice when choosing a micro USB or USB C.
Overview of Micro USB
Micro USB is a relatively old USB standard specified connector which appeared in 2007. It is a miniaturized specification of the USB interface designed to connect some mobile and compact devices like MP3 players, smartphones, digital cameras, etc.
There are 3 major forms of micro USB interface including micro A, micro B, and micro USB 3. It is easy to identify the Type-A Micro USB out from the 3 forms. Micro USB 3.0 has a very similar look to the Type-B micro USB, but it has an extra pin group on the side used for twice the wires.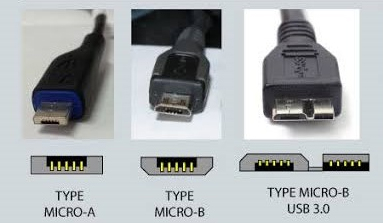 –image from reddit 
Like standard USB, the micro USB series is plug-and-play and hot-swappable. It was designed with a 5-pin group that's equipped with 2 retractable locks and rated for minimum 10,000 disconnect cycles. Besides, the Micro USB has a similar interface width to the Mini-USB, but the thickness is about half of it.
Overview of USB C
USB C (also known as USB Type-C) is a connector system designed with a 24-pin group. The two-fold rotationally symmetrical design (both horizontally and vertically) is the most distinctive feature. It is a relatively new interface that was introduced in 2014.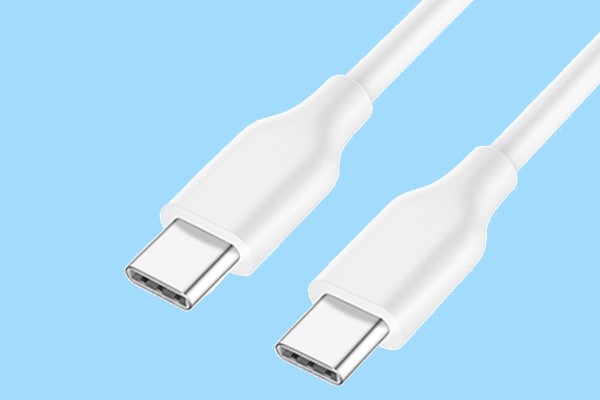 Nowadays, USB Type-C is widely found on hosts and all kinds of devices from external hard drives to smartphone charging cables. In other words, it can not only be used to transmit data but deliver power as a single cable. That means you can use USB C to replace other electrical connectors like USB B and USB A.
From its shape, USB C looks slightly bigger than the Micro USB. Thanks to its flexible design, you can plug USB C in whichever way without worrying about which side is up. Besides, it owns a fast data transfer speed. The power delivery can be up to 100W that's enough to charge a laptop and other such devices.
Due to its one-size-fits-all design, many people hold that USB C has the potential to replace most of the current USB peripherals including Micro USB. This gives rise to a question – what's the difference between micro USB and USB C apart from the physical shape. USB C vs micro USB, which is better? Please keep reading to get these answers.
Top 5 Differences Between Micro USB and USB C
In this part, we mainly focus on USB C vs micro USB. Top 5 differences including data speeds, charging speed, durability, compatibility, and pricing will be discussed in detail.
Micro USB VS USB C Data Speeds
When it comes to the USB connectors, it is inevitable to compare the data transferring speed first. This is because data speed plays an important role in the determination of choosing a USB connector. Since USB C makes full use of the USB 3.1 and USB 3.0 technology, its data speed can rate from 5Gbps to 10Gps.
Compared with USB Type-C, the data speed of micro USB lags behind. A standard micro USB data transfer speed is up to 480Mbps. Well, if you are using a flat-shaped micro USB cable that supports USB 3.0 standards, its transfer speed can be up to 5Gbps.
These data speeds are theoretical numbers based on the maximum transfer speed through a USB port. However, the data speed of USB-C vs micro USB varies depending on the specific devices in reality. For instance, some USB drives will be limited by the speed of their flash memory.
So, how to test the exact data transfer speed? Here a free disk benchmarking tool – MiniTool Partition Wizard Free Edition can help you to do that. It is a trusted partition management tool that you can use it to resize partition, convert MBR to GPT, etc.
In addition, this tool has helped a great many users when making a comparison such as mSATA vs M.2, size vs size on disk, hardware vs software RAID, etc. Now, let's see how to test the data speed of micro USB type C vs micro USB.
MiniTool Partition Wizard FreeClick to Download100%Clean & Safe
Step 1. Connect your storage device to your computer and launch MiniTool Partition Wizard to get its main interface.
Step 2. Select Disk Benchmark on the top toolbar.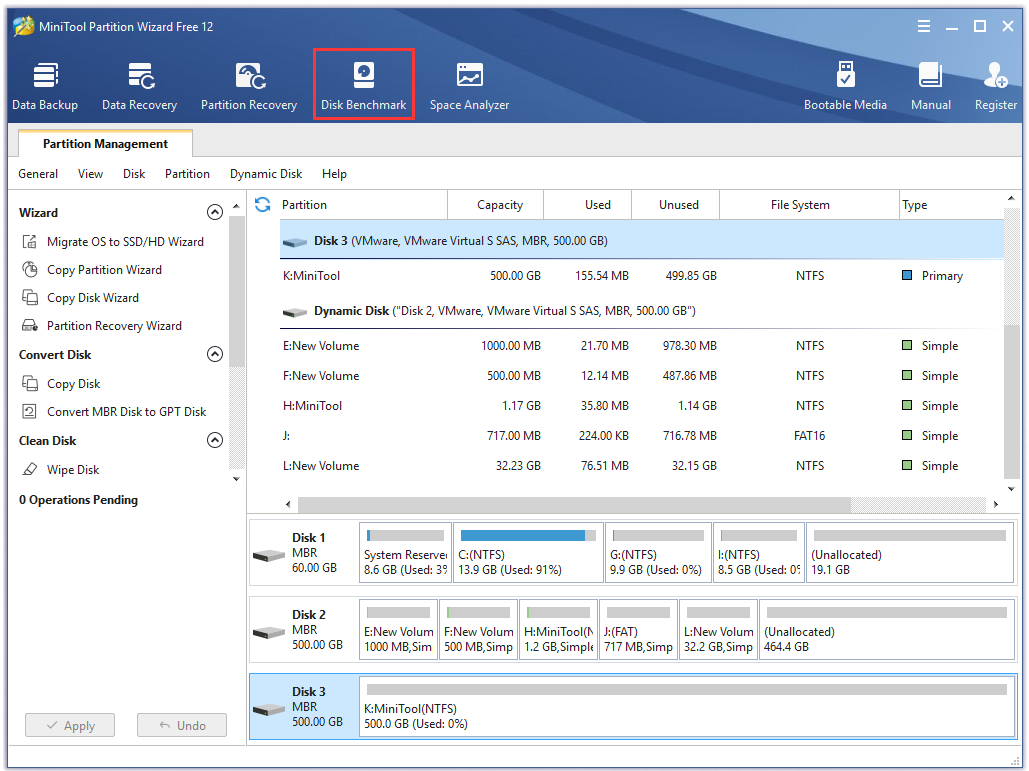 Step 3. Select the storage device that has the 2 USB connectors to measure from the drop-down menu and click on the Start button.
Tip: The larger span the transfer size has, the longer time this test will take. To get specific results, you can specify the test parameters such as Transfer size, Transfer length, and Transfer mode based on your needs.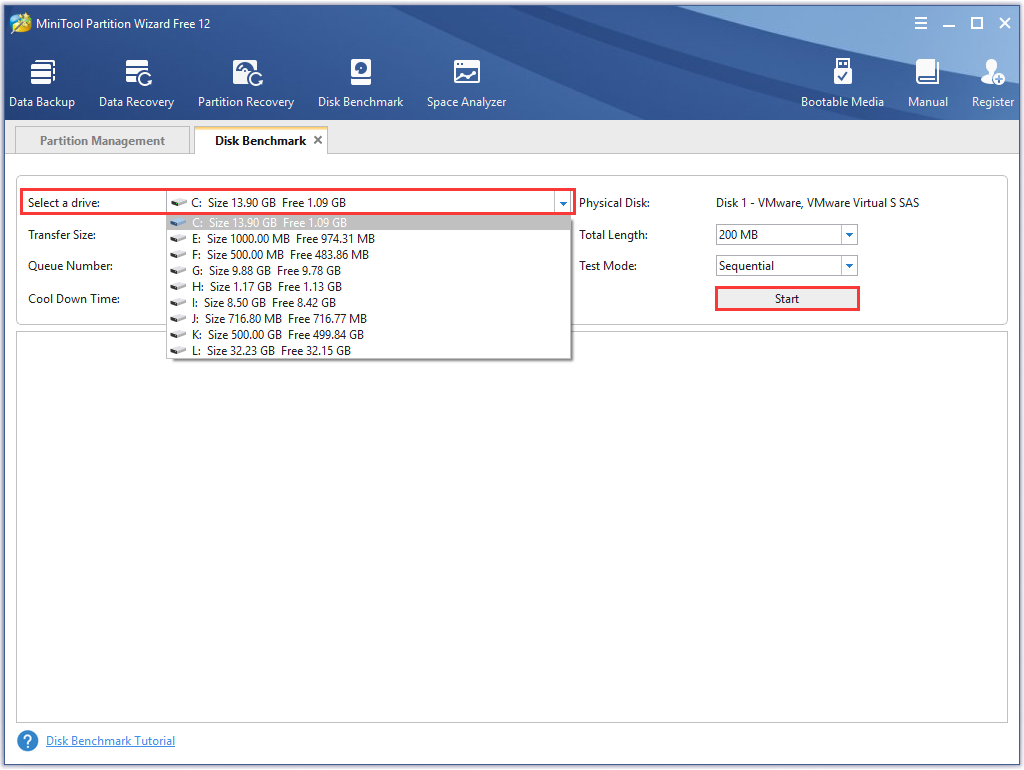 Step 4. Wait a moment to get the results. Then you will find much important information including transfer size, random reading and writing speed, etc.
Micro USB VS USB C Charging Speed
From the aspect of charging speed, USB Type-C is faster than the micro USB connector. Besides, the USB Type-C provides a higher power supply than micro USB. Compared with Type C, micro USB is often used on some relatively old devices. Lots of Android phones are using the USB Type-C as their ongoing charging method.
As a new charging port, USB Type-C is becoming a widespread charging standard. USB Type-C is more flexible and faster than micro USB. According to a survey, Type-C port can be used to input or output power, while micro USB can only input power.
USB Type-C port has a fast charging speed for phones at 18 Watts and can charge laptops with a maximum of 100 Watts. However, the charging speed of micro USB only has a regular charging speed level on USB-A.
Micro USB VS USB C Durability
When it comes to the durability of the two USB ports, many people believe that it would be better to switch from micro USB to USB C. Why? There are some common reasons as shown in the below:
Reversibility: Due to its physical design, USB Type-C enables you to plug in the cable slide right no matter what orientation you choose. It is easy to plug in your devices, which will reduce wear.
Future trend: More and more devices, especially Android phones, are choosing the micro USB Type C port. To get compatible with the newer phones, USB Type C is a better choice than the micro USB port.
Versatility: USB Type-C is used to charge and transfer data like micro USB. Besides, it has many new options such as MTP file transfer, PTP photo transfer, MIDI input, etc.
Cycles: From the aspect of a lifetime, both micro USB and USB C are designed with a minimum rated lifespan of 10,000 cycles (insertion and removal), but some users reported that using micro USB is easier to wear.
Micro USB VS USB C Compatibility
Compatibility is also vitally important when choosing a micro USB or USB C connector. Micro USB was designed to make the devices slimmer so that you can connect it to the computers and hubs. However, micro USB has an obvious limitation on the plug-in method that you can only plug it right. If you plug it improperly, it won't work.
USB Type-C tends to be used on most new mobile devices especially Samsung. Well, some modern laptops also are produced with Type-C USB ports. The biggest advantage is the "one-size-fits-all" design that enables you to use it on those common gadgets and peripherals. For instance, you can use it on smartphones, cameras, game controllers, printers, and HDMI.
When it comes to the physical compatibility of USB, it is necessary to compare their connectors including the male connector (plug) and the female connector (receptacle). The male connector fits inside your devices, and the female connector is the port that you attach to.
To let you understand better for their physical compatibilities, here you can refer to the form below:
Micro USB: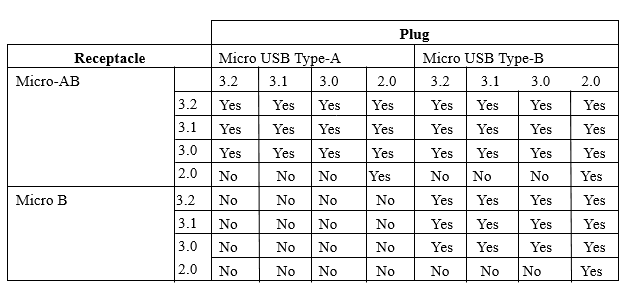 USB Type-C: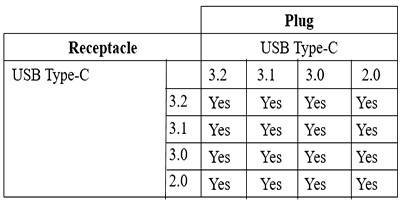 Micro USB VS USB C Price
USB C vs micro USB, which one is more affordable? The last factor you consider maybe their price. Since micro USB Type C is a relatively new technology, it is common that you need to pay more money on Type C than micro USB.
Well, the length, version, and brands of USB cable have an impact on their price as well. According to the price we surveyed on Amazon, the price of most micro USB cables ranges from $3 to $10. Well, some certain micro USB cables that are used for gaming controllers are sold at about $20. However, micro USB Type C products mainly range from $10 to $20, and some items cost more than $20.
Micro USB VS USB C Which Is Better
USB-C vs micro USB, which one is better? I believe you already have known the answer, right? There is no doubt that USB Type C wins micro USB in many aspects such as data transfer speed, durability, compatibility, and charging speed.
Although micro USB is more affordable than Type C, the fact is that their prices are not much different. Compared with those outstanding pros of Type C, its price almost can be ignored. Besides, more and more devices are designed with Type C port, which is an important reason to choose it. To sum up, it is highly recommended that you switch from micro USB to USB C.
What's difference between micro USB and USB C? USB type C vs micro USB which one should I choose? These questions have troubled me for a long time until I read this post. If you are also trying to figure them out, click here.Click to Tweet
What's Your Opinion
In this post, we mainly focus on USB C vs micro USB. Top 5 differences between micro USB and USB C have been discussed in detail. If you have any questions, please send us an e-mail via [email protected]. We also appreciate any ideas about this topic left in the comment area.
Micro USB VS USB C FAQ
Can USB Type C fit in micro USB?
Of course not. The micro USB can only be plugged into a device in a specific way because it contains hooks on one side. However, the USB Type C was designed without any hooks on its sides, which enables you to enter into a device any way that you want.
Which phones can use USB Type C?
There are lots of smartphones that can use Type C. It can often be found in many Android phones. For example, Huawei Nexus 6P, LG Nexus 5X, OnePlus 2, Gionee S6, Meizu PRO 5, Xiaomi Mi 4c, Microsoft Lumia 950 & XL, and so on.
What happens if you plug a USB 2.0 into a USB 3.0 port?
Usually, USB 3.0 is backward compatible with USB 2.0. So, you can use USB 2.0 on some devices with USB 3.0 ports, but you will only get the USB 2.0 speed. However, some certain USB 2.0 devices like keyboards and mice cannot work well with USB 3.0 port. You can read
this post
to know details about USB 2.0 vs. USB 3.0.
How do I identify a USB 3.0 port?
USB 3.0 port can be identified in Device Manager Window. Right-click the Start menu and select Device Manager from the context menu. Alternatively, you can check the physical ports on your PC, which usually will be either blue or marked with a SS logo.