mSATA and M.2 SSDs are both high-performance storage devices. Both of them are designed for small devices like a notebook. However, differences between the two SSDs is still a mystery for many people. Today, you can learn a comprehensive analysis of mSATA vs M.2 from MiniTool.
In order to figure out the differences between mSATA and M.2 SSD, it is necessary to have an overall understanding of their definition, products, benefits, and drawbacks first. If you want to upgrade your hard drive to SSD, you need to use a professional tool to do that.
Overview of mSATA SSD
This section will discuss the definition, pros, and cons of the mSATA vs M.2 SSD.
What Is mSATA?
mSATA also called Mini-SATA, is a type of connection interface that differs from the micro connector. As a SATA interface, mSATA was released by the Serial ATA International Organization in 2009. It is suitable for those small devices including notebooks, laptops and other devices that require an SSD in a small footprint.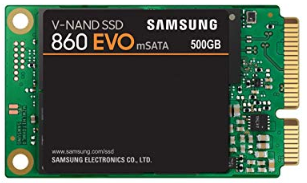 –image from samsung.com
Compared with a standard SSD, an mSATA SSD is designed with smaller form factors. It approximates the size of a business card. Apart from being used on notebooks and laptops, it can be used in commercial products such as digital signs, retail kiosks, point-of-sale devices, and multifunctional printers.
If you don't want to buy a super expensive SSD and also don't like a hard disk, an mSATA is a perfect choice. This is because it requires minimum power and loads your files faster than average hard drives.
Pros of mSATA SSD
As mentioned above, mSATA SSD is very small and less expensive than the usual SSDs. The low power consumption makes it a popular storage device as well. To give you an intuitive reference, we summarize its pros as follows:
Small size: With the small form factor, mSATA SSD usually is smaller than the 2.5 inch HDD and SSDs. So, you can save lots of space to install the drive. Some devices like notebooks and laptops can now pack on some hardware in the system since the drive is small with large capacity.
Fast speed: mSATA SSDs improve the booting and loading speed of your system. Its read speed can reach up to 551Mb/sec and write speed can be up to 304Mb/sec. The maximum bandwidth of an mSATA SSD is 6Gbps.
Low power consumption: Its low power consumption also becomes a popular selling point. This advantage of mSATA SSD can benefit from running on the battery of laptops or tablets.
Storage capacity: There are a variety of storage options that are not only huge but fast as usual SSDs. You can store lots of large files or install OS into the mSATA SSD, which will give you a surprise boot time.
Good compatibility: mSATA drives can easily compatible with a variety of devices such as laptops, retail kiosks and so forth.
Shock and vibration resistance: The protective hard case on mSATA SSDs can prevent them from shock and vibration and won't produce any noise as well.
Cons of mSATA SSD
Every coin has two sides, so does mSATA SSD. Apart from the above pros, this type of SSD also has some drawbacks as follows:
Price: For the same storage option, some mSATA SSDs are even costlier per gigabyte of storage than the regular SSD.
No obvious performance difference: Both mSATA SSD and regular SSD work on the same SATA III speeds with similar read and write speed.
Connector: To be compatible with the motherboard already soldered, it is required to have a different mSATA connector. The connectors of mSATA SSD are distinct from regular SS
Limited PE cycle: The PE cycle of the mSATA SSDs is limited when making it susceptible to the bit loss. It indicates that you will lose the bits and start degrading the storage, which might shorten the lifespan of the device.
Right now, you may have an overall understanding of the mSATA SSD. Next, we will introduce the M.2 SSD.
Overview of M.2 SSD
To figure out the mSATA vs M.2, it is necessary to have an overall impression of M.2 SSD as well.
What Is M.2
As the replacement of the mSATA standard, M.2 is designed with the PCI Express physical card layout and connectors. With the specification for internally mounted computer expansion cards, M.2 has a smaller form factor and more flexible physical specification.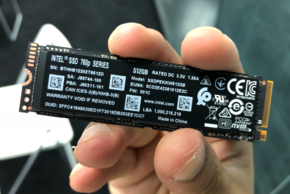 –image from wikipedia.org
In general, M.2 is more suitable for SSD applications, especially when using it in small devices such as tablets or ultra-books. As it is the replacement and improvement of the mSATA standard, the larger printed circuit boards (PCBs) will be created.
Pros of M.2 SSD
Due to its small form factor, the M.2 SSDs come with the small size of the USB stick and open up the new data transfer interfaces in the consumer market. To sum up, there are several distinctive pros of M.2 SSD.
Fast speed: As you know, some M.2 SSDs are designed with the PCle connector, which means the drives are very likely faster than the previous SATA SSDs. Usually, most priced M.2 SSDs can reach 15 times as fast as hard drives. If your M.2 SSD is designed with NVMe protocol, it has a lower latency.
Small form factor: Compared with the typical 2.5-inch SSDs (almost the size of your entire hand), most M.2 SSDs could cover 2 or 3 fingers.
Lightweight: It is reported that M.2 SSDs reduce the weight of SSDs from 50 grams to around 7 grams. If you are considering buying a portable device, M.2 SSD could be a wise choice.
Reliable: One of the advantages of M.2 SSDs is that they often last longer and won't physically degrade.
Cons of M.2 SSD
Well, the M.2 SSDs also have some cons. Here these drawbacks are summarized as follows:
Compatibility issues: M.2 SSDs come with so many complications. If you are not familiar with your computer hardware, the M.2 drives may be difficult to fit your motherboard.
Fairly expensive: According to a survey, you will pay up to 4 times as much per gigabyte as an M.2 SSD such as Intel Optane.
Less cable management: M.2 SSDs offer fewer cables to manage your drive. There are no power cables and no data cables.
What is the difference between mSATA and M.2 SSD? Please keep reading the following part.
mSATA VS M.2
mSATA SSD and M.2 SSD are both designed for small devices like notebook and laptop. However, the most obvious difference between them is that an M.2 SSD can support SATA or PCle interface, while the mSATA SSD can only support the SATA interface.
Besides, M.2 SSDs also support SATA Express (SATAe) that is defined in the SATA 3.2 reversions, which enables M.2 SSDs to connect SATA and PCle interface. The SATAe-based M.2 SSDs will tell the host if it's PCIe or SATA.
In addition to the interface, their leading products, form factor, performance, capacity, and price also will be discussed to figure out the M.2 vs mSATA.
Leading Products
The 2 types of SSDs have their own leading products. To compare their differences, the following best buys are introduced:
mSATA SSDs:
Samsung 860 EVO MZ-M6E250BW mSATA
Zheino mSATA SSD 512 GB
Crucial M550 256 GB mSATA Internal SSD
Goldenfir mSATA Internal SSD
Kingston UV500 480 GB mSATA SSD 
M.2 SSDs:
Samsung SSD 970 EVO M.2 SSD
ADATA XPG SX8200 Pro
Seagate FireCuda 510
WD Blue 3D M.2 SSD
WD Black SN750 NVMe SSD
Form Factor
The M.2 SSD boasts the maximum usage of the card space while minimizes the footprint. After the mSATA form factor appeared, the M.2 form factor also emerged 2 years later. There are variations in drive dimensions of the newer M.2 form factor. However, the full-size mSATA SSDs ship has only one size.
Here is a form about the drive dimensions of mSATA vs M.2 SSDs:

Performance, Capacity, and Price
As mentioned above, M.2 SSDs have different interfaces. So, the performance of M.2 SSD vs mSATA also depends on the interface. An M.2 SSD with the SATA interface can extend the data transfer rate beyond the 6 Gbps limitation of an mSATA or SATA SSD.
A PCle-based M.2 SSD can be up to 1 gigabyte per second, which approximate to the 4 lanes of PCle at a per lane rate. A SATAe-based M.2 SSD can support up to 2 lanes of PCIe. Besides, the PCle-based M.2 SSD can support NVM Express (NVMe) that can improve performance and reduce the latency of using ATA or small computer system interface command set.
The storage capacity and price of mSATA vs M.2 SSDs depend on what's kind of SSDs you are using. Here you can refer to the following information.
Tip: We take the above leading products for example.
mSATA SSDs:

M.2 SSDs:

According to the above form, you may find the conclusions below:
Data transfer speed: Most M.2 SSDs has faster speed than mSATA SSDs.
Capacity: Most mSATA drives are around 500GB, while M.2 SSDs have more capacity options available and some can up to 1TB.
Price: Although M.2 SSDs have faster transfer speed, most mSATA SSDs will cost you less money.
Right now, the detailed information of M.2 vs mSATA SSD has been elaborated. After getting the SSD, you need to replace your previous hard drive. How to install the SSD without reinstalling OS? Please keep going on.
How to Upgrade to SSD Without Reinstalling OS
No matter you choose M.2 or mSATA SSD, you have to install it on your PC. How to upgrade it without reinstalling OS? Here it is highly recommended that you use MiniTool Partition Wizard.
It is a professional clone disk software that you can not only use it to upgrade hard drive to SSD safely but perform a disk benchmark for your new hard drive. Besides, this tool can help you convert MBR to GPT without any data loss.
MiniTool Partition Wizard FreeClick to Download100%Clean & Safe
Step 1. Connect the SSD to your computer and run the software to get its main interface.
Step 2. Select the new drive and click on Copy Disk feature on the left pane.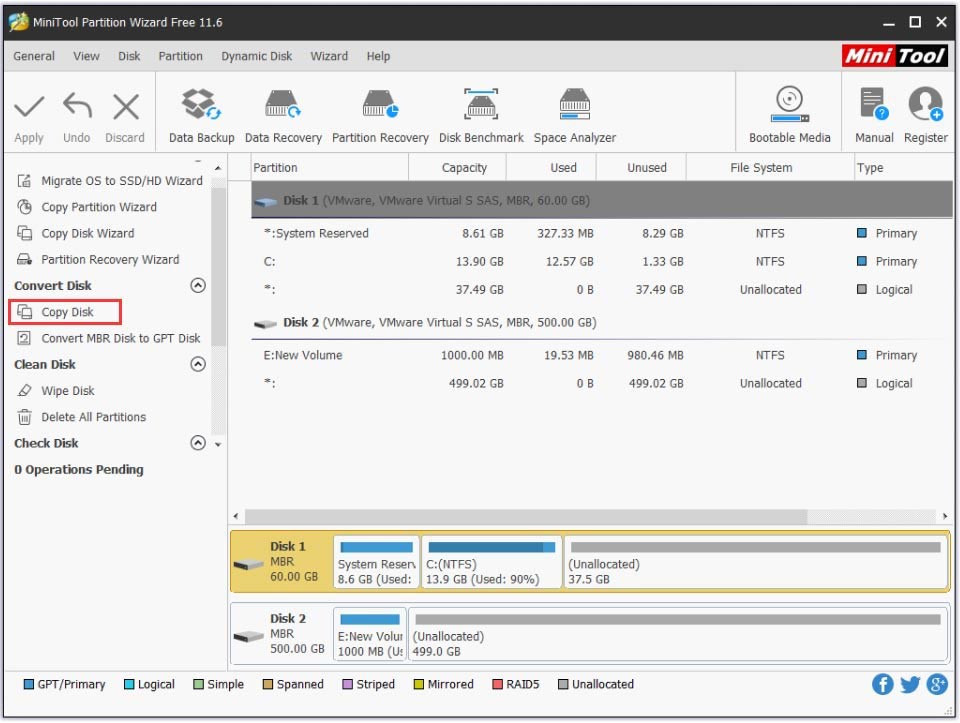 Step 3. Select the SSD you prepared and click on Next.
Step 4. Select a copy method based on your needs and click Next to go on.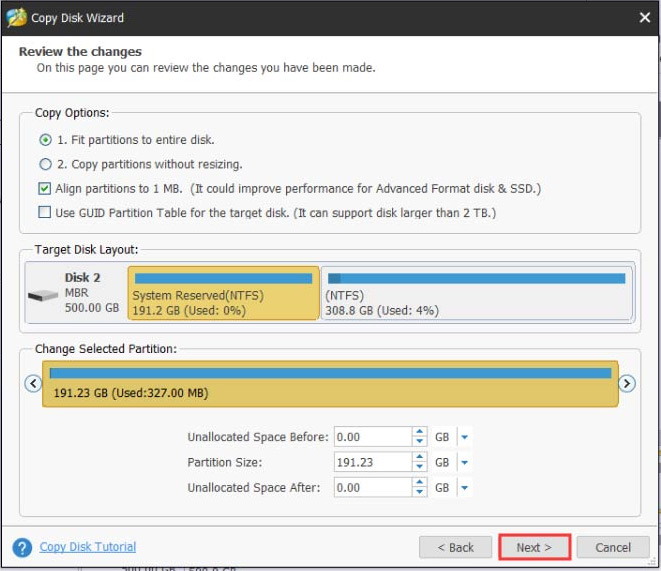 Step 5. Click on Finish in the pop-up window and click on Apply to execute this operation.
Right now, the previous hard drive should have been copied into the SSD and you can boot your computer from it.
Are you still unclear about the differences between mSATA and M.2 SSD? Perhaps you can get a deep understanding of this post. Click to tweet
What's Your Opinion?
What is the difference between mSATA and M.2? I believe you already have known the answer. Besides, you can utilize the MiniTool Partition Wizard to upgrade your hard drive. If you have any questions, please send us an email via [email protected]. We also appreciate any ideas left in the comment area.
mSATA VS M.2 FAQ
Is M.2 better than SSD?
Compared with usual SSDs, M.2 SSDs are capable of obtaining high data transfer speeds. However, the performance also depends on the type of interface connector your drive is using. A SATA-based M.2 SSD is relatively slow in data transfer speed, while a PCle-based M.2 SSD has faster speed.
What's the difference between NVMe and M.2?
NVMe is short for Non-Volatitle Memory Express. It is an open standard developed to allow modern SSDs to work at the read/write speeds that their flash memory is capable. The NVMe drive can operate as an SSD via the PCle interface. If the M.2 SSD is an SATA-based drive, its speed will slower than NVMe drive.
Can I plug mSATA into M.2?
No, you can't. Because they are different. The M.2 drive can support both SATA and PCle interface options whereas mSATA can only support SATA. What's more, you will find they look different physically and cannot be plugged into the same system connectors.
How do I enable SSD in BIOS?
Restart your computer and press the F2 key once the screen pops up.
Press the Enter key to enter into Config.
Select Serial ATA and hit Enter
Choose the IDE Compatibility Mode.
Save the change and restart your computer to enter BIOS.