Windows 7 Gamer Edition is an ideal operating system for gamers. With this system, gamers can obtain a great game experience. To know more about it, read this post now! Here, MiniTool Partition Wizard lists its key features and download & install steps.
Windows 7 Gamer Edition Basics
As its name indicates, Windows 7 Gamer Edition is designed for game players. Optimized for gaming, this customized version of Windows 7 is faster, more stable, and more compatible with various games compared with previous versions.
So, you can play heavy games without any problems. Before you get this Windows 7 gaming edition installed, learn its key features and changes in the next section.
Tip: If you are looking for a system for gaming, Windows 10 Gamer Edition is also worth having a try!
Windows 7 Gamer Edition Key Features
Windows 7 gaming edition has dozens of features and tweaks. They are listed as follows.
Mods DirectX 11 for extreme gaming
Decreases gaming crashes
Fixes some reliability and compatibility issues in Windows 7
Disables UAC
Shows extensions for known file types
Adds user account 2 on Control Panel
Windows will tell you exactly what it is doing when it is shutting down or is booting
Adds Command Prompt to right click context menu
Adds Copy to Folder, Move to Folder, and Open with Notepad to right click context menu
Adds Advanced System Properties to the computer
Adds Control Panel to the computer
Adds Group Policy and Registry Editor to Control Panel
Adds Nvidia and ATI drivers
Enables additional Avalon effects
Disables tool tips
Enables clear type tuning
Disables Windows Media Player auto updates
Disables the NTFS last access time stamp
Disables kernel paging
Disables automatic restart in the event of a blue screen
Disables hibernation
Enables slow-motion window effects
Turns off system beeps
Tweaks up shell response
Take ownership, Device Manager, Group Policy, and Registry Editor in the right click
Patches uxtheme files to use third-party themes
DEP execution is set to default
Faster browsing with IE
Fast booting time
Faster shutdown (3 seconds services kill timeout)
WinRAR for extraction purpose
Low memory consumption
New high icons
New themes
Multimedia codec packs and VLC media player HD installed
Game booster v.1.3 installed for optimizing gaming performance
Messenger live and daemon tools lite installed for convenience
Other Windows 7 versions you can try:
Windows 7 Gamer Edition Download and Install
If you want to download and install Windows 7 ARC Gamer Edition on your computer, pay attention to this part and follow the given instructions to finish the process.
Tips:
Before starting the process, ensure that you have a fast and stable Internet connection. Besides, you need to prepare an empty USB flash drive with 16GB of space at least. If you don't have a USB drive, try installing Windows from ISO. You can refer to this guide:
Top 2 Methods to Install Windows on New SSD Without USB
Step 1: Navigate to archive.org on your browser and find the Windows 7 ARC Gamer Edition.
Step 2: Click on the ISO IMAGE link on the right side of the web page. Then the ISO file of Windows 7 Gamer Edition will be downloaded to your computer.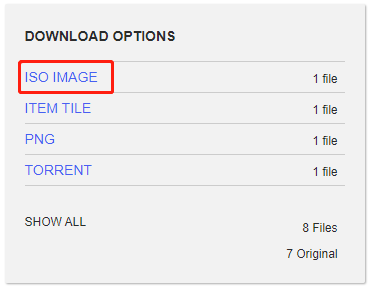 Step 3: Download a piece of USB bootable software like Rufus and Windows USB/DVD Download Tool to make installation media.
Step 4: Connect the prepared USB to the computer and run the USB bootable software you installed.
Step 5: Based on your needs, create a Windows installer in the main interface of the software.
Step 6: Plug the created bootable USB drive to the target computer and then boot the device from it.
Step 7: Follow the on-screen instructions to finish the installation.
Also read: A Step-by-Step Guide to Create Windows All in One Installer
If you want to clean up and optimize your computer, MiniTool Partition Wizard is a good option. It helps you increase disk space, check hard drive for errors, clone the disk, wipe the disk, recover missing data/partition, etc. With dozens of features, it can meet the different needs of users.
MiniTool Partition Wizard FreeClick to Download100%Clean & Safe