A lot of users encounter the PCI BUS DRIVER INTERNAL error on Windows 10/11. What causes the BSOD error? How to fix it? If you are also trying to figure them out, this post on MiniTool Partition Wizard is worth reading.
What Causes the PCI BUS DRIVER INTERNAL Error
According to user reports, the PCI_BUS_DRIVER_INTERNAL error mainly occurs when restarting the system and triggers some other problems like BSOD. The error is usually related to outdated or incompatible device drivers. Besides, hardware issues, corrupted system files, antivirus software interference, and some unknown factors are also responsible for the PCI_BUS_DRIVER_INTERNAL blue screen.
How to Fix the PCI BUS DRIVER INTERNAL Error in Windows 10/11
How to remove the PCI BUS DRIVER INTERNAL blue screen in Windows 10/11? Here we summarize 7 feasible troubleshooting methods after investigating extensive user reports. Let's start trying.
Fix 1. Install the Latest Windows Updates
First, you can try installing all available Windows updates containing updated drivers, patches, or new features, which may help you fix the PCI BUS DRIVER INTERNAL blue screen error.
Step 1. Press Win + I keys to open the Settings app again and select Update & Security.
Step 2. With the Windows Update option selected from the left panel, click Check for updates from the right panel. If there are any available updates, install them. After that, you can restart the system and check if the error is gone.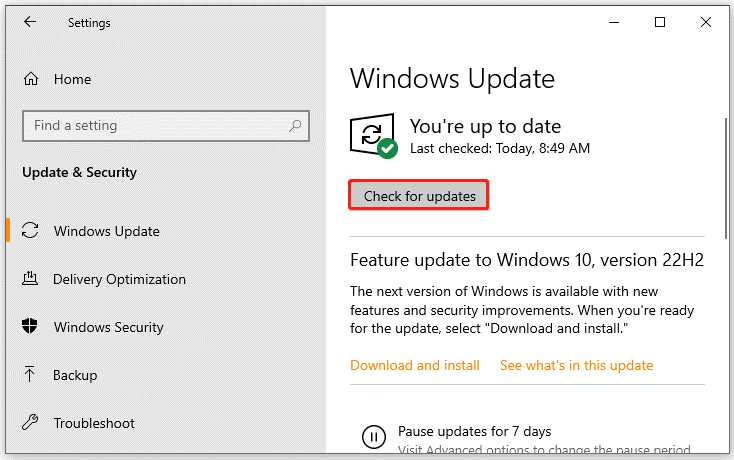 Fix 2. Update the Device Drivers
You should make sure that the device drivers keep updated. If some important device drives are missing or outdated, you may encounter various errors like BSOD error 0xA1 PCI_BUS_DRIVER_INTERNAL.
Step 1. Press Win + X to open the context menu and select Device Manager.
Step 2. Expand the device category that you want to update its driver and select Update driver. Here we take Display adapters for example.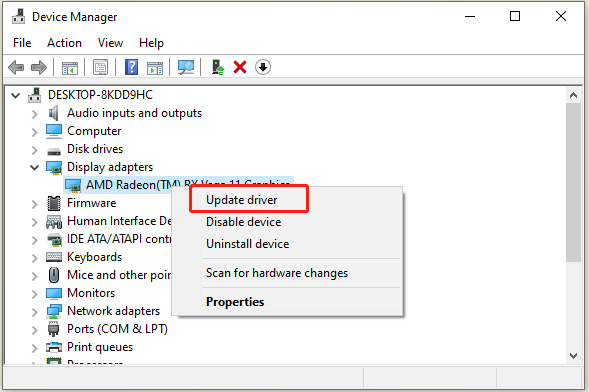 Step 3. In the pop-up window, you can select Search automatically for drivers and follow the on-screen prompts to complete the process. If you can't find the needed device driver, visit the manufacturer's official website and manually download/install the latest driver on Windows 10/11.
Fix 3. Run Hardware and Device Troubleshooter
Another common reason for the PCI_BUS_DRIVER_INTERNAL error is related to hardware issues. So, we recommend you run the hardware and device troubleshooter to check that.
Step 1. Open the Settings window and select Updates & Security.
Step 2. Select Troubleshoot from the left panel, select Hardware and Devices from the right pane, and click Run the troubleshooter. Then wait for the troubleshooter to detect the hardware issue and apply its recommended fixes.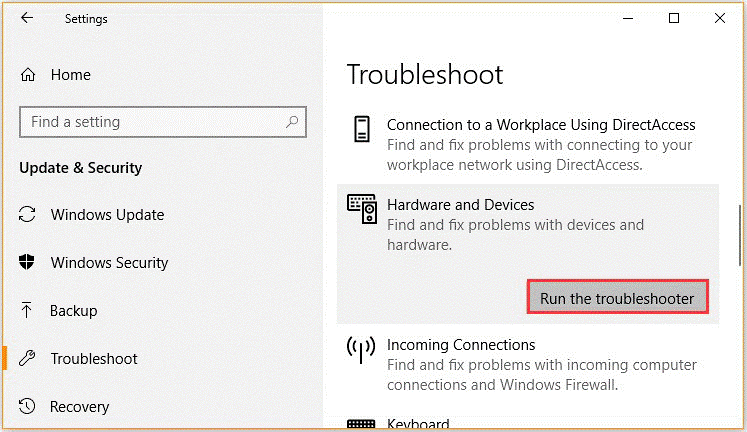 Fix 4. Check Your Hardware
If the PCI BUS DRIVER INTERNAL BSOD error still occurs, you may need to further check the hardware issues using some professional tools. The BSOD error is other related to a faulty hard drive or memory. You can follow the guides below to check that.
Check Your Hard Drive:
Type cmd in the search box, and then right-click Command Prompt and select Run as administrator Then click on Yes to confirm it.
In the elevated Command Prompt window, type the following command and press Enter. Then press the Ykey and restart your PC to check the hard drive for errors.
chkdsk /f /r /x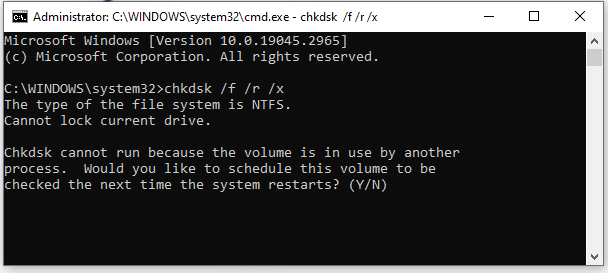 If this utility can't work normally due to some issues like "CHKDSK cannot run due to recently installed software" and "CHKDSK write-protected", you can use a reliable alternative – MiniTool Partition Wizard. This powerful partition software can not only check bad sectors but repair file system corruption on hard drives.
MiniTool Partition Wizard FreeClick to Download100%Clean & Safe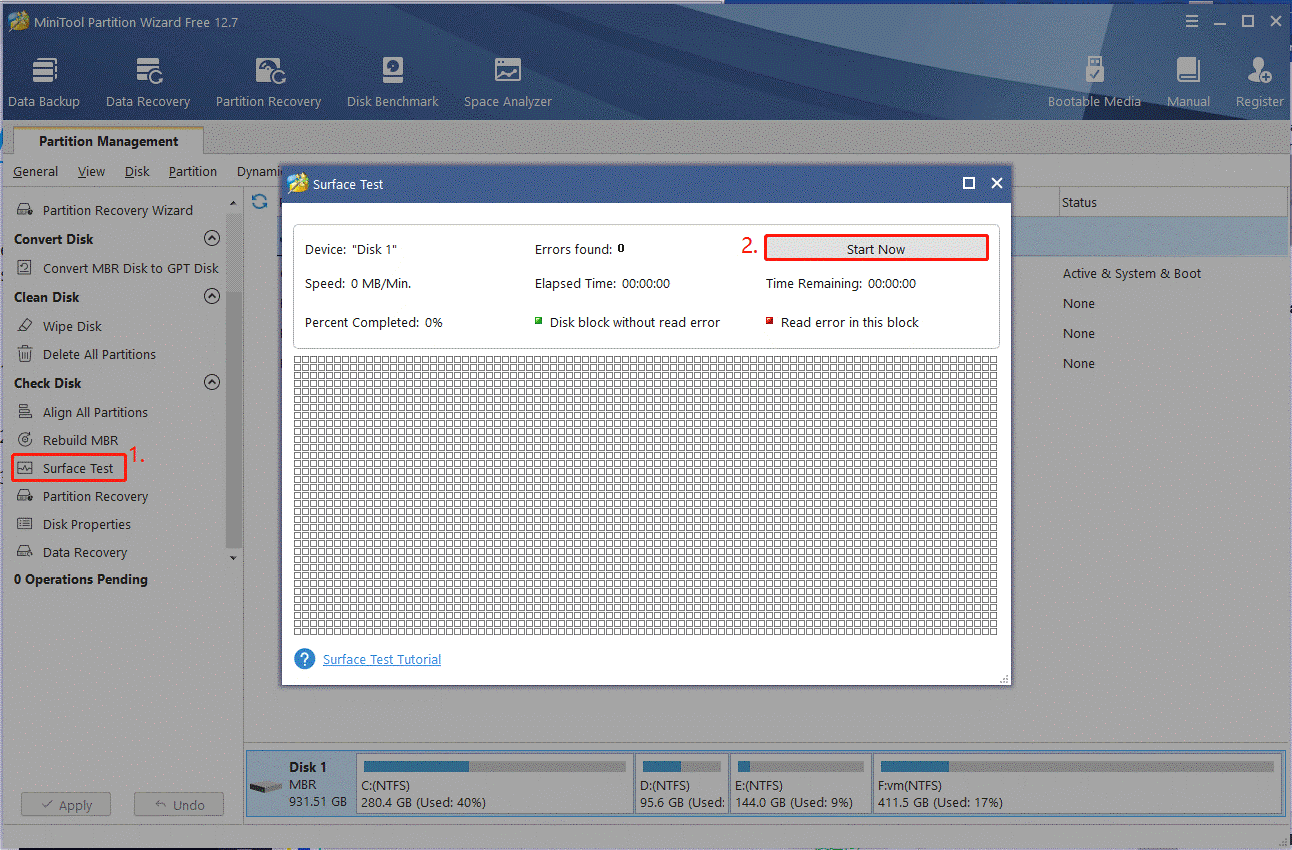 Check Your Memory:
Besides, you'd better check your RAM for errors. You can use Windows Memory Diagnostic or other third-party software like MemTest86 to check that. Once you find the RAM gets failing, you can refer to this guide to replace the faulty one.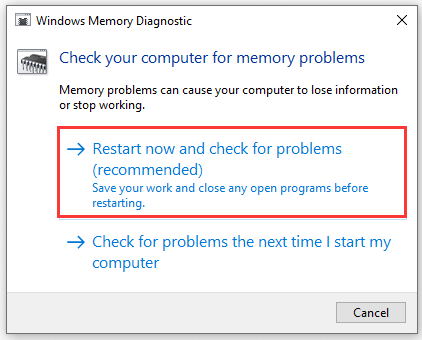 Fix 5. Run an SFC or DISM Scan
If some important system files are missing or corrupted, you may encounter the PCI BUS DRIVER INTERNAL error as well. In this case, you run an SFC or DISM scan to repair the system files. Here's how:
Step 1. Open the elevated Command Prompt window again as we just explained.
Step 2. Type the sfc /scannow command in the elevated command prompt and hit Enter. Then wait patiently for the SFC scan to complete.

Step 3. If no corrupted system files were found, try running the DISM.exe /Online /Cleanup-image /Scanhealth and DISM.exe /Online /Cleanup-image /Restorehealth commands to go on the repair.
Fix 6. Disable Your Antivirus Software or Firewall Temporarily
Some users reported that the third-party antivirus software can trigger the PCI_BUS_DRIVER_INTERNAL blue screen error. If this scenario applies to you, try disabling it temporarily to see if the error disappears. Here you can refer to the following guides. Of course, make sure to re-enable the antivirus/firewall if the error doesn't get solved.
How to Disable Antivirus on Windows 10 Temporarily/Permanently
How to Disable Windows Defender Antivirus on Win 10
Fix 7. Reset Windows 10/11
If none of above the methods can get rid of the PCI BUS DRIVER INTERNAL BSOD error, you may consider resetting Windows or clean installing the Windows. This will clear all corrupted system files and reset your PC to its factory settings. But bear in mind that it will delete all data on the system drive. So, if there are any important data, make sure to back up them in advance.