As the MSI motherboard provides some advanced features, a great number of users want to update their MSI BIOS. However, many people think it's extremely dangerous. How to update BIOS MSI safely? With the help of MiniTool, you can perform the MSI BIOS update without concern.
Why MSI BIOS Update Is Dangerous
As it is well known, MSI is a leading motherboard design along with other motherboards. There are BIOS updates available for many MSI motherboards. The MSI BIOS update boasts lots of advantages.
For example, it can help you improve the efficiency of the components, increase the compatibility with some newer technologies, troubleshoot some common bugs, and keep your system as stable as possible. These friendly features have attracted a large number of users to update MSI BIOS.
However, some of them think it has an extremely high risk for the MSI BIOS update. How to update MSI BIOS safely? You can find lots of users are searching for this guide on Google. It is indeed a tricky problem for many beginners.
There is new BIOS available for my MSI B350 Tomahawk Board that enables support for Ryzen APUs, fixes Specture, and increases RAM compatibility. But, I have heard that updating your BIOS is extremely dangerous, and there is an extremely high risk of bricking your system. In order to prevent this, I heard you have to use a DOS Floppy. The issue is that I don't have a floppy diskette and I don't have a floppy drive. Also, when on the download page, there is only a zip file that contains a readme and a .1co file. No .COM BIOS updater program. Did updating the BIOS change. If so, how do you do it and how safe is it?"

Tomshardware
When it comes to the MSI motherboard BIOS update, perhaps you have the same concern as many users. To help you update MSI BIOS safely, we will introduce you the warning and notes and necessary preparations in detail. Besides, the complete guide will be elaborated for you.
You may also interested in how to update BIOS.
Very Important
Why do so many people think it's dangerous to update MSI BIOS? The hardware issues, bad memory, power outages, overclocking, setting migration issues and system crash always happen during the MSI BIOS update process.
Once you update MSI BIOS improperly, you could suffer from irreversible loss due to these major problems. So, you should bear in mind the warnings and notes below:
Make sure the BIOS version is intact: The MSI BIOS version you are using should be intact and not be used for any other systems. Otherwise, you may encounter the settings migration issues.
Never flash firmware while the system is running fine: This operation will result in damage and power loss for your system.
Use a USB flash drive with good connection: The old USB flash drives are prone to disconnect easily. Once your USB drive disconnects, you will lose the entire process of MSI update BIOS.
Make a backup: It is very important to back up your data to another external storage device. This is because all the data such as configuration settings or personal files will be erased during the BIOS flashing process.
Access the stable network connection: It is very important to make sure that you can download the MSI BIOS files smoothly.
A standard power changer: It can provide enough power supply to avoid any unexpected loss. 
To avoid these potential risks, it is highly recommended that you update MSI BIOS using the default settings of your current BIOS and make a backup of the system. How to back up your data? Here you can utilize MiniTool Partition Wizard.
It is a professional partition management tool trusted by millions of users around the world. You can use it to perform a disk benchmark for your USB drive, convert MBR to GPT without any data loss, etc. Here is how to copy your important data using this program.
Step 1. Connect the external storage device to your computer and then launch this program to get its main interface.
Step 2. Click on the Copy Disk Wizard feature from the left pane and click Next to go on.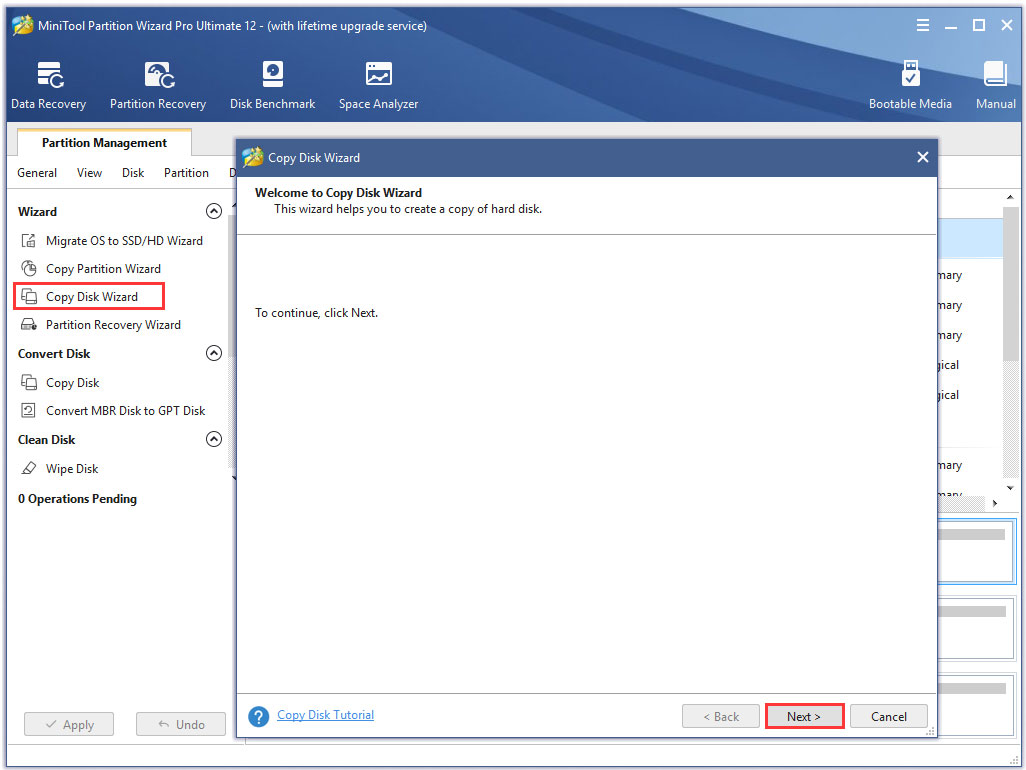 Step 3. Then select the disk that you would like to copy and click on Next.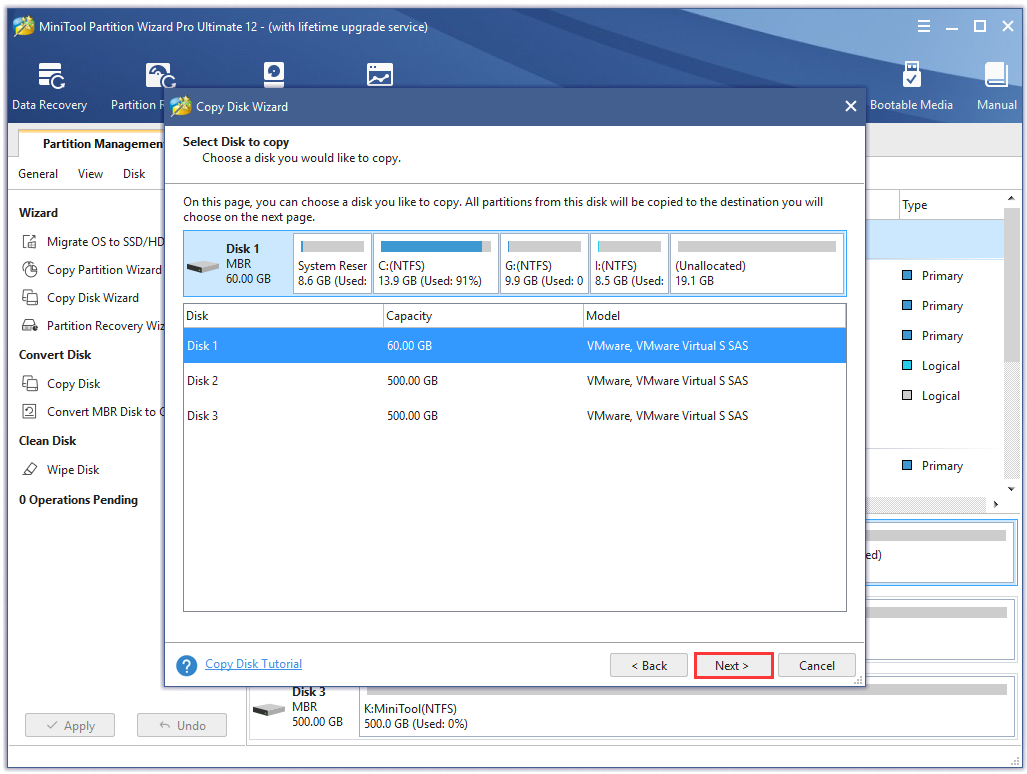 Step 4. Select the target storage device that you just prepared, and then click Next and Yes to go on.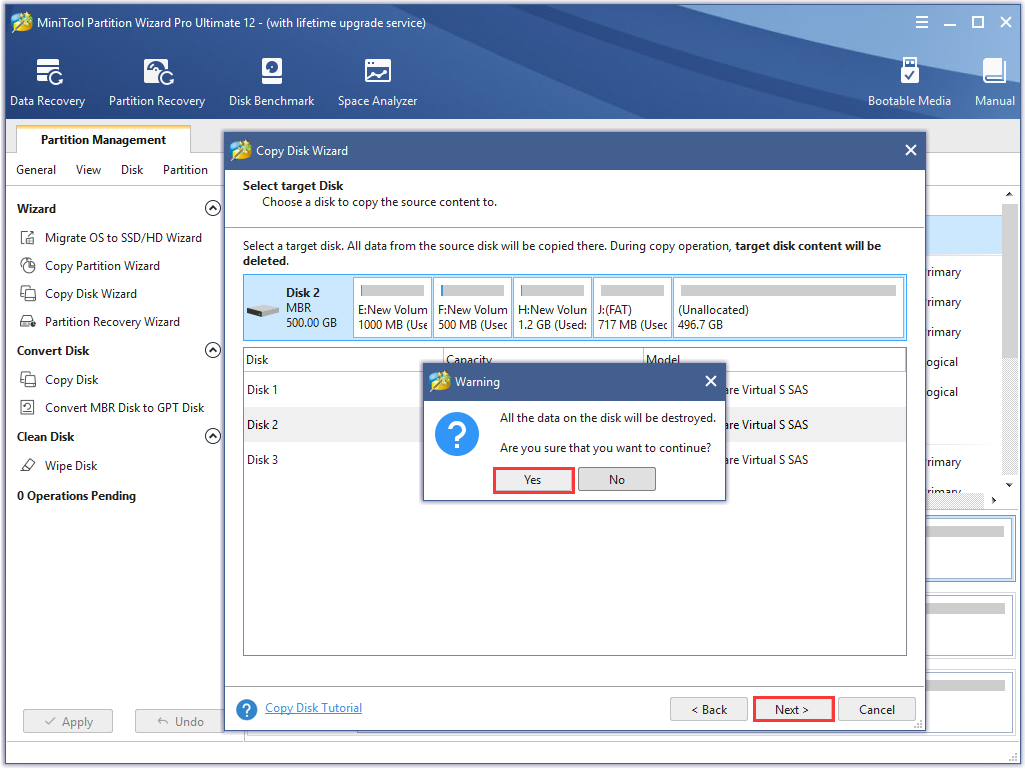 Step 5. Select a copy option based on your needs and click on Next to continue.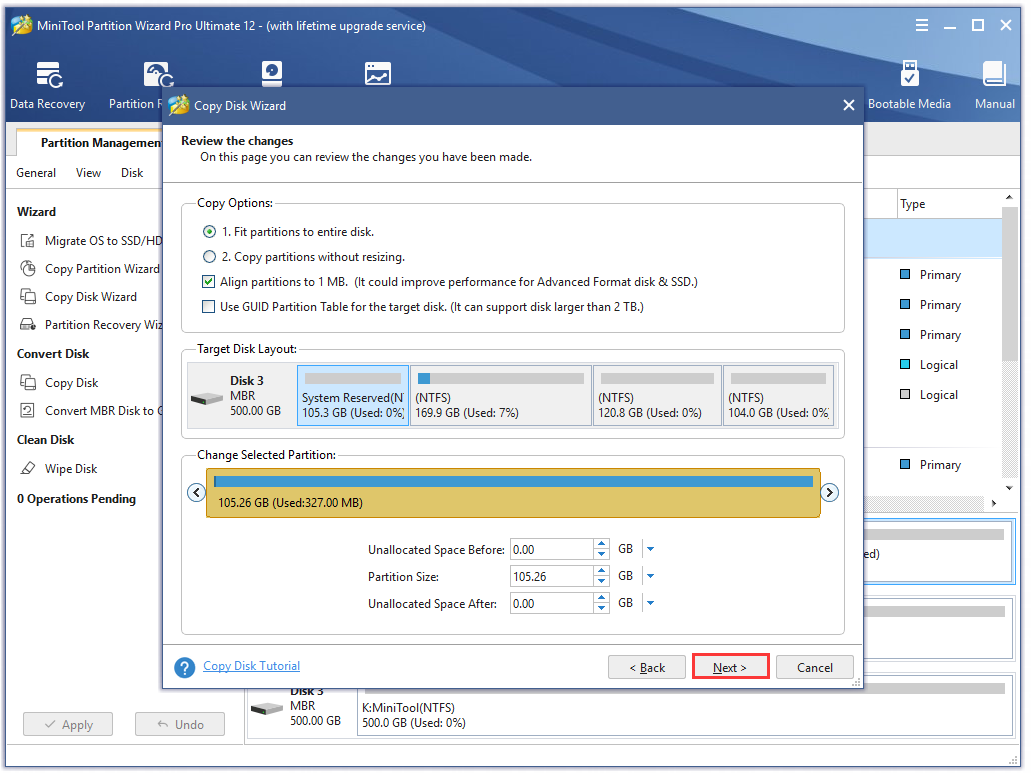 Step 6. In the pop-up window, click on the Finish button to go back to the main interface.
Step 7. Click on Apply to execute this operation.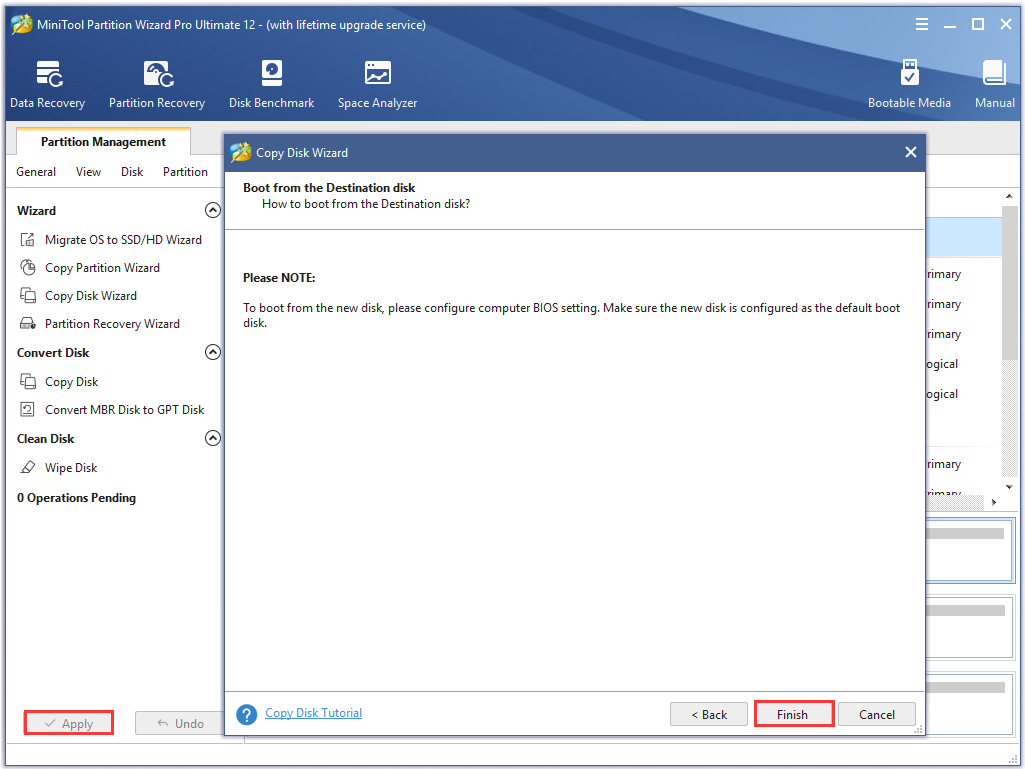 After you copy the important data to another storage device, you can continue to the following steps to the MSI BIOS update without any concern.
What's You Need to Do Before MSI BIOS Update
Prior to the MSI update BIOS, you need to do the following 2 things. Prepare a fully formatted USB drive and access a stable network connection. Here we will show you one by one.
1. Prepare a Fully Formatted USB Flash Drive
First of all, you need to prepare a fully formatted USB flash drive. To format your USB drive, you can try the following 3 methods.
#Option 1. Format USB Flash Drive in File Explorer
It is very simple to operate. For that:
Step 1. Connect your USB flash drive to the computer, and then press Win + E keys to open the File Explorer and navigate to This PC section on the left sidebar.
Step 2. Right-click the USB flash drive and select Format from the context menu.
Note: The USB flash drive that is larger than 64GB won't be formatted to FAT32.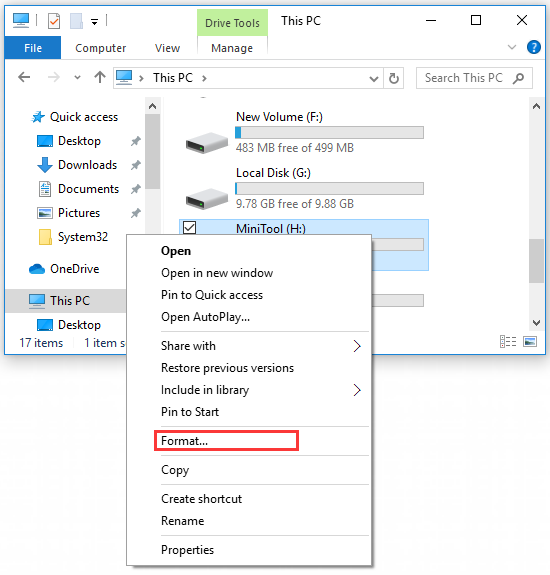 Step 3. Select the FAT32 or NTFS file system from the drop-down menu and click on the Start button.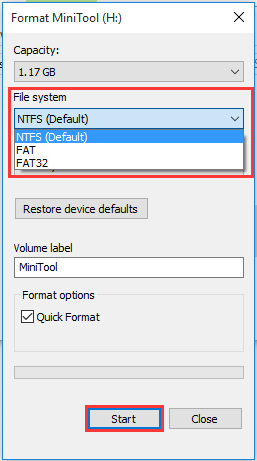 #Option 2. Use Diskpart
Diskpart is a common format tool that can help you format the USB flash drive within 64GB. Here's how to do that:
Step 1. Press Win + R keys to open the Run dialog box, and then type diskpart in the box and hit Enter.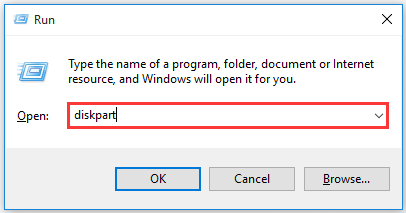 Step 2. In the Diskpart window, type the following commands one by one and hit Enter after each command.
list disk
select disk * (replace * with the number that presents your USB flash drive)
list partition
select partition 1
format fs=ntfs quick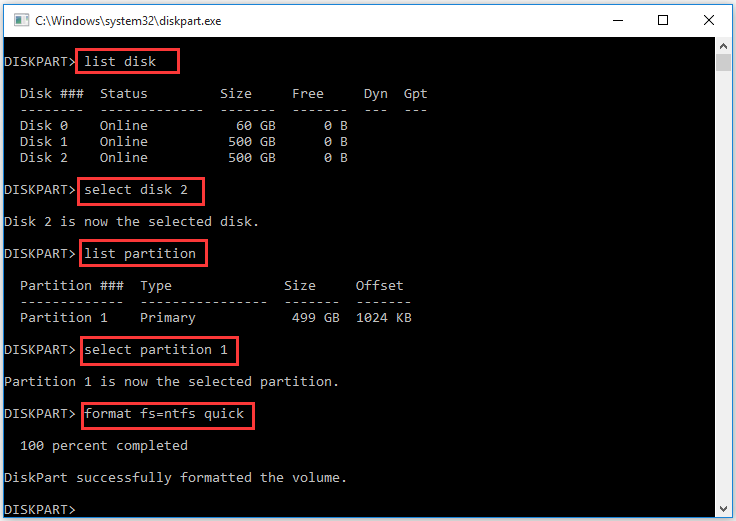 The 2 methods are suitable for those small USB flash drives. What should you do to format a large USB drive?
#Option 3. Use MiniTool Partition Wizard
To format a large USB flash drive, you can utilize MiniTool Partition Wizard. It can help you format USB drive easily. For that:
Step 1. Select the USB drive and click on the Format Partition feature on the left pane.
Step 2. Select a File System from the drop-down menu, and set the Partition Label and Cluster Size based on your demand. After that, click on OK button to continue.
Step 3. At last, click on Apply to execute this operation.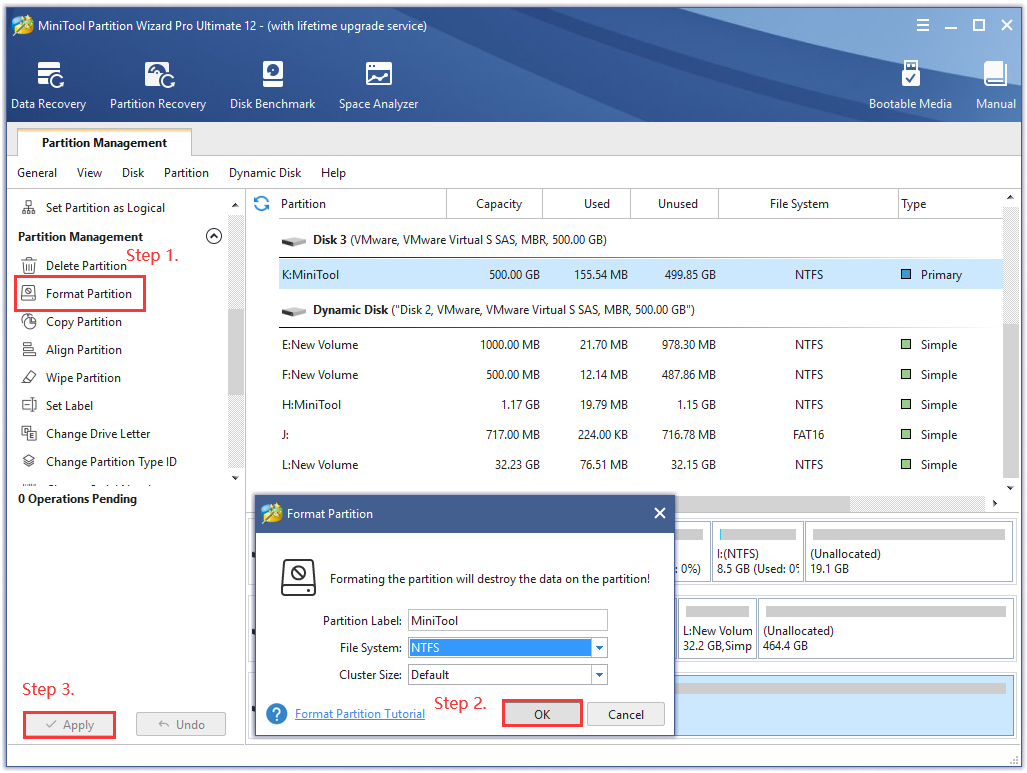 2. Check Your Motherboard Version Number
To ensure that you can download the right MSI BIOS update files, you need to check the model number, and the version number on the motherboard, which is often located on the carton box or on the back of the case. This number will help you search for the BIOS update on the official website.
How to Update MSI BIOS
MSI motherboard BIOS update has 2 major parts. Please follow the steps below carefully in case of any unexpected loss. Now, let's see how to update MSI BIOS.
Part 1. Create a Bootable BIOS USB Flash Drive
To update MSI BIOS smoothly, you need to create a BIOS booting media by using the USB flash drive you just formatted. Here is a full guide.
Step 1. Click here to visit the MSI official website, and then type the model number of your MSI motherboard in the search bar and hit Enter. Here we take the MSI B350 Tomahawk Board for example.
Step 2. Then you will find the matching results for the MSI B350 Tomahawk Board and click on Download to continue.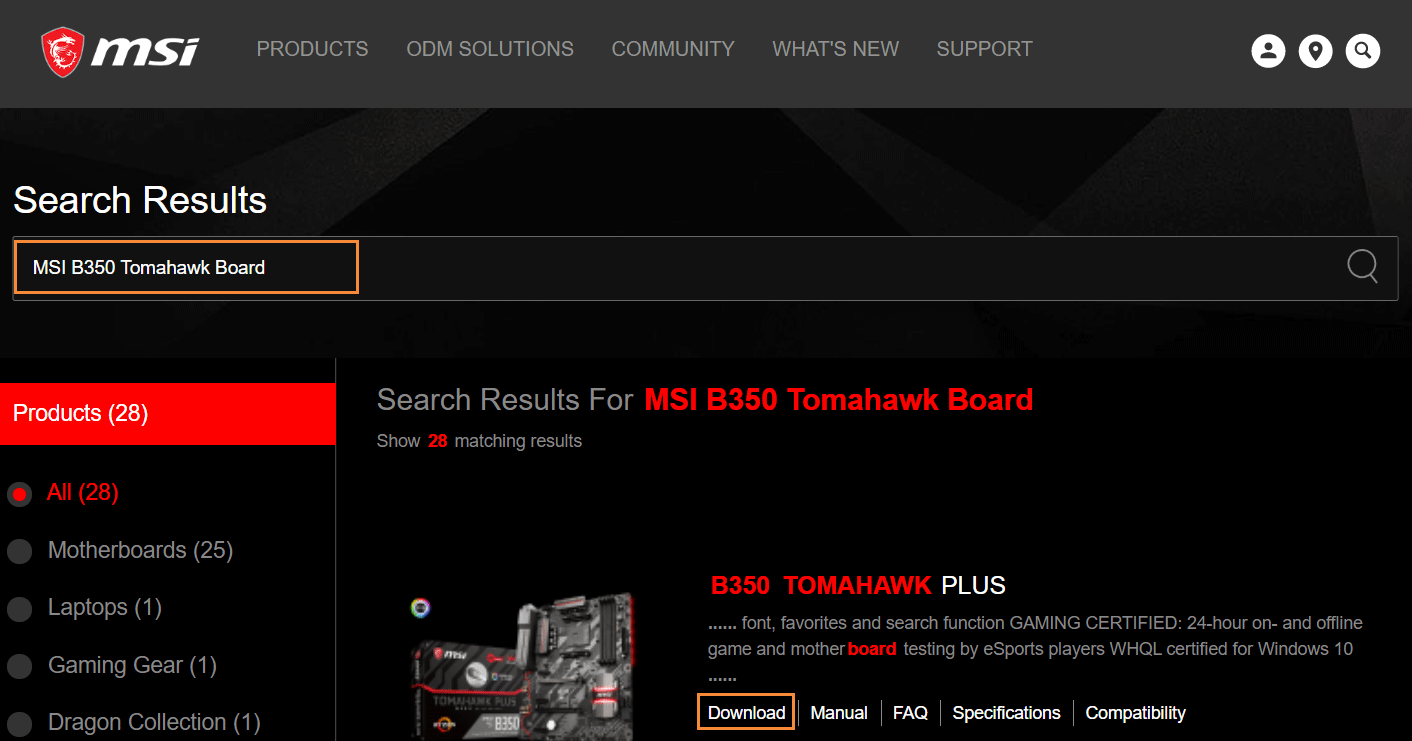 Step 3. In the new window, find the required BIOS file that matches your motherboard and click on the arrow pointing down icon to download the file. Save the file on your desktop.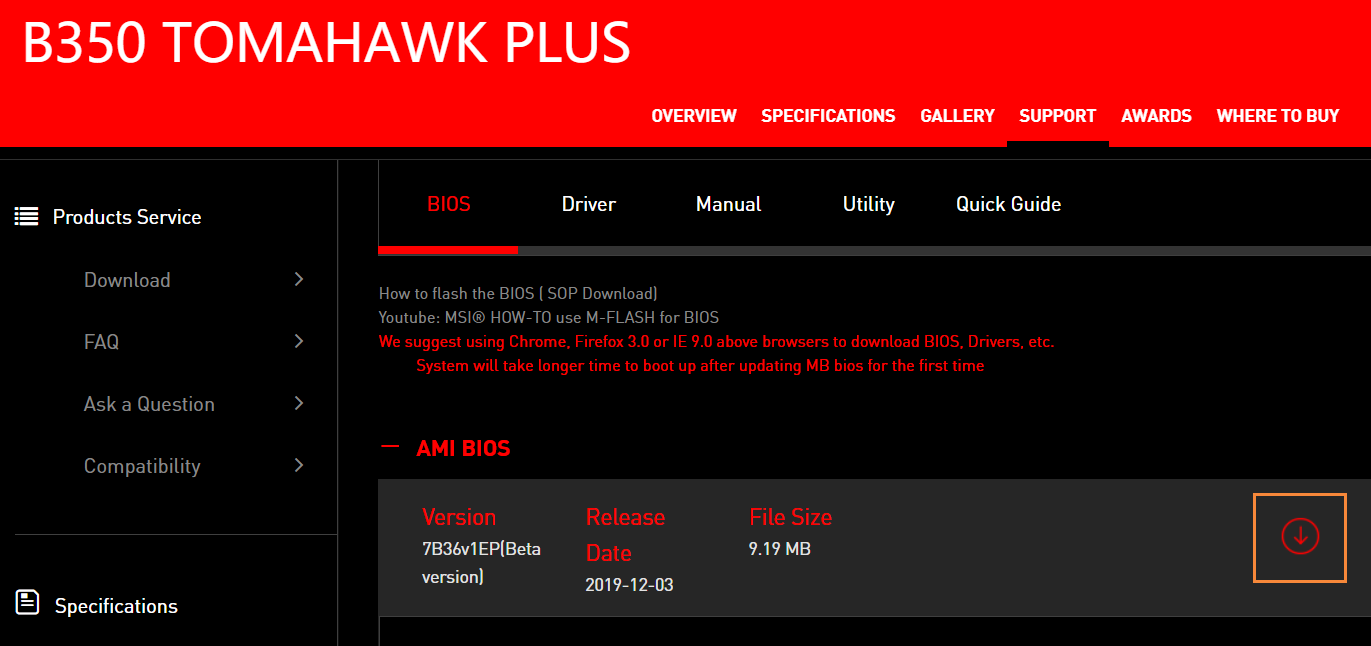 Step 4. Right-click the BIOS update file and select Extract All to unzip this compressed folder.
Step 5. Click on Browse to select the formatted USB drive as a saved location. After that, click on the Extract button.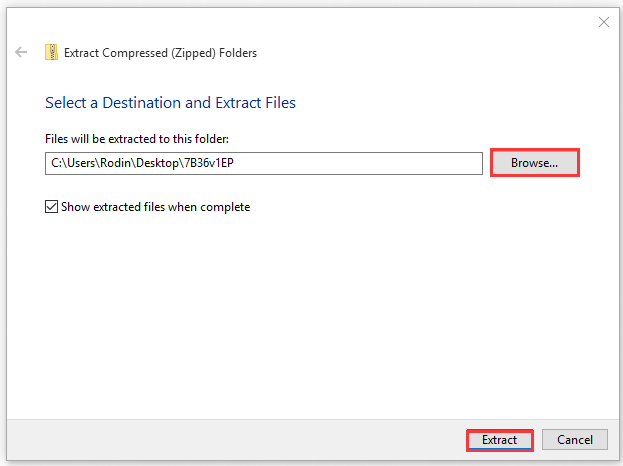 Once you copy the whole BIOS file to the USB flash drive, it indicates that the BIOS booting USB drive has been created successfully. Then you can restart your computer to proceed with the following part.
Part 2. Update MSI BIOS
Now, you can enter the BIOS menu to update. Here's how to do that:
Step 1. Plug the bootable BIOS USB drive into your computer.
Warning: Don't disconnect the power supply or restart your system during the MSI motherboard BIOS update process. And keep the USB flash drive connected to your computer all the time.
Step 2. Power on your computer and hit the Delete key to enter the BIOS menu.
Step 3. Select the M-FLASH section to enter the BIOS update environment. Then click Yes to enter the M-Flash interface.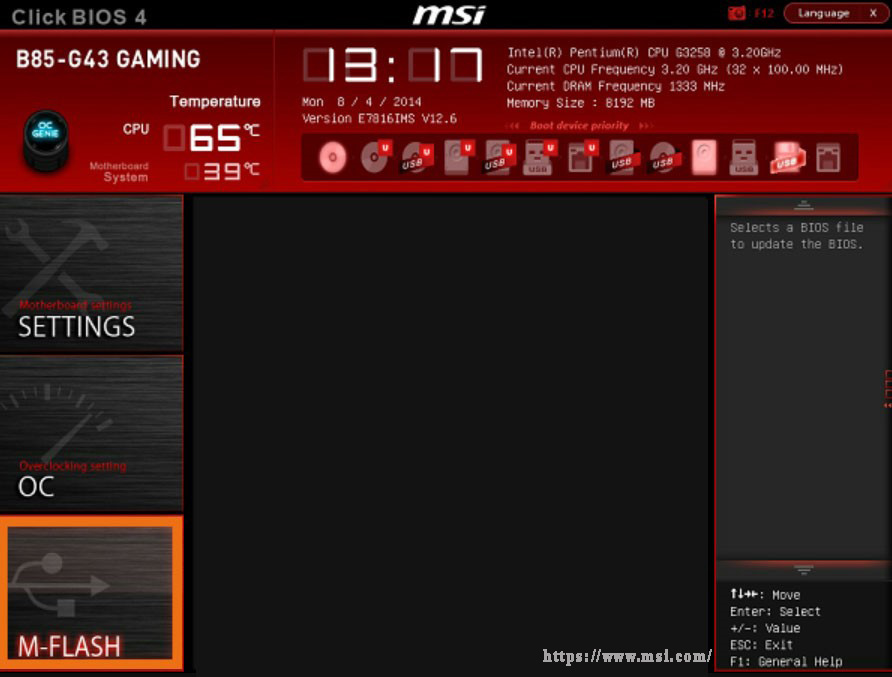 Step 4. Select the BIOS booting USB drive you just created and select the BIOS update file.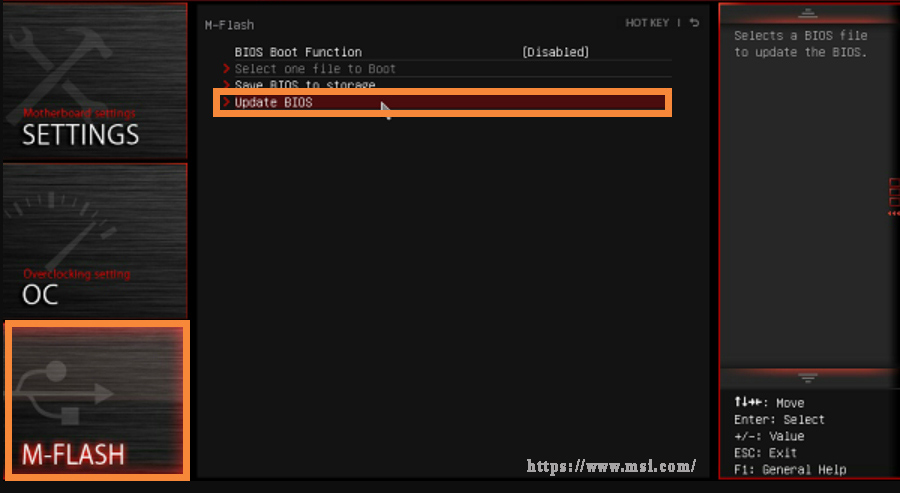 Step 5. Click on Yes to start the MSI BIOS update process.
After the process is complete, your system will reboot automatically. At this time, you can press the Delete key to enter the BIOS menu again and check the MSI BIOS version.
I want to update my MSI motherboard BIOS for a long time. But it's so risky to do that. This post provides me with detailed steps to operate and some useful tips to avoid potential risks. Perhaps you are also searching for such a post.Click to Tweet
Bottom Line
Here comes the end of this post. I believe that you already have known how to update BIOS MSI. Please bear in mind all the warnings and notes before performing the MSI BIOS update. Now, it's your turn to have a try.
If you have any questions, please send us an e-mail via [email protected]. We also appreciate any ideas left in the comment area.
MSI BIOS update FAQ
What does a BIOS update do?
Usually, the BIOS update is an update to your hardware instead of software. It is released to resolve some hardware issues such as an overheating motherboard. Also, it can be used to support the new hardware like a graphics card or a new CPU.
Does BIOS update erase data?
Of course not. Updating BIOS has nothing to do with hard drive data. So, it won't
erase the data
on your hard drive. BIOS refers to the basic input-output system and it's used to tell your computer what type of hardware will be connected to your computer.
How do I fixed a corrupted BIOS?
You can try the following methods to fix the corrupted BIOS issue:
Disconnect external devices.
Check your CPU fan.
Check the cables and ports.
Refresh or update your BIOS.
Reset BIOS.
Check and change the boot order.
Switch to the AHCI mode.
Remove the graphics card.
What happens if a BIOS update is interrupted?
Once the BIOS code is cleared, your computer could not boot and fails to load the operating system. It indicates that your computer will be unbootable if the rewriting of the BIOS is interrupted. If there is a dual BIOS safety on your computer, the corrupted BIOS update cab be restored from it.