How long do gaming PCs last? If you don't know it, this post is worth reading. It shows you everything about the gaming PC lifespan. Explore the details from this post of MiniTool Partition Wizard.
Is there any difference between average computers and gaming PCs? The answer is for sure. As implied by their name, gaming PCs are designed for playing video games. Compared with average computers, gaming PCs have better graphics and sound cards and are more powerful.
Tip: The FPS (frame rate) in the video game displays the number of times the image is refreshed to generate movement, motion, and effects. If a computer allows you to play with a high FPS, it is a gaming PC.
Besides, gaming PCs include a powerful processor so that the system won't get bottlenecked. In addition to that, gaming PCs usually last longer than regular PCs. How long does a gaming PC last? Well, the next part will discuss it in detail.
If you want to learn the lifespan of laptops and related information, please read this post: How Long Do Laptops Last? When to Get a New Laptop
How Long Do Gaming PCs Last
How long does a gaming PC last? The answer to this question depends on the specific condition of gaming PCs. Here, we mainly talk about the gaming PC lifespan of four common gaming PC categories.
Low-end Gaming PCs: This sort of gaming PCs will only last 2 or 3 years. After that, you need to upgrade them. They have the lowest specs, but they are the more affordable ones. A basic gaming PC allows you to play lower-end gamers. On these devices, you can play the latest video games with low resolution and graphics settings. However, you may encounter lags at different intervals during the gameplay.
Mid-end Gaming PCs: They last 3 to 5 years. Then you are required to upgrade them to support the latest games. Compared with basic gaming models, mid-end gaming PCs offer better specs. Fortunately, they are still affordable. With them, you can play more demanding games and execute other tasks.
High-end Gaming PCs: They usually last 7 to 10 years. After this period, you need to upgrade some components to play the latest games. They have the best specs, but they are the most expensive ones. You can get the ultimate gaming experience on high-end gaming PCs.
Pre-built Gaming PCs: Most of them last about 4 to 5 years. The exact number varies depending on the type of games you play and PC's specs. Pre-built gaming PCs are often cheaper than custom-built PCs. Nevertheless, it is difficult to find a pre-built PC with the identical performance for the same price as a custom-built PC.
How long does a gaming PC last? You may learn the answers in the above content. Actually, the gaming PC lifespan discussed above is the result under ideal conditions. However, there are many factors that can impact the lifespan of a gaming PC.
To learn the age of your computer, you need to refer to this tutorial: How Old Is My Computer/Laptop? Get the Answer Now!
Further reading:
You should know that gaming desktop PCs are different from gaming laptops. Gaming PCs have a casual design and an affordable price. Besides, they are easy up-gradation. As for gaming laptops, they have a high speed, high price, and great appearance. Most gaming laptops have a fixed system, which means that they are unable to upgrade further.
It is hard to upgrade an all-in-one gaming PC as well. Fortunately, there's a workaround.
Also read: Desktop VS Laptop: Which One to Get? See Pros and Cons to Decide!
What Affects the Lifespan of Gaming PCs
The factors that can affect the lifespan of your gaming PCs are mainly divided into two aspects. The first element is the components used in the PC, while the second one is the regular PC maintenance. A gaming PC consists of plenty of components such as CPU, GPU, RAM, graphics card, motherboard, hard drive, Power Supply Unit (PSU), etc.
Tip: Gaming computers need more power and cooling than regular PCs. Thereafter, if you push your gaming PC to its limits, it will wear out faster.
The lifespan of these components can affect or even decide your gaming PC's lifespan. You can learn the lifespan of an external hard drive and prolong it by reading this post. If you use an SSD drive, you should click here to know more information about its lifespan. Furthermore, it is possible to check SSD health, optimize SSD performance, as well as test SSD speed and securely erase SSD via professional SSD health check tools.
If you want to learn the lifespan of other components in your computer, check the following articles.
Some damaged or outdated parts in your computer can cause the gaming PC not to work to its full potential. Given that fact, you should check your computer regularly and update PC components.
Last but not the least, the environment where the gaming PC is used influences its lifespan. If you put the gaming desktop in a hot or dusty environment, it wears out more quickly.
How long do gaming desktops last exactly? Well, it is vital to know the above elements.
What to Do to Extend the Lifespan of Gaming Desktops
It can be learned from the above content that a gaming PC has a limited lifespan. What can you do to prolong the lifespan of your gaming PC? Some tips and tricks are summarized as follows.
Take control of overlocking frequency: Though overclocking CPU/GPU can improve performance of your PC, it would be harmful to your device if you execute the operation frequently.
Ensure that your CPU is not often overheating: As you might know, overheating could cause permanent damage to your PC components.
Often clean Registry: This will boost the performance of your computer.
Clean your computer quarterly or monthly for dust: This operation guarantees that the PC cools down normally. How to clean up your computer? Here are top 8 methods for you.
Update your drivers, operating system, and software regularly: This operation can help you get rid of some issues with the PC.
Always keep enough space on the drive where your OS is installed: By doing so, your computer will run smoothly without freezing/lagging issues.
Avoid downloading items from an unknown source and clicking unknown sites: This ensures that your PC won't be invaded by viruses or malware.
Upgrade the GPU: It is recommended to upgrade your graphics card after 5 years of initial purchase at least. As the graphics card slot will hardly change the standard or the interface, you don't have to worry about compatibility issues while upgrading.
Upgrade the CPU: Since the standards of CPU will change every 2 to 3 years, you might encounter compatibility issues after the update. So, if you upgrade the CPU, you will have to upgrade the motherboard too.
Notebook vs Laptop: What's the Difference & How to Move OS to SSD
As one of the most important components of the gaming PC, hard drive should also deserve your attention. Generally speaking, a hard drive lasts 3 to 5 years, while an SSD can last up to 10 years. If you want to extend the gaming PC lifespan, try upgrading the HDD to SSD.
If you don't want to lose any data during the upgrade process, you should transfer the data from one drive to another before starting the operation. Both the Copy Disk and Migrate OS to SSD/HD Wizard features of MiniTool Partition Wizard allow you to transfer data quickly.
You can carry out the operation by following these steps.
Step 1: Get an SSD and then connect it to your computer through the SATA to USB adapter.
Step 2: Download and install MiniTool Partition Wizard on your gaming PC. After that, run MiniTool Partition Wizard to enter its main interface.
Step 3: You will see the connected SSD in the disk map section of MiniTool Partition Wizard.
Tip:
If the connected SSD doesn't show up, you can refer to
this guide
to fix it.
Step 4: Click on the Copy Disk Wizard feature in the action panel and then click Next in the pop-up window.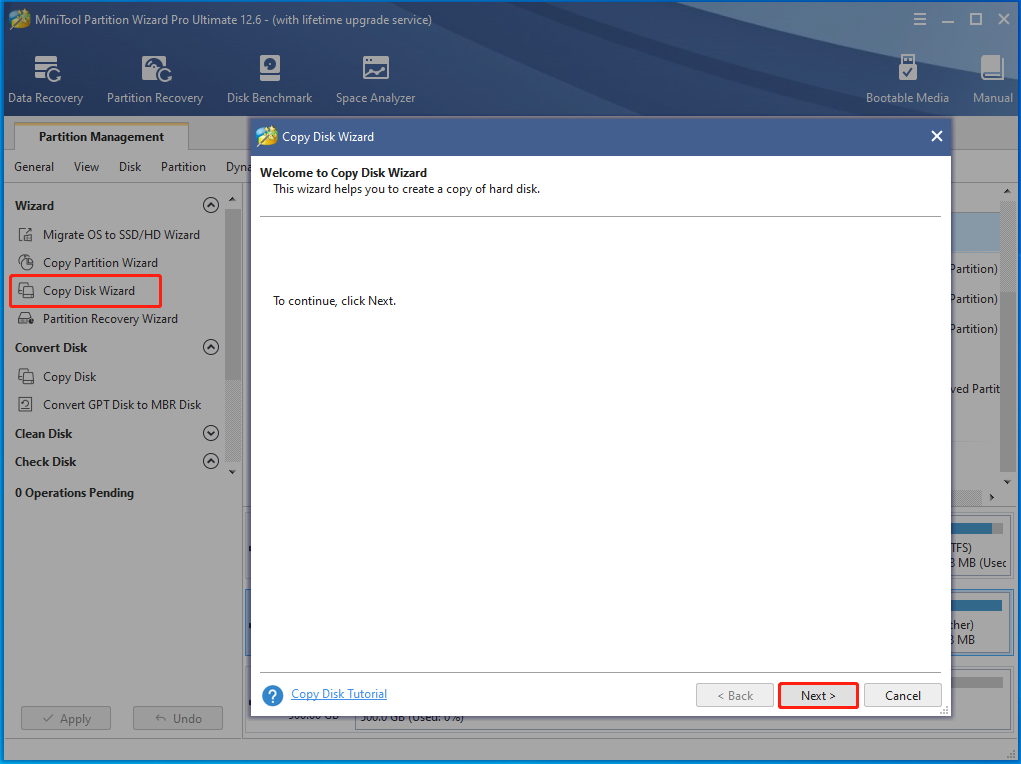 Step 5: In the next window, choose the disk to copy (system disk) and click Next to continue.
Step 6: Then select the disk that you would like to copy the source content to and tap Next. Here, you need to click on the connected SSD drive.
Note: After clicking Next, you will receive a warning window noticing that all the data on the disk will be destroyed. If the SSD is new or doesn't include important data, directly click Yes to confirm the operation.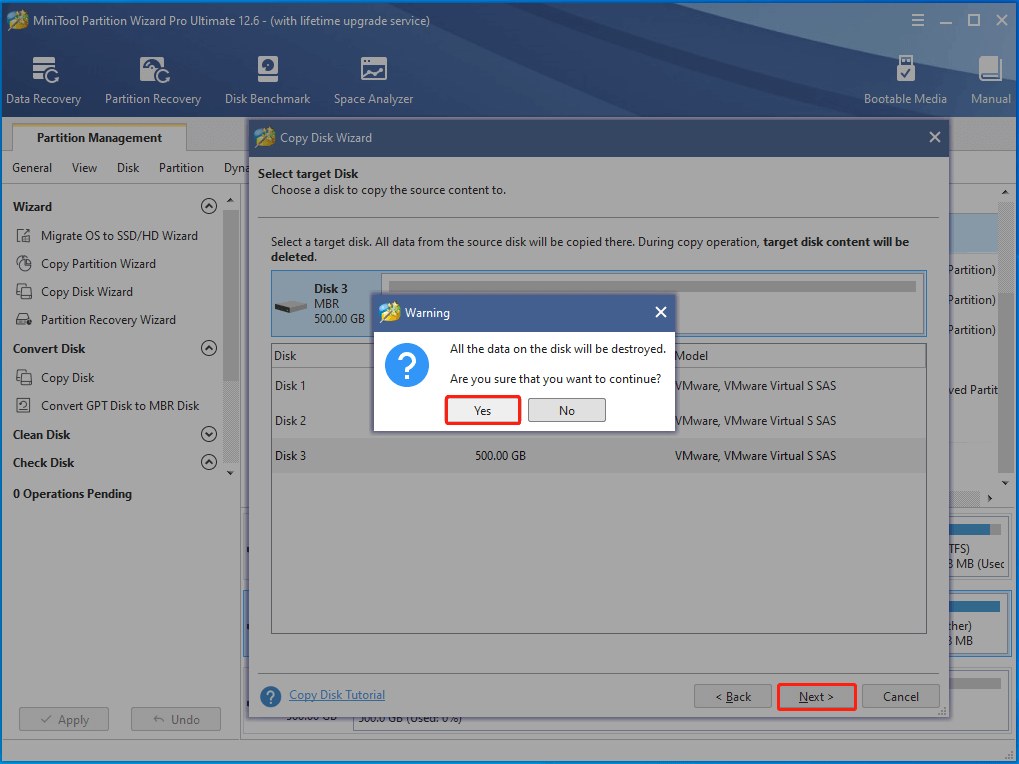 Step 7: You need to pick copy options in the Review the changes window based on your condition and click Next. For instance, you should tap Align partitions to 1MB as the target disk is SSD. This operation will improve disk performance.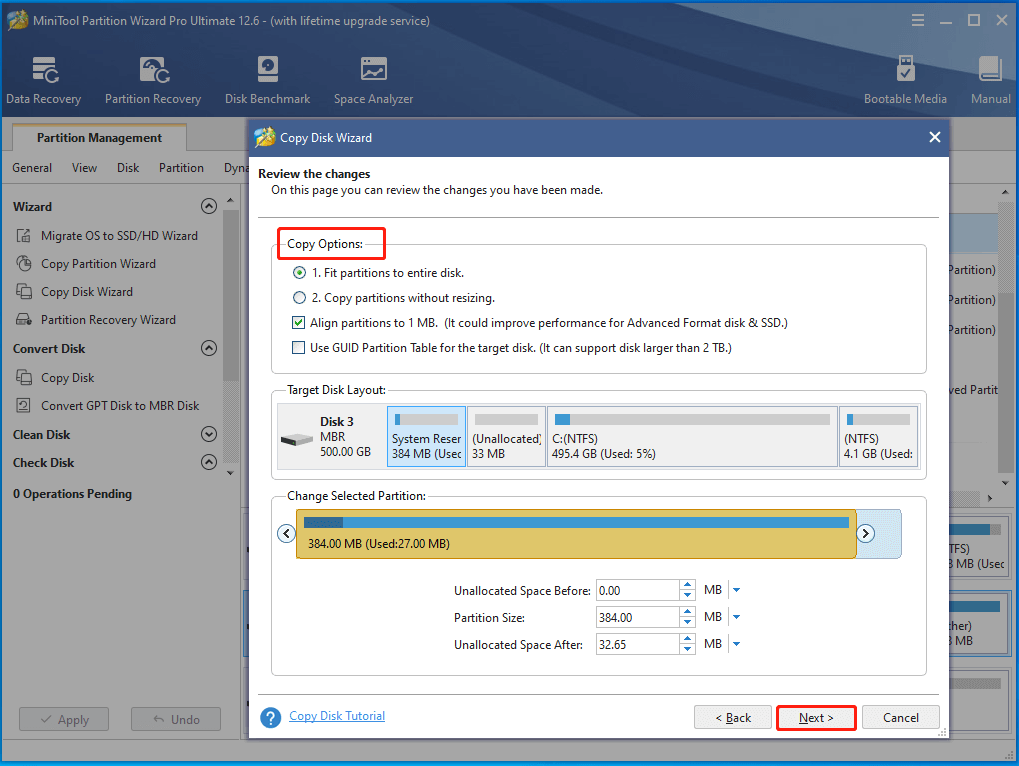 Step 8: Read the note carefully, and then click Finish > Apply to execute the operation.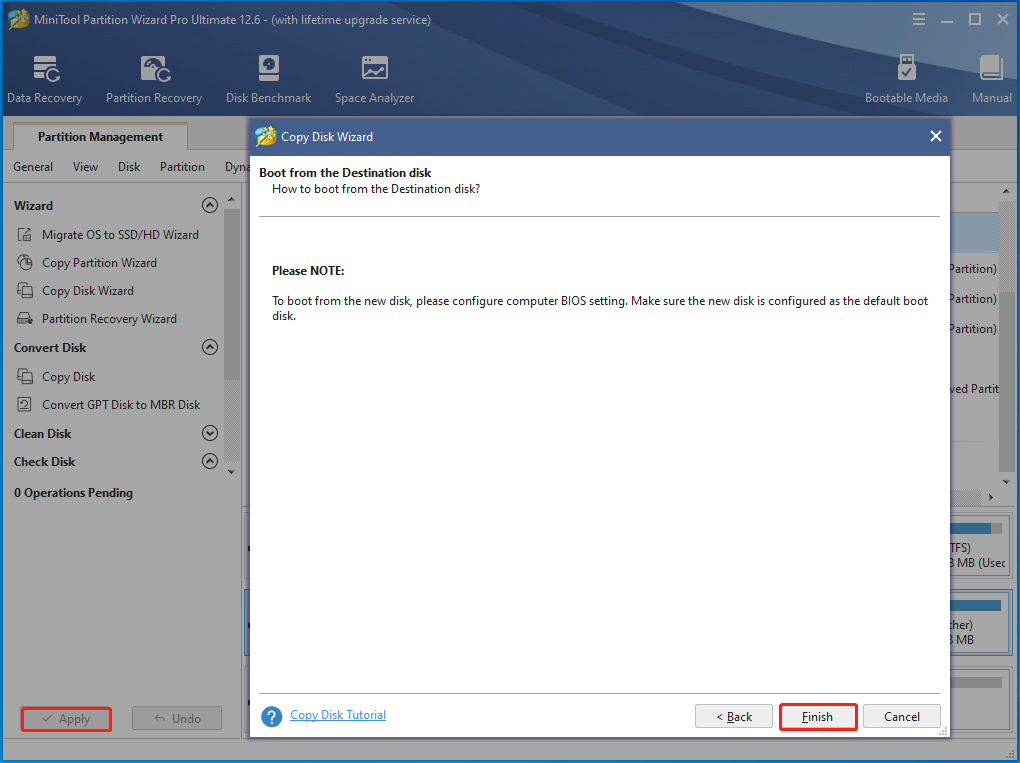 Step 9: After the copy process ends, you can turn off your gaming PC and then replace the HDD with the SSD.
Alternatively, you can also make use of the Migrate OS to SSD/HD Wizard feature to transfer data. It enables you to migrate Windows 10 to SSD without reinstalling OS.
How long do gaming PCs last? Are you still looking for answers? Well, you can find answers in this post. Besides, you can also prolong the gaming PC lifespan with the offered tips. Click to Tweet
Conclusion
As you see, this post mainly tells how long do gaming desktops last.  It illustrates the lifespan of some common gaming PC categories and explores the factors that can affect the device's lifespan. Most importantly, it provides you with tips on extending the lifespan of gaming PCs. In a word, this post is comprehensive and useful if you want to learn about the gaming PC lifespan.
Do you have any thoughts on this topic? You can share your experience with us in the following comment area. If you have any questions related to MiniTool Partition Wizard, just contact us by sending an email via [email protected].