Red Dead Redemption 2 is a newly released popular computer game, but it requires a large amount of disk space (up to 150 GB). This may be a barrier for people who want to install this game but don't have enough disk space. In this post, MiniTool will give you three solutions to obtain more disk space.
Red Dead Redemption 2 Specifications
Rockstar Games revealed the official PC system requirements for Red Dead Redemption 2 via its Game Launcher. Besides, the Red Dead 2 game is up for preorder on the Rockstar Launcher for PC, and is also available for 35 dollars on Xbox One.
The PC requisites of red dead redemption 2 are not very high, but it can provide you with excellent game experience.
Here are requirements of Red Dead Redemption 2 on PCs. They are divided into two parts – minimum specifications and recommended specifications.
Minimum Specifications:
OS: Windows 7 – Service Pack 1(6.1.7601)
Processor: Intel Core i5-2500K / AMD FX-6300
Memory: 8GB
Graphics Card: Nvidia GeForce GTX 770 2GB / AMD Radeon R9 280 3GB
HDD Space: 150GB
Sound Card: DirectX Compatible
Recommended Specifications:
OS: Windows 10 – April 2018 (v1803)
Processor: Intel Core i7-4770K / AMD Ryzen 5 1500X
Memory: 12GB
Graphics Card: Nvidia GeForce GTX 1060 6GB / AMD Radeon RX 480 4GB
HDD Space: 150GB
Sound Card: DirectX Compatible
The current version of Playstation 4 (PS4) needs 109 GB disk space, which is less than that of the Red Dead 2. As for the large disk space requisite, the following part offers you three effective solutions to obtain the space.
Solution 1: Upgrade Hard Drive to Get More Disk Space
When you encounter the disk space not enough issue on Red Dead 2, it's time to upgrade your hard drive. So, how to upgrade to larger hard drive without data loss? You can get the detailed steps in the post.
Besides, the Migrate OS to SSD/HD feature of MiniTool Partition Wizard can also help finish this job. To acquire more details, read this post: Easily Migrate Windows 10 to SSD without Reinstalling OS Now!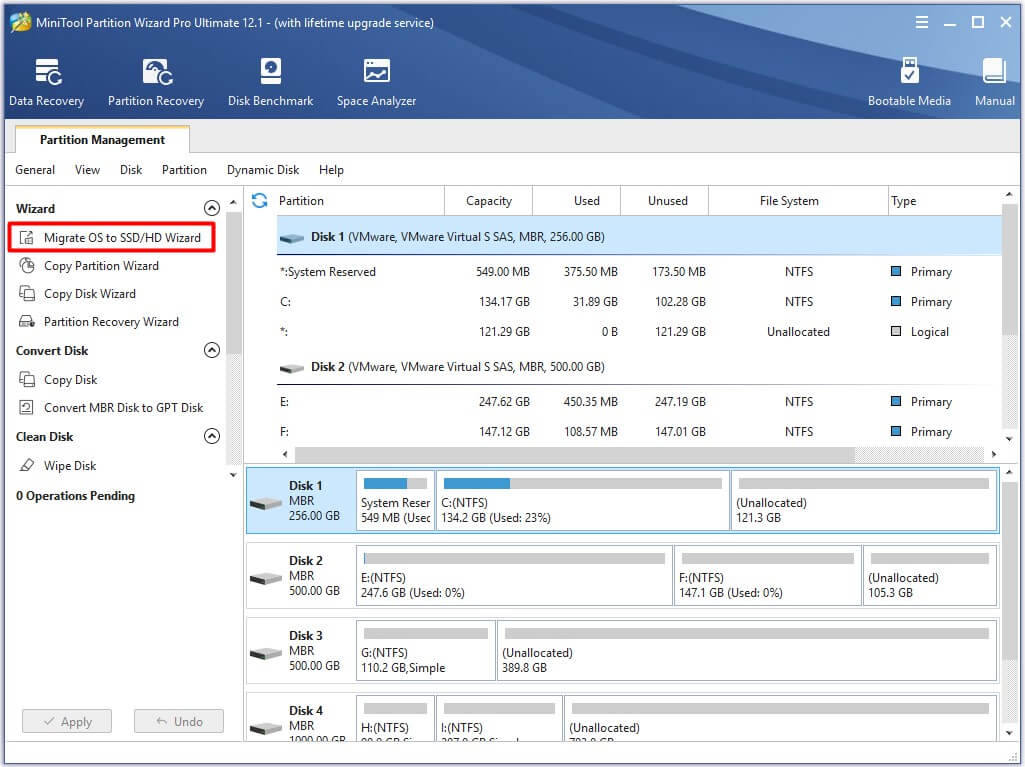 Solution 2: Delete Space-Consuming Files via Space Analyzer
Deleting space-consuming files or folders to free more disk space for the Red Redemption 2 is also available. However, you need to know which files or folders are taking up your disk space. The Space Analyzer of MiniTool Partition Wizard can help you find these space-consuming files and folders.
Then you are able to delete these files and folders by clicking the Delete (to Recycle Bin) or Delete (Permanently) option in the function list after right clicking the files or folders.
Tip: Make sure that the file or folder you delete is unimportant or has been backed up to avoid data loss.
Solutions 3: Resize Partition with MiniTool Partition Wizard
There's not enough disk space to play Red Dead 2 online? You can try to resize partition with a free partition resizer.
The Move/Resize Partition feature of MiniTool Partition Wizard enables you to adjust the size of the partition. In this way, you can improve the performance of your partition and save more data.
When your PC don't have enough disk space to install Red Dead Redemption 2, try the given methods to fix the issue. It is also helpful for freeing up more disk space so that you can get a better game experience.