Introduction to Madden NFL
Madden NFL, also called Madden, is an American football video game series developed by EA Tiburon for EA Sports, featuring detailed playbooks and player statistics, and voice commentary in the style of a real NFL television broadcast.
It is also the only officially licensed National Football League (NFL) video game series, having influenced many players and coaches of the physical sport.
The first version of the game appeared in 1988 and at that time the game was named John Madden Football, named after Pro Football Hall of Fame coach and commentator John Madden. Since 1990, the game has kept its annual releases for more than 30 years, and the series' name changed to Madden NFL in 1993 after EA acquired the rights to use NFL teams and players.
10 Best Madden Games
How many Madden games are there? There are 42 different editions of the game between 1988 and 2022, and the latest version is Madden NFL 23 released in 2022. Among these editions, which is the best Madden game?
According to IGN scores, the 10 best Madden games are as follows:
#1. Madden NFL 2005 (9.5)
It was released in 2004 for Windows, PS1/2, PSP, GCN, Xbox, Game Boy Advance, N-Gage, Nintendo DS, and Tapwave Zodiac, with Ray Lewis of the Baltimore Ravens as the cover athlete. It adopts groundbreaking graphics to capture the real stadium experience.
#2. Madden NFL 2004 (9.4)
It was released in 2003 for Windows, PS1/2, GCN, Xbox, Game Boy Advance, and N-Gage, with Michael Vick of the Atlanta Falcons as the cover athlete. In his version, the new Playmaker Control allows players to quickly change, defensive coverage, and routes before and during the play.
#3. Madden NFL 13 (9.0)
It was released in 2012 for Xbox 360, PS3, Wii, Wii U, PS Vita, and iOS, with Calvin Johnson of the Detroit Lions as the cover athlete. With physics you can feel, Madden NFL 13 delivers revolutionary gameplay in the '013 edition of EA Sports' football franchise.
#4. Madden NFL 19 (8.9)
It was released in 2018 for Windows, Xbox One, and PS4, with Antonio Brown of the Pittsburgh Steelers as the cover athlete. This version takes a significant leap forward in terms of gameplay and control.
It adds customization options, allowing the Madden community to create their own draft classes. Additionally, Franchise mode has also introduced offensive and defensive schemes this time around.
#5. Madden NFL 10 (8.9)
It was released in 2009 for PS2/3, Xbox 360, Wii, Nintendo DS, PSP, and iOS, with Troy Polamalu of the Pittsburgh Steelers or Larry Fitzgerald of the Arizona Cardinals as the cover athlete.
This version adds several new features including the PRO-TAK animation technology, which allows up to nine-man gang tackles and fumble pile-ups to help players 'fight for every yard', in this year's tagline.
It also features a completely overhauled rating system for players, featuring new categories such as throw on the run and specific ratings for short, medium, and deep passes.
#6. Madden NFL 16 (8.8)
It was released in 2015 for Xbox 360, PS3/4, and Xbox One, with Odell Beckham Jr. of the New York Giants as the cover athlete.
This version turns the annual football franchise into more of a simulation than ever before. The risk vs. reward aspect of the new passing and defending mechanics adds a level of realism the franchise has never seen.
#7. Madden NFL 09 (8.8)
It was released in 2008 for PS2/3, Xbox, Xbox 360, Wii, Nintendo DS, and PSP, with Brett Favre of the Green Bay Packers/New York Jets as the cover athlete. This version is the first one that offers online league gameplay, allowing up to 32 players to compete in an online simulated NFL season.
#8. Madden NFL 2003 (8.8)
It was released in 2002 for Windows, PS1/2, GCN, Xbox, and Game Boy Advance, with Marshall Faulk of the St. Louis Rams as the cover athlete. The most notable additions to this version are play-by-play from Al Michaels, Madden Cards that can be collected and traded, and improved strategy.
#9. Madden NFL 15 (8.7)
It was released in 2014 for Xbox 360, PS3/4, and Xbox One, with Richard Sherman of the Seattle Seahawks as the cover athlete. This version features "dramatic all-new camera angles, as well as dynamic pre-game and halftime features."
#10. Madden NFL 2002 (8.7)
It was released in 2001 for Windows, PS1/2, N64, GCN, Xbox, Game Boy Color, and Game Boy Advance, with Daunte Culpepper of the Minnesota Vikings as the cover athlete.
This version features for the first time Create-A-Team where one will make a team and play with that team in either Play Now or Franchise mode. It also features a Create-A-League mode.
Madden 23 Reviews
As mentioned above, Madden 23 is the latest version of Madden. The specific Madden 23 release date is June 1, 2022, and John Madden is the Madden 23 cover star in honor of his death on December 28, 2021. This game is available on Windows, Xbox One, PS4, Xbox Series X/S, and PS5.
This version adds a new feature named FieldSENSE to all game modes. This feature is meant to give players more control at every position when it comes to gang tackling, rushing the quarterback, covering wideouts, better offensive line blocking, and more.
In addition, the scouting and free agency features in Franchise Mode have also been revamped, and the Ultimate Team also adds a new feature called Field Pass that will enhance the progression system in the game mode.
This version gets 7 scores on IGN. Although it is not ranked in the 10 best Madden games, it's still worth trying for its new features and improvements.
Can You Play Madden on PC?
Is Madden on PC? Some Madden versions have the PC version while the rest of them don't. Can you play Madden on PC? For those Madden PC versions, you can play them as long as your PC meets its minimum system requirements.
Taking Madden 23 as an example, its minimum system requirements are as follows:
OS: 64-bit Windows 10
CPU: Athlon X4 880K @4GHz / Core i3-6100 @3.7GHz or Equivalent
GPU: Radeon RX 460 / GeForce GTX 660 or Equivalent
RAM: 8GB
Storage: 50GB
DirectX: 11 Compatible video card or equivalent
Network: 512 KBPS or faster Internet connection
You can check your PC specs in the System Information tool. To open that tool, you just need to press the "Windows + R" keys to open the Run box, type "msinfo32" into the Run box, and then press the Enter key.
However, for those Madden versions that are not available on PC, if you want to play them on PC, you need to use emulator software. If you want to find a suitable emulator, the following posts may help you:
The Madden download is not small. No matter which method you use to play Madden on PC, you should make sure the game installation location has enough free space in order to make the game run well on your PC. 
If the free space is not enough, you can free up the disk space. If there are multiple drives, you can extend the game installation drive to get more space. This way doesn't require you to delete anything. To extend a drive, you can use MiniTool Partition Wizard. Here is the guide:
MiniTool Partition Wizard FreeClick to Download100%Clean & Safe
Step 1: Launch MiniTool Partition Wizard. Right-click the partition you want to extend and choose Extend.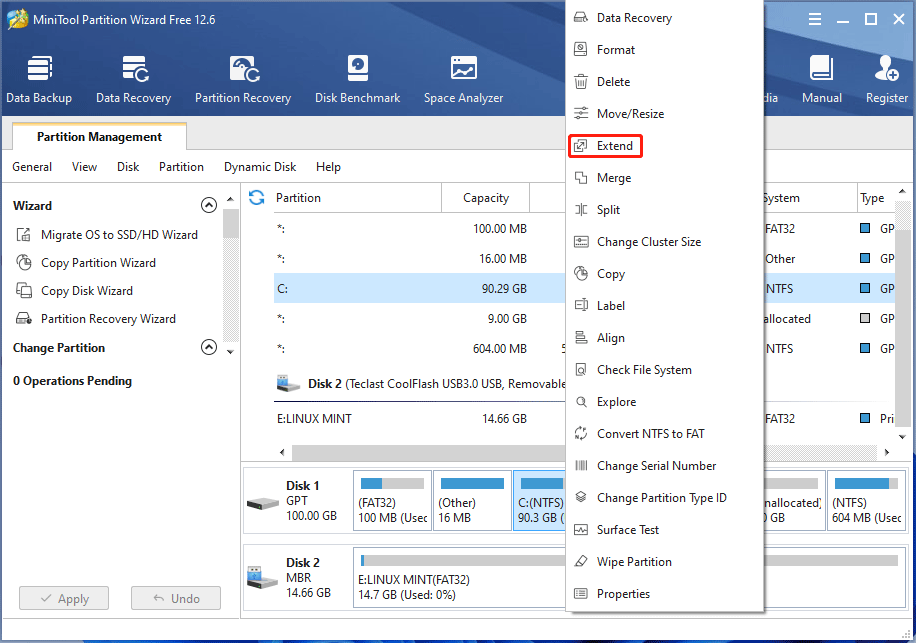 Step 2: On the pop-up window, choose where to take space from. You can choose unallocated space or an existing partition. Then, drag the blue block to decide how much space you want to take. After that, click OK.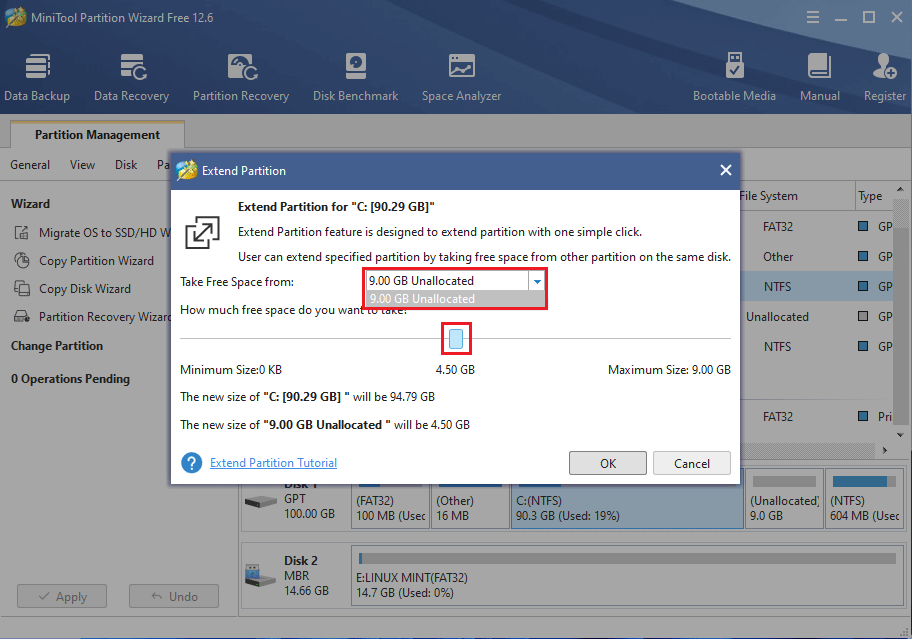 Step 3: Click the Apply button to execute pending operations.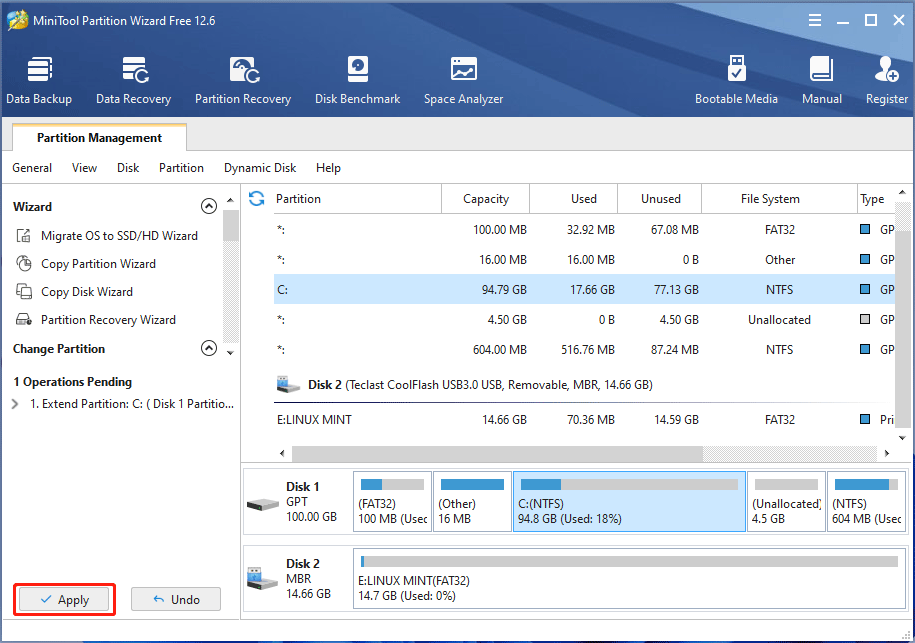 How to Play Madden on PC
Stage One: Download and Install Madden on PC
For Madden PC versions, they are usually available on EA App, Steam, and even other platforms like Epic Games and Origin.
Here is the guide on how to download a game from the EA App:
Launch the EA app.
Log in to your EA Account.
Go to My Collection.
Find the game that you want to download and click the arrow in the bottom right corner.
Confirm your Install location and Language preferences, and then click Next.
Read and accept the terms of play.
Click Download.
To download Madden from Steam, you can refer to this post: How to Download Steam and Steam Games on Windows.
Stage Two: Play Madden on PC
After downloading Madden NFL, you need to launch it. If it's the first time you launch Madden NFL, you need to accept the user agreements and choose the sharing options (you can also skip this step).
Then, the game will ask you to choose game settings including Experience Level, Game Style, Favorite Team, and Performance Mode. And you need to set the gameplan. After that, you can control the characters to play American football.
Apparently, this game needs you to have a good knowledge of American football rules and strategies. Otherwise, you can't get pleasure from this game.
Fortunately, EA has offered many tips to help a beginner. These tips include control tips, offense and defense tips, game mode tips, etc. Click Madden NFL 23 Tips and Tricks to get them.
Here is a post talking about how to play Madden on PC. If you are interested in Madden NFL, this post may help you.Click to Tweet
Bottom Line
Is this post useful to you? Do you know other ways to play Madden on PC? Do you have other best Madden game options? Please share them with us in the following comment zone. In addition, if you encounter problems when using MiniTool Partition Wizard, please feel free to contact us via [email protected]. We will get back to you as soon as possible.