Steam is the largest digital distribution platform for PC gaming. If you play games on PCs, Steam is your preferred platform. This post from MiniTool Partition Wizard offers you a complete Steam download guide.
Steam Download Windows
Steam is a video game digital distribution service by Valve. it was originally launched to provide automatic updates for Valve's games but it expanded to include games from third-party publishers later.
Steam provides the user with installation and automatic updating of games, and community features such as friends lists and groups, cloud storage, and in-game voice and chat functionality. It also has other features including in-game achievements, microtransactions, and support for user-created content through Steam Workshop.
Here is the guide on how to download Steam and install it:
Step 1: Go to the Steam official website. Click the Install Steam button in the upper section. Now, click the Install Steam button with a Windows icon to get the Steam Download Windows version. It should be an executable file.
Step 2: Double-click the SteamSetup.exe file and follow the on-screen instructions to install Steam. During this process, please choose a proper installation location for Steam. To get the detailed steps, please refer to this post: Does Steam Work on Windows 11? How to Install Steam on Windows 11.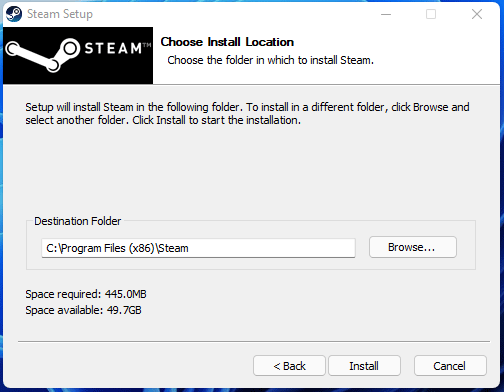 Steam Games Download
After the Steam client is installed, you should create or log in to a Steam account. The Steam account is very important because it is related to game activation.
Once a game is activated on a Steam account, it is locked to the Steam account and can't be activated in another Steam account. If you wish to play your games on a different computer, you should log in to your Steam account on that PC.
How to get Steam games? If the game is free, you just need to search this game in Store and then download this game. This game will then appear in your Library. But if the game is a paid game, you should purchase the game first. When the money is paid, the download process will start automatically.
However, some people may purchase Steam games on other platforms (like Fanatical.com). In this case, a Steam key will be offered to you can you should use this key to activate your game first. The Steam game activation process is as follows:
Run Steam and click on the [+] in the bottom left and choose "Activate a game on Steam".
Follow the prompts and enter your product key when asked. The game will then be added to your game library and you can start downloading the game.
After the game is downloaded, you can launch the game to complete the entire game installation. In this process, you can create a shortcut for your game. Then, you can launch the game through the shortcut next time. If no shortcut is created, you can launch the game through Steam.
How To Install And Play Steam On Your Chromebook
Bottom Line
Is this post helpful to you? Do you have other ideas about Steam download and Steam games download? Please leave your comments in the following zone.