Avast is a piece of antivirus software that is useful for fighting against virus on the computer. However, some people raise doubt about Avast after using a period of time. Is Avast safe? Is Avast a virus? Today, MiniTool will explore these questions and provide you with available alternatives to it.
Is Avast Safe
Is Avast safe? A great many of people are curious about it. As Avast is associated with PC safety, it is indeed vital to get an accurate answer. When you look through some technological forums, you can find some related posts.
Here is a true example from Reddit.
I've being using Avast for over 8 years on every computer I owned during that time. It seemed effective, safe and free. But lately, for the past few months, my Avast keeps popping up in the lower right with all these messages like "your PC is being slowed down by all this crap, we can fix it", "your drivers are outdated, which can cause serious issues, click here to update, "your computer has x security issue, click here to fix them, etc. –Reddit
As learned from the above information, Avast has some issues indeed. It is not as safe as you expect. To explore more information about Avast, you should have an overall understanding of it.
Further reading
In fact, other programs like PC protection software and computer scan programs are not as reliable as you image besides PC built-in antivirus software. For instance, there are also some doubts about the computer cleanup tool – CCleaner as well. You can read this post for more details: Is CCleaner Safe? Here Are Answers and Alternatives
What Is Avast
Avast is a famous antivirus tool, which owns millions of users in the whole world. It is available for multiple operating systems including Windows, Mac, Android and iOS. This program comes with free and paid versions that can fulfill the different demands of users. What does Avast do?
According to Avast antivirus review, Avast Antivirus software can protect your computer from security threat (computer worm), viruses (like polymorphic virus), malware (like ransomware) and other possible Internet threats. Besides, it adds features such as network security scanner, password manager, browser protection, and so forth.
What makes Avast stand out is the company's versatility and flexibility. Additionally, Avast has well-designed user-interface, protection and extra utilities like safe browser.
Advantages and Disadvantages
As a coin has two sides, Avast also has its own advantages and disadvantages. What are the advantages and disadvantages of Avast? They are summarized as follow.
Advantages
It has network security inspector and password manager.
It contains browser-independent protection to avoid dangerous URLs.
It includes plenty of useful, security-related bonus features.
It can run on various systems like Windows, Mac, Android, as well as iOS.
It protects the security and privacy of your computer.
Disadvantages
The full protection against dangerous URLs is only available in Chrome and Firefox.
The password manager has limited features.
You need to pay for some features of Avast.
Avast can slow down your device.
The defense is not strong enough.
Avast has been sharing personal information collected from devices with a subsidiary that sells trend analytics to some websites. This put users' privacy into threats.
Problems and Fixes for Avast
Learning from the information above, you can find that Avast is not a perfect program. Based on the features that Avast includes, users raise some specific questions. For example, is Avast Antivirus safe for threat-protection, web browsing, PC optimization, privacy and security, or for protection against online attacks.
They will decide whether to utilize Avast after checking the answers for these questions. Now, we will discuss and solve these questions one by one.
Is Avast Safe for PC Optimization
Avast is capable of cleaning junk and removing unwanted software. Actually, you can do that by yourself. It is because that the Avast Antivirus free edition will slow down your computer to a large extent. Besides, it will force you to upgrade to the paid edition to get some optimization features.
In a word, Avast is not secure for optimizing computer because it can cause some performance issues. Here, you are recommended to utilize another PC optimizer – MiniTool Partition Wizard.
This is a safe and reliable program that can optimize your computer and improve the performance. MiniTool Partition Wizard boosts various features related to partition such as merge partition, convert FAT to NTFS, format partition, copy disk, etc.
On the aspect of computer optimization, features like Space Analyzer, Surface Test, Extend Partition, Wipe Disk, Check File System and Recover Data are also available for you. Through these operations, you can get more disk space, fix hard drive errors and delete personal data. Then, your PC will run faster and smoother.
Download and install MiniTool Partition Wizard by clicking the buttons below and then start optimizing your computer now!
MiniTool Partition Wizard FreeClick to Download100%Clean & Safe
Here is the tutorial for increasing disk space via MiniTool Partition Wizard.
Step 1: Launch the program to get its main interface, and then right click on the partition to enlarge and choose the Extend feature from the elevated menu.
Step 2: In the next window, select a drive to take free space from it. Then, move the handle to decide how much space you would like to take from the selected drive. After configuring the partition extend settings, click OK to save the changes. Finally, click Apply to carry out the pending operation.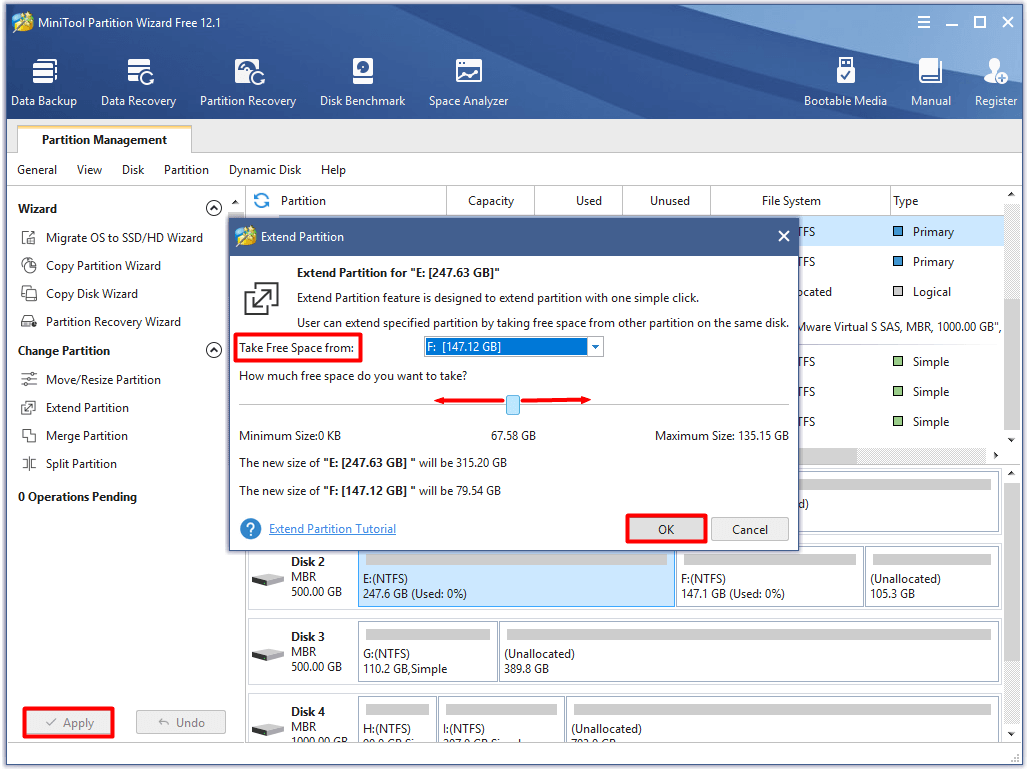 If you encounter computer running slow issue after updating, try fixing it with this guide: Top 6 Solutions to the Windows Creator Edition Slow Error
Is Avast Safe for Privacy and Security
In addition to PC performance, privacy and security are also concerned about. Avast has been regarded as safe on the aspect of privacy and security until the occurrence of personal information sharing report.
Moreover, Avast free edition has a collecting your browsing history feature. Up to now, Avast Premium doesn't have such report. What's more, the Premium edition has marvelous password protection, blocks webcam spying, as well as blocks phishing emails.
Given to that fact, you are able to brose the web anonymously via Avast VPN. Now, we can summarize that Avast Premium is somewhat safe for laptop privacy and security.
If you don't want to upgrade to Premium edition, try other free programs like Windows Defender Firewall to protect your privacy and security. Here are steps for enabling Windows Defender.
Step 1: Open Control Panel and then click on Windows Defender Firewall in the prompted window.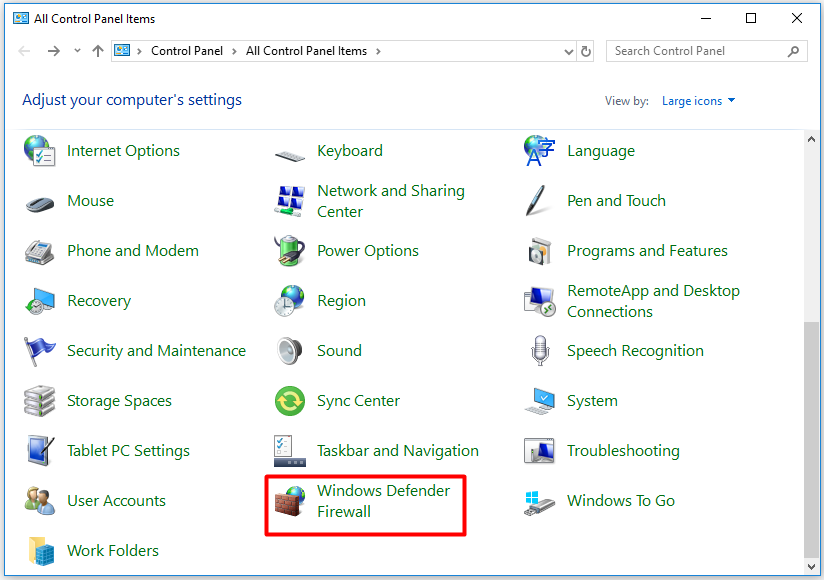 Step 2: In the Windows Defender Firewall window, click the Turn Windows Defender Firewall on or off option in the left pane.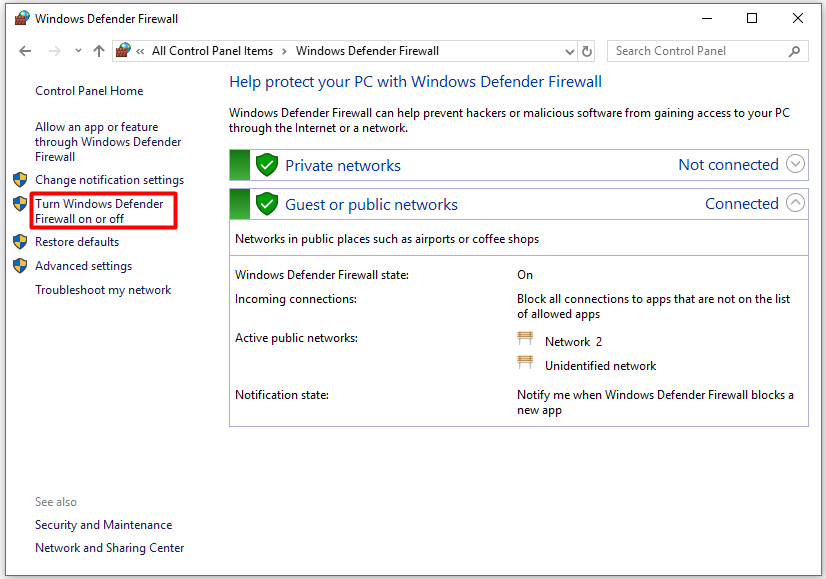 Step 3: Now, select the Turn on Windows Defender Firewall option under Private network settings and Public network settings section. Finally, click OK to save and exit the operation.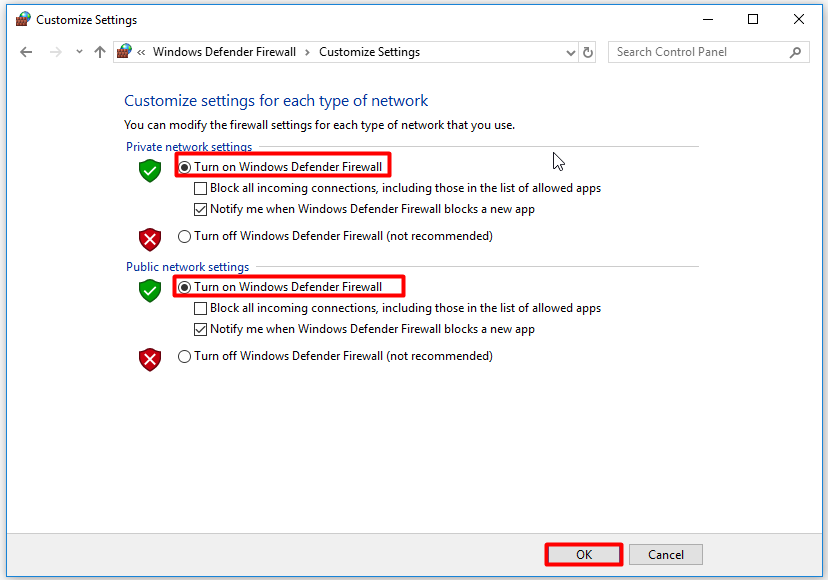 You may also be interested in this: Is Windows Defender Enough? More Solutions to Protect PC
Is Avast Safe for Threat-Protection
Avast offers great real-time threat protection, which protects computer from viruses, malware, spyware, and other malicious software. And the virus definitions also keep updating to recognize new threats.
Nevertheless, the Avast free edition only provides a mediocre level of protection. Hence, you are very likely to be attacked by threats if utilizing the free edition. You can also conclude that Avast is not safe enough unless you get a paid edition.
If you want to seek some free programs to protect your PC from threats, there are some great options for you. You can take them as the alternative for the Avast. For example, Windows built-in tool Windows Defender, Malwarebytes Anti-Malware, Norton Security, AVG Antivirus and other programs are also capable of protecting your PC.
Is Avast Safe for Avoiding Online Attacks
As Avast Antivirus free edition doesn't have a firewall, it won't protect you from attacks. Therefore, if you don't want to be attacked, you have to upgrade to Premium edition. With the Premium edition, you are able to avoid fake shopping websites as well.
Hence, Avast is not as safe as you expect unless you obtain a Premium edition.
Recommended reading: Lenovo Diagnostic Tool – Here's Your Full Guide to Use It
Is Avast Safe for Web Browsing
When you use Avast Secure Browser, Avast Antivirus offers real-time monitoring. It provides you excellent Internet security and privacy. Based on that fact, the Premium edition offers secure web browsing via browsers like Chrome and Firefox.
However, you are required to grant permissions for that. You should also note that the Avast free edition doesn't provide safe and secure browsing.
Is Avast a Virus
Is Avast a virus? Are you doubt this question? You can get the answer now. Avast Antivirus itself is definitely not a virus. It is an antivirus program that can keep virus, threat, as well as malicious software away. But it sometimes can be turned into a virus.
If a virus or malware infects the core files of Avast and makes it malfunction, the Avast may turn into a virus. Though this case is rare, it indeed exists. Once Avast turns into a virus, it will install its own browser – Avast Secure Browser automatically without asking for your permission.
What's worse, Avast will update itself randomly and lose control. It will also reboot your PC without permission. In this case, you are only able to remove it with the help of specialized tools.
Is Avast safe? If it is dangerous, what measures should I take? If you are bothered by such questions, this post of MiniTool is worth reading. It explores some alternatives for Avast. Click to Tweet
Conclusion
Is Avast Antivirus safe? After reading this post, you may find the answer. With the Avast free edition, your PC is likely to be attacked by threats and viruses. If you get a Premium edition, it is safe to protect your computer in most cases.
Fortunately, you can utilize the alternatives provided in the post to protect your computer if you don't want to upgrade to Premium. You can share your ideas on this topic – is Avast Antivirus safe in the comment area below. For any questions about MiniTool software, you are able to send us an email via [email protected].
Is Avast Safe FAQ
Is Avast trustworthy?
Avast was reliable on the aspect of privacy and security before starting sharing personal information with other companies. Since then, Avast was not trusted by users. In addition to that, users are doubt about other features of Avast.
Is Avast safe to download?
Yes, it is. It is safe to download Avast as long as you install it from the official website instead of a copy or third-party download website. The Avast itself is not a virus, so you don't have to worry about security while downloading.
Is McAfee better than Avast?
Yes, it is. McAfee has lighter system impact than Avast. Additionally, McAfee can run more tasks than Avast. Additional security tools such as safer shopping, sandbox, webcam protection, as well as updating apps make McAfee a better choice.
Whether the Avast will slow down your computer?
According to user reports, Avast can slow down your computer. This is a troublesome issue. Well, you can try uninstalling Avast and using other antivirus programs to protect your PC. Alternatively, it is also available to
speed up Windows
via these methods.