This post talks about the topic "will wiping SSD make it faster". If you are going to speed up the SSD in this way, you should pay attention to it. Besides, it also tells how to restore SSD performance by secure erasing it through MiniTool Partition Wizard and other disk managing tools.
SSD is famous for its fast read/write speeds. Nevertheless, you sometimes will experience the "SSD runs slow" issue. This is quite confusing. You should take measures to solve the problem. How to speed up the SSD?
Will wiping an SSD make it faster than before? You may think of wiping it but aren't sure about the idea. Actually, there are lots of users curious about it like you. You are not alone. Well, this post would discuss "will wiping SSD make it faster" in detail. Read the post to explore the answer now!
Will Wiping SSD Make It Faster
The answer depends on specific situations. To be specific, wiping an SSD with viruses or malware will make it faster than before. However, if you just wipe a normal SSD, it won't make changes to your SSD's performance. You should also know that erasing an SSD too often will damage it.
Tips:
If you just reformat (quick format), it has no effect on speed. If you do a full format, you will degrade the SSD because you will be doing unnecessary writing to the disk.
This post
reveals the difference between quick format and full format.
In addition to speeding up the SSD, there are some other reasons for wiping the SSD. They are summarized as follows.
Clean up the SSD for other usages like storing games or operating systems.
Remove viruses or malware on the SSD to restore its performance
Wipe the data on it to protect your privacy. You need to do it before selling, donating, throwing, or giving it away.
Here comes the question: how to restore SSD performance by secure erasing it? The section below will show you the answer.
How to Restore SSD Performance by Secure Erasing It
There are several ways to restore SSD performance by secure erasing it. You can do that by using a professional third-party program or a Windows-embedded utility. Based on your situation, choose a method and follow the given steps to wipe your disk to restore SSD performance.
Method 1: Use MiniTool Partition Wizard
How to restore SSD performance by secure erasing it? As a multifunctional partition manager, MiniTool Partition Wizard helps. Its Wipe Disk feature enables you to erase an SSD easily. It's worth noting that the software offers you 5 wiping methods to meet your different demands.
With dozens of powerful features, MiniTool Partition Wizard can be used as an SD card formatter, USB data recovery tool, hard drive recovery utility, PC cloning software, PC optimizer, file deleter, etc. Now, apply this software to secure erase your SSD with the steps below.
Step 1: Get MiniTool Partition Wizard installed on your computer. To do that, click the button below to download the setup file, and then run the file and follow the prompted instructions to install the program.
MiniTool Partition Wizard FreeClick to Download100%Clean & Safe
Step 2: Click on the target SSD and tap on the Wipe Disk feature in the left panel.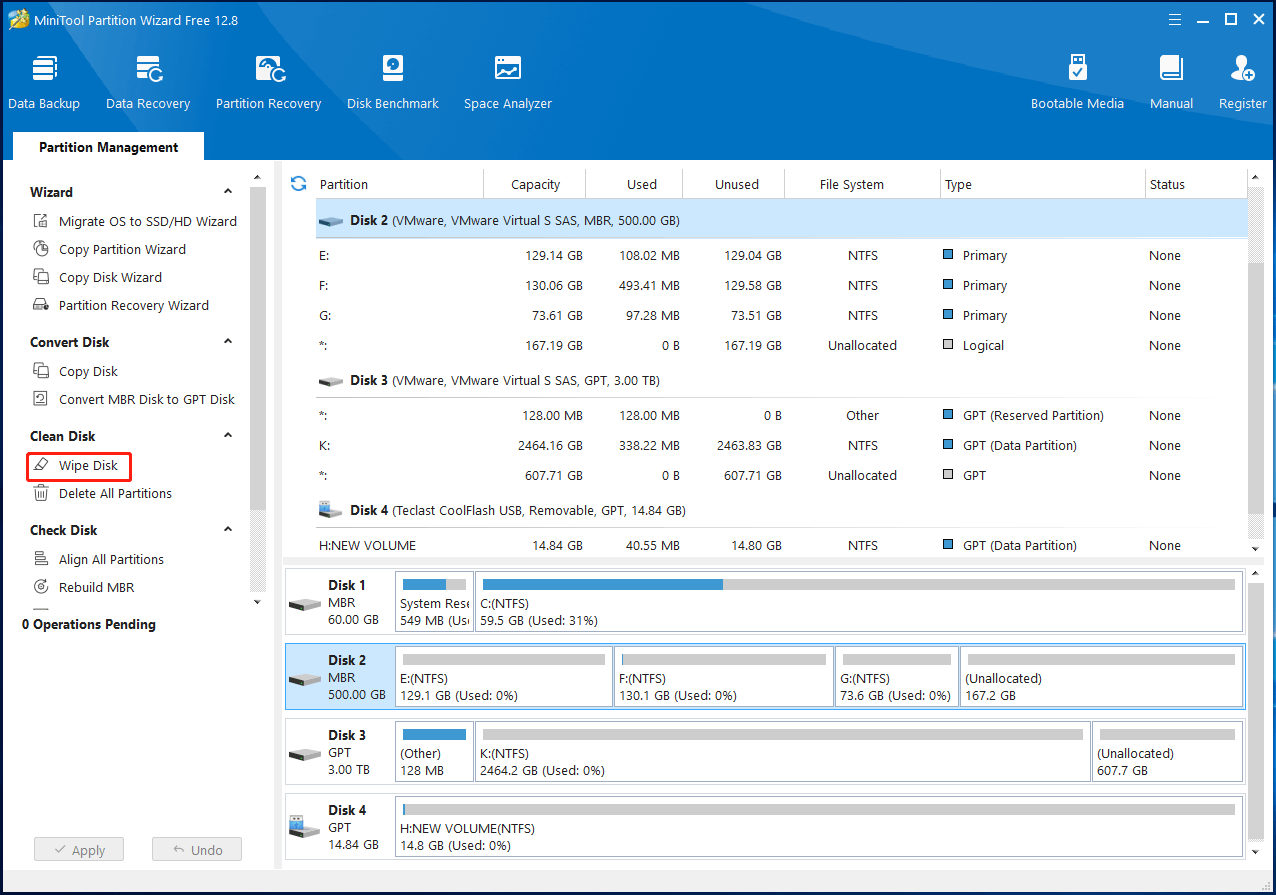 Step 3: In the pop-up window, choose a wiping method from the given options and click the OK button.
Tips:
The more complicated the process, the higher the security level.
Step 4: Finally, click Apply to execute the operation.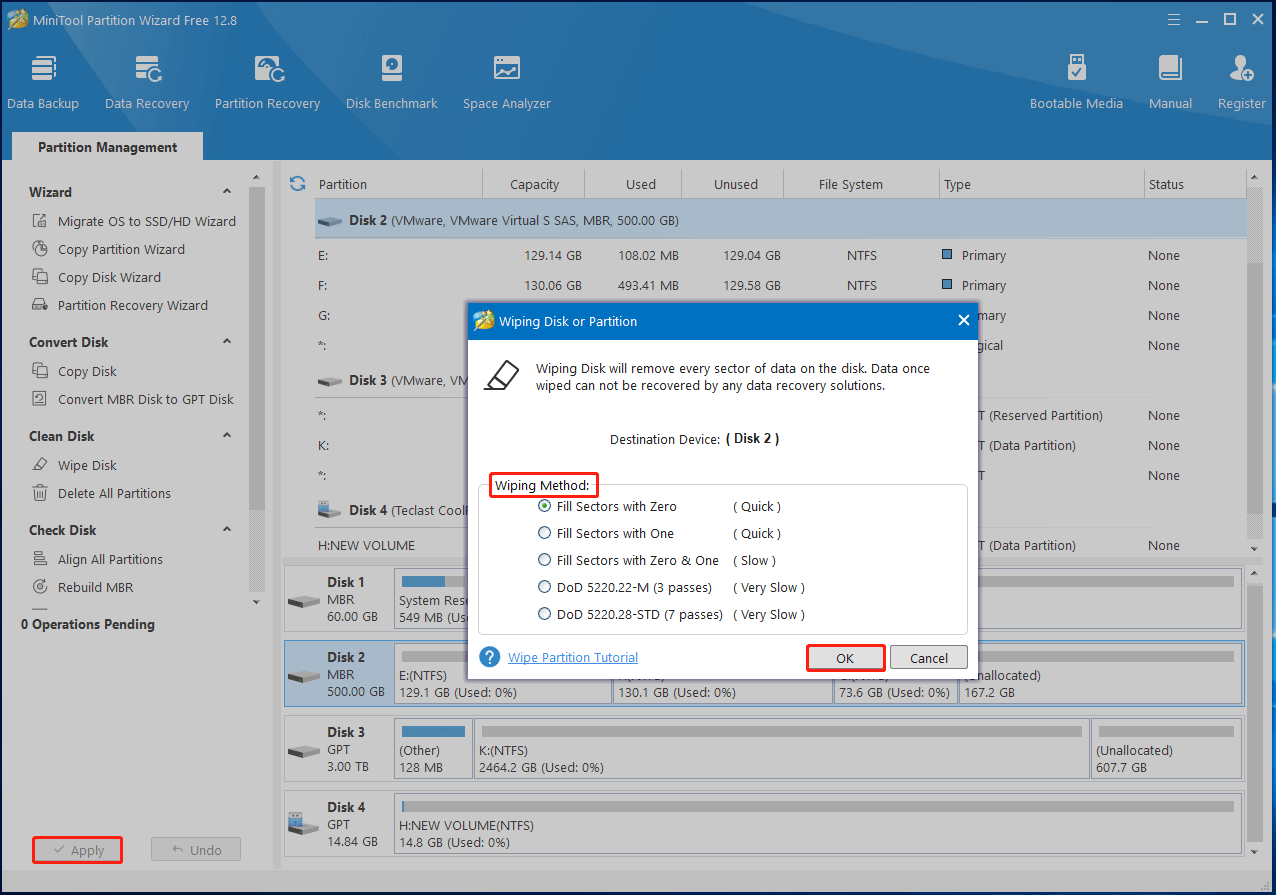 Method 2: Use Diskpart Clean Command
Diskpart is a built-in command line disk partitioning utility in Windows PCs. It helps you manage storage devices connected to your computer. For instance, it can create/format/extend/shrink/delete/wipe partitions. Here, you can make use of it to wipe your SSD.
Step 1: Type cmd in the search box and then click Run as administrator under the displayed Command Prompt App.
Step 2: In the elevated Command Prompt window, type diskpart and hit Enter.
Step 3: In the next window, type the commands below and press Enter after each.
list disk
select disk 0 (replace 0 with the number that stands for your SSD)
clean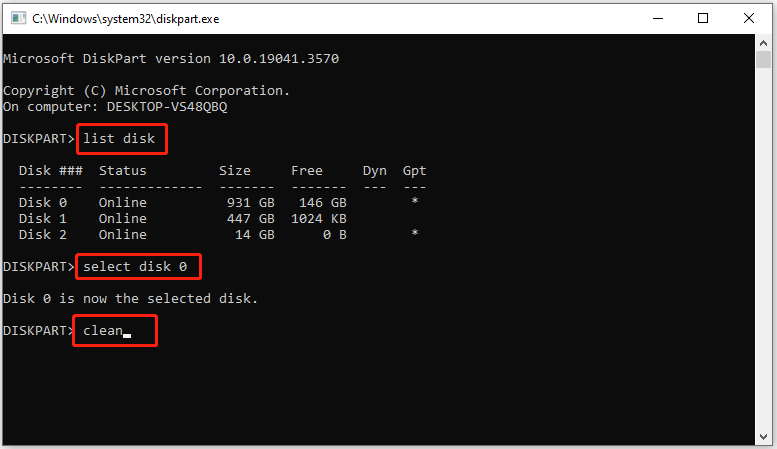 Also read: Diskpart Clean vs Clean All: Choose a Way to Wipe Disks
Will wiping SSD make it faster? If you are looking for the answer, this post deserves your attention. The tutorial reveals the answer for you and shows you how to restore SSD performance by secure erasing it.Click to Tweet
Bottom Line
To sum up, this post explains "will wiping an SSD make it faster than before" and illustrates how to wipe an SSD. If you are bothered by this question, have a look at this post immediately. It explores the answer for you. For any problems related to MiniTool Partition Wizard, please feel free to contact us. Directly send an email to [email protected]. We will get back to you as soon as possible.