Are you going to clone your SSD? If so, you need to prepare a piece of SSD cloning software. MiniTool Partition Wizard, together with other high-rating SSD clone software, is introduced in this post. Pick a desired cloning tool from them now!
To avoid data loss, you need to back up important data before you upgrade hard disks, migrate an existing PC system to a new SSD drive, re-provision the PC with a clean install of Windows within a business environment, or factory reset the PC.
Here comes the need for SSD cloning software. It helps you clone the hard drive's content like the operating system and programs to another drive. Thereby, you can use the new disk as before after the cloning process ends.
How to choose a piece of proper SSD cloning software? The section below tells you the answer. Please move on!
Factors to Consider When Choosing SSD Cloning Software
There are various SSD cloning tools on the market. Which to select? To choose the right piece of SSD cloning software, you should take the factors below into consideration.
Features should be the first item when you choose SSD clone software. For instance, some SSD cloning software allows you to clone hard drives, partitions, and even files, while some only enable you to clone disks and partitions.
Then you need to pay attention to the supported drives and backup types of the SSD cloning software you choose. Some offer you differential and incremental backup options, while others don't. Depending on the specific cloning program, you can back up to external storage devices like flash drives, SD cards, CDs, DVDs, and external USB hard drives.
Besides, certain SSD cloning software can only clone SSDs from supported manufacturers. For instance, Samsung Data Migration only clones SSDs made by Samsung.
The supported operating system of the SSD cloning software is another factor that should be considered. You should check if your computer can run the cloning tool to select. Then choose a proper version to get it installed on your computer.
Tips:
Depending on the cloning software, the cloning feature is available in the free or premium edition. If you are looking for SSD cloning software free, consider an open-source utility.
Other factors like running speed, extra features, cloud support, and ease of use also play a role in measuring the best SSD cloning software. Several pieces of SSD clone software are listed below. Pick one from them according to your needs.
#1. MiniTool Partition Wizard
MiniTool Partition Wizard is a comprehensive partition manager with dozens of features included. Its Migrate OS to SSD/HDD and Copy Disk feature can help you clone hard drives and operating systems. To clone a specific partition, simply use the Copy Partition feature.
You can use it to clone OS to SSD/HDD, back up a computer to an external hard drive, or clone HDD to SSD and vice versa. By doing so, you are able to replace your hard drive without reinstalling Windows or upgrade to a larger hard drive without data loss.
During the cloning process, you are allowed to resize the partition based on your situation. In addition to hard drive/partition clone, MiniTool Partition Wizard includes features such as Space Analyzer, Disk Benchmark, Surface Test, Data Recovery, Wipe Disk, Convert MBR Disk to GPT Disk, Align All Partitions, Rebuild MBR, etc.
If your computer can't boot normally, create a bootable USB with MiniTool Partition Wizard on another working PC. Then boot the faulty computer with the bootable USB drive and then fix hard drive errors or recover missing data.
Tips:
MiniTool Partition Wizard Free edition only allows you to copy non-system disks. For copying system disks and migrating OS to SSD/HDD, you need to get Pro or higher editions. You can refer to this
comparison page
to select a suitable edition.
MiniTool Partition Wizard DemoClick to Download100%Clean & Safe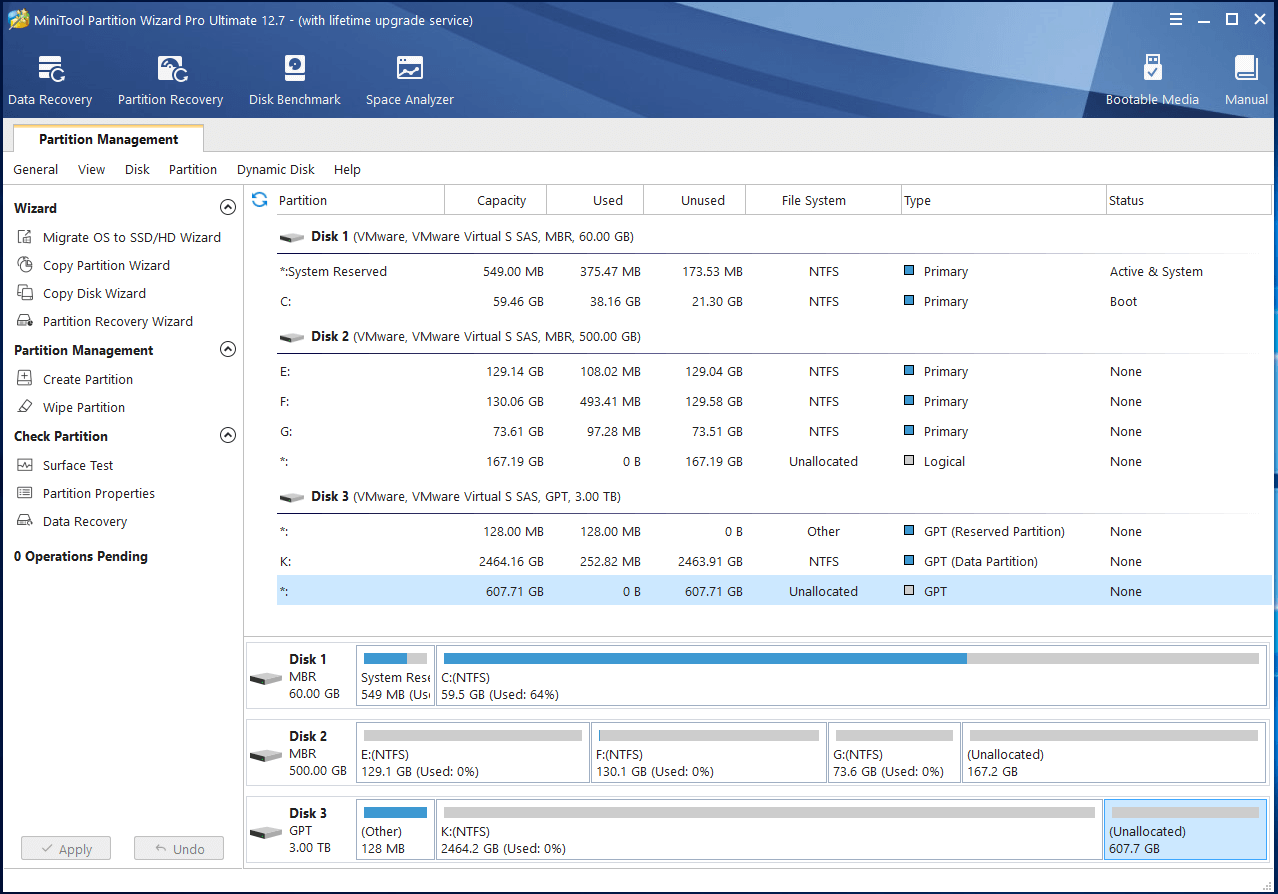 Further reading:
MiniTool ShadowMaker is another choice for cloning hard disks, partitions, as well as folders and files. It enables you to set an automatic backup. Besides, it offers three different backup schemes, including full backup, incremental backup, and differential backup.
This free SSD cloning software also includes some advanced backup parameters. For instance, you can set the backup compression level and encrypt the backup image, etc.
MiniTool ShadowMaker TrialClick to Download100%Clean & Safe
#2. Paragon Hard Disk Manager
Paragon Hard Disk Manager is a piece of SSD cloning software, which allows you to clone an entire disk, a specific partition, or even specific files to another drive. You can even resize the partition during the cloning process or copy a hard drive to another with a different sector size.
You are allowed to schedule backups and automate the process. After the operation ends, this SSD clone software will send completion notifications via email. By using software, you can create a virtual clone of your PC to a USB drive and then run it portably from another PC.
Its Recovery Media Builder assists in creating recovery media that can boot a non-bootable PC. In addition to that, this hard disk manager boasts many other disk-related features. Compatible with Windows 7 to Windows 11, it has good compatibility.
The drawback is that this software doesn't have a free version. If you are looking for a piece of free cloning software for SSD, it doesn't meet your suit and you need to try other tools.
#3. Macrium Reflect
Like Paragon Hard Disk Manager, Macrium Reflect can also clone disks, partitions, and individual files. Besides, it supports imaging and cloning to removable media, virtual environments, and live Windows imaging. The free version of Macrium Reflect allows you to clone disks to SSD/HDD, restore systems that won't boot, and schedule backups.
Tips:
With limited features, the Macrium Reflect free version is available for both personal and home use.
This free SSD cloning software can make an exact replication of SSDs, other drives, and compressed archived files. It is also capable of mounting virtual images of files and directories, helping you recover them in case of system failure.
Moreover, this cloning SSD software is also useful for trimming SSDs and recovering damaged disks and partitions. However, it doesn't have support for incremental backup and backup sync.
#4. O&O Disk Image
Working with Windows 8.1/10/11, O&O Disk Image supports the latest UEFI system. It can back up specific files, partitions, and hard disks on the computer. It also allows you to back up items to external media like a USB stick and set this to do so automatically in a plug-and-play fashion.
This SSD clone software supports incremental and differential backups. Based on your demands, you can choose a suitable backup type. With a modern and clean interface, O&O Disk Image is easy to use and highly customizable.
#5. Samsung Data Migration
As its name suggests, Samsung Data Migration is a disk cloning tool developed by Samsung. It is intended for Samsung SSDs, so SSDs from other manufacturers are not supported. It means that you can't use it to migrate data to other brands of SSDs.
This free cloning software for SSD helps you migrate all of your data (including operating system, application software, user data, etc.) from the current system disk to a new Samsung SSD. Please note that you can't clone a data disk by using this SSD cloning software.
#6. Clonezilla
Clonezilla is an open-source hard drive cloning tool, which means it is completely free of charge. Different from most other disk cloning software, it runs exclusively from a live CD or USB flash drive. It allows the system admins to carry on bare backup and entire system deployment.
Clonezilla is one of the free SSD cloning software that works on drives with bad sectors. It supports multicast cloning, BitTorrent, AES 256 encryption, and the simultaneous cloning of 40+ systems. You can use it to clone hard disk and restore one image to multiple local devices.
It works with Windows, macOS, Linux, FreeBSD, NetBSD, and Chrome OS. It doesn't support differential/incremental backup and online imaging/cloning.
How to Clone an SSD by Using MiniTool Partition Wizard
Step 1: Get MiniTool Partition Wizard installed on your computer. To do that, click the button below to download the setup file and then install the program by following the on-screen instructions.
MiniTool Partition Wizard DemoClick to Download100%Clean & Safe
Step 2: Launch MiniTool Partition Wizard to access its main interface.
Step 3: Click on Copy Disk Wizard in the left panel and tap Next in the pop-up window.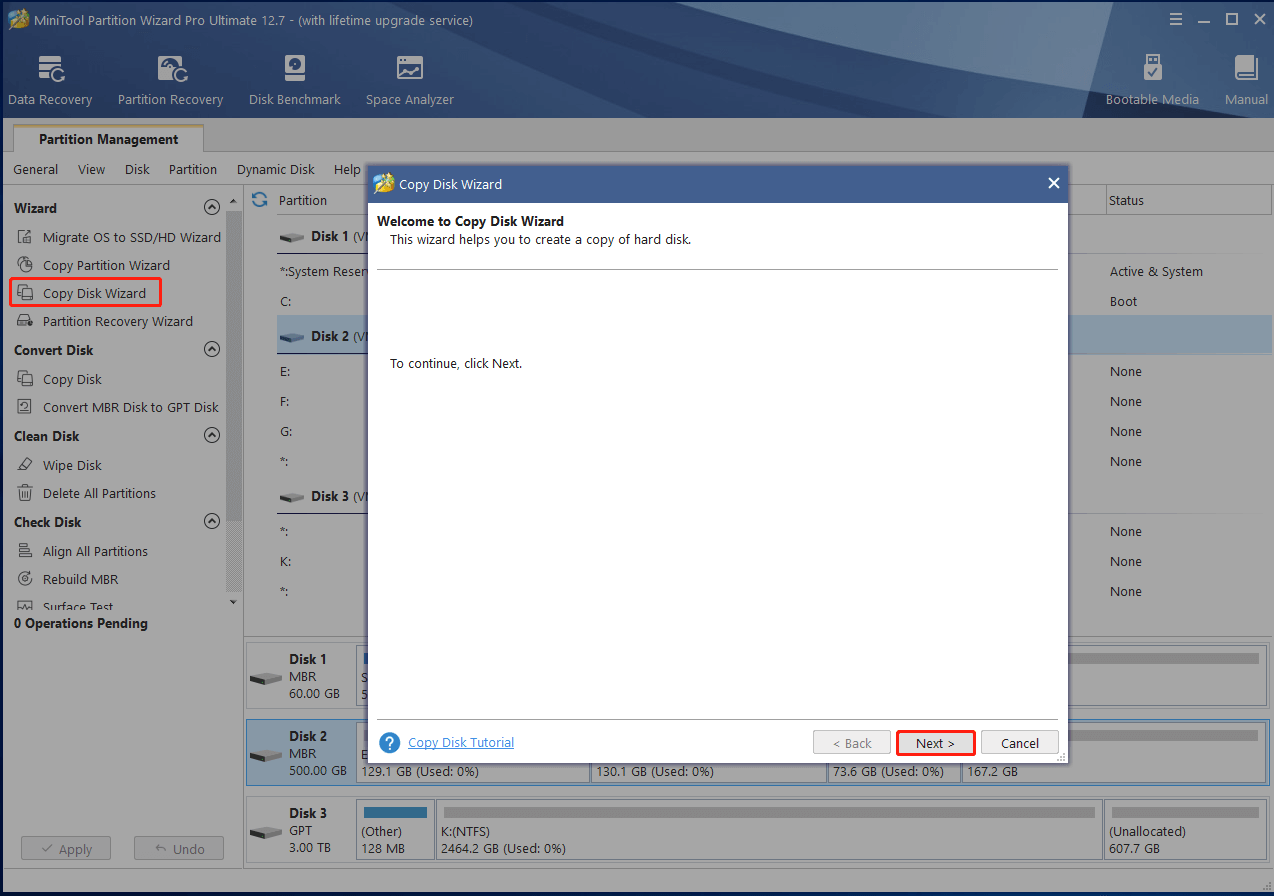 Step 4: In the next window, select the disk to clone and click the Next button to continue.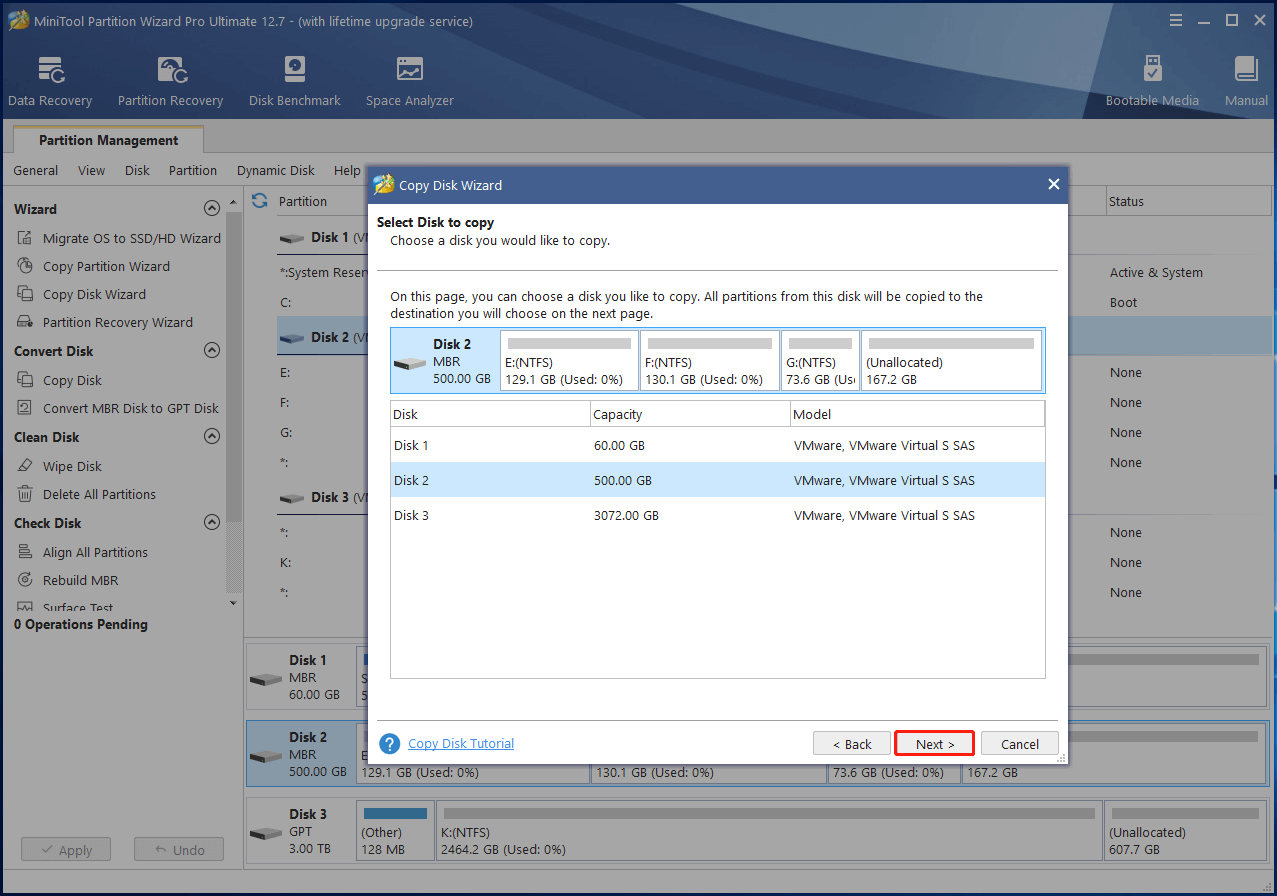 Step 5: Click on the destination disk in the prompted window and click Next. Then a warning window will prompt, stating that all the data on the disk will be destroyed during the cloning process. After ensuring that there are no important data on it, click the Yes button to confirm the operation.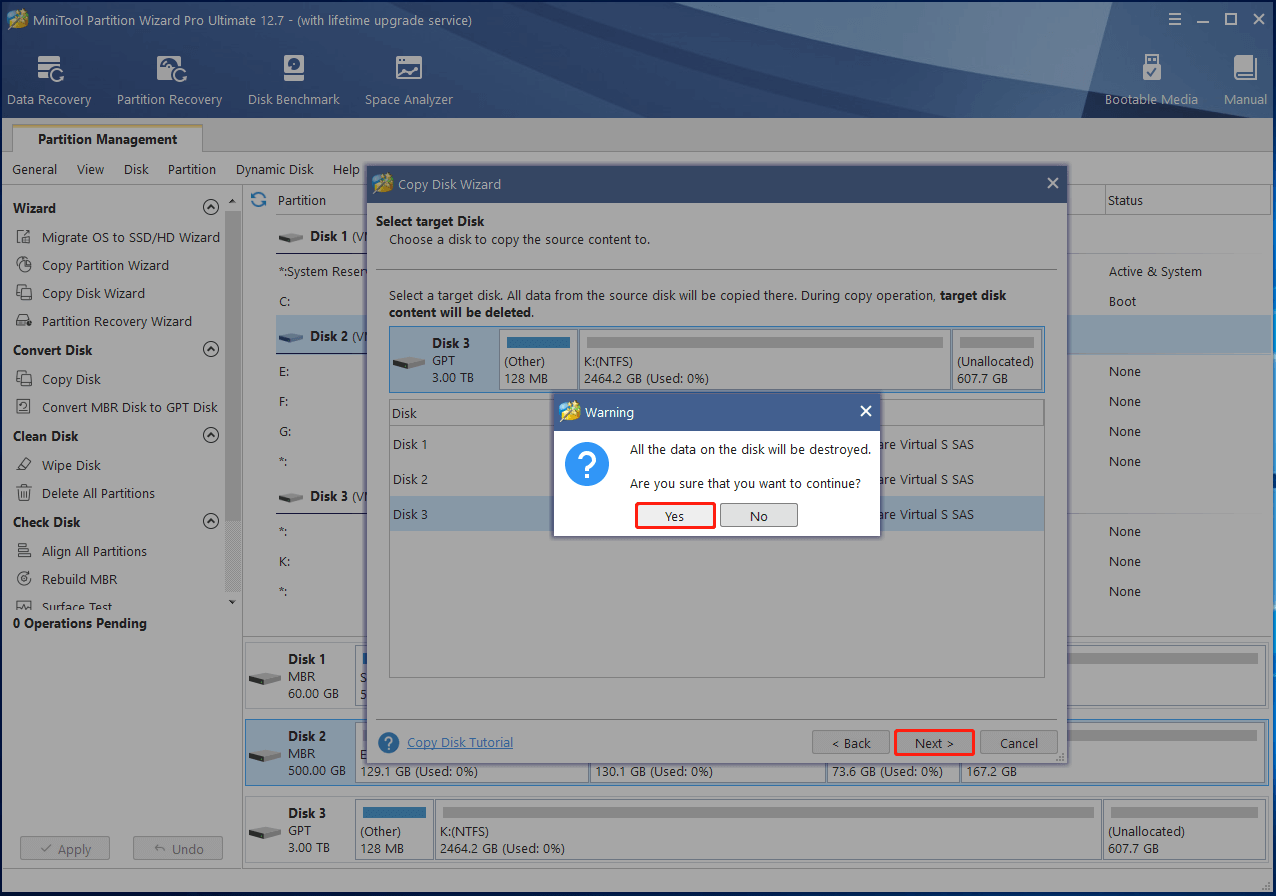 Step 6: Then choose copy options from the list and click the Next button. For instance, you can fit partitions to the entire disk or copy partitions without resizing. If the destination disk is an SSD, it is recommended to check the "Align partitions to 1 MB" option. You'd better choose the option "Use GUID Partition Table for the target disk" when the disk is in GPT partition style.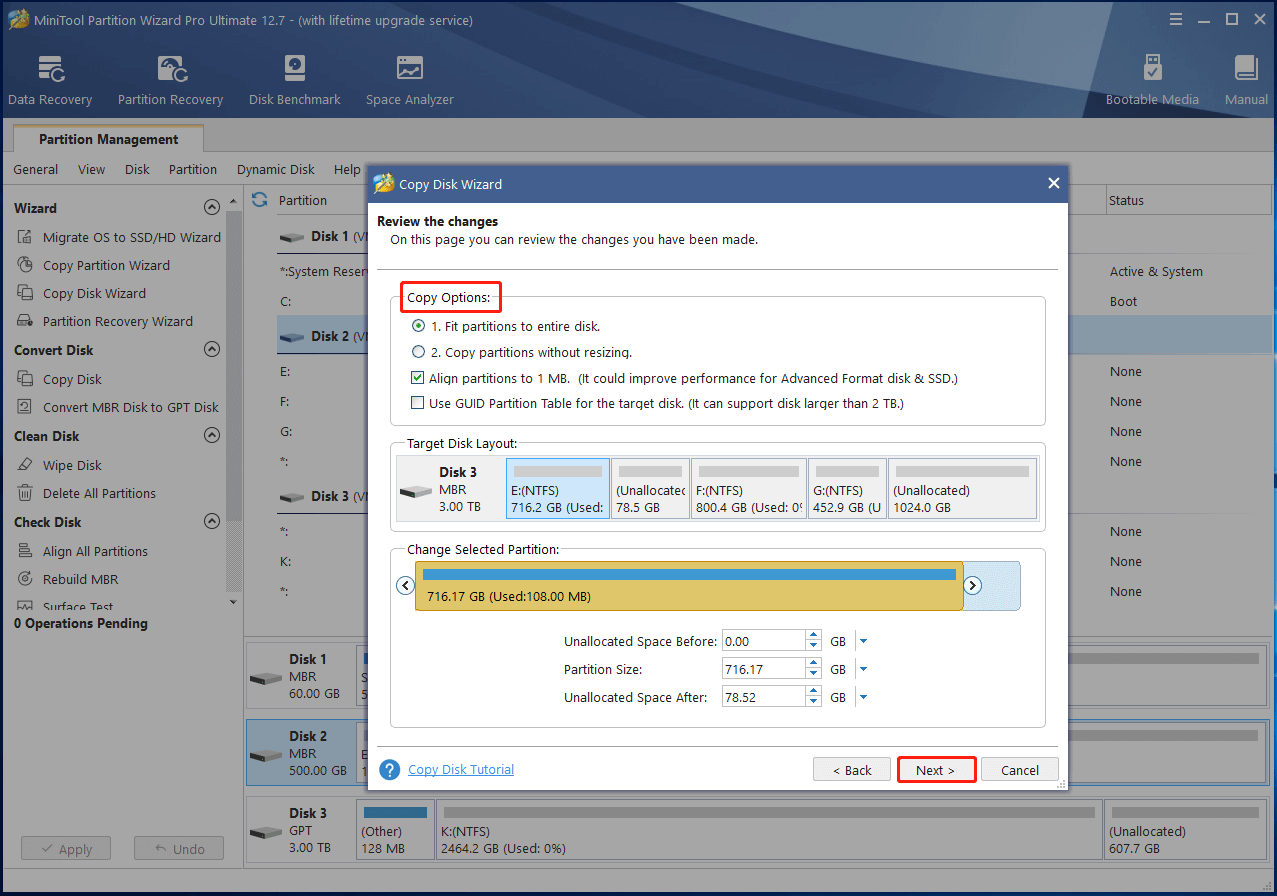 Step 7: After reading the note, click Finish to end the configuration.
Step 8: Tap Apply and follow the prompted instructions to carry out the operation.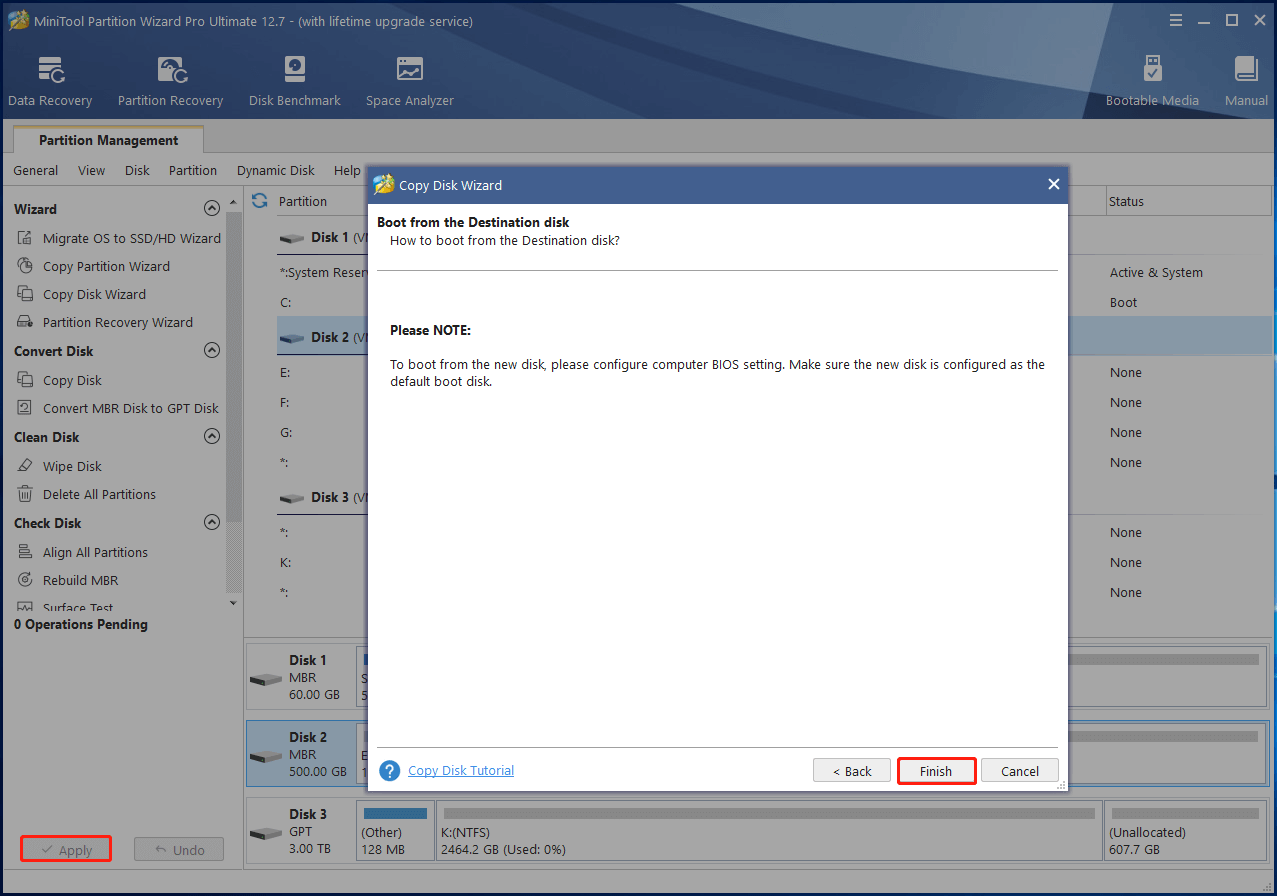 When you receive cloning hard drive SSD taking forever issue, fix it with the provided methods in the post.
Do you need SSD cloning software? If so, this post deserves your attention. It collects 6 pieces of SSD clone software.Click to Tweet
Bottom Line
This post summarizes some factors for selecting suitable SSD cloning software and then lists several trustworthy options. After that, it illustrates how to clone an SSD via MiniTool Partition Wizard. Simply put, this is a complete SSD cloning guide.
You can clone your hard drive, partition, or file with any SSD clone software introduced in this post. It's your turn to have a try! For any issues or questions about MiniTool Partition Wizard, please feel free to contact us by sending an email to [email protected]. We will help you solve them as soon as possible.