Are you planning to buy a thumb drive but do not know what size is right? If so, this post is worth reading. It displays the available thumb drive sizes on the market, discusses other factors you need to notice when buying a thumb drive, and shows you how to retrieve its space using MiniTool Partition Wizard.
Thumb drives or USB flash drives are of great importance. When you need to back up important data and transfer files, thumb drives are not absent. Considering the thumb drive's practicality, you may want to buy one. How large thumb drive do you need? Scroll down to learn about the thumb drive sizes.
Thumb Drive Sizes
What size of a USB flash drive should I buy to back up my laptop's content?
In 2002, the first thumb drive was sold in the U.S. by I.B.M. With the two decades of development, thumb drive sizes range from under 1GB to over 1TB. Let's see how much information a USB flash drive can hold.
Under 1GB
1GB USB flash drives are a little bit awkward these days as they can't store a video or a normal folder sometimes. So, thumb drives under 1GB mostly end up being tossed away. If you are interested in how much data the thumb drive under 1GB can hold, look at the following table:
| | | | | |
| --- | --- | --- | --- | --- |
| USB capacity | Photos | Songs | Documents | Videos |
| 64MB | 30 | 15 | 56 | 7 min |
| 128MB | 76 | 28 | 112 | 15 min |
| 256MB | 152 | 57 | 225 | 30 min |
| 512MB | 307 | 115 | 450 | 1 hour |
| 1GB | 614 | 230 | 900 | 2 hours |

The numbers in the above image are based on the average size of the photos, songs, documents, and videos:
Photo: 1.5MB;
Song: 4MB;
Word document/Excel spreadsheet/PowerPoint presentation: 50KB/27KB/2.5MB;
Video: 768kbp/MPEG4 (actual time may vary based on resolution and compression).
Over 1GB
The thumb drive sizes over 1GB include 2GB, 4GB, 8GB, 16GB, 32GB, 64GB, 128GB, 256GB, 512GB, 1T, and 2TB.
Based on the above numbers, you can infer how many photos, songs, documents, and videos the thumb drives of 2GB/4GB/…/1TB can hold.
How Many Megabytes in A Gigabyte
| | | | | |
| --- | --- | --- | --- | --- |
| USB Capacity | Photos | Songs | Documents | Videos |
| 2GB | 1,229 | 460 | 1,800 | 4 hours |
| 4GB | 2,457 | 921 | 3,600 | 9 hours |
| 8GB | 4,915 | 1,843 | 7,200 | 18 hours |
| 16GB | 9,830 | 3,686 | 14,500 | 36 hours |

Continue to see the ideal use of these different thumb drive sizes:
2GB: The 2GB thumb drives are ideal for people who need to store certain large files along with smaller ones.
4GB: The 4GB thumb drives are ideal for moderate use as they are large enough to hold a great number of backups of documents.
8GB: 8GB thumb drives are great choices for students and office workers. Additionally, an empty 8GB USB flash drive is always needed if you need to create a Windows installation media.
32GB: 32GB thumb drives can perform many tasks like transferring larger amounts of high-resolution video files and entire libraries of songs and images.
64GB: The 64GB flash drives are perfect for someone who looks for a huge library of images, songs, and videos on these storage devices.
128GB/256GB: People who like taking videos and downloading movies can look at 128GB flash drives or 256GB flash drives. The former can hold 40,960 minutes of video, while the latter can accommodate 81920 minutes of video.
Most USB flash drives vary from 16GB to 256GB nowadays. As for larger space, you can find 512GB/1TB/2TB flash drives.
Is Bigger Better?
Is a bigger thumb drive better? Absolutely, it is NO. It is important to get a thumb drive with large capacity, but how large the thumb drive should be depends on what you are going to do and use the USB for.
If you want a new thumb drive for file backup, buying a large thumb drive is always right; if you want one for data transfer, USB transfer speed is of vital importance.
USB Transfer Speed
The USB transfer speed came out in 1996 and has been upgraded to USB 4. The original USB 1.0 and 1.1 can handle 1.5MB/s and 12MB/s respectively. Then, USB 2.0 came out and it can handle the data transfer rate of 60Mb/s. Since 2008, the USB transfer speed was greatly improved: the USB 3.0 can handle the transfer speed up to 5 Gbit/s; the USB 3.1 up to 10Gbit/s, and the USB 3.2 up to 20Gbit/s. As to USB 4.0, its transfer speed is up to 40Gbit/s.
Nowadays, most thumb drives adopt USB 2.0 and USB 3.0 on the market and the USB 4.0 flash drive is unavailable.
If you want to learn about the factor more, What Does USB Stand For would be helpful.
Besides thumb drive size and USB transfer speed, thumb drive brand and price are also need to be noticed.
Brand
You should also take the thumb drive brand into consideration. Reliable brands tend to have high-quality control for assembly and use higher-grade chips.
Additionally, their algorithms will have larger error detection and correction data lengths, this means that your data will be still preserved when there is a bad memory cell or more.
What are the reliable thumb drive brands? They are SanDisk, Kingston, Samsung, and Toshiba…
Price
Buy a cheap thumb drive or an expensive one when they feature the same capacity, interface, and brand? Buy the expensive one. This lies in the quality of components in the expensive thumb drive, which indicates how well it will perform.
Bear what you going to use the thumb drive for in your mind and the above factors and pick up the best thumb drive for yourself.
Note: Do not purchase a USB flash drive that requires software to be installed on your computer as the software is usually unneeded and can trigger some issues down the road.
The Practical Space Is Smaller Than the Size You Bought
You might have noticed that the practical thumb drive capacity is smaller than the size you bought. For example, you bought an 8GB thumb drive but there was only 7.48GB available space for use. Where did the left space go? When manufacturers produce a thumb drive, some drive in the drive is covered by file booting and file system.
How to Protect Your Thumb Drive?
Thumb drives don't degrade because of age but this does not mean that they can be used forever. Thumb drive lifespan depends on usage. Generally, they can withstand between 10, 000 to 100, 000 write/erase cycles. Therefore, how you use thumb drive is vitally important.
There are some suggestions on how to prolong thumb drive lifespan and avoid unnecessary expenses in the retrieval of files in the event that thumb drives crash.
Use Your Thumb Drive Gently
The thumb drive comes in a small compact and most people are used to placing it on the keychain. It is must be admitted that this is an effective way to avoid thumb drive loss but the key conflicts will damage it.
If you go outside with your thumb drive, please put it in a padded pouch or another secure container so it will not get banged around.
Do Not Edit Files Directly on the USB Flash Drive
Thumb drives have limited write/erase cycles and this why it is not suggested that you edit files directly on it. When you need to edit the file on your thumb drive, you should set up a scratch folder where you will save all the work you are currently doing. Once you are finished, save this folder onto the USB flash drive.
Remove Thumb Drive Safely
When you finish the task with your thumb drive, do not forget to remove it from your computer. The system will keep repeatedly check it for changes and this wears out prematurely and shortens its lifespan.
As for removing the thumb drive, do not just pull out it from the USB port. You should right-click the thumb drive icon on the taskbar and then click the Eject option.
After removing it, you should cover it with a cap.
Don't Defragment Your Thumb Drive
Defragment is needed when you want to prong an external hard drive lifespan. However, it is not feasible for prolonging a thumb drive lifespan. If you defrag your thumb drive, you would slowly damage it by consuming the number of reads/writes the drive can do.
Always Scan Your Thumb Drive for Viruses
This suggestion is quite important. Once the thumb drive is infected with viruses or malware, files will be damaged and the connected devices will be damaged.
Whenever you plug in a thumb drive, make sure to scan it first. This can help ensure no malware or malicious programs are on the drive.
How to Reformat Thumb Drives (Especially a Large One)?
When a thumb drive has been used for a long time, it is possible that the usable space is not enough or there are some errors like USB flash drive not recognized. In this case, reformatting the thumb drive is quite useful.
How to reformat the thumb drive? Here it is highly recommended that you try MiniTool Partition Wizard. It is a professional Windows-based partition manager, skilled in partition management such as formatting partitions, extending partitions, recovering lost partitions, and more.
Differing from Disk Management and Diskpart, this software allows you to format a thumb drive larger than 32GB to FAT32. To figure out the reason, please move to What Is FAT32 Partition Size Limit and How to Break It.
Let's see how to reformat a thumb drive with MiniTool Partition Wizard.
Note: If there are important files in the thumb drive, you should back up them with another storage device.
Step 1: Connect the thumb drive to a Windows computer.
Step 2: Click the following button to download MiniTool Partition Wizard.
Step 3: Install the software and launch it to gets its main interface.
Step 4: Locate the thumb drive on the main interface and highlight its partition. Then, click the Format Partition feature from the left panel.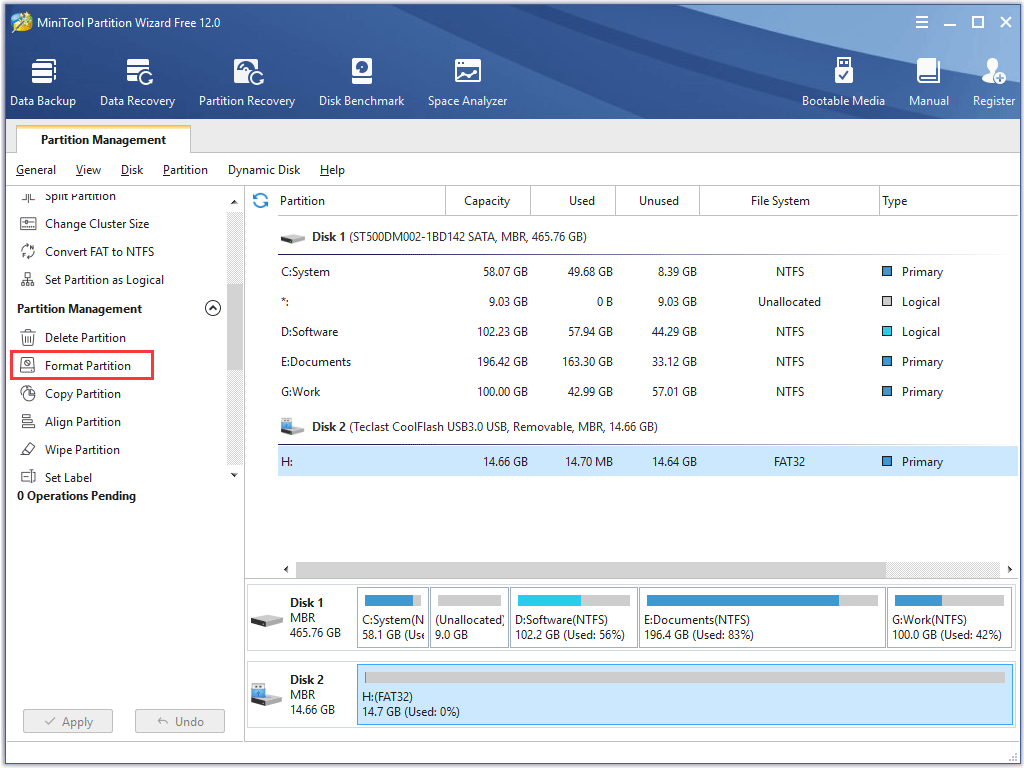 Step 5: You will see that his software allows you to format a storage device to NTFS, exFAT, FAT32, etc. Choose the file system you need and then click the OK button.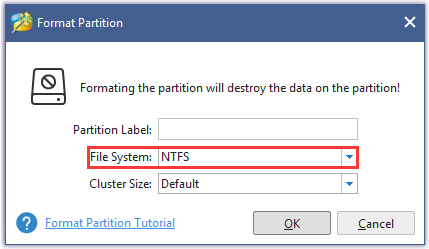 Step 6: This software will automatically go back to its main interface on where you need to click the Apply button to execute the changes.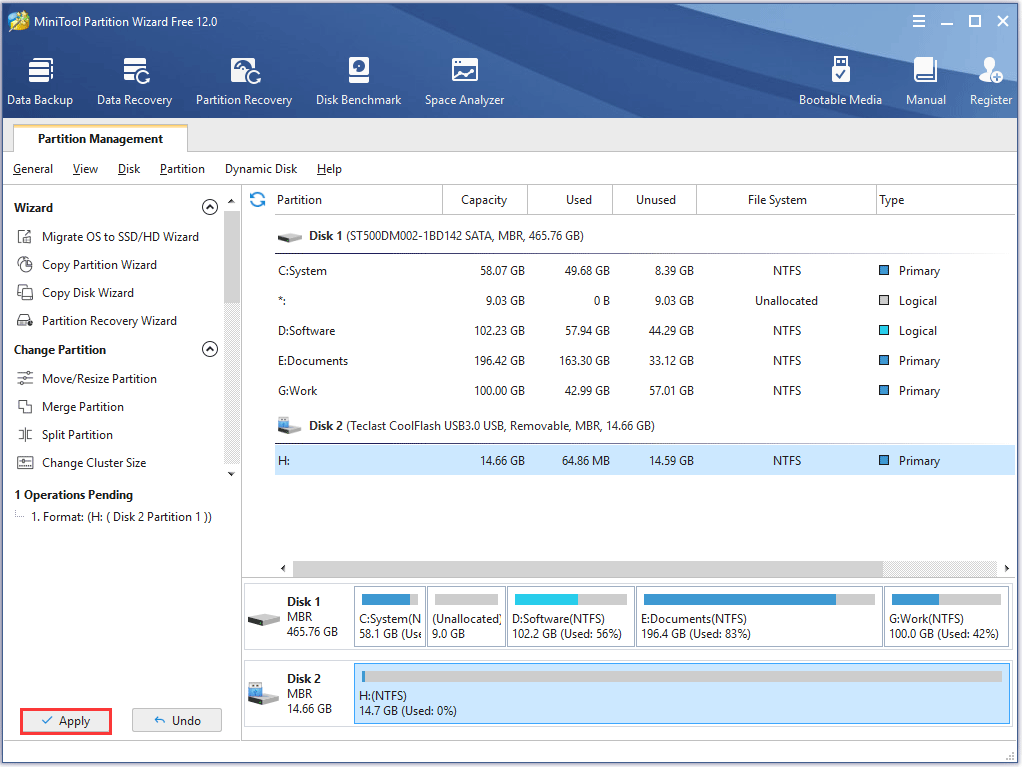 A few seconds later, the thumb drive will be reformatted to the file system you select.
How large a thumb drive should be suitable for you? Read the post in which there is a detailed guide on selecting a right thumb drive size.Click to Tweet
Final Words
Thumb drive size is up to 2TB and there is a bulk of choices. When you want to purchase one, please keep the rule in mind that the thumb drive suitable for you is the best. If you have any other doubts about thumb drive sizes, you can leave a comment in the following zone and we will reply to you as soon as possible.
Additionally, when you are using your thumb drive, please follow the above suggestions. For a long-time use, there might be some issues. You can use MiniTool Partition Wizard when the thumb drive needs to be formatted. If there are some doubts about running the software, feel free to contact us via [email protected].
Thumb Drive Sizes FAQ
What is the biggest size of USB flash drive?
The biggest size of USB flash drive is up to 2TB (2048GB). One example is the Kingston DataTraveler Ultimate 2TB.
What size thumb drive do I need?
This depends on what you are going to use the thumb drive for. If you want to back up a great number of documents, a 4GB thumb drive is enough. If you want to transfer lots of video and audio files, a 32GB thumb drive is better.
What size thumb drive do I need for 1,000 pictures?
A 2GB thumb drive can hold,000 pictures featuring 1.5MB on average.
How many songs can you put on a 128GB flash drive?
Take MP3 for example. A 128GB thumb drive can hold 16,384 songs of 8MB or 21,845 songs of 6MB.