The error 0x8007045d is rather common for Windows users. This error usually happens when you are trying to back up system with external storage devices. In this post,
MiniTool
will analyze the potential causes of error 0x8007045d Windows 10 and offer solutions to fix the error.
Why Does the Error 0x8007045d Appear
Error code 0x8007045d may occur to Windows PC when a device has difficulty in locating and reading files correctly. Generally speaking, error 0x8007045d Windows 10 often happens during the period of Windows updating. However, this error code also appears during a faulty file transfer or system backup too.
The error 0x8007045d can appear along with the error message "this request could not be performed because of an I/O device error" or "Windows cannot install required files in the pop-up window when accessing files or updating Windows.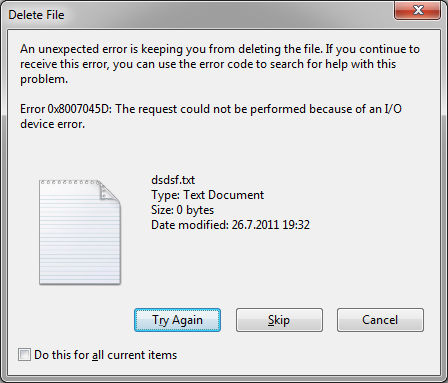 What causes error code 0x8007045d? There are several possible reasons for that.
Registry Editor is damaged.
System or program files are corrupted.
The downloaded files are incomplete.
There's something wrong with storage devices such as external hard drive, USB drive, CD, DVD.
The memory modules are damaged.
The USB port is damaged (on the system).
Hence, once the error occurs, you need to try all the available methods one by one until it is solved. The error 0x8007045d is common and has no long-term impact on your computer. However, if the sectors on the hard drive have been damaged, it may have negative effect on the overall integrity of the file.
So, you need to take measures to avoid this impact and other possible consequences. Read the following part to get these fixes.
Fix 1: Restart Windows
When you encounter the error 0x8007045d, try restarting your Windows PC to fix it. For most Windows problems, this method is effective. Therefore, restarting Windows is worth having a try. If this request could not be performed because of an I/O device error still persists after rebooting, please move on to obtain other solutions. 
Fix 2: Try a Different USB Port
You should try to insert the external storage device into another USB port when the first one fails to work. Faulty USB ports are not rare case, so you should have a try. If this solution works, you may have one of the two cases. Either the USB port is damaged or the USB driver is corrupted.
On the contrary, you need to try other possible fixes instead.
Fix 3: Check for the Drive
The bad sectors on the surface of the hard drive can lead to data retrieval issues, which is the source of error 0x8007045d. Fortunately, you can take measures to solve this issue. Checking for the drive is an ideal solution to find bad sectors.
The Surface Test feature of MiniTool Partition Wizard enables you to do this operation with ease. As a professional partition manager, it boasts many powerful features such as Format Partition, Data Recovery, Check File System, Disk Benchmark, and so on.
You may be also interested in this: 7 Fixes to File System Error – 2147219196 [Fix 3 Works Well]
Besides, it is a free and reliable tool to find that whether there are bad sectors on your hard drive. You can get this wonderful software simply by clicking the button below.
MiniTool Partition Wizard FreeClick to Download100%Clean & Safe
After downloading and installing MiniTool Partition Wizard Free Edition to your computer, launch it and then follow the steps below.
Step 1: Select the target drive and then click the Surface Test feature in the left action panel.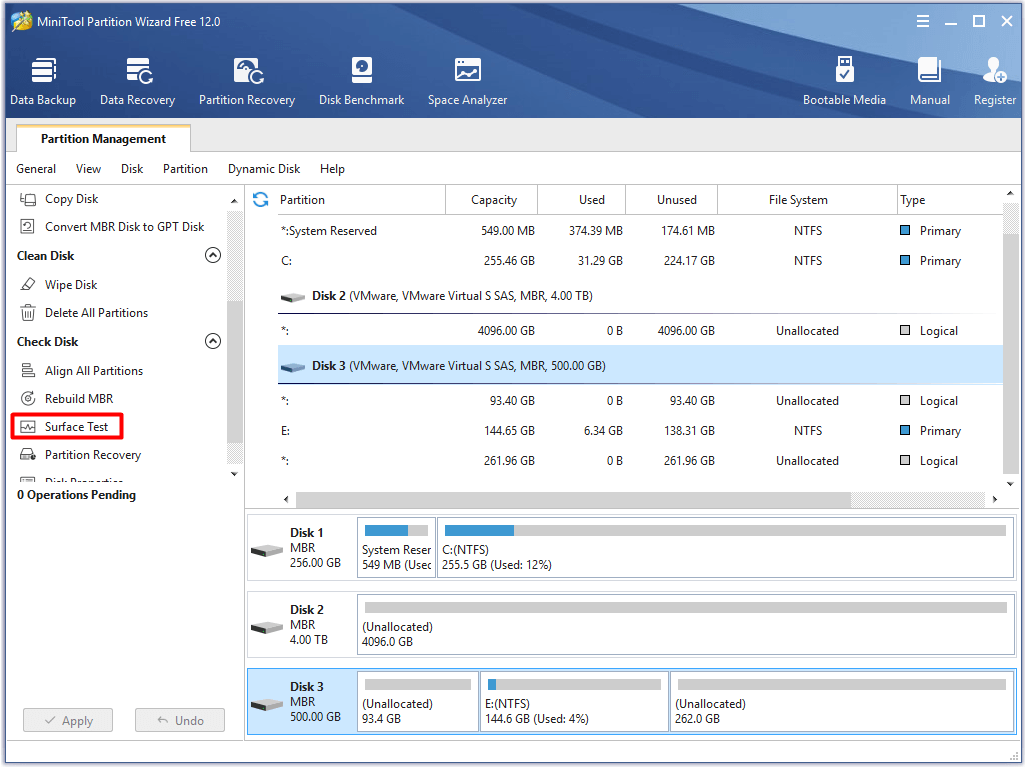 Step 2: Click the Start Now button to begin scanning. Then wait for the finish of the scanning process patiently. If the red occurs in the scanning result, it indicates that there are bad sectors on the drive and you need to repair it. If there's no bad sector on the drive, you should check other places to find the root of the error.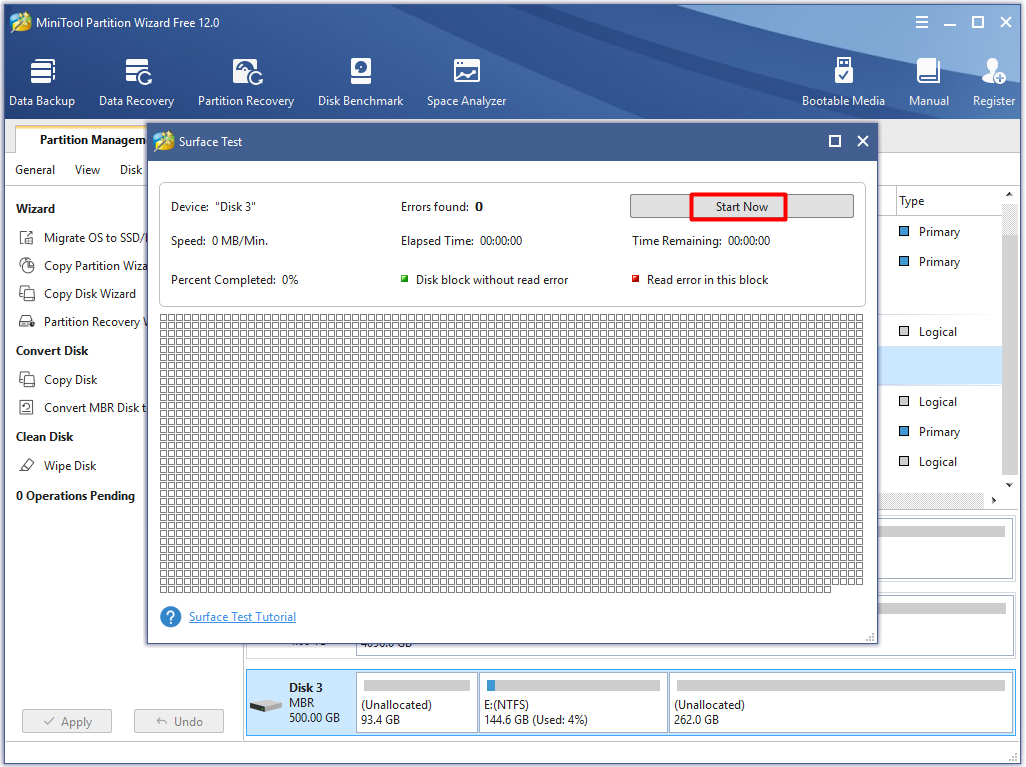 After finding bad sectors, you should do something to repair them. You may raise a question "how to remove bad sector from hard disk". To get the answer, read this post: Can We Remove Bad Sector from Hard Disk Permanently?
Bothered by error 0x8007045d Windows 10? Don't know how to fix error 0x8007045d? Read this article to find answers. Click to tweet
Fix 4: Shrink Hard Drive Volume
For people who encounter the error 0x8007045d when copying/transferring data to external storage devices, shrinking hard drive volume is effective. Before shrinking the hard drive, make sure that you have the administrative right. After that, follow the steps below to finish the whole operation.
Step 1: Type control panel in the search box, and then click on Control Panel from the search results to open it.
Step 2: Click on the System and Security option in the Control Panel page to go on.
Step 3: In the System and Security page, click Create and format hard disk partitions to continue.
Step 4: Then Disk Management will be opened. Right click the drive that you would like to shrink, and then select the Shrink Volume option from the list. Then, the operation will be finished automatically.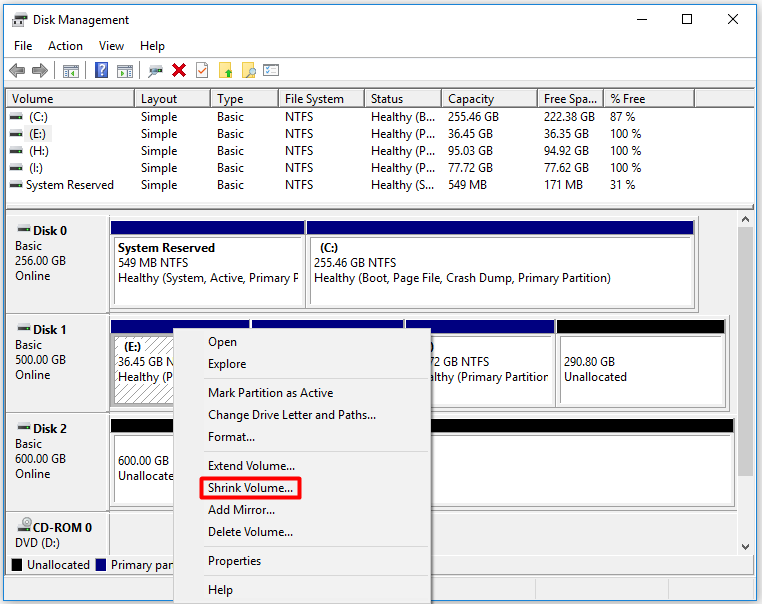 Alternatively, you are able to finish the shrinking operation in MiniTool Partition Wizard. Through the Move/Resize feature, you can shrink the volume easily. It is a safe and effective software allowing you to manage your partitions easily. You can click the following button to download it at any time.
MiniTool Partition Wizard FreeClick to Download100%Clean & Safe
Fix 5: Disable Antivirus Software and Firewall
Antivirus software is notorious for interfering with updates and installations. When you attempt to back up your system but the application itself conflicts with the antivirus software or Firewall running in the background, try disabling them to avoid possible errors.
To disable antivirus software, simply change the settings of the application. It is also simple to disable Firewall. Here's how to do.
Step 1: Open the Control Panel, and then look for and click on Windows Defender Firewall.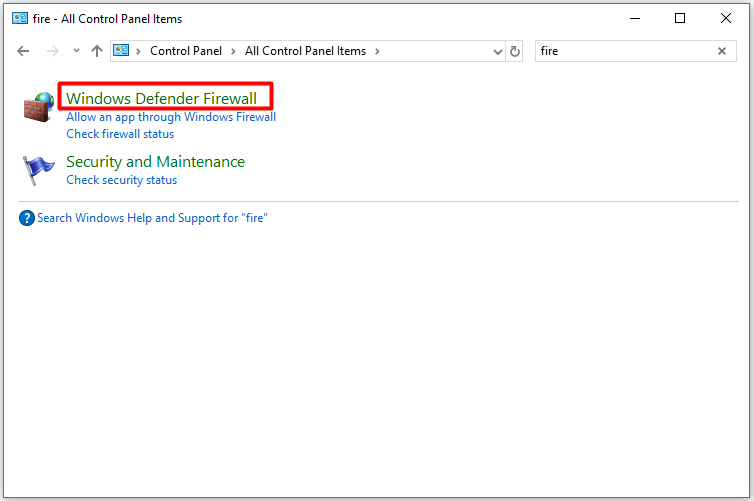 Step 2: Click the Turn Windows Defender Firewall on or off option to go on.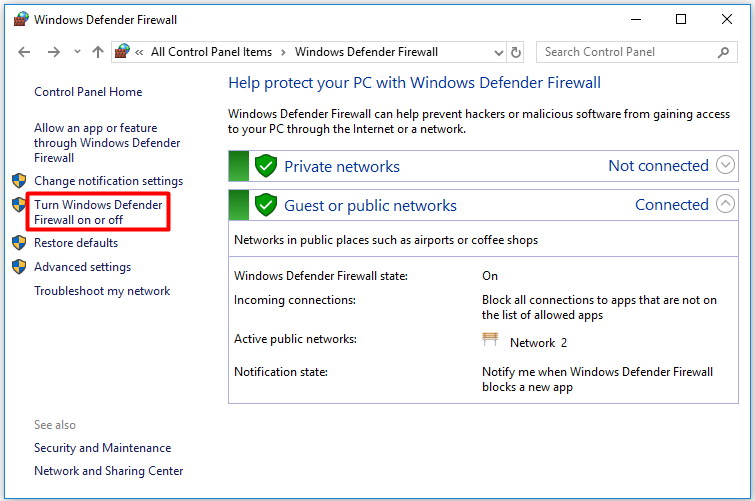 Step 3: Check the Turn off Windows Defender Firewall option in private network settings and click OK to save the changes.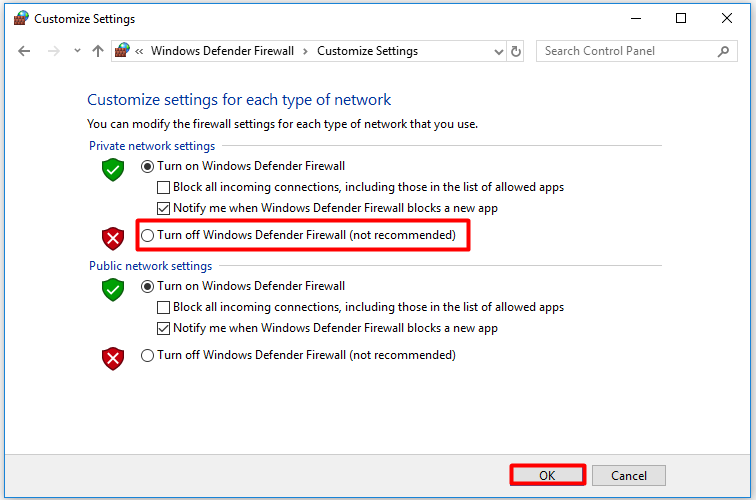 After disabling antivirus software and Firewall, check whether the error 0x8007045d Windows 10 is solved or not. If the error still exists, enable the antivirus and Firewall back to protect your computer from attacking. Then continue to try other methods.
Fix 6: Boot Computer in Safe Mode
When you are unable to disable your security software, entering Safe Mode is worth considering. This mode will offer you a working shell with minimal applications running in the background. To some extent, this method is perfect because the mode will provide you with an ideal environment where you can utilize your backup software or external storage drive.
Step 1: Log in your computer with administrative rights.
Step 2: Click Start and then open the Run window. Type msconfig in the window and hit Enter.
Step 3: Click the Boot button in the Systems Configuration applet, and then click Safe Boot. After the Minimal option is checked, click OK to save changes.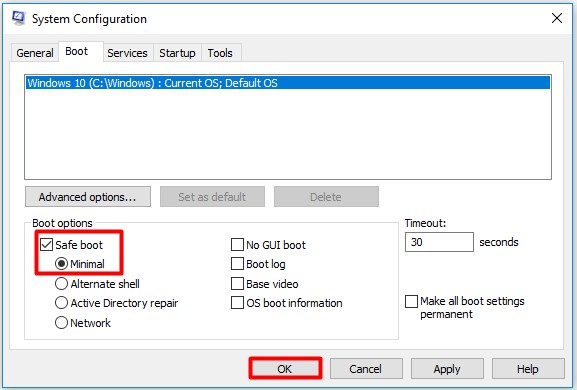 Step 4: Click the Restart button to reboot your system on the pop-up window. Then check if the error 0x8007045d Windows 10 is fixed.
Fix 7: Repair Registry Editor
The Windows Registry functions as the database system that saves all the important data on the Windows including preferences, desktop settings, attributes for system files and so on. Therefore, when something wrong happens to your Windows Registry, you will be informed via multiple ways including the error 0x8007045d.
It is necessary to scan your Registry Editor to find potential errors. You can consider utilizing automation software because the manual process is too complicated. Advanced System Repair Pro is a great choice, which helps you clean the registry editor errors, eliminate malware and defragment your hard drive.
Fix 8: Clean or Fix Your CDs and DVDs
Grimy fingerprints on the disk may also attribute the error message"this request could not be performed because of an i/o device error". When your disk gets dirty, your PC's disk drive may have difficulty in reading the data on the disk. Clean your disk properly, and then repeat the disk reading operation again.
In addition, if your CDs or DVDs are cracked or scratched, you probably receive the error message too. So, fixing your CDs or DVDs to solve the error is also available. You can send them to a professional DVD repair store or fix them by yourself.
Fix 9: Transfer the Files via the Cloud
When you are unable to access files via external hard drives, the disk drive probably is physically damaged. There is an alternative for you. Send the files to your computer via Cloud Service like Google Drive, Dropbox or One Drive.
In this way, you won't encounter this request could not be performed because of an I/O device error.
Fix 10: Run the Hardware and Devices Troubleshooter
Troubleshooter is a built-in program on Windows. It can find and fix many errors on Windows. When you receive the error code 0x8007045d, try running Troubleshooter to fix it.
To find it, choose Settings > Update & Security > Troubleshoot. After finding it, select the Run the troubleshooter option to enable it.
After that, the program will scan your computer to look for issues on your PC and try its best to solve them automatically. Have a try now!
When the error is fixed, you'd better redownload the file because it may have been damaged or corrupted during the initial downloading process. It is probably caused by the weak Internet connection or the issues with website server. If possible, delete the file and redownload it.
Tip: You can check whether the file is downloaded correctly by comparing the downloaded file size with the standard one given by its official website. If they are same, it can be proved that the downloaded file is correct. If not, it may be damaged or corrupted.
I fixed the error 0x8007045d with the methods given by this post, so I'd like to share with you. If you also encounter this error, try utilizing these methods. Click to tweet
Conclusion
Do you encounter the error 0x8007045d? Are you struggling to escape from it? All the known possible causes and available solutions are listed in the post. Follow these cues and methods to fix error 0x8007045d. You can try them one by one to until the error is solved successfully.
If you have some ideas for the error 0x8007045d, please share with us in the comment area below. Of course, if you have any question or doubt about MiniTool software, don't hesitate to tell us. Leave your words in the comment area or send an email to [email protected] directly.