If you want to play Roblox games on PCs, you need to install RobloxPlayer.exe. In this post, MiniTool will explain what is RobloxPlayer.exe, how to download RobloxPlayer.exe, and how to download and install it.
What Is RobloxPlayer.exe
RobloxPlayer.exe is an executable file that works as a bridge connecting your PC to Roblox's servers. It allows you to join and use different user-generated content in the Roblox platform. Simply put, it enables you to play Roblox games without any interruption.
In addition, RobloxPlayer.exe is also a launcher that enables you to log in to Roblox's Server and play all the games on a single launcher.
As you know, plenty of .exe files contain certain kinds of viruses. Fortunately, the good news is that RobloxPlayer.exe is completely safe and won't do harm to your computer. It is built to offer you a seamless gaming experience while playing Roblox games.
Further reading:
Roblox is a game creation platform where users can create their own games and play games generated by other users. Users can play Roblox games on smartphones (Android and iOS) and PCs (Windows and Mac) for free. To enjoy games on smartphones, you can use Android and iOS apps.
However, you need to get Roblox Player to play Roblox games on PCs. In other words, you need to install RobloxPlayer.exe. Otherwise, you can't play Roblox games on the computer.
Additionally, users can purchase and sell game passes, clothing items, and others via Roblox, but RobloxPlayer.exe is required to enjoy others' content on the PC.
How to Download/Install/Use RobloxPlayer.exe (Windows & Mac)
In this section, we will show you how to download RobloxPlayer.exe and then install & use it on both Windows and Mac devices.
RobloxPlayer.exe Minimum Requirements for Windows
Operating system: Windows 10 or above (64-bit)
CPU: AMD Ryzen 3 3500u or Intel Core i3 6600k
RAM: 4GB
Free disk space: 5GB
Internet connection: 4Mbps at least
The computer must run DirectX11.
If your PC meets the requirements, download and install RobloxPlayer.exe by following these steps.
Step 1: Navigate to the download page and then click the Download latest Version button behind Roblox Player Launcher.

Step 2: Find the downloaded file on your computer and double-click on it to run it.
Step 3: Then you will see the window below.  Just follow the on-screen instructions to finish the installation process.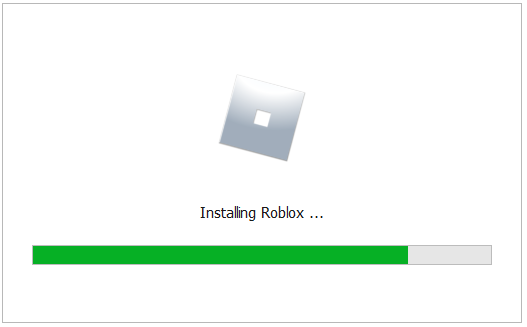 Step 4: Now, you can launch Roblox Player from the Start menu or desktop. Then play and join your friends on Roblox.
RobloxPlayer.exe Minimum Requirements for Mac
Operating system: macOS 10.1 EI Captain or higher versions (64-bit)
CPU: Apple M1 chip or Intel core i5 6600k
RAM: 4GB
Free disk space: 10GB
Internet connection: 4Mbps at least
If your Mac PC or laptop meets the requirements, you can also get the Roblox Player download and enjoy Roblox games on mac.
Step 1: Likewise, go to the download page of RobloxPlayer.exe and then click on the Download Latest Version button next to Roblox Player Launcher.
Tips:
The Roblox Player Launcher is available on Windows, Mac, Android, and iOS devices.
Step 2: Run the RobloxPlayer.exe download file to install Roblox Player. You can do that by double-clicking on the RobloxPlayer.exe file or right-clicking on it and clicking Run.
Step 3: Follow the prompted instructions to complete the process.
Step 4: Similarly, launch Roblox Player on your Mac device and enjoy Roblox games.
Solve Various Issues with Windows PCs with MiniTool Partition Wizard
If you are bothered by various PC issues, you can pay attention to the MiniTool website. You will find useful tutorials on plenty of computer errors like Windows 11 not showing lock screen, Windows 10 black screen, Windows 10 booting to black screen, etc. Moreover, guides for various game errors are also included. For instance, there are posts to fix Elden Ring unable to summon cooperator error, Minecraft exit code 1, this build of Vanguard requires TPM version 2.0, and so on.
As for hard disk or partition errors, MiniTool Partition Wizard can help you find and fix them. If you lose data because of some improper operations or accidents, it enables you to recover it with ease. Get this software to explore more functions.