A great many people don't know where to get the paint.net free download pack. In this post, MiniTool introduces the definition and system requirements of the program in detail. It also provides a full paint.net download/install guide on Windows 10/11 PCs.
Overview of Paint.net
Before you get the paint net downloaded/installed, it's necessary to have an overall understanding of this utility. Here we summarize several frequently asked questions related to paint.net.
What Is Paint.net
Paint.net is a practical image and graphics editing program like Photoshop for Windows PCs. This software was originally developed on .NET Framework and has evolved from a replacement into a powerful graphics editor that supports many plugins.
This utility comes with a friendly and intuitive interface that helps you make a work of art easily. In addition, it also supports unlimited undo, special effects, multiple languages, and a variety of useful tools and plugins. So, it's completely worth trying.
Is Paint.net Free to Download
Is paint.net free to download on Windows 10/11? Of course, yes! There are two editions of paint.net. One is free and the other is paid. The paid version costs $9.9 at Microsoft Store, which is less expensive than Photoshop. If you want to create your graphics work at a low cost, paint.net is worth using.
Paint.net System Requirements
To get the paint net free downloaded/installed smoothly, you need to make sure that your computer meets the basic system requirements of the paint net free download. Here we list them as follows:
OS: Windows 11, Windows 10 (version 1809 or later), Windows Server 2019, Windows Server 2022
CPU: 64-bit processor, Intel or AMD x64, ARM64, a CPU that supports AVX2 recommended
GPU: supports Direct3D 11, NVIDIA GeForce, AMD Radeon, Intel Arc, Intel HD/UHD
Optional: A pen or drawing tablet compatible with Windows
In addition, paint.net runs on Microsoft .NET Framework 7 which is included as a necessary part of the app. The temporary files related to undo/redo operations will be stored on your hard drive, so the actual disk space requirements will rely on the size of your image and the frequency you perform on an image.
Paint.net Free Download & Install for Windows 10/11
Now, the latest version of paint.net 5.0.1 has been released on 20 January 2023. To get paint.net downloaded/installed freely for Windows 10/11, you can refer to the detailed steps below:
Step 1. Click here to open the official paint.net download free page, scroll down to the Download section, and click on the Download Now dotPDN button.
Tips:
If you want to get the paid version of the software, you can click on Get it from Microsoft Store and download it from the store.
Step 2. Then you will be redirected to the dotPDN paint net download free page and click on the blue link Free Download Now from the upper right corner.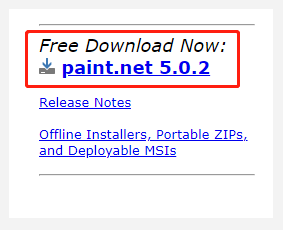 Step 3. Once downloaded, unzip the paint.net package and double click the exe file, and select Yes to confirm it.
Step 4. Click on Continue and wait for the paint.net downloader to start the paint.net Setup wizard.
Step 5. Select an installation method you prefer and click on Next. Here you can choose either Express or Custom. Also, you can choose your desired language from the drop-down menu.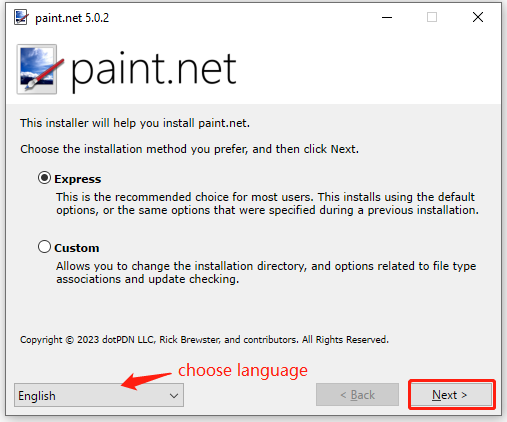 Step 6. Select I Agree to accept the license agreement and click on Next.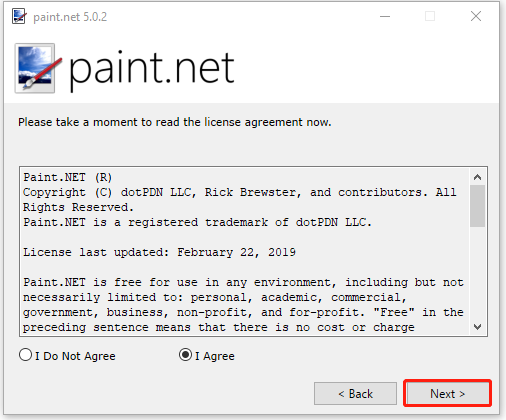 Step 7. Wait for the paint.net installation to complete and click on Finish. Once done, you can start using this fantastic image editing software on Windows 10/11.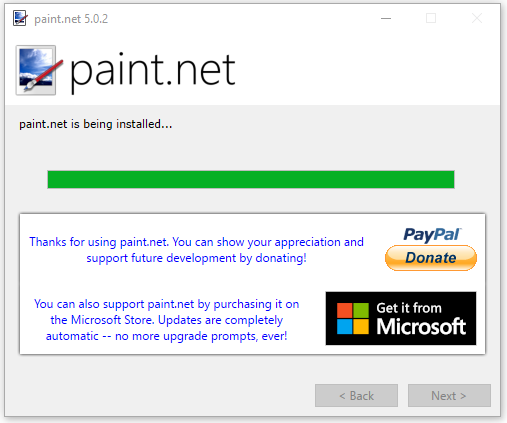 If you want to uninstall paint.net from Windows 10/11 someday due to low disk space, you can open the Settings app, select Apps > Apps & Features, locate Epson Event Manager, and click Uninstall. Then, confirm the operation by clicking Uninstall/Remove.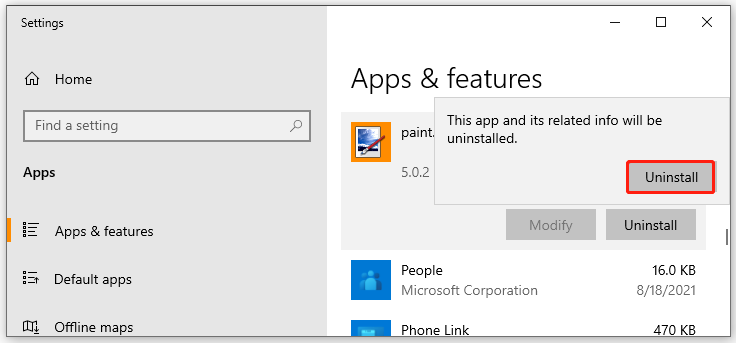 Further Reading: If paint.net can't install or work on Windows 10/11 due to some hard drive issues, don't worry. MiniTool Partition Wizard can help you fix it easily them by analyzing disk space, repairing disk errors, extending partitions, upgrading to a larger hard drive, etc.
MiniTool Partition Wizard FreeClick to Download100%Clean & Safe