Since it's released, Windows Server 2019 has attracted a large number of users, but some of them don't know how to download a free Windows Server 2019 ISO. This post of MiniTool will discuss the system requirements and download guide of the Server 2019 ISO.
About Windows Server 2019 ISO
Windows Server 2019 is the ninth version of the Windows Server operating system released by Microsoft in 2018. It is an operating system that bridges on-premises environments with Azure services, which enables hybrid scenarios to maximize the existing investments. In a word, the Windows Server 2019 comes with the following 5 benefits.
5 Main Benefits of Windows Server 2019
Compared to its previous versions like Windows Server 2016/2012, the Windows Server 2019 ISO was developed with more advanced features. Here we summarize them as follows:
Improved Container services. The Server 2019 ISO support for Kubernetes, Tigera Calico for Windows, and Linux containers on Windows. Since the container architectures of Windows Server 2019 were significantly improved, they become smaller and more efficient than before, reducing the footprint and overhead costs. For instance, a small app package can reduce its cost automatically and vacate resources for other apps.
Improved Security Level. This version of OS greatly improved its security level. It shielded Virtual Machines and improved Windows Defender Advanced Threat Protection (ATP). With Windows Server 2019, the common behaviors of malware and zero-day exploits can be detected and blocked easily. Besides, Microsoft released built-in malware detectors and added an extra layer of security protocols that help users secure their environment.
Hybrid Adaptability with Azure. It is compatible with both local (on-premise) resources and cloud-based resources on Microsoft Azure. To be specific, users can take advantage of local and cloud features such as Storage Migration, Azure Backup, and Disaster Recovery from a single Windows Server 2019 machine.
Hyper-converged Infrastructure (HCI). It is a program that combines all of the basic data center elements including compute, storage, networking, and management into a single program. It can enjoy all the features of a miniature data center without additional hardware costs.
Windows Admin Center. Microsoft released a more stable version of the Admin Center to Windows Server 2019. It is also a locally deployed and browser-based program. The Admin Center can be used to manage both GUI and CLI-based devices running in the Server 2019/2016/2012.
Now, you should have an overall understanding of Windows Server 2019. Let's continue to explore its system requirements.
System Requirements
To download Windows Server 2019 ISO successfully, you need to make sure your computer meets the following minimum requirements:
Processor: 4 GHz 64-bit and compatible with x64 instruction set
RAM: 2GB for Server with Desktop Experience installation option
Storage: 32GB of free space on the hard disk drive or SSD
Network adapter: compliant with the PCI Express architecture specification and an ethernet adapter with at least 1 gigabit per second.
Tip:
If you want to know more detailed system requirements for certain features, you can refer to
this post
.
How to Download Windows Server 2019 ISO
Here comes an important question: how to complete the Windows Server 2019 download. There are 2 cases for the Windows Server 2019 ISO download. If you have a valid license, you can download the version from the Volume Licensing Service Center. If you just want to download Windows Server 2019 for a free trial, you can use an evaluation copy.
Note: The evaluation copy will expire and you won't be able to use it after 180 days unless you have a license.
Here's how to download Server 2019 ISO, VHD, or Azure version:
Step 1. Click here to open the Microsoft Evaluation Center and expand the edition of Windows Server 2019 that you want to download.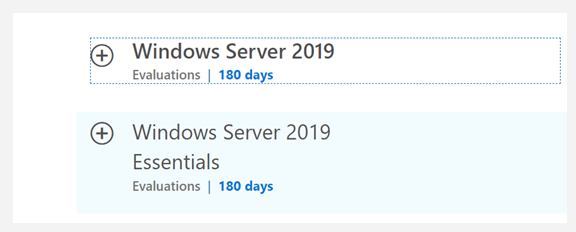 Step 2. Click on Get started for free, and then you can select the evaluation type of download that you wish to make (Azure, ISO, VHD) and click on Continue.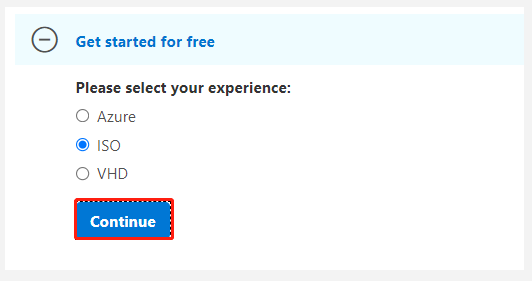 Step 3. Now, you will be prompted with a form. Fill it out based on your situation and click on Continue.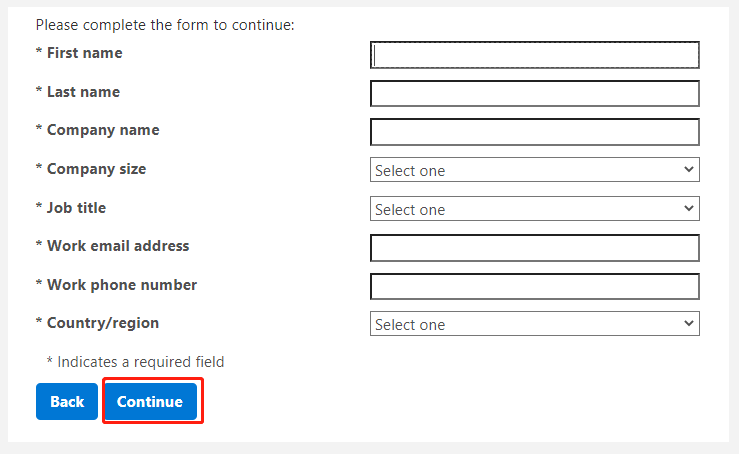 Step 4. Then you can select the desired language from the drop-down menu and click on Download.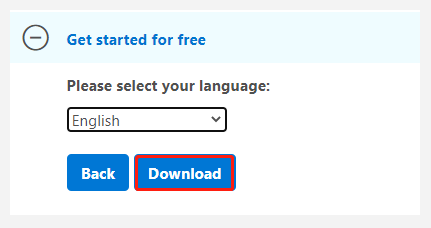 Once downloaded, you can mount the ISO file into a USB/DVD drive that you can use to install/reinstall Windows Server 2019.