A great many users complain that they get Omegle banned. Why am I banned from Omegle? How to get unbanned from Omegle? In this post, MiniTool will analyze all possible causes and provides 3 simple ways to get Omegle unbanned.
Omegle is a fantastic free online chat service that provides users with a platform to chat and socialize with others without registering. Sometimes, however, many users are troubled by various issues such as Omegle error with camera, Omegle error connecting to server, Omegle banned, etc. Here we will show you how to get unbanned from Omegle.
Why am I Banned from Omegle
Why am I banned from Omegle? According to user reports, there are a wide variety of reasons behind the Omegle banned issue. This ban will directly impact your IP address and then you can't chat on Omegle any longer. Besides, you may receive an error message like this:
"You have been banned from Omegle due to possible terms of service violations by you, or someone else using your computer or network."
Or the message:
"Your computer/network is banned for possible bad behavior."

As the error message suggests, the main reasons why you get banned from Omegle is often related to the violation of the Omegle terms of service. In addition, other illegal and even subtle things can lead to a ban. Here we summarize them as follows:
Violate the Omegle terms of service: For example, use copyright music, TV shows, or movies in the background. See "Adult" content. Relevant to harassment, abuse, or racism. Be naked. Use a virtual cam, and so on.
Get skipped too often: If you are got dropped too often by many people, Omegle may think you have been harassing the users or being offensive.
Skip too many chats: If you drop too many people, Omegle may think that you don't want to take part in the community.
Reported by someone: You will get banned on Omegle if someone reports you for some reasons such as offending the user, violations, etc.
Usually, if you violate the terms, Omegle bans can last up to 4 months. If it is the first time you offend the rules, you may get Omegle banned for about a week. What's worse, Omegle bans can last up to 120 days if you break the rules repeatedly. For serious violations like racism, you may get banned permanently.
How to Unbanned from Omegle Easily & Quickly in 2023
How to get unbanned on Omegle? Omegle bans a user by blocking his IP address. That's to say, avoiding using the banned IP address can help fix the Omegle banned issue. How to do that? Let's start trying the methods below.
# 1. Switch to a VPN
A VPN (Virtual Private Network) service can protect a user's public Internet connection by encrypting their data. More importantly, it can mask your real IP address and provide you with a new IP address through a proxy server in another location. If you want to get Omegle unbanned instantly, using a VPN is a good choice.
There are many different VPN services like NordVPN, EpressVPN, ProtonVPN, Surfshark VPN, and more. You can choose one according to your preference. If you don't know how to set up a VPN on Windows 10/11 PC, you can refer to this guide.
# 2. Use a Dynamic IP Address
A dynamic IP address is automatically changed whenever your computer or router is rebooted. So, your current IP address can be changed if you have a dynamic IP address. Here's how to get unbanned from Omegle using a dynamic IP address.
Step 1. Find and note down your IP address.
Press Win + R keys to open the Run box, and then type cmd in the box and hit Enter.
In the Command Prompt window, type ipconfig and press Enter. This command will reveal your Windows IP information. You can check the IP address next to IPv4 address.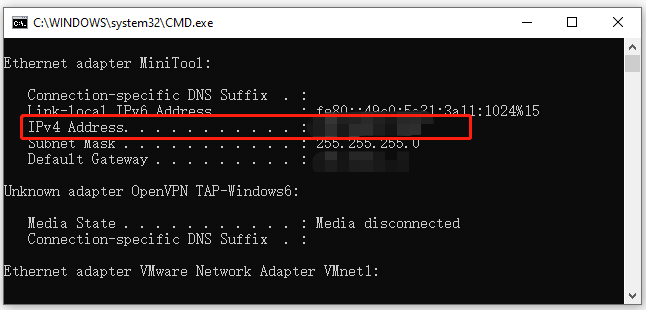 Step 2. Check if you have a dynamic IP address. You can visit a professional IP address detection website like "https://whatismyipaddress.com/".
Step 3. Restart your router. To do so, you can unplug your router to power off it, wait for about 30 seconds, and re-plug the router to power on it.
Step 4. Visit the IP address detection site again to check if your IP address has been changed. If it is, you can go back to Omegle and check if it gets unbanned.
# 3. Use a Different Network
As mentioned above, Omegle bans apply to the IP address instead of the user. Then an IP address is assigned to a network device. That's to say, you can change an IP address by connecting to a different network device. So, you can find a mobile hotspot, your friends' WiFi, a public WiFi in a coffee shop or book store. Once you are connected to a new network device, you should get Omegle unbanned.
How do you get unbanned from Omegle? The best 3 ways have been illustrated above. If you have any better solutions to this problem, please share them with us in the following comment zone.
Further Reading: Do you want to manage your partition and disk on Windows effectively? MiniTool Partition Wizard is a good choice that can help you extend/resize/delete partitions, convert a disk to MBR/GPT, migrate OS, etc.
MiniTool Partition Wizard FreeClick to Download100%Clean & Safe