How to find someone's IP address on Omegle? A lot of people are searching for a feasible Omegle IP puller. Don't worry. This post of MiniTool introduces several effective Omegle IP locators to find IP addresses on Omegle.
Omegle is a fantastic free online chat service that provides users with a platform to chat and socialize with others without registering. With Omegle, you have an opportunity to find new friends through random one-on-one conversations over video calls or chat.
This platform will pair you with other people based on your hobbies and interests. Moreover, there is no need to submit your personal information or verify your identity. But sometimes you may want to find someone's location by their IP address. Is there an Omegle IP puller to track IP addresses? Let's keep reading.
Can You Find IP Address on Omegle
Is it possible to get someone's IP address on Omegle? Of course, the answer is "Yes". Although it is not possible to pull IP directly from Omegle due to the privacy terms, you can utilize some Omegle IP locators to track someone's IP address. Don't worry. All these trackers come from legal websites.
How to Find Someone's IP Address on Omegle
How to pull IP on Omegle? There are many Omegle IP trackers that can be installed on your browsers or computer to find someone's IP address. Let's try the following commonly used IP finders.
# 1. Use Omegle IP Puller/Locator
The first and most common way is to use the Omegle IP Puller extension (also called Omegle IP locator). It integrates into an IP scarper that can help you find someone's IP address, country, state, city, and other information.
To use the Omegle IP Puller extension, you just need to open the Chrome Store, search for the tool, click on Add to Chrome, and then on Add extension to install the Omegle IP locator on Chrome.

After that, open the Omegle website and start a chat with someone, click on the Omegle IP puller icon at the top right corner of your browser while chatting, and then the location of the person that you are chatting with will be displayed based on his IP address.
# 2. Use Omegle IP Grabber – Grabify
Grabify is another effective Omegle IP tracker that can pull the IP address using a valid URL or tracking code. All things you need to do is create a Grabify URL and provide the link to the target on Omegle. Once he clicks the link, this tool will track his IP address.
Step 1.  Get a web URL that you are sure the target would be interested in and copy it.
Step 2.  Click here to open the GRABIFY IP LOGGER website, paste the URL in the given box and click on Create URL.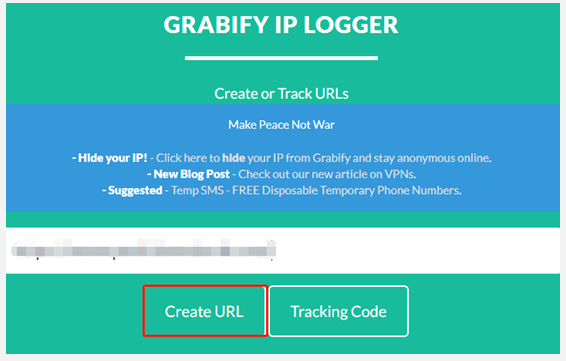 Step 3.  Click on the I Agree & Create URL to accept the terms of service and privacy policy.

Step 4. The New URL is used as bait to attract the target and the Tracking code is used to track the IP address once he clicks the URL. You need to note down them.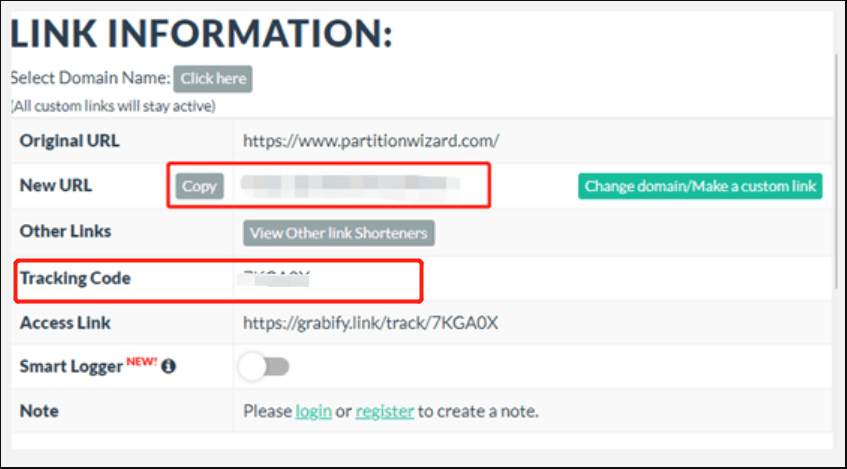 Step 5. Send the New URL to the target and try your best to guide him to click this link on Omegle. Once clicked, go back to the Grabify homepage and enter the tracking code you just got, and click on Tracking Code. Then all the information about the target user, including IP address, country, and user agent will be listed here.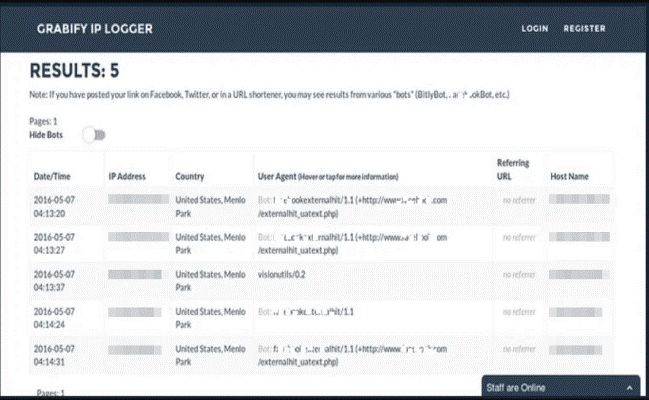 # 3. Use Command Prompt
If you are using Omegle on Windows PCs, then Command Prompt can work as an IP tracker Omegle to find someone's IP address. All things you need to do is chat with your target and have a shared internet connection as well.
Step 1. Close all applications and leave only Omegle on your PC.
Step 2. Visit the Omegle website and start a conversation with someone.
Step 3. Type cmd in the search box, and then right-click Command Prompt and select Run as administrator.
Step 4.  In the elevated Command Prompt window, type the netstat -an command and hit Enter. It will show you a list of IP addresses connected to your PC and the newest established connection should suggest the IP address of the Omegle user.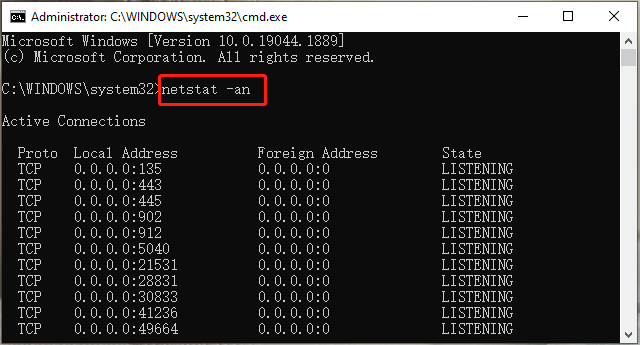 # 4. Use Wireshark
Wireshark is a practical network protocol analyzer that can serve as an Omegle IP finder too. Here's how to pull someone's IP address on Omegle using Wireshark.
Step 1. Download the Wireshark app from the official website and install it on your computer.
Step 2. Make sure you are chatting with someone on Omegle.
Step 3. In the Wireshark window, search for Omegle and it should display all currently running processes, which will enable the user's IP.  To get the IP address of the Omegle user, you need to type the username in the search bar of the app.
Further Reading: Do you want to manage your partition and disk on Windows effectively? MiniTool Partition Wizard is a good choice that can help you extend/resize/delete partitions, convert a disk to MBR/GPT, migrate OS, etc.
MiniTool Partition Wizard FreeClick to Download100%Clean & Safe