Are you searching for a VPN service? ProtonVPN is worth using for Windows/Mac/Android/iOS. In this post, MiniTool gives you a full ProtonVPN download/install guide on these platforms.
Nowadays, VPN (Virtual Private Networks) is widely used in all walks of our life. It can encrypt your data, protect your privacy, improve security online, etc. With a VPN service, you can access websites, programs, and files on a dedicated office server regardless of their physical locations.
Thus, a lot of people want to search for the best free VPN service. There are a variety of VPN services in the market such as NordVPN, ExpressVPN, Proton VPN, and more. In this post, we will show you how to get ProtonVPN free downloaded/installed for Windows, Mac, Android, and iOS.
Overview of ProtonVPN
Before you download ProtonVPN, let's have an overall understanding of this software.
What Is ProtonVPN
ProtonVPN is a newly released VPN service that is operated by the Swiss company Proton AG. This VPN boasts more than 1800 servers in 64 different countries and areas. It is available for Microsoft Windows, macOS, Android, iOS, Linux, Chromebook, and even Android TV. Besides, it can be installed on a Wireless Router.
This service utilizes the OpenVPN (UDP/TCP) and IKEv2 protocols for data encryption. In addition, it utilizes AES-256 encryption technology, which keeps your password and confidential data safe even over an untrussed internet connection. It's very easy to set up and use on different platforms.
Is Proton VPN Free to Download
Can you get ProtonVPN free downloaded? Of course, yes! The company provides a free version of Proton VPN to the public for basic privacy and security rights. If you want to have online privacy, faster speeds, or more advanced features, we recommend you upgrade to a paid plan for the VPN.
In addition, the ProtonVPN Plus plan provides a 7-day free trial and you can use all of its Plus plan features in the first 7 days. It also provides 30-day money-back guarantee if you want to revert to its free version with limited features.
How to get ProtonVPN free downloaded for Windows, Mac, Android, and iOS? Let's keep reading.
ProtonVPN Download & Install for Windows 10/11
This part will show you how to download ProtonVPN for Windows 10/11 PCs and install it.
Step 1. Open the default browser on Windows 10/11 and visit the https://protonvpn.com/download site to open the official ProtonVPN download page.
Step 2. Now, you can find various version download links for different systems, select Windows and click on Download Proton VPN.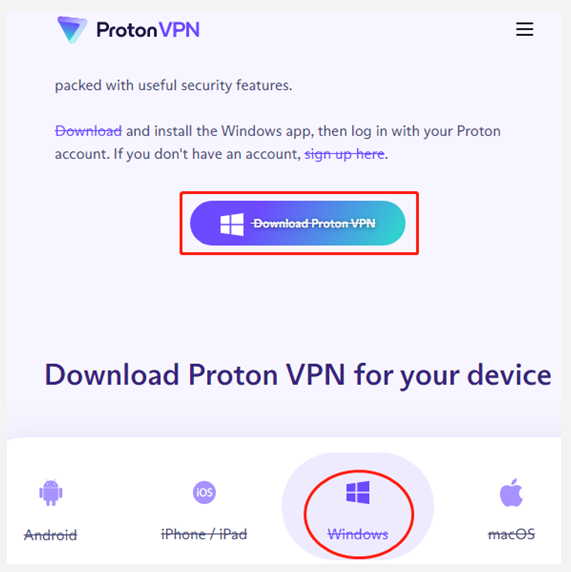 Step 3. Once downloaded, double-click the ProtonVPN_win_v2.2.0.exe file and click on Yes to run the installer.
Step 4. Select the setup language and click on Next.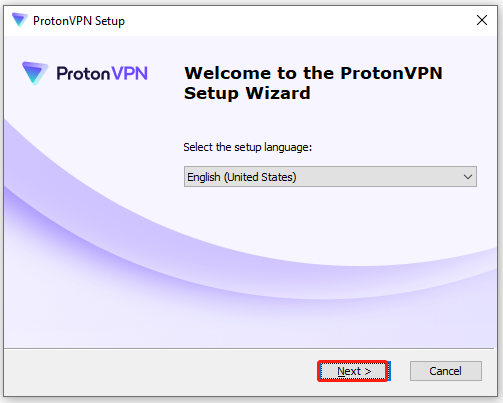 Step 5. Select the installation folder for Proton VPN and click on Next.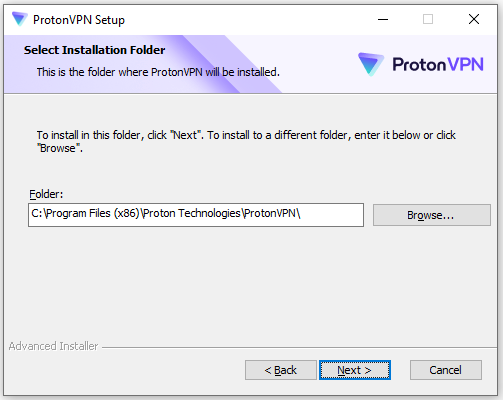 Step 6. Click on Install to start installing the software. Then Wait for Windows to configure and finish the installation and click on Finish to close the window.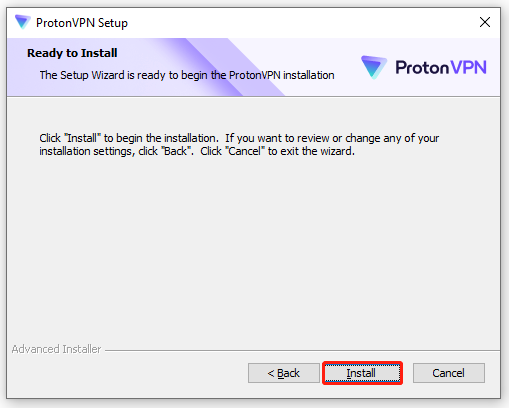 Step 7. Once installed, you need to create an account for Proton VPN. If you already had an account, enter your username and password to log in to it.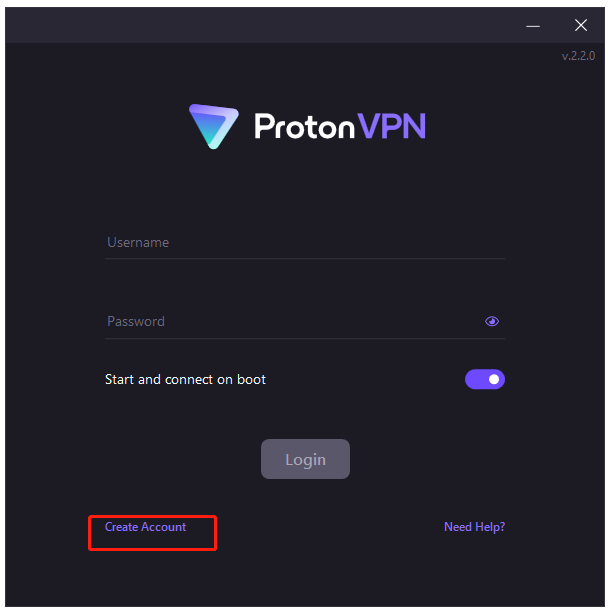 ProtonVPN Download & Install for Mac
You also can download ProtonVPN for Mac. The process is similar to the operation on Windows. To do this work, visit the official Proton VPN download page again, select macOS and click on Download Proton VPN. Once downloaded, run the .dmg file and follow the on-screen prompts to install ProtonVPN for Mac.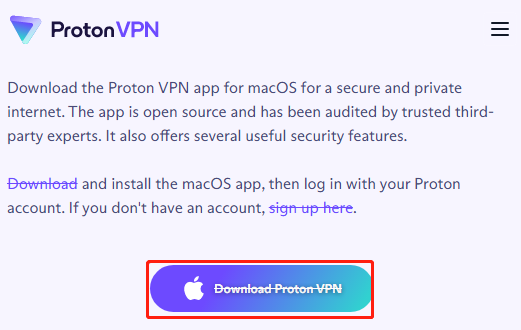 ProtonVPN Download & Install for Android
Proton VPN can be installed on Android devices as well. To do so, you can visit the official ProtonVPN download web page and click on Get It on Google Play and click on Install to get the software. Also, you can directly open Google Play Store and search for the app, and install it.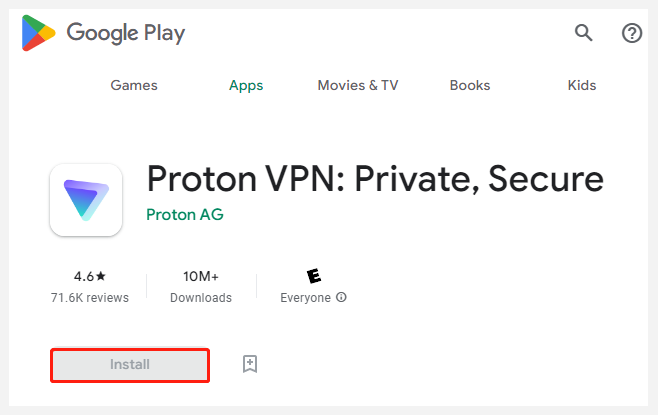 ProtonVPN Download & Install for iOS
To get Proton VPN downloaded and installed for iOS devices, you just need to visit the official download page, select iPhone / iPad, click on Download on the App Store, and follow the on-screen instructions to install Proton VPN for iOS. Alternatively, you can open the Apple Store directly and download/install Proton VPN from it.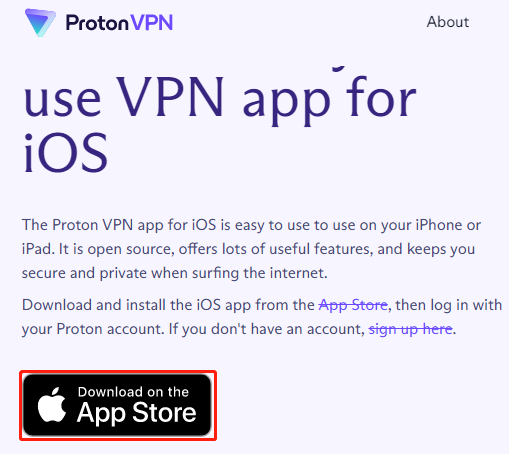 ProtonVPN Uninstall from Windows 10/11
Of course, if you don't want to use ProtonVPN on Windows 10/11 someday, you can remove it. To do this work, you can press Win + I to open Settings and select Apps > Programs & Features or Apps & Features, locate ProtonVPN and click Uninstall. Then, confirm the operation by clicking Remove/Uninstall.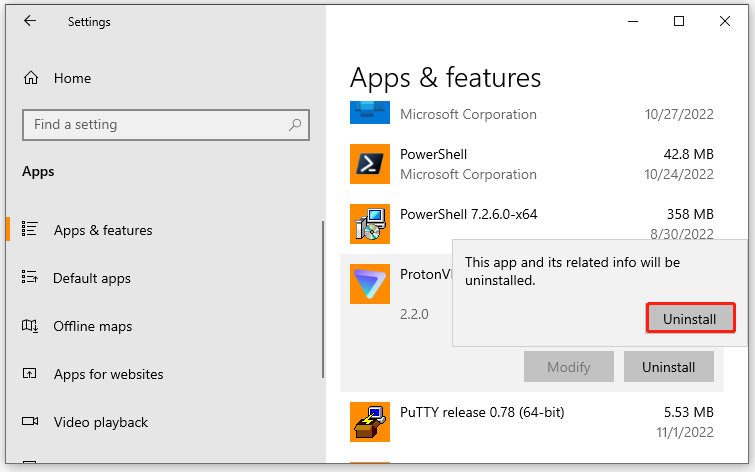 Further Reading: If you can't download this software due to insufficient disk space, don't worry. MiniTool Partition Wizard can help you fix it easily by analyzing disk space, extending partitions, upgrading to a larger hard drive, etc.