What is ExpressVPN? Can I download ExpressVPN for free? If you are also trying to figure them out, this post of MiniTool is what you need. It explain these questions in detail and provides a full ExpressVPN download/install guide for Windows, Mac, and Chrome.
As it's well known to us, a VPN (Virtual Private Networks) service can protect a user's public Internet connection by encrypting their data and improving the privacy. So, a lot of people want download a best free VPN for their PC.
There are many different VPN services like NordVPN, EpressVPN, ProtonVPN, Hotspot Shield VPN, and more. Here we mainly focus on ExpressVPN download for Windows, Mac, and Chrome browser.
Overview of ExpressVPN
Before you download Express VPN for Windows and Mac, let's see the basic information of this program.
What Is ExpressVPN
ExpressVPN is a widely popular VPN service released by a British-based technology company in 2009. It is a security and privacy tool that can encrypt your web traffic and mask the IP addresses. With this tool, you can get fast connections, browse the web, and access blocked worldwide content anonymously and securely, covering over 3000 VPN servers, almost 150 server locations in about 100 countries.
In addition, ExpressVPN allows you to switch between servers freely, protect your IP addresses from potential malicious attack, unlock regional content, and more. More importantly, this tool is almost available for all devices like computers, phones, routers, TVs, and consoles. It can be installed on different operating systems like Windows, Mac, iOS, Linux, and Web browsers.
Can You Download Express VPN for Free
Different from NordVPN, you can't ExpressVPN for Mac/Windows without pay. However, the company provide users with a 30-day risk-free use of ExpressVPN. To be specific, if you are not content for the VPN service in the first 30 days, you have the right to get a full refund based on its money-back guarantee.
Although Express VPN is paid, it is regarded as one of the fastest private network service. With this service, you can enjoy a quick and easy access to numerous websites when downloading uploading content. It uses AES-256 encryption to ensure complete security and anonymity.  Compared with other free VPN services, it is faster and securer.
ExpressVPN Download & Install for Windows 10/11
ExpressVPN is now available for Windows 7 SP1, Windows 8.1, Windows 10, and Windows 11. Here we take the Express VPN apk download/install for Windows 10/11 for example. Let's follow the given tutorial below:
Step 1. Open your browser, and visit the "https://www.expressvpn.com/vpn-software/vpn-windows" website to open the official Express VPN download page and click on Get ExpressVPN.
Tips:
Also, you can click on Download App and run the executable file to install the app, and then you will be prompted to sign up for ExpressVPN.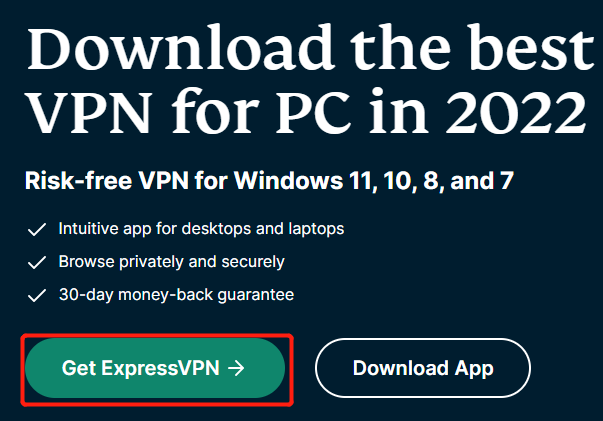 Step 2. Select a subscription plan, enter your email address, select a preferred method of payment, and follow the on-scree prompts to create your ExpressVPN login account.
Step 3. Once you have signed up for ExpressVPN, you can download this program by clicking on Download Now in the official website.
Step 4. After you downloaded the installer, right click the executable file and click on Yes to confirm the operation. Then it will automatically install ExpressVPN for Windows 10/11 PCs.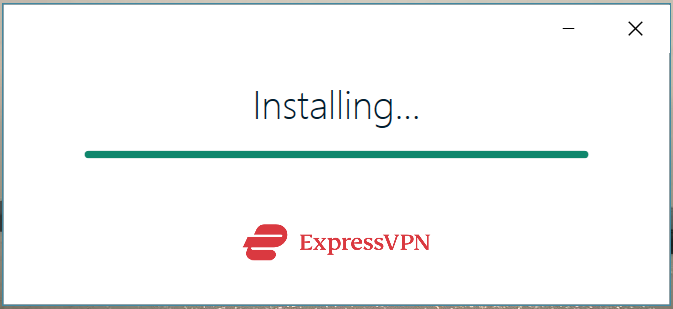 Step 5. Once installed, you can open the ExpressVPN app and log in to your account. If it's the first time you access the ExpressVPN login screen, you need to enter the ExressVPN activation code code and click on continue.
Step 6. After you logged in to the program, you can configure the Express VPN and start browsing the web securely and privately.
If you don't want to use this app on Windows 10/11 any more, you can uninstall ExpressVPN. To do this work, you can go to Settings > Apps > Programs & Features, locate ExpressVPN, and click Uninstall. Then, confirm this operation by clicking Uninstall/Remove.
ExpressVPN Download & Install for Mac
Of course, you can download ExpressVPN for Mac. The process is similar with for Express VPN download Windows 10/11. To do this work, you can visit the "https://www.expressvpn.com/vpn-software/vpn-mac" site, click on Get ExpressVPN and follow the on-screen prompts to sign up for ExpressVPN. Then get the Express VPN download Mac package, run the executable file, install the app for Mac, and log in to your account.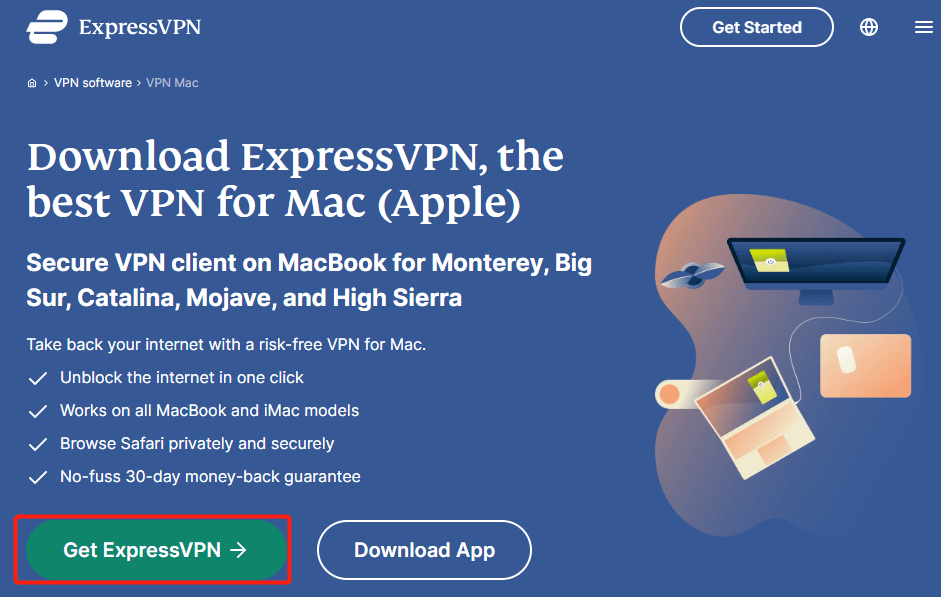 ExpressVPN Download & Install for Chrome Browser
If you don't want to use the Express VPN as a desktop app, you can add it to web browsers, including Chrome, Firefox, and Microsoft Edge. Here we take the ExpressVPN Chrome extension for example.
Step 1. Open your Chrome browser, navigate to the "https://www.expressvpn.com/vpn-software/chrome-vpn" site to open the ExpressVPN Chrome extension download page and click on Download Extension.
Step 2. You will be redirected to a new page. Click on Add to Chrome and confirm this operation.

Step 3. If you want to remove the app from Chrome someday, you can click on the three-dot icon from the upper right corner of your browser, select Settings > Extensions > Remove from Chrome, and confirm it.
Further reading: If you can't install ExpressVPN for Windows due to insufficient disk space, MiniTool Partition Wizard can help you free up disk space with many powerful features like Space Analyzer and Extend Partition. Besides, you can use the Migrate OS to SSD/HD feature to upgrade your hard drive to a larger SSD/HHD without reinstalling OS.