In this article, we will walk you through the top 10 hard disk software that you need. These programs involve many powerful features, such as disk and partition management, PC backup, data recovery, disk cleanup, defrag, hard disk repair, hard disk health check, speed test, disk usage analysis, and disk encryption. Now, let's go to see them.
Top 10 Hard Disk Software You Need
1. Best Free Partition Manager: MiniTool Partition Wizard
MiniTool Partition Wizard, the best free partition software, is specialized in optimizing hard disks and SSDs with a comprehensive set of operations to take the potential of disk space.
As you expect, this hard disk software can perform some basic management, for instance, create, resize, delete, move, format, split, merge, extend, format, wipe, unhide, hide partition, etc. If you want to partition your hard drive without experiencing some common issues like format did not complete successfully, create partition maximum number problem, etc., MiniTool Partition Wizard is your good choice.
Besides, it can be hard drive cloning software to help you migrate OS to SSD without OS reinstallation for better performance, clone the entire drive and copy partition for data backup.
What's more, the program can deal with some disk problems by rebuilding damaged MBR, fixing file system errors, setting volume active/inactive, converting file system between NTFS and FAT32 & partition style between GPT and MBR. Importantly, it is able to run a surface test to check bad sectors.
Above all, if you want to know your disk performance, you can use its Disk Benchmark to test the disk speed. To learn what is taking up your disk space, you can also use its Space Analyzer to scan the drive and find which has large file size.
In addition, MiniTool Partition Wizard has additional features, such as Data Recovery. For example, it can help you to restore deleted Windows partition to ensure PC runs properly, and recover files from formatted, RAW, damaged and lost partitions.
Want to use this free partition manager to manage your disk & volume, clone disk, fix system errors, recover data, etc? Just download MiniTool Partition Wizard Free Edition from the following button to have a free trial in Windows 10/8/7 or download it from MiniTool official site.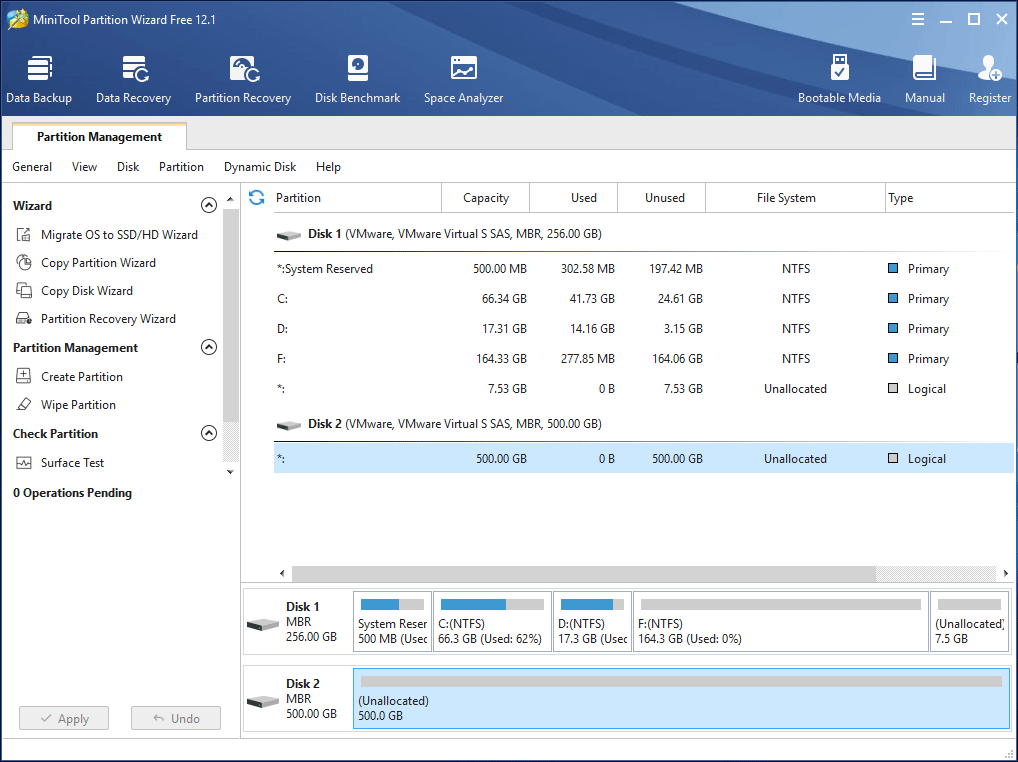 Pros:
All-in-one hard disk software with powerful capabilities
Very easy to use
Sends all changes to a queue to be applied when ready
Cons:
No secure erase invocation
Only check bad sectors but cannot repair them
2. Best Backup Software - Acronis True Image
Data is easy to get lost after formatting a hard drive by mistake, upgrading Windows, etc. In addition, Windows OS may become damaged due to ransomware attack, Windows update, mistaken operations, hard drive damage, etc.
To avoid data loss or restore the system to its normal state in the event of disasters, making a backup for your computer or disk imaging is an important thing.
Acronis True Image is, without a doubt, is a fairly excellent and robust solution. It can be used in most OS such as Windows, Mac, iOS and Android, Linux, etc. To sum up, you can use it to effectively safeguard all of your data, apps, and systems since it combines reliable backup with proven anti-malware technology - its unique cyber protection solution.
It is able to make copies of files and images from the hard drive in the cloud. Wherever you are, you can retrieve any file from your cloud backup on any device. It is easy for you to enjoy secure file sync & share and manage backups remotely.
This application uses AI-powered defense to detect and stop ransomware & cryptojacking in real-time and automatically restore affected files. Besides, it also prevents cryptomining malware from injecting other malware, stealing system resources and leading to performance degradations.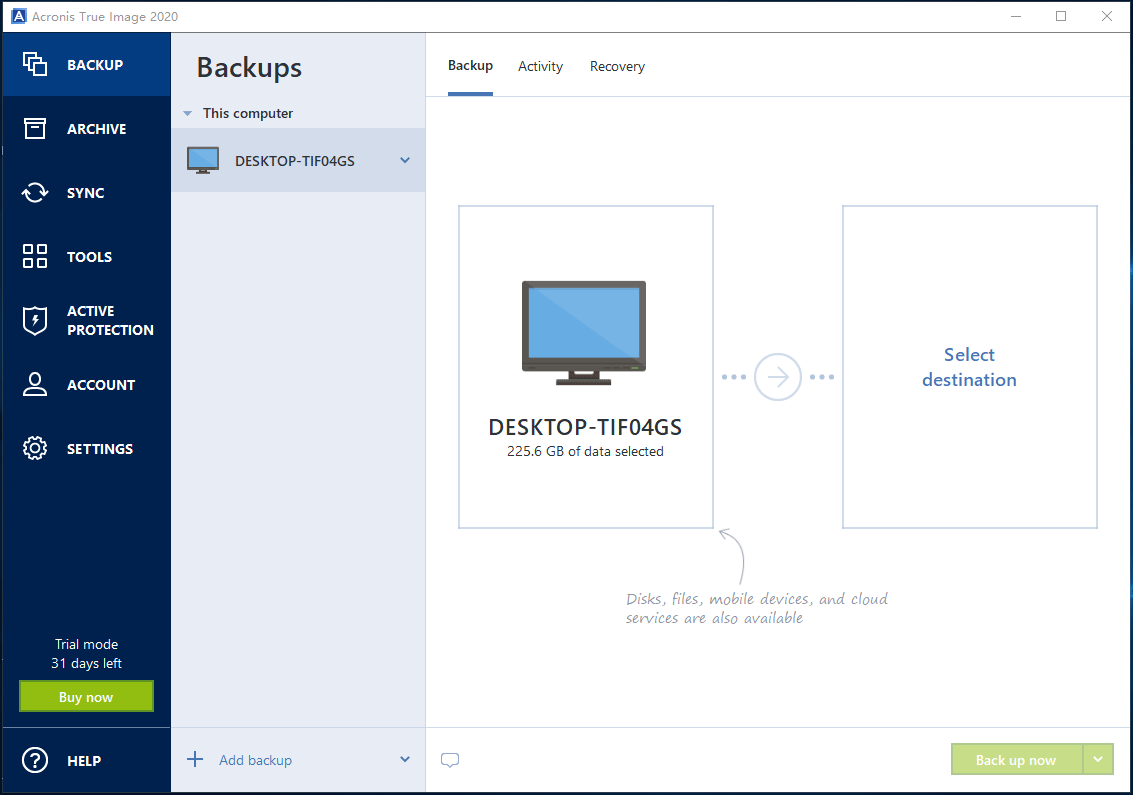 Pros:
Comprehensive backup capabilities and options
Secure from the latest threats
Online storage component
Imaging, file backup, and sync feature
Cons:
Somewhat unintuitive interface
Heavy system footprint
Tip: 
Additionally, you can use
free backup software
– MiniTool ShadowMaker to back up files & folders, disks, partitions and Windows operating system in Windows 10/8/7 easily and efficiently.
3. Hard Disk Recovery Software: MiniTool Power Data Recovery
Files are easy to get lost or deleted due to viruses attack, mistaken operations like partition formatting or deletion, disk drive failure, Windows update, file system issue, etc. If you don't have a backup, what should be done? To recover lost files with hard disk recovery software will be the first thing.
MiniTool company provides another too - MiniTool Power Data Recovery, the comprehensive & free data recovery software for Windows users. It can recover deleted or lost data from computers, SSDs, external drive, memory cards, USB drives, CD/DVD discs or other storage devices easily and quickly under multiple data loss situations with its powerful four recovery modules.
Besides, this file recovery software supports various file types, and documents, graphics & pictures, videos, audios, email files, etc. are included. File recovery from damaged, formatted or RAW partition is also supported and it will not damage the file integrity.
When encountering some common drive issues, for example, hard drive not showing up, the parameter is incorrect, CHKDSK is not available for RAW partitions, and more, MiniTool Power Data Recovery can be helpful to get files back.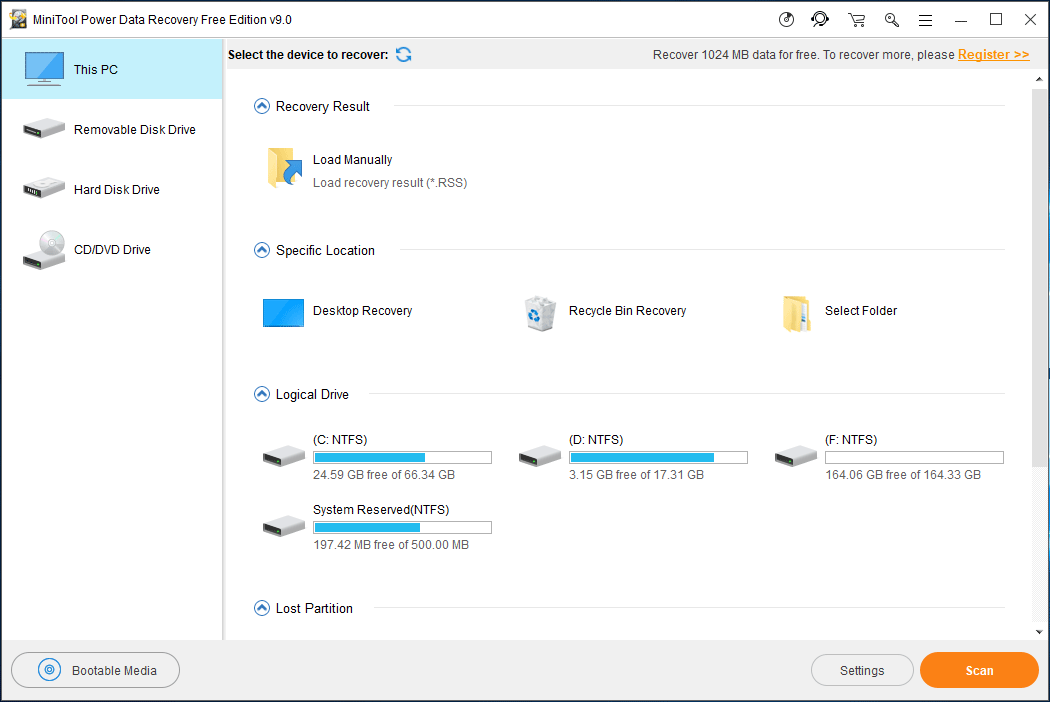 Pros:
Recover various types of data from multiple devices under different data loss situations
File preview
Easy recovery process
Cons
Free Edition recovers only 1024 MB of lost data
4. Best PC Cleanup Software: CCleaner
Is your computer running slow? Over time, the PC turns slower and slower since it collects unused files and settings which take up much hard disk space. To speed up your PC, you need to use a disk cleanup tool. CCleaner is one of the best PC cleanup software.
It has a powerful scanning engine to clean every place of your system, including those places that the default cleaning options of your PC can't clear. It can be used to clean unnecessary and redundant files and optimize software to speed up your PC. Importantly, it can protect your privacy.
CCleaner can remove unwanted stuff from apps and browsers. Furthermore, it offers a registry cleaner to remove unused entries and fix problems in Windows Registry. In short, it is the most popular PC optimization software.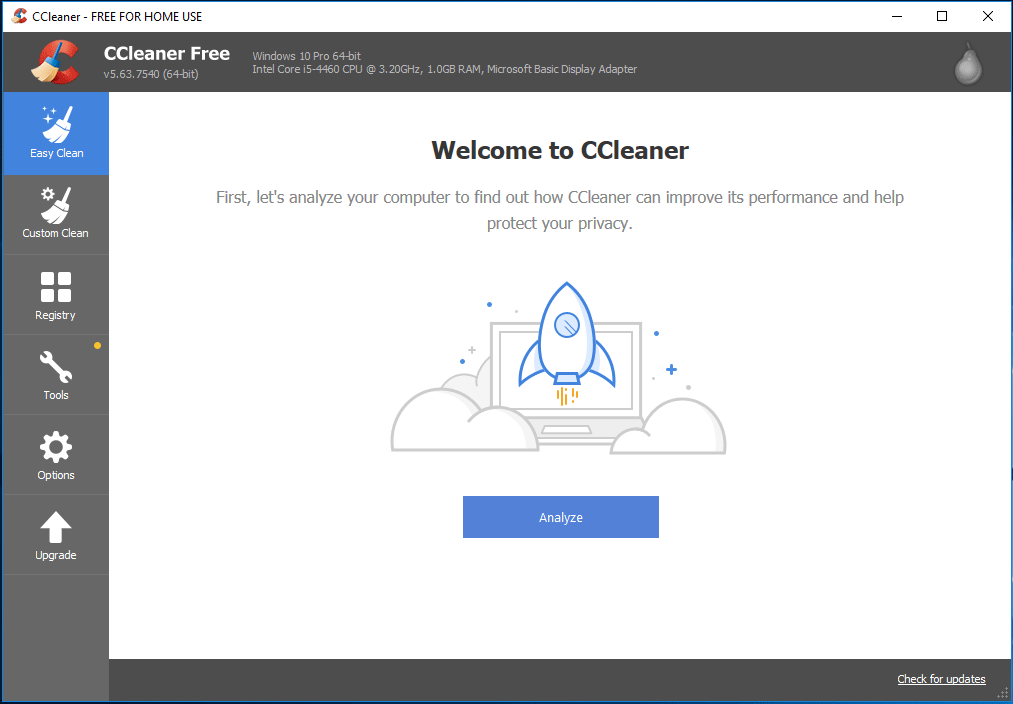 Pros
Good system-performance improvement
Real-time system monitoring
Built-in secure-deletion tool
Privacy-protecting features
Supports Windows system and Mac
Simple and easy-to-use interface
Cons
Performance improvement is not as large as the competition's in some areas
Registration key limitations
5. Best Free Disk Defrag Software: Defraggler
As you know, disk fragmentation will make your hard disk drives do extra work, which can slow down your computer. And some removable storage devices like USB drives can also become fragmented. In these cases, you need to make a disk defrag.
Defraggler that belongs to popular softare CCleaner is the best free defragment software. It allows you to defrag the entire hard drive and individual files to significantly improve the performance of your system.
It is compatible with HDD and SSD and works well with NTFS & FAT32 file systems. And you can use Defraggler to schedule to defrag Windows 10 and earlier versions daily, weekly or monthly.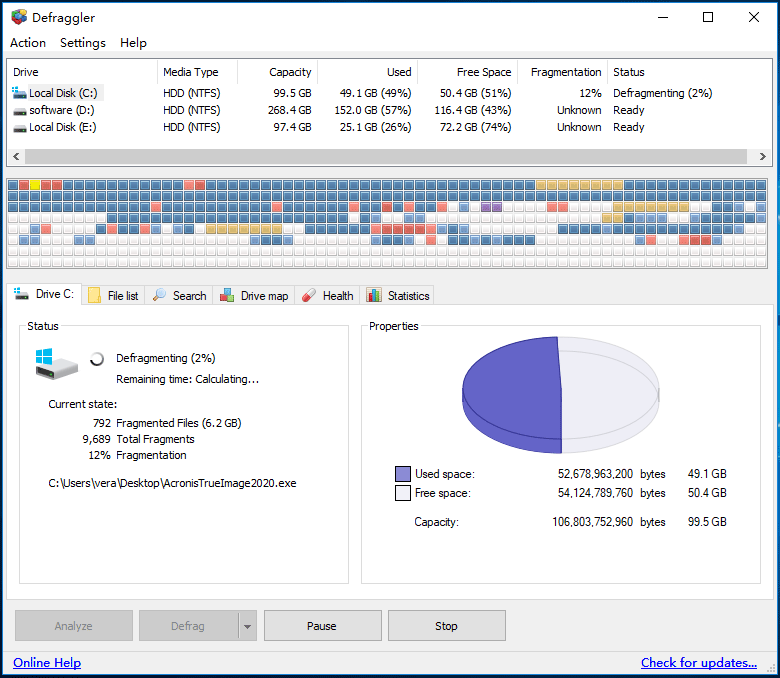 Pros
Schedule defragment
Organizes disk space to prevent further defragmentation
Defrags files and folders
Defrags your disk during reboot
Cons
The user interface is not friendly
Defrag speed is slow
6. Hard Disk Repair Software: HDD Regenerator
When searching for "hard disk software" in Google, you may find some persons are interested in hard disk repair software for Windows 7/8/10, etc. Here, we will show you one program in the top 10 lists and it is HDD Regenerator.
This tool is professional diagnostics software that helps to diagnose hard disk, scan and repair errors. The word "regenerator" gives a hint to you that this software is able to not only find errors, problems, and bad blocks but also fix them. That is to say, you can use it as hard disk bad sector repair software.
Besides, HDD Regenerator is also a file recovery tool and it can be an adequate tool for corrupted data recovery. When some data is not read or hard disk is detected but not showing in PC, this tool can help to get around bad blocks or clusters and read problematic files.
In addition, this tool can help you to check HDD health, and get S.M.A.R.T data. And it allows creating a bootable USB flash drive or CD/DVD disc to boot the PC for bad sectors check and repair.
If you encounter some disk errors like Windows detected a hard disk problem, you can use this tool to check your hard drive whether there are some bad blocks.
Pros:
Keeps data on bad sectors safe
Allows repair damage
Easy retrieval of information that is saved on it
Cons:
Not always effective
Slow scan when the drive is large or has many bad sectors
7. Hard Disk Health Check Software: CrystalDiskInfo
The data on your hard drive is critical, so it's important to check the health of your hard drive from time to time. That way, when your hard drive approaches the end of its physical life, you're given enough prior warning to transfer your data to a safe location.
CrystalDiskInfo is the perfect hard disk health check software for the work – not only is it completely free, but also it is able to monitor your hard disks including internal and external disks, which lets it pretty much unique among the free disk monitoring tools.
To be specific, this disk tool can show you basic HDD information, provide a health rating based on the disk's SMART status and list its disk temperature. If it is overheating and the health of your drive are deteriorating, this self monitoring program will warn you and you can repair errors of your hard disk.
Pros:
Free and easy-to-install utility
Clean and user-friendly interface
Alarm for temp and health
Displays comprehensive and general information about HDD and S.M.A.R.T
Cons:
No surface (block/sector) tests
M.A.R.T attributes lack a description
8. SSD Speed Test Software: ATTO Disk Benchmark
Want to know what the read/write speeds of your USB drive, SSDs, HDDs, memory cards, etc. are? Here, we will show you a disk speed test tool: ATTO Disk Benchmark.
This disk benchmark utility can help measure storage system performance. As one of the top tools utilized in the industry, this program can identify performance in solid-state drives, hard disks, RAID arrays, and the host connection to attached storage.
This performance measurement tool is compatible with Microsoft Windows. And it features:
Transfer sizes from 512B to 64MB
Transfer lengths from 64KB to 32GB
Timed mode allows continuous testing
Non-destructive performance measurement on formatted drives
Support for overlapped I/O
Supports a variety of queue depths
I/O comparisons with various test patterns
Pros
Simple to use and free
Fast testing accompanied by a comprehensive results list
Various modes provide for much customization
Cons
Technical language and detailed results are hard to understand by users who lack experience in benchmarking.
Tip:
In addition to ATTO Disk Benchmark, hard disk software for disk management - MiniTool Partition Wizard can also help you to test your disk speed with its
Disk Benchmark
feature.
9. Disk Usage Analyzer: Disk Savvy
Wonder what is taking up all the hard drive space? A disk space analyzer tool is the program specially designed to tell you that.
What the program can do is to scan and interpret everything that is using up disk space, for example, saved files, program installation files, videos, etc., and then give you a report that helps you to make clear what's using up all your storage space.
In this way, you can understand what is contributing most and if it is worth keeping. If your hard drive or flash drive is filling up, free disk space analyzer can come in handy.
Here, you can use this tool called Disk Savvy that can analyze internal and external hard disks, search through the results, delete files from within the program, and group files by extension to see which file types are using the most storage space. Besides, it can see a list of the top 100 biggest files or folders. And you can even export the list to your computer to review them later.
Pros:
Analyzes multiple different locations at once
Includes a search tool
Nice and neat interface design
Supports saving detailed reports
Scans internal and external hard disks
Offers many perspectives to see what's using the most disk space
Cons
Some options are only available in a paid edition
Additionally, WinDirStat, TreeSize, SpaceSniffer, etc. are also recommendable and they are in the top 10 disk usage analyzer list. If you are interested in one of them, search it on the internet for more information.
10. Disk Encryption Software: BitLocker
In addition to the above top 9 hard disk software, some of you may be looking for disk encryption software to encrypt your hard drive to protect disk data from hackers and snoopy relatives. To offer valuable protection for data on laptops or desktops, you can use the built-in disk encrypt tool, BitLocker.
BitLocker is a full volume encryption feature that comes with Microsoft Windows versions starting with Windows Vista. It is designed to provide encryption for entire volumes to protect data.
By default, it uses the AES encryption algorithm in CBC (cipher block chaining) or XTS mode with a 128-bit or 256-bit key.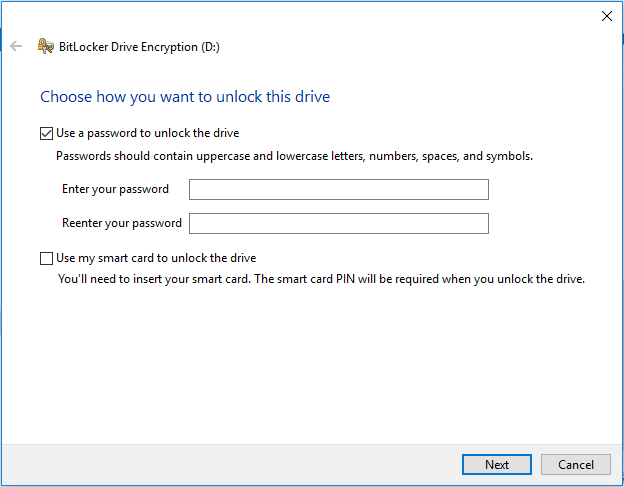 Pros:
Free and no license required
No one can access HD or USB without a recovery key
Better integrated into the OS
Cons:
Decreased disk performance during Encryption/Decryption
Tip: In addition to the built-in free encryption software, you can use a third-party program, for example, AxCrypt, Folder Lock, VeraCrypt, etc.
"Here are the top 10 hard drive software you need, focusing on partition, backup, recovery, repair, check, cleanup, defrag, etc. Share them to Twitter to let more persons know!"Click to Tweet
In this post, we only list 10 hard disk software in detail for you. Of course, there are many pieces of other excellent hard drive software.
For example, best hard drive repair software - HD Tune (measures the read/write performance of your HDD/SSD, checks the health of your hard drive, scans for errors, etc) and TestDisk (repairs boot sectors, fixes damaged partition tables, copies files from deleted/inaccessible partitions, etc.), SSDLife (displays information about your solid-state disk, its health condition and estimated lifetime), and more are also recommendable.
Just choose one that you need and install it on your PC for a trial.
Bottom Line
Are you looking for disk tools for free partition management, Windows & file backup, data recovery, disk cleanup, disk defrag, disk repair, health check, disk speed test, disk use analysis or drive encryption? Here, this post shows you top hard disk software to satisfy you.
On the other hand, if you have any suggestion or question, please contact us via the email [email protected] or leave a comment below.
Hard Disk Software FAQ
What is hard drive software?
Hard drive software refers to software used on your hard disks to do various tasks, for example, backup, partition manager, data recovery, PC cleanup, defragmentation, etc.
What is the best hard disk repair software?
HDD Regenerator, SpinRite, etc. can be one of the best hard drive repair software. If you have a need, just get one to have a try.
Can a hard disk be repaired?
If the disk is damaged physically, it cannot be repaired. If it is corrupted logically, you can fix it.
Is a hard disk a hardware or software?
A hard disk is a non-volatile memory hardware device and it can be used as the main storage device on your computer.